Engineers are responsible for the creation of just about everything people touch in their daily lives. They create the engines that go into the cars, the toaster on the kitchen counter, and even the HVAC systems for the home and office. Engineering is a field that combines creativity with a host of STEM skills in order to create something that works as intended. It's also used to help maintain the environment, find new uses for chemicals, improve existing processes for increased efficiency, and ensure that a product or process is safe for all to use. Just about every industry needs an engineer to aid with the design and creation of new products, improve existing ones, and find solutions to problems as they arise.
There are four main categories of engineering: chemical, civil, electrical, and mechanical. Each main category has multiple subdisciplines that offer a student the opportunity to find an area of engineering that suits their aptitudes and interests the best and make a life-long career out of it. Many subdisciplines of engineering overlap with one another and can open up the opportunity to work in another area of engineering or collaborate with others to expand one's own knowledge base. There are many types of high-paying engineering majors. The highest-paid engineering majors make it worthwhile for someone to study engineering as a career while earning a satisfactory salary.
Featured Schools
When asking "which engineering has the highest salary", the answer is usually that it depends on the types of engineering and salaries associated with it. However, the field of engineering as a whole is not likely to ever go away, or not be in demand, as engineers are the creative forces behind the creation of things that make up the world around us.
So what are the highest-paid engineering degrees? What type of engineer makes the most money? Earning a bachelor's degree of engineering is just the first step towards a career full of growth and earning opportunities. Here's a look at the 10 highest-paying bachelors in engineering.
1. Software Engineer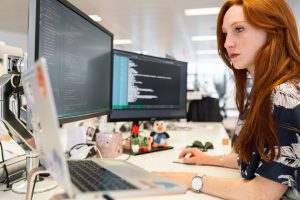 A software engineer combines their knowledge of programming languages and engineering principles to create software architecture for a variety of uses and purposes. They create programs and apps for anything that needs computer hardware to operate and perform tasks. A software engineer can also be tasked with taking old, out-of-date programs and building off their framework for an update or to build something completely new. Other areas where a software engineer can find work include programming for robots, video games, systems engineers, and mobile apps.
The software engineer is at the top of the list in terms of the highest paying engineering jobs due to the fact they have to be fluent in multiple programming languages, understand the physical construction of computers, and the limitations of computer hardware when it comes to processing the code they create and its ultimate use. Software engineers are in high demand and their average salary reflects that fact.
Average Salary:$92,785
2. Aerospace Engineer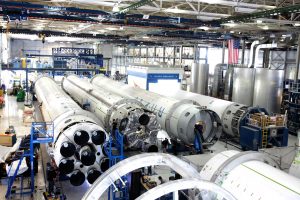 An aerospace engineer works in the aviation and space industries designing things such as satellites, commercial and private aircraft, rockets, and the systems associated with their operations. Working as an aerospace engineer means entering one of the two main branches: aeronautical and astronautical engineering. Aeronautical engineering focuses on atmospheric flight whereas astronautical engineering involves space flight. Both branches overlap each other which means someone who works in one field can easily transition to the other.
An aerospace engineer can find themselves working on the design, development, construction, testing, and final production of all types of space and aircraft. They can work in the public and private sectors, working in places such as labs, systems suppliers, manufacturers, airlines, research and development, and even universities. This is another one of the highest paying engineering jobs in terms of average, but the pay can quickly increase with salary and taking advantage of job opportunities.
Average Salary:$81,651
3. Electrical Engineer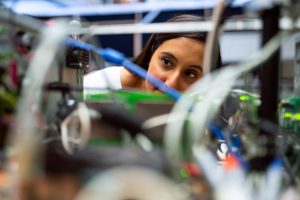 Electrical engineers design layouts for just about anything that requires the delivery of electricity from start to finish. Their job is to understand how electricity is generated and moves, figure out how to apply it to a given use, create a layout for its transmission, and make sure the design has sufficient capacity for the intended use. The electrical engineer also has to make sure that safety regulations are observed at all times, and the finished product is safe for use by the end-user.
The electrical engineer is one of the highest paying engineering degrees on its own, but it also has various sub-disciplines that are also some of the highest paying engineering jobs. Some of the sub-disciplines include electronics, microelectronics, signal processing, telecommunications, and instrumentation. These types of engineering and salaries are based on the electrical engineering degree but stand on their own in terms of engineering roles and areas of employment.
Average Salary:$78,790
4. Chemical Engineer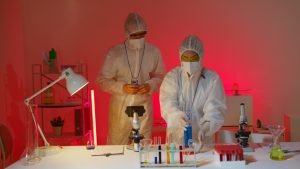 It could be said that the chemical engineer degree is the penultimate STEM degree due to the fact it combines biology, economics, mathematics, chemistry, and physics. Chemical engineers are involved in the creation and improvement of foods, medications, fuel, plastics, and many other products used in daily life. A chemical engineer takes raw materials and devises ways to turn them into something useful. The role also includes factory and plant design, monitoring safety practices, and modeling transport phenomena that affect how materials react and move through a manufacturing process.
Jobs for chemical engineers are mostly found in the oil and energy industries, but other fields that involve the use or cleanup of chemicals are starting to tap into chemical engineering. The pharmaceutical and biotechnology fields also offer plenty of job opportunities, as does biotechnology. Nanotechnology is another area of employment for chemical engineers.
Average Salary:$76,730
5. Mechanical Engineer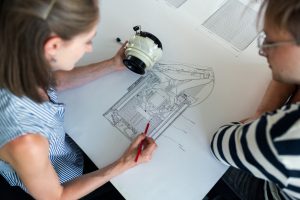 A mechanical engineer is someone who creates machinery that performs a specific function, such as a car engine. Their job is to design, build, test, and prepare a piece of machinery for use on its own or as part of a larger machine. Mechanical engineering is one of the oldest forms of engineering, and as such, focuses on projects that require synchronization for their operation as opposed to relying on electronics. It uses mathematics, physics, and materials science to produce items such as HVAC equipment, industrial equipment, medical devices, weapons, and more.
Mechanical engineers typically find employment in fields where industrial design and manufacturing skills are needed. Architectural firms hire mechanical engineers who have expertise in designing HVAC systems, while the aerospace industry needs them for the design and construction of the various types of engines and other moving parts used in the final product.
Average Salary:$73,698
6. Manufacturing Engineer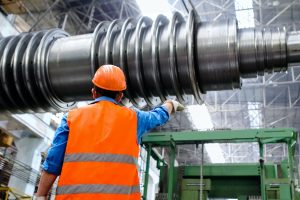 A manufacturing engineer is involved with creating a manufacturing process from the ground up. That involves understanding the properties of the raw material and how it can be manipulated into an end product. They plan out how a product is to be made, find or create the necessary tooling and machines, develop the manufacturing process, then integrate everything into one seamless production line. The manufacturing engineer is also tasked with keeping everything within the budget. Once the production line is finished, they teach others how to properly use the equipment and generate consistent results.
Most jobs for manufacturing engineers are found in the industrial fields that require an engineer to create, build, monitor, and maintain production lines. These roles are found in large-scale bakeries, mold making shops, textile production, and metal casting facilities to name a few. A manufacturing engineer can also find work doing nothing but monitoring the output of production lines and ensuring that the daily output meets expectations, or adjusting the production of the machines when necessary.
Average Salary:$71,798
7. Project Engineer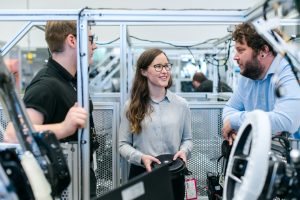 The role of a project engineer is similar to that of a project manager, except that the project engineer oversees all the aspects of designing or rebuilding a manufacturing or processing facility. Tasks can include creating a plan that outlines the start and bring the project to the desired outcome, hiring contractors, sourcing materials, and keeping the project on schedule. The project engineer liaises with all stakeholders on a project to keep them informed of the current status of all projects related to engineering. They also make sure that safety is observed at all times.
The project engineer is one of the highest paying engineering jobs due to the fact it combines engineering and business management skills. Jobs for this role are found primarily in construction as it focuses primarily on managing the construction and outfitting of production lines. However, the title also applies to managing the upgrading of an existing manufacturing facility or working in the factory itself as a project engineer in a managerial position.
Average Salary:$70,115
8. Industrial Engineer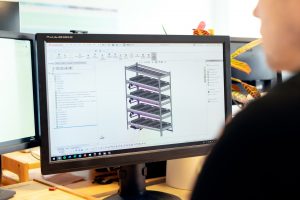 The position of an industrial engineer is one of both designer and problem solver in that the role can consist of designing manufacturing/production facilities and/or improving existing operations for maximum efficiency. Some of the tasks an industrial engineer is responsible for include the layout of equipment in a factory to ensure efficient transfer from line to line, information systems such as a server facility, finding inefficiencies in an existing production system, and developing management control systems that aid with financial planning and cost control.
As the name of the discipline suggests, jobs for an industrial engineer are found in industrial operations. The engineer is the person that's responsible for keeping a manufacturing or industrial operation moving smoothly and finding ways to maximize operating efficiencies as well as reducing costs. They also work with customers to keep them updated on progress and make sure that a finished product meets the customer's expected standards.
Average Salary:$68,223
9. Civil Engineer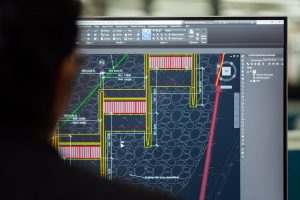 A civil engineer oversees the design and construction of public works and infrastructure projects. They're responsible for evaluating a site for its intended purpose, designing the architecture that's going to go in place, and monitoring the construction of their design. Civil engineers are usually found working for government agencies that are responsible for the construction of bridges, roadways, sewer systems, public buildings, and more. It's the duty of the civil engineer to create and deliver the vital infrastructure needed for everyone to live their daily lives as easily as possible.
While most civil engineering jobs are associated with the public sector, they are also found in private industry as well. One of the major duties of a civil engineer is calculating loads and how well a material can withstand carrying that load. Private industries such as automotive, shipbuilding, aerospace, and construction will hire a civil engineer and offer higher pay than the public sector.
Average Salary:$67,862
10. Environmental Engineer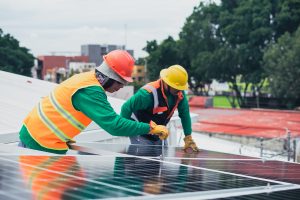 The job of an environmental engineer is to apply engineering principles to environmental problems in search of a solution. They study a given environmental problem, such as air pollution, design municipal wastewater treatment plants, wastewater reclamation systems, keep track of environmental improvement efforts, and make sure that a worksite has the proper permits, plans, and standard operating procedures in place.
While this role is one of the lower-paying jobs in the engineering field, it does have a lot of growth potential due to the fact that site remediation, the need for fresh drinking water, and protecting the environment from further pollution are becoming a necessity as opposed to an afterthought. Both the private and public sectors are going to need environmental engineers to aid with these projects.
Average Salary:$66,635
Which Engineering Branch is Best for the Future?
Engineering is known for a high annual salary. The best high-paying engineering jobs that are best for the future include
aerospace
chemical
robotics
environmental
biochemical
telecommunication
electronics engineering
biomedical engineering
electrical engineering
geological engineering
marine engineering
nuclear energy
earth engineering
These are the best types of engineering and salaries that guarantee lifelong employment opportunities and are relatively future-proof as long as you keep up with current trends and don't let your education stagnate.
No one can predict which engineering degree will be best for the future, but it's possible to get a good idea by observing the needs of the world at large. The highest paid engineer will be the one in the most demand.
Petroleum engineers (and natural gas)
Computer hardware engineers
Data engineer
Materials engineer
Engineering is a well-paying field in general, but which of the best engineering jobs has highest salary potential? The high-paying engineering degrees are ones that track with the current needs of society. One such example is environmental engineering. One of the highest paying engineer jobs, environmental engineering in the strictest sense is one of the oldest forms of engineering as it was created to help shape the environment to society's needs. Now it's also being used to help make better use of ecologically sensitive sites and help with cleaning up pollution. Over time, environmental engineering median salary makes it the highest-paid engineering field due to the amount of cleanup required to keep the environment healthy.
The U.S. Bureau of Labor Statistics (BLS) shows that a master's degree in engineering can get professional engineers to the highest engineering salary potential. You can find a master's engineering program online.
What Can You Do with an Engineering Degree Besides Engineering?
The underpinning skills of an engineering degree are ones that translate well into other industries. An engineering career may not be your final career path. Engineers frequently find the best-paying engineering jobs in fields that include:
Finance
Computer science and computer systems
Software development
Project management
Construction project management
Public policy
Economics
Urban planning
Marketing
Healthcare
These are just a few of the careers that are suited to someone with an engineering degree. Engineers are taught to use their analytical skills to solve problems and find new ways of doing things, using existing methods to make something work better, or improving existing methods for peak performance. These skills are invaluable in many industries that require someone who can analyze and apply their findings to come to a solution. Someone who wants to shift their career from a branch of engineering to another professional field will find the change easy and still manage to earn a high salary.
Related Rankings:
25 Best Bachelor's in Mechanical Engineering
5 Best Online Bachelor's in Mechanical Engineering
10 Most Affordable Bachelor's in Mechanical Engineering
25 Best Bachelor's in Engineering Management
15 Best Online Bachelor's in Engineering Management
10 Fastest Online Bachelor's in Engineering Management
10 Most Affordable Bachelor's in Engineering Management
25 Best Bachelor's in Electrical Engineering
15 Best Online Bachelor's in Electrical Engineering
10 Fastest Online Bachelor's in Electrical Engineering
10 Most Affordable Bachelor's in Electrical Engineering
25 Best Bachelor's in Nuclear Engineering
15 Best Online Bachelor's in Nuclear Engineering
10 Fastest Online Bachelor's in Nuclear Engineering
10 Most Affordable Bachelor's in Nuclear Engineering
25 Best Bachelor's in Engineering Degree Programs
15 Best Online Engineering Degree Bachelor's Programs
10 Fastest Online Engineering Degree Bachelor's Programs
10 Most Affordable Online Engineering Degree Bachelor Programs