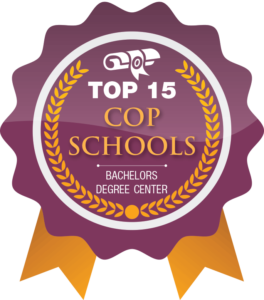 In the old days (your father's generation) it was much easier to become a police officer. All you needed was to be highly motivated to help people and keep the peace working in law enforcement agencies.
These days life is much more complicated and law enforcement more sophisticated. And most rookie cops have college degrees before even going to police academy. What follows is a list of some of the best schools that offer law enforcement and police science degree programs, including online programs.
Featured Schools
At these schools, you'll learn the nuts and bolts of police work, from patrolling to investigating, from preventing crime to writing reports. And you'll prepare to meet the many challenges of police work and law enforcement, including handling people who resist arrest, using force responsibly, and building a strong relationship with the people you'll protect. Law enforcement is a noble profession, and one that needs good, educated, and motivated people.
15. Ohio University
Tuition: $5,268 a semester, in-state students; $9,750 out of state
The Criminology Special Curriculum is designed for those students who plan to pursue careers in some aspect of the justice system yet wish to receive a liberal arts education as a base for law enforcement or police academy program.
Good degree programs like OU also provide the necessary background for students preparing for advanced study in law enforcement, criminology or criminal justice. Students who complete the program will receive a degree in sociology with emphasis in criminology. It's a good foundation for public administration as well.
For more information: https://www.ohio.edu/socanth/sociology/criminology/curriculum.html
14. Cedar Crest College (Allentown, Pa.)
Tuition: $35,000
While many criminal justice programs today focus on what happens after a crime has been committed, Cedar Crest College's curriculum is a behavioral-based program. By understanding what influences criminal behavior, you will be better prepared to aid in the prevention of criminal acts, as well as in the steps that take place after one has occurred.
At Cedar Crest, you will participate in multiple field experiences throughout the curriculum, including a 220-hour senior experience, enabling you to apply what you have learned and, often, to secure your future employment in law enforcement. Studies will prepare you for a rewarding career in any area of the criminal justice system or police academy program, from child welfare to corrections to security and beyond. The college's interns and alumnae are well-known in the law enforcement community, locally and nationally, for their high ethical peace officer standards and behavioral-based knowledge.
For more information: http://www.cedarcrest.edu/ca/academics/criminal_justice/index.shtm
13. George Mason University
Tuition: $5,376 per semester, in-state students; $15,699 out of state
Criminology, Law and Society at George Mason is a dynamic, multidisciplinary unit. Students at the graduate and undergraduate level develop strong foundations in research, methods, theories and systems of justice, criminology and crime policy, security, law enforcement, peace officer standards, and law and society.
Students will graduate with the knowledge and skills needed to understand the causes and consequences of crime and injustice, the responses by criminal and civil justice and law enforcement institutions, and what works to improve social conditions among affected individuals, communities, organizations, and countries..
For more information: http://cls.gmu.edu/
12. Oklahoma Baptist University
Tuition: $21,630
The criminal justice degree program at Oklahoma Baptist University prepares students for instruction that focuses on the criminal justice system, its organizational components and processes, and its legal and public policy contexts.
Students who graduate from the criminal justice degree program will have knowledge in criminal law and policy, law enforcement, police and correctional systems organization, peace officer standards, the administration of justice and the judiciary, and public attitudes regarding criminal justice issues. It's perfect preparation for a rewarding career or police academy program.
For more information: https://www.okbu.edu/catalog/programs/criminal-justice.html
11. College of the Ozarks
Tuition: 0 [Cost of education scholarship is $18,300 paid for in exchange for work on campus]
The Criminal Justice Department at College of the Ozarks prepares a student to compete for professional positions within a wide range of government and private justice-related agencies by providing a comprehensive education that includes core and collateral courses along with a specific field of study within the two following emphases: Corrections and Law Enforcement.
Students have opportunities to participate in field trips to prisons, jails, law enforcement agencies, and other justice system sites and facilities. In their junior and senior years a student may participate in the Criminal Justice Internship program, in which students are assigned duties in a law enforcement agency for academic credit.
A Criminal Justice degree from College of the Ozarks is valued and respected by a wide range of agencies in the Midwest and beyond. The Criminal Justice program frequently receives calls from former students relating how well their educational experience from College of the Ozarks prepared them for their career or police academy. There are a number of our graduates who are either in law school or working for a law enforcement agency or juvenile delinquency agency, public administration, or in one of many other criminal justice-related career fields.
For more information: https://www.cofo.edu/Justice
10. Miami University, Oxford, Ohio
Tuition: $25,122 for the academic year, in state students; $41,229 for out of state
The Bachelor of Science in criminal justice at Miami University's regional campuses offers students a comprehensive and dynamic understanding of crime, justice, punishment and corrections, policing, and the legal system within the context of a liberal arts education. Advancing analytical and critical thinking, problem solving, oral and written communication, technology, quantitative literacy, ethics, application of learning in the field, civic learning, peace officer standards, and an appreciation of diversity and of the increasingly global world are core objectives of the program.
The ideal is to graduate students who possess the knowledge, experiences, and skills needed to lead a meaningful, reflective life in law enforcement, who will be productive and contributing citizens, who will be successful in their criminal justice and law enforcement careers, and who will be life-long learners.
For more information: https://bulletin.miamioh.edu/liberal-arts-applied-science/criminal-justice-bs/
9. Florida State University
Tuition: $215 a credit for in-state students; $721 out of state
Your mind is 21st century's most important crime-fighting tool. There is no such thing as a robotic response to crime, which is why our students are taught to be critical, independent thinkers and learn peace officer standards from expert faculty with law enforcement experience.
FSU's online bachelor's degree program in criminology offers students the flexibility to remain employed and the opportunity to work with nationally known professors who are leaders in the field. It is required that you have completed the associate of arts degree prior to entering the program.
For more information: https://distance.fsu.edu
8. University of Tulsa
Tuition: $34,000 a year
The University in Tulsa offers the major Criminal Justice + Police Science. A program that prepares individuals to perform the duties of police and public security officers, including patrol and investigative activities, traffic control, crowd control and public relations, witness interviewing, evidence collection and management, basic crime prevention methods, weapon and equipment operation and maintenance, peace officer standards, report preparation and other routine law enforcement responsibilities.
For more information: http://police-schools.com/university-of-tulsa
7. Hawkeye Community College Police Academy
Tuition: $3,150 a year
Hawkeye Community College offers a certification training option to law enforcement agencies that hire college graduates as police and reserve officer certification courses. Not only that, but they offer firearms training; quite unusual at colleges. Note: the curriculum is geared to Iowa law enforcement statutes.
For more information: http://www.hawkeyecollege.edu/business-and-community/health-and-public-safety/law-enforcement/default.aspx
6. Monroe College, The Bronx, NY
Tuition: $6,624 per semester
Criminal justice jobs are in high demand. Police units, law enforcement, social services departments, and the courts actively seek top graduates to keep communities safe and to help make a difference. An Associate or Bachelor's degree in Criminal Justice from Monroe College can help you move toward a police academy and a rewarding and exciting career in law enforcement.
The School of Criminal Justice was founded in 2003 as a service-oriented response to the September 11th attacks. Monroe recognized the need for highly-trained criminal justice professionals, at the local, state and federal levels. We structured our curriculum to empower future law enforcement officers, social justice workers and emergency responders to solve real-life, on-the-job problems.
For more information: https://www.monroecollege.edu/degrees/undergraduate-degrees/criminal-justice-degree/
5. East Los Angeles College
Tuition: $1,221 in-state; $6,161 out of state
For many students, a career in criminal justice is a life-long dream. Enthusiastic, energetic, and knowledgeable faculty will assist and guide you every step of the way. ELAC uses its contacts and resources with leading criminal justice professionals to make sure our graduates are among the best-prepared and well-educated applicants for police academy and jobs in the criminal justice system.
Specialized career majors include a law enforcement emphasis, Chemical Dependency Specialist, custody, crime scene and fingerprint classification, peace officer standards, as well as patrol and preparation for police academy training.
For more information: https://www.elac.edu/Academics/Departments/Administration-of-Justice
4. Santa Rosa Junior College
Tuition: $1,280 in state; $6,599 out-of-state
The challenges and responsibilities of the modern peace officer have undergone tremendous changes. Today's public safety or private security officials must be prepared to meet the needs and expectations of an ever-changing, complex, and diverse society. The B.S. in Police Science prepares individuals to better meet these challenges.
Together with other working professionals, students study the management, leadership, communication skills, and tools necessary to respond to societal needs. Students also have the option of choosing between specializations in Forensic Investigations, Management, and Security Management.
The program also offers a generous credit transfer policy, including credit for Minnesota POST and military training. Courses are taught by experts in the criminal justice field and prepares graduates for police academy.
For more information: https://pstc.santarosa.edu/administration-justice
3. St. Mary's University of Minnesota in Winona
Tuition: $400 per credit
St. Mary's University of Minnesota ranked among the top 200 national universities in 2012, according to U.S. News & World Report. The university offers a Bachelor of Science in Police Science at two different locations: the Twin Cities campus and the Apple Valley Center.
For more information:
2. George Washington University in Washington, D.C.
Tuition: $39,000 (60 credits over two plus years)
George Washington University offers associate and bachelor's degree programs in police science that prepare students for leadership positions in the law enforcement field.
Tackling crime more effectively is an ever changing challenge for law enforcement that requires sophistication in analysis, problem solving skills, technology applications, and community relations. This program helps students prepare for the emerging challenges and responsibilities that come with protecting and serving communities. Taught by law enforcement experts, students learn the fundamental standards, strategic procedures, and leadership principles critical for modern police policing.
For more information: http://cps.gwu.edu/police-security-studies
1. John Jay College of Criminal Justice in New York City, NY
Tuition: $3,165 (12-18 credits, NY resident); $560 per credit hour (out of state)
At John Jay College (City University of New York) future law enforcement professionals can earn a Bachelor of Science in Police Studies. Once enrolled, students get academic credit in criminal justice, police science, patrol function and community policing. They also study police systems and the role of labor relations in policing.
There is no college anywhere in the U.S. or the world quite like John Jay. Founded in 1964, John Jay College of Criminal Justice – a senior college of The City University of New York – has evolved into the preeminent international leader in educating for justice in its many dimensions. The College offers a rich liberal arts and professional curriculum that prepares students to serve the public interest as ethical leaders and engaged citizens.
For more information: http://www.jjay.cuny.edu/about-john-jay
Do Police Need a Degree?
If you have an interest in a career in law enforcement as an officer, it is helpful to know that many states have no education requirement. Every police department will have its own expectations as well. However, earning a degree, even an associate degree, can be an effective career move. Instead, a high school diploma is the minimal education requirement to join any law enforcement agency – the most necessary step to a career as a cop.
However, an interest in police work will require you to have a background check with no previous events or actions that may disqualify you for work duty in law enforcement.
Each state's policy academy or department will set forth the education requirements for those who wish to work in the state as a peace officer. The four-month police training given at the police academy is crucial to any professional police career and is offered at a local, regional, or state level.
While an associate or baccalaureate degree is rarely a requirement, this postsecondary degree can offer upwardly mobile career path wages, especially in a competitive market. But note, if you want a federal law enforcement career – in the FBI or ATF, you will need to earn a four-year degree or master's degree to qualify.
What Makes a College a Good Choice for Police Officers?
If you are pursuing a career as a police or police officer and want to earn a degree in criminal justice, there a many quality programs and colleges for police officers from which to choose. Many law enforcement professionals join the force first and then complete degree programs at one of the available police colleges to advance their careers. More ambitious professionals may move on to master's degree programs for public administration jobs.
Any one of the colleges for police officers and criminal justice will offer students and actively working law enforcement professionals an opportunity to specialize in a criminal justice subspecialty –
Computer Forensics
Undercover or Narcotics
Identity & Financial Fraud
Cyber Criminology
SWAT – Special Weapons & Tactics Team
Homicide Detective
Criminal Investigation
Homeland Security
Gang Intelligence, to name a few.
Accreditation is important in higher education. Before enrollment, you need to know whether the program is reputable, your eligibility for a law enforcement training program, and entry level requirements to work as corrections officers or on the police force.
Is "Police Officer" a Major?
The term 'police officer' is not technically an available major offered by available police colleges, though "law enforcement" sometimes is. Those interested in a law enforcement or police officer career, with a dual goal to earn a degree, can choose from a variety of criminal justice or criminology programs offered by a wide variety of police colleges.
A criminal justice major is available in associate, bachelor's, or master's degree programs. A criminal justice major that would suit best depends on your specific interest, but may include law enforcement, criminal justice, and criminology.
Related Rankings:
25 Best Bachelor's in Criminal Justice Degree Programs
15 Best Online Criminal Justice Degree Bachelor's Programs
10 Fastest Online Criminal Justice Degree Bachelor's Programs
10 Most Affordable Criminal Justice Degree Bachelor Programs
25 Best Bachelor's in Legal Studies
15 Best Online Bachelor's in Legal Studies
10 Fastest Online Bachelor's in Legal Studies
10 Most Affordable Bachelor's in Legal Studies
25 Best Bachelor's in Public Administration
15 Best Online Bachelor's in Public Administration
10 Fastest Online Bachelor's in Public Administration