Share this infographic on your site!
Political Correctness on Campus
Political correctness is dominating college campuses across the country.
[1980s] Emerges from culture wars.
[1990s] Declines during focus on economy and health care.
[c.2010] Re-emerges out of social media and Internet 2.0.
Old Political Correctness:
Regulated by professors
Restricts hate speech
Fundamentally inclusive
Aims toward consensus
New Political Correctness:
Regulated by students
Rejects intellectually and emotionally challenging speech
Fundamentally exclusive
Viciously cyclical…
A takes offense at B
A broadcasts offense
A gains supporters
B gains defenders
A, B, and Media gain followers and $ from exposure
A/B polarization increases
The new political correctness has also enforced a confusing new vocabulary.
PC Terms:
mansplaining
whitesplaining
straightsplaining
tone policing
POC
WOC
WWC
Non-binary
free-speech-zone
microaggression
magnification
labeling
trigger warning
called out
safe
threatened
ally
evolve
almond shaming
catharsis
war on women
his and her
Occam's razor
anthropogenic warming
speech codes
misguided criminal
GLBTQ2IA
hir
ze
Un-PC Terms:
snowflakes
peanut butter sandwich
normal
Columbus
pet owner
rule of thumb
handicap
Christmas
prayer
swine flu
Dutch treat
holding down the fort
guys
ugly
psycho
janitor
secretary
illegal alien
broken home
criminal
failure
factory
crazy
foreign food
global warming
Experts think all this is causing adverse health effects.
Of College Counseling Directors:
95%: Report growing concern over students with significant psychological problems.
70%: Report student population with significant psychological problems has increased in past year.
Of College Students:
[show 2009->14 5% increase]
[2009]49%: Report overwhelming anxiety.
[2014]54%: Report overwhelming anxiety.
Cognitive Distortions Common in PC Campus Environments
Mind reading: A assumes B thinks negatively about A.
Fortune-telling: A predicts inevitably bad future.
Catastrophizing: A thinks past or future unbearably bad.
Labeling: A assigns global – traits.
Discounting positives: A ignores +.
Negative filtering: A focuses on -.
Overgeneralizing: A projects global trend from 1 incident.
Dichotomous thinking: A creates zero-sum scenarios.
Blaming: A categorically blames B.
What if?: A obsessed by negative scenarios.
Emotional reasoning: A governed by feelings, despite contradictory evidence.
Inability to disconfirm: A denies evidence contradictory to A's POV.
Not only is the new PC unhealthy, it's un-democratic.
Proper Democracy:
A listens to B.
A debates B.
A and B's policies voted on.
Voters decide.
New PC Despotism:
A denies validity of B's POV.
A rejects grounds of a debate.
A excludes B's electorate.
A decides.
The New PC is:
Close-minded
One-sided
Knee-jerk
Self-perpetuating
Self-consuming
Unhealthy
Tyrannical
It's time to turn back to the open-mindedness, intellectual curiosity, and free speech that America and its colleges were founded upon.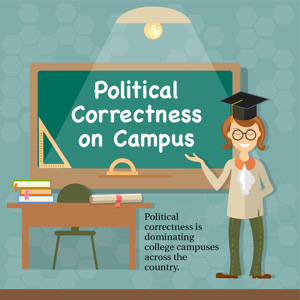 Citations: