Share this infographic on your site!
Adjunctivitis: Why Your Image of a College Professor Is All Wrong
Picture a college professor. You probably imagined someone with tenure, a stack of books to her name and healthy bank account. But reality is something different. Increasingly, institutions are relying on adjunct faculty, who are often overworked and underpaid.
Adjuncts Are Everywhere
An increasing proportion of college faculty are part-time, non-tenure track instructors, commonly referred to as adjunct faculty, despite the fact that many of them actually teach a full-time course load.
Featured Schools
4 in 10
College-level instructors who are part-time faculty (1)
Proportion of adjunct faculty in overall instructor pool by year (1)
1975: 24%
1989: 31%
1995: 32%
1999: 36%
2005: 38%
2011: 42%
Tenured and tenure-track professors account for only about 24% of faculty, down from about 45% in 1975. (1)
Full-time vs. part-time faculty (1)

FT; PT
Male; 59%; 50%
PhD or first professional degree; 67%; 27%
Average basic institutional income $65,407; $11,160
Percent with a full-time "other" job; 2%; 46%
The Dark Side
While the trend toward part-time faculty is undeniable, the practice has its detractors.
Low pay
1 in 5
Part-time faculty members who live below the poverty line (2)
$468 million
Taxpayer cost of public assistance for families of part-time faculty (2)
$20,000-$25,000
Average salary for adjunct professors, despite working equivalent of full-time job (3)
$84,303
Average salary of full-time instructors and professors(3)
60% of part-time instructors who would prefer a full-time position have at least one other job. (3)
Poor working conditions
Schools don't typically provide adjunct faculty with office space, so they must make other arrangements to meet with students.
And because many of them have other jobs to make ends meet, they are often rushing around, which again limits their ability to provide individual attention to students.
Instruction quality
According to a University of Southern California study, colleges with a lot of adjuncts or students who take a number of classes with adjuncts have lower graduation rates. (3)
Why Things Might Be Looking Up
Movements are gaining speed around the country to improve working conditions for part-time faculty.
Adjunct faculty from institutions across the country have voted to unionize, an effort being spearheaded by the Service Employees International Union.
Among them: (4)
Bentley
Boston
Northeastern
Lesley
Tufts
Washington (St. Louis)
St. Mary's (California)
Dominican
Common goals for the post-unionized groups include: (5)
Fair treatment in-class assignments
Health, dental and vision benefits for full-time equivalent
Provisions for sick leave and family leave
Opportunity to earn one-year and three-year appointments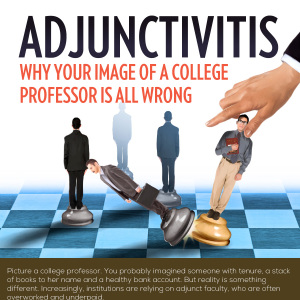 Sources:
1. http://www.aaup.org
2. http://seiufacultyforward.org
3. http://www.huffingtonpost.com
4. http://adjunctaction.org