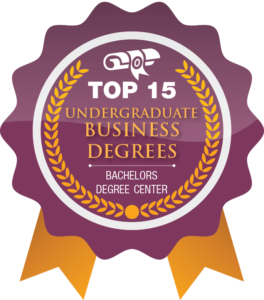 What follows are the top degree fields, based on undergrad business degree rankings by U.S. New and World Reports, Princeton Review, Bloomberg Business and the Bureau of Labor Statistics. They are presented in alphabetical order. In some cases, the specialties described require masters degrees.
The top colleges and universities offering each of the undergrad business degree field specialties are listed for each type of degree. We have also provided a link to each school mentioned so that you can easily request more information if you'd like.
Featured Schools
1. Accounting
Top rated schools for accounting:
Brigham Young University, Marriott School of Management
The Brigham Young University School of Accountancy guides students into successful careers in accounting, consulting, industry, and government. At both the undergraduate and graduate degree level, the school has received acclaim and awards from numerous national sources. The School of Accountancy's success is measured not just in terms of recognition, but through BYU surveys that show accounting students are among the happiest with their chosen major.
Undergraduate Program Overview
: The basic core requirements for a BS in accounting from BYU are comprised of 64 hours of course work. This includes a basic foundation in computing, five prerequisite accounting classes, a course in business law, and a rigorous upper level introduction to advanced accounting. Most accounting students will take only their accounting junior core classes in their junior year, as the coursework is intensive. These classes include Accounting Information Systems, Financial Statement Auditing, Fundamentals of Taxation, and more. Graduates have the option of pursuing their Master's in accounting from the school.
Also:
University of Illinois Urbana-Champaign College of Business
The University of Notre Dame, Mendoza College of Business
2. Basic Management
Top rated schools for basic management degrees:
The Business School at Harvard University
A bachelor's degree in Business Management degree qualifies you for rewarding positions such as supervisor, department manager, operations analyst, sales manager, and other leadership positions in business. The need exists for capable managers across all industries. Managers play a vital role in a company's profitability and viability.
The typical Bachelor's in Business Management degree program emphasizes vital management procedures, tasks, and skills to prepare students to handle complicated management and business issues. Students learn to manage resources and oversee staff. These programs provide fundamental management skills applicable in practically every career field.
The Business School at Harvard University fulfills all the promise of a first class education. The courses it offers includes: accounting, arts administration, consulting, e-commerce, economics, entrepreneurship, finance, general management, health care administration, human resources management, international business, leadership, manufacturing and technology management, marketing, not-for-profit management, production/operations management, organizational behavior, portfolio management, public administration, public policy, real estate, sports business, supply chain management/logistics, quantitative analysis/statistics and operations research, tax, and technology.
Tuition: $58,875
Also:
Stanford University
The University of Pennsylvania (Wharton)
3. Entrepreneurship
Top rated schools for entrepreneurship:
Babson College
Babson College currently offers 55 entrepreneurship-related undergraduate courses. Over the last five years, its graduates have started 118 companies.
100 percent of the total undergraduate entrepreneurship faculty have started, bought, or run a successful business. Additionally, 927 individual mentors have worked with students through an officially sponsored school program.
Babson is the only business school that has developed and advanced an innovative teaching method, Entrepreneurial Thought and Action. Unlike most business schools that teach entrepreneurship as a discrete, siloed subject, Babson incorporates Entrepreneurial Thought and Action across all disciplines. In fact, Babson's MBA program has been ranked number one in the country for entrepreneurship for 21 consecutive years by U.S. News & World Report, as well as by the Princeton Review.
Tuition: $60,944
Also:
Harvard University: Arthur Rock Center for Entrepreneurship
U. of Michigan: Samuel Zell and Robert Lurie Institute for Entrepreneurial Studies
4. Finance
Top rated schools for finance:
University of Pennsylvania (Wharton School)
Wharton's Finance Department's modern theories of portfolio choice and savings behavior have provided the basis for the innovation of these models, and the school has remained at the forefront of these developments.
The Finance Department has four areas of specialization:
• Banking and Financial Institutions, which entails the overall economic context affecting a firm's investments
• Corporate Finance, concentrating on the financing and investment activities of an organization
• Financial Instruments and Portfolio Management, which examines financial instruments and their market behavior
• International Finance, exploring the impact of such issues as foreign currency options and exchange rates parity on the multinational corporation
Tuition: $31,150 per term, and there are six terms in the two–year program calendar, which includes 19 courses.
Also:
University of Chicago (Booth)
New York University (Stern)
5. Human Resources Management
Top rated schools for human resources management:
Quinnipiac University School of Business and Engineering
Hiring, retaining and rewarding a competent workforce are all critical to the success of any organization. As today's business world gets increasingly complex, human resource executives must be able to effectively balance corporate goals with the capabilities of their staff.
The human resource track helps you understand how to achieve that balance. The coursework at Quinnipiac University School of Business and Engineering focuses on the special challenges you'll face in regard to recruitment, reward systems, and employee development and retention
Tuition: $42,270
Also:
DePaul University
Meredith College, Raleigh, North Carolina
6. Information Technology
Top rated schools for information technology:
Massachusetts Institute of Technology (Sloan)
The MIT Sloan Information Technology Group conducts research on the economic, business, and organizational implications of the digital technologies that transform the way we live and work. For 20 years, leading arbiters like U.S. News and World Report have ranked the group first among business school IT programs. The group's legendary strength is, in part, a function of being rooted at one of the world's most respected business schools within one of the world's most influential institutions of technology.
What further distinguishes the group is its breadth. The IT Group faculty covers all the key disciplines comprising the study of IT from economics to organizational behavior to computer science. Each member of the faculty is a leader in his or her field and works closely with industry partners and with pioneering research centers like the MIT Center for Digital Businessm the MIT Center for Collective Intelligence and the MIT Center for Information Systems Research.
Tuition: $43,720
Also:
Carnegie Mellon University (Tepper)
U. of Arizona (Eller)
7. Insurance
Top rated schools for insurance:
University of Georgia (Terry)
At the Terry College of Business, University of Georgia, you will find a BBA insurance program that was established in 1965 with professors who are top published in the premier risk management and insurance journals.
The program also provides internships with more than 50 employers in 15 states. It was also ranked as the #1 insurance degree college program by U.S. News & World Report and #2 by Campus Explorer. It is a highly selective university, according to Campus Explorer.
Tuition: In state, $10,262; Out-of-state, $28,472
Also:
U. of Wisconsin School of Business
U. of Pennsylvania (Wharton)
8. International Business
Top rated schools for international business:
University of South Carolina's Darla Moore School of Business
U.S.News & World Report ranked the Darla Moore School of Business' undergraduate international business education No. 1 in its September 2014 annual survey "America's Best Colleges Guide" — the 16th consecutive year the school has received this distinction
The International MBA program has been ranked No. 1 in the international business specialty by U.S.News & World Report in its survey of "America's Best Graduate Schools 2015," released March 11, 2014. The Moore School has ranked in the top three for 25 consecutive years.
Tuition: $43,142
Also:
The University of North Carolina's Kenan-Flagler Business School
Washington University's Olin Business School
9. Management Information Systems
Top rated schools for management information systems:
Bentley University
You may not have heard of this university, unless you are interested in pursuing a business degree, majoring in MIS. Bentley University is a small college that by U.S. News & World Report ranked fourth among best regional colleges in the North for 2011. The university also offered one of the top 20 management information systems programs in the nation that same year.
Bentley's Information and Process Management (IPM) department offers an IPM minor for both undergraduate and graduate students with three tracks of study. These include enterprise systems, information management and process management. Some undergraduate and graduate courses include topics in information support systems, business cyberforensics, management processes and information privacy.
Tuition: $42,550
Also:
Massachusetts Institute of Technology
University of Minnesota-Twin Cities
10. Marketing
Top rated schools for marketing:
College of William & Mary's Mason School of Business
As part of the academic curriculum at College of William & Mary's Mason School of Business, business majors take core curriculum courses and choose a major in a specific discipline of study. Students may also choose to add a concentration (secondary field of study) and international emphasis.
Students will be introduced to the various fields of business as well as cross-disciplinary themes through the core curriculum. This will provide a broad understanding of the form and function of each field and how the fields integrate. The core curriculum includes prerequisites, the Integrated Foundation Semester, and the upper-level core courses.
Along with the core curriculum students will also choose a major business discipline in which to focus. The undergraduate business program offers four majors: Accounting, Finance, Marketing, and Process Management & Consulting. Concentrations are offered in six areas: Accounting, Entrepreneurship, Finance, Management & Organizational Leadership, Marketing, and Process Management & Consulting.
Tuition: $31,058
Also:
Washington University (Olin)
U. of Virginia (McIntire)
11. Operations Management
Top rated schools for operations management:
Washington University in St. Louis Olin School of Business
The Olin Business School, founded in 1917, has a longstanding reputation for outstanding business education. We equip high-potential students with the skills, knowledge, and experiences they need to become leaders in a time of intense competition and global change. Participants in our programs learn much more than management theory and practice; they acquire new ways of thinking that can profoundly change their lives and the success of their organization.
All operations and supply chain management majors take: Management Science and Operations Management. Operations and supply chain management majors also choose electives from courses like:
• Advanced Operations Strategy
• Technology Management and Process Design
• Operations Planning and Control
• Cost Analysis and Control
• Competitive Industry Analysis
• Retail Management
• Marketing Research
• Negotiation
Tuition: $45,700
Also:
University of Pennsylvania (Wharton)
Carnegie Mellon's Tepper School of Business
12. Quantitative Analysis
Top rated schools for quantitative analysis:
Carnegie Mellon (in Pittsburgh)
The Quantitative Social Science Scholars Program (QSSS) is designed to help students navigate the gap that exists in the social sciences between the increasingly sophisticated use of mathematical models and quantitative data analysis in frontier research and graduate education, and the limited treatment of this material in traditional undergraduate curricula.
It accomplishes all this by laying out a structured program of training in advanced modelling and quantitative techniques that can be broadly applied across a range of social science disciplines and topics.
Tuition: $48,786
Also:
University of Pennsylvania (Wharton)
Massachusetts Institute of Technology
13. Real Estate Finance
Top rated schools for real estate finance:
University of Wisconsin – Madison
The University of Wisconsin-Madison has a long and honored tradition of excellence in education and research in the discipline of real estate and urban land economics.
In 2007, the center was named for the late James A. Graaskamp, a legendary figure in real estate education at Wisconsin. Today, the James A. Graaskamp Center for Real Estate's main goal is to serve as a link between faculty and students, alumni, the professional real estate community, government agencies, and the general public.
Tuition: 13,183 per year (full-time, in-state); $26,678 per year (full-time, out-of-state)
Also:
University of Pennsylvania, Wharton
University of California, Berkeley
14. Sports Management
Top rated schools for sports management:
Temple University's School of Tourism & Hospitality Management,
Sports and Recreation Management Program
The Sport and Recreation Management program prepares students interested in sport and recreation careers in the private/commercial sector, public recreation and park agencies, professional sports, athletics, youth sport agencies, voluntary agencies, campus services, armed forces, and corporate/industrial settings.
Tuition: $28,826
Also:
University of Texas
University of North Carolina
15. Supply Chain Management
Top rated schools for supply chain management:
Rutgers Business School
Supply Chain Management is how business gets done. Supply chain management spans all movement and storage of raw materials, work-in-process inventory, and finished goods from point-of-origin to point-of-consumption. According to the Bureau of Labor Statistics, Supply Chain Management is projected to be one of the fastest growing industries in recent years with employment increasing 83 percent in 2008.
The Supply Chain Management undergraduate major offers students the comprehensive knowledge and technological skills they need in order to ensure employment in leading supply chain management roles. The requisite knowledge and skill sets extend over all supply chain echelons and functional areas: strategic sourcing, global procurement, contract management, business performance improvement, supply chain technologies and six sigma, pricing analysis, channel coordination, brand management, new product development, supply chain alignment, retail management and distribution management.
Tuition: $7,944 for New Jersey residents; $13,368 non-residents
Also:
Penn State University
University of North Texas (Dallas)
What are the Best Undergraduate Business Programs in America?
Some of the best undergraduate business schools include:
Haas Business School at the University of California, Berkeley
McCombs School of Business at the University of Texas at Austin
Indiana University
Ross School of Business at the University of Michigan Ann Arbor
Columbia University
Georgetown University
University of Southern California (USC) in Los Angeles
University of Miami
University of Virginia
Cornell University
New York University (NYU)
University of North Carolina at Chapel Hill
What Am I Looking for in a Business School?
There's no perfect methodology for picking a business school that is right for you. Enrollment in an on-campus program is better for some, while others need online. A liberal arts college may be better for you than an Ivy League university. International students have different needs. Higher education has many forms.
Related Rankings:
25 Best Bachelor's in Business Administration
15 Best Online Bachelor's in Business Administration
10 Fastest Online Bachelor's in Business Administration
10 Most Affordable Bachelor's in Business Administration