Share this graphic on your site!
Surprise, Surprise! Hidden Expenses in Online College
Online college is often assumed to be the cheaper option for returning students. While this may be true, there are still many hidden expenses that prospective students should consider. (1)
Featured Schools
Tiered Tuition
It's pretty obvious that classes cost money. But did you know that tuition can be higher under certain circumstances? Being an out-of-state student can drastically increase tuition, while taking multiple classes in one session can lower rates. Be sure to check with your prospective school about what might raise your credit hour costs.
$282
Average cost per credit hour of undergraduate online courses (1)
Fees
As an online student, you dodge a few fees, like recreational facility costs and lunch programs. But there are still some fees that you are subject to: technology fees, book or resource fees, assessment fees and even graduation fees. If your school offers a specific service, chances are there's a fee for that.
Common fees (2)
Application: $20-$50
Enrollment: $100-$400
Graduation: $25-$100
Time for Travel
Don't be surprised if your online course requires at least one trip to campus per semester. And if you're in an online graduate program, many schools require a short, on-campus residency in your field.
Parking passes can get expensive.
Annual student parking fee (3)
Howard University: $240
George Mason University: $224
American University: $964
University of Maryland: $412
Technology
To really excel as an online student, you'll need both a reliable computer and high-speed internet. That seems pretty obvious. But there is often required software, and sometimes professor also expect scanned documents. E-readers or tablets can make doing homework on the go easier, too.
Students with gadgets (4)
Device: Undergrads: Grad students
Cell phone: 96%: 99%
Desktop computer: 59%: 73%
Laptop computer: 88%: 93%
E-reader: 9%: 7%
Tablet: 5%: 5%
Books
Traditional, on-campus students and online students have one thing in common: the high price of books. Luckily for all students, renting and buying used books are more affordable options.
73%
Increase in average cost of college textbook since 2006, more than four times the rate of inflation (5)
Child Care
You may think that staying home will keep you from needing a babysitter. But will you really be able to concentrate on your studies when your kids are running around and begging for dinner?
$9,589
Average annual cost of childcare for children up to the age of 4. That's more than the average annual cost of college tuition. (6)
Supplies
Lastly, don't forget the cost of office supplies. As an online student, you'll still need notebooks, pens, calendars and more. You can skip the backpack, though finding something to keep your school things together is recommended.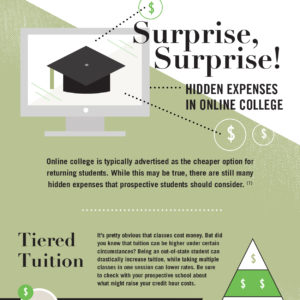 Sources:
1. https://www.usnews.com
2. https://www.propublica.org
3. http://www.washingtonpost.com
4. http://www.pewinternet.org
5. http://www.studentpirgs.org
6. http://money.cnn.com
Related:
15 Best Online Training and Development Programs
15 Best Online Bachelor's in Radiation Science
5 Best Online Bachelor's in Mechanical Engineering
15 Best Online Business Analytics Programs
15 Best Online Training and Development Programs
15 Best Online Bachelor's in Real Estate