Electrical Engineers are tasked with the responsibility of designing, developing & testing electrical equipment. But what exactly does an electrical engineer do? More specifically, students interested in pursuing electrical engineering as a career should find the answer to this question – What does an electrical engineer do on a daily basis?
To ensure you understand the available careers in electrical engineering, students should be vigilant and research the many paths that will lead to electrical engineering as a career. This is best accomplished by finding the answers to these questions –
Featured Schools
Which careers in electrical engineering offer the best starting salaries?
Are there electrical engineering careers available that will meet your salary expectations?
Can I work remotely for any of the available electrical engineering careers?
Are there electrical engineer careers that are available with just a baccalaureate degree?
Which electrical engineer careers require a more advanced degree?
Electrical engineering careers cover a broad spectrum as electrical engineer careers work with all types of electronic and electrical devices, from supercomputers to pocket-size calculators. Many students choose electrical engineering as a career as it is an excellent springboard to an array of technical careers across most industries. Because technology is forever evolving, there is always a strong demand for the many available careers in electrical engineering.

Accreditation for Electrical Engineering
The decision as to which academic program or postsecondary school will meet your education and career goals is life-impacting. But how would an engineering student make the best decision regarding the many engineering programs that are available through hybrid programs or on-campus? Which program would provide a student with the best bang for their buck?
The most straightforward way to determine an academic or school's quality to identify if either has received accreditation from either a regional or specialized accrediting organization or agency. More specifically, the process of accreditation compares a school or program's specifics to an established and approved set of criteria.
Accreditation is the process that determines if the school or university meets the education criteria as established by the relevant agency. There are two primary types of accreditation in the U.S. – regional & specialized accreditation – each of which is discussed below.
The Process of Regional Accreditation
Regional accreditation is recognized to be the oldest accrediting process. Regional Accreditation is organized into six fundamental regional agencies. These CHEA-overseen agencies (CHEA is an acronym for the Council for Higher Education Accreditation) assess and award accreditation to a postsecondary school, not a specific program or division/college.
Regional accreditation offers students a degree of certainty as they research available postsecondary options. Regional accreditation is also an essential issue for students who may want to transfer credits from an initial school to another, or for students who have a desire to pursue a more advanced engineering degree.
The Process of Specialized Accreditation
Specialized accreditation is the process by which academic programs are evaluated based on industry-sanctioned standards. Specialized accreditation offers potential students an assurance that the academic program meets a pre-defined set of standards. In the field of engineering, students are encouraged to seek ABET accredited electrical engineering programs on-campus or ABET accredited online electrical engineering degrees.
The Accreditation Board for Engineering & Technology (ABET – Engineering Commission)
ABET accreditation is offers engineering students the assurance if a college/university program meets the quality criteria that have been established by the engineering profession.
The ABET Engineering Commission accredits postsecondary engineering degree programs that are offered by higher learning institutions that have received regional accreditation. ABET only accredits programs, so students should seek an ABET accredited electrical engineering program, not a college or school with ABET accreditation.
Types of Electrical Engineering Bachelor's Degrees
For students with a serious interest in a career as an electrical engineer, it is essential that they enroll in one of the many quality ABET-accredited Bachelor of Electrical Engineering degree programs.
The reality is that a Bachelors's in Electrical Engineering is mandatory for entry-level positions in the engineering field. The coursework for typical electrical engineer degree programs includes classes in –
Digital Systems Design
Electrical Circuit Theory
Differential Equations
Laboratory Work
Most students are afforded these Bachelor of Electrical Engineering program concentrations –
Power Systems – a bachelor's in electrical engineering degree with an emphasis in power systems, power generation, and power grids prepares students to work with large-scale power systems across industrial, residential, and commercial industries.
Control Systems – this engineering specialty is concerned with electromagnetic circuits within machinery.
Integrated Circuits & Solid-State Devices – this specialty prepares engineering graduates for work in the consumer appliance and consumer entertainment industries. This area focuses on new products like electronic controls for electronic games, home appliances, and navigation systems
Robotics – this engineering specialty prepares students for professional careers that work with the design of robotic arms or artificial intelligence, to name a few.
Communication Systems – a communication systems concentration for engineering students will prepare them for the system that supports and controls the technology of telephones, TVs, and radios, among others. Additionally, engineers in this specialty may work with more complicated communication forms that include laser transmissions and/or wireless transmissions, among others.
Computers – over the past few decades, computer technology has begun to dominate the engineering profession. As such, engineering professionals, to be successful, must have a comprehensive understanding of –
Microprocessors
Computer Hardware Design
Hardware Manufacturing
Digital systems
Computer Programming
Computer systems
Software Engineering
It's not necessary for electrical engineering graduates to have all the skills of a computer engineer, but computers are central to electronic devices today, and hands-on knowledge of the field can make you more valuable on the job market. Whether you want to be a hardware engineer, an electrical designer, or a systems engineer, there are career opportunities and career paths related to computer science.
Its also important that electrical engineering students get a strong grounding in engineering management, project management, and other leadership skills. Engineers design electronic systems in teams, which may include mechanical engineers, software developers, and other experts, so a skill set that includes interpersonal skills can mean much better opportunities. Work experience such as internships are also very valuable.

Online Bachelor's Degree in Electrical Engineering Programs
Because professional electrical engineers are so dependent on the use of computer technology, many postsecondary schools have begun to offer electrical engineering bachelor's online programs. Online electrical engineering bachelor's degree programs offer students a flexible and convenient academic option, which also provides experiential learning on the computer equipment an engineering student may eventually design.
Online bachelor's degree in electrical engineering programs are a great alternative for those working learners who wish to work while they complete their electrical engineering bachelor's online degree.
Note, though, that many engineering students continue their academic careers after earning their baccalaureate electrical engineering degree. It is quite common for engineers to earn a master's degree in an engineering concentration; still, others continue and choose to earn a doctoral degree, especially if they wish to pursue a teaching career at the collegiate level.
Electrical Engineering Certifications/Licenses
The decision to become an electrical engineer will require a serious commitment to training and education. It also helps to have a natural inclination to wonder about how a flat-screen television manages energy efficiency or how an Atlantic City casino manager can use electricity without blowing out a fuse.
Electrical engineers begin their professional careers simply by earning a baccalaureate degree from an accredited institution of higher education – either online or on-campus. The next step is to become an EIT – an engineer-in-training – which requires the EIT to be supervised by an experienced engineer until they are qualified to sit for the relevant electrical engineer certification or credential exam.
Students have the opportunity to take the FE exam upon graduation if they have earned an electrical engineering or a closely related degree. Those professional electrical engineers who choose to work in a utility field must be licensed by passing the Fundamentals of Engineering (FE) exam. To qualify for this FE license, the applicant must meet these requirements –
Completed an engineering degree from an ABET-accredited program, and
Earned a passing score on the Fundamentals of Engineering (FE) exam.
Those who earn a passing grade on the Fundamentals of Engineering exam are called engineers-in-training (aka, EITs) or engineer interns (aka EIs). Both of these certifications for electrical engineer professionals are similar names for the same electrical engineer certification options. EITs are required to work under the direct supervision of a seasoned electrical engineering professional.
As an engineering-in-training or engineering intern, you will then spend a minimum of four years learning from a licensed Professional Engineer (PE), training that prepares you to learn how to apply the theoretical knowledge to real-world situations. With sufficient supervised training, an engineer in training can then take the PE – the Professional Engineer exam – one of the certifications for electrical engineer professionals offered by the National Society of Professional Engineers (NSPE).
And while it is not a requirement to take the PE exam, the reality is that electrical engineering certifications reveal that the credential holder has the knowledge, skills, and experience to become the next generation of engineering leaders and that they are serious about their electrical engineering career.
From a technical perspective, only a licensed Professional Engineer (PE) can submit (seal & sign-off) on engineering plans for public or private work. A PE designation denotes that the engineer is at the top of the field and offers professionals a path to becoming an engineering consultant.
Complete the State Licensing Requirements
Every state – including DC and all United States territories has laws enacted that require the licensing of engineers; however, it is not uncommon for one state's requirements to differ significantly from a nearby state.
As you consider your electrical engineering career options, be certain to understand the licensing requirements for the state you may work in, so there won't be any surprises when you apply for your electrical engineering license. Note also that most states require licensed engineers to stay abreast of the latest electrical engineering methods/techniques by completing continuing education classes as a requirement for the renewal of one's PE license.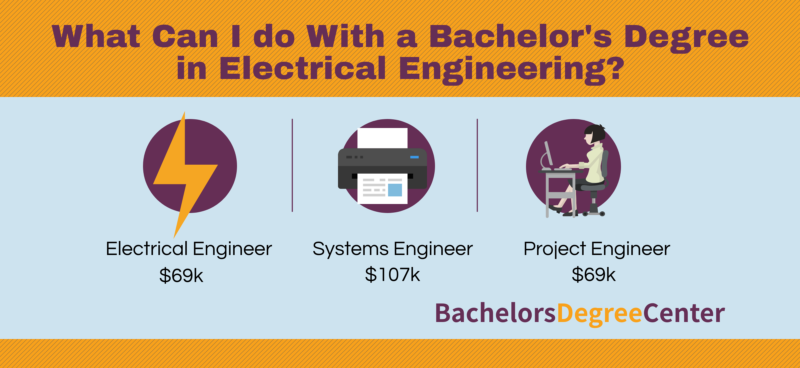 Careers in Electrical Engineering
Electrical engineers employ techniques from the field of physics, electronics & electromagnetism to develop assorted devices that either produce or are powered by electricity. In addition, they seek to evaluate & improve systems, often by testing prototypes, prior to implementation.
As you consider the available jobs with an electrical engineering degree, consider these questions –
What jobs can you get with an electrical engineering degree if it is earned online?
How can I find the Bachelor in Electrical Engineering jobs near me for which I am qualified?
What jobs can I get with an electrical engineering degree that will meet my salary expectations?
Which Bachelors in Electrical Engineering jobs offer the highest entry-level salaries?
Are there Bachelor of Science in Electrical engineering jobs available internationally?
The reality is that nearly every industry has a true demand for the skills provided by an electrical engineer, which includes technology, government agencies at all levels, transportation, utilities, and communications, among others.
The majority of electrical engineering professionals either work in an office or a lab setting; however, many move from short-term, on-site projects – one after the other, as well.
Electrical Engineering Degree Jobs
Electrical engineers work on an array of projects. Jobs with an electrical engineering degree include occupations in robots, computers, navigation systems, robots, cell phones, radar, or wiring/lighting across a variety of electrical system setups.
Electrical Engineering degree jobs include many sub-specialties, with many choosing to specialize in a combination of sub-specialties. The most popular electrical engineering sub-disciplines include the following, but note that some of these sub-disciplines may require additional education and training requirements –
An Electronics Engineer – electronics engineering professionals work with electronic circuits such as resistors, capacitors, inductors, transistors and diodes, and other equipment that use electricity as a power source.
A Microelectronics Engineer – microelectronics engineering professionals, design the micro-fabrications of tiny electronic components in circuits.
A Medical Engineer – medical engineering professionals contribute to the design of circuits, software, and components used to create medical equipment.
A Signal Processing Engineer – signal-processing engineering professionals work with digital and analog signals.
A Power Engineer – power engineering professionals facilitate the design of electrical devices, which include generators, motors transformers, & power electronics.
A Controls Engineer – controls engineering professionals design those controllers that manipulate systems. They work with micro-controllers, electrical circuits, digital signal processors, and programmable logic controllers.
A Telecommunications Engineer – telecommunications engineering professionals design optical fiber or cable networks that transmit information.
An Instrumentation Engineer – instrumentation engineering professionals deal with the design and maintenance of devices that measure pressure, flow, and temperature. This typically involves the need for an engineer to have a deep comprehension of the field of physics.
Oil & Gas Engineer – oil & gas engineering professionals that work in the gas/oil industry design and maintain those electrical systems that meet the needs of refineries. Their work includes meeting safety and efficiency requirements.
Power Electronics Engineer – power electronics engineering professionals have the skills required to work with converters, switchers, and inverters in power supplies. These skills are also in demand for renewal and portable power, and cutting-edge medical devices. Work is available in the space, utility, or automotive industries, to name a few.
An Automotive Engineer – automotive engineering professionals that work in the automotive sector design, maintain, and test the electrical instruments that include batteries, anti-lock brakes, electric windows/seats, and navigation systems in vehicles, to name a few.
A Computer Engineer – computer engineering professionals specialize in computer software and hardware design.
An Aerospace Engineer – aerospace engineering professionals design the many interface devices that transfer electricity, operate guidance systems, networks, satellite systems, and radar, to name a few.
An Energy Sector Engineer – energy sector engineering professionals work with transformers, generators, and switchgears (among others) to improve the generation of electric power.
A Naval Engineer – naval engineering professionals design electrical components and ship engines on a variety of vessel types. Naval engineering professionals are vital to safe marine travel.
Salary Expectations for Electrical Engineering
If you are seriously researching a career as an electrical engineer, it is essential to find the answers to these relevant questions about electrical engineers' potential salary expectations –
How much do electrical engineers make out of college?
How much money do electrical engineers make per year with a baccalaureate degree?
How much do entry level electrical engineers make per year?
How much do electrical engineers make a year with a graduate degree?
The following tables offer potential students a breakdown of electrical engineering salaries across states and percentiles.
How Much Do Electrical Engineers Make a Year?
The following electrical engineering bachelor degree salary data reveals that there were more than 325,000 electrical and electronic engineers employed in the country during 2020 – with electrical engineers making up more than 185,000 working professionals. The median salary for electrical/electronic engineers for 2020 was $103,390 each year, which translates to $49.71 per hour, according to the BLS.
The following table represents the percentile data for electrical engineers –
| | |
| --- | --- |
| Percentile | Electrical Engineer Degree Salary |
| 10% | $ 64,870 per year |
| 25% | $ 79,010 per year |
| Median – 50% | $100,830 per year |
| 75% | $128,680 per year |
| 90% | $159,520 per year |
Those states for electrical engineers that offer the highest salaries are as follows –
| | |
| --- | --- |
| State | Electrical Engineer Degree Salary |
| Washington, DC | $ 126,840 per year |
| California | $ 124,390 per year |
| New Jersey | $ 120,140 per year |
| Vermont | $ 118,460 per year |
| Washington | $ 117,790 per year |
Those states with the highest employment level of professional electrical engineers are as follows –
| | | |
| --- | --- | --- |
| State | Number of Electrical Engineering Jobs | Electrical Engineer Bachelor Degree Salary |
| California | 26,360 | $ 124,390 per year |
| Texas | 14,200 | $ 107,270 per year |
| Pennsylvania | 8,980 | $ 101,120 per year |
| Michigan | 8,410 | $ 94,020 per year |
| New York | 8,170 | $ 105,080 per year |
Metropolitan areas that have the highest number of electrical engineering employment levels –
Metropolitan
Area
Number of Electrical Engineering Jobs
Electrical Engineer Salary
Los Angeles – Long Beach, CA
9,290
$ 122,470 per year
New York, New Jersey – PA
7,290
$ 113,450 per year
Boston – Cambridge – NH
7,190
$ 115,740 per year
San Jose – Santa Clara – CA
5,420
$ 150,480 per year
Seattle – Tacoma – WA
5,150
$ 120,060 per year

Professional Organizations for Electric Engineers
Professional organizations are designed to support professionals within a certain industry. Professional organizations are often the advocacy voice of the industry, speaking for the many companies and professionals throughout the industry.
Professional organizations provide a plethora of benefits to their members, which may include, in part, the following –
National/Regional Conferences.
Networking Opportunities.
Job & Opportunities.
Awards.
Research.
Continuing Education Options.
Advocacy, plus a variety of others benefits.
Electrical Engineers are fortunate to have an array of professional organizations from which to select. These are detailed below.
The NSPE – the National Society of Professional Engineers was founded in the mid-1930s and is dedicated to supporting the nontechnical aspects and concerns of professional engineers. The NSPE operates as a multidisciplinary organization that operates on a national level. It offers its members the opportunity to discuss the ways in which to create change in the electrical engineering field. Additionally, the National Society of Professional Engineers also provides its members with a plethora of continuing education & networking opportunities in support of each electrical engineer's career mobility. The NSPE is recognized to be the only professional organization in the nation that seeks to support electrical engineer's nontechnical issues.
The IEEE, an acronym for the Institute of Electrical & Electronics Engineers, holds the distinction for being the globe's largest technical professional organization, with a fundamental ethos that includes advancing the technology across each engineering field. The IEEE has more than 415,000 members that hale from more than 150 countries. The IEEE actively participates in the governance of education and global public policy. In addition, the Institute of Electrical & Electronics Engineers is also world-renown for its industry conferences and the publication of a variety of industry-related resources. Many engineering students choose to join the IEEE upon graduating from a postsecondary school, which simply reinforces the notion that the electrical engineering field is evolving to a global network of professionals.
The IET was established in the early-1870s as the Society of Telegraph Engineers. The IET was founded to foster a supportive community for engineering professionals that encourages the sharing of innovative concepts with the entire community. The Institution of Engineering and Technology offers its members access to professional development and career management services.
The SOWE – the Society of Women Engineers, is a professional organization dedicated to supporting electrical engineering women professionals. The Society of Women Engineers that offers its members a variety of benefits that includes networking opportunities, leadership workshop, cutting-edge educational programs, and continuing education, to name a few.
Membership to the Society of Women Engineers also includes various resources, debate forums, awards programs, publications – all designed to help facilitate and enable women engineers to further their careers or further discussions regarding a number of relevant and topical issues in the field of engineering.
Related Rankings:
25 Best Bachelor's in Electrical Engineering
15 Best Online Bachelor's in Electrical Engineering
10 Fastest Online Bachelor's in Electrical Engineering