Political science as a potential college major often means the student has aspirations of securing a government job in public office. Political science students will study the subjects needed to understand how various government agencies operate and how these organizations were first founded. Along with understanding the underlying structure of national and international governments, political science majors study methodologies, social movements, legal issues, and ethics. The graduate will know how to communicate effectively with the public and the media. Political science degree tracks provide a well-rounded education for those who desire a public career.
However, before running for public office, political science graduates use their education to work in other arenas. These jobs help them build the soft skills needed to get into politics. Although some elected officials are career politicians, a number work in industries such as non-profits, private sector businesses, and the law. Many top officials in elected positions have a degree in political science and may even double major in history or business. Before becoming a public figure, the political science graduate may obtain a support staff position. On the job experience is needed in the political science field. This is why many colleges provide credit for internships and paid work assignments.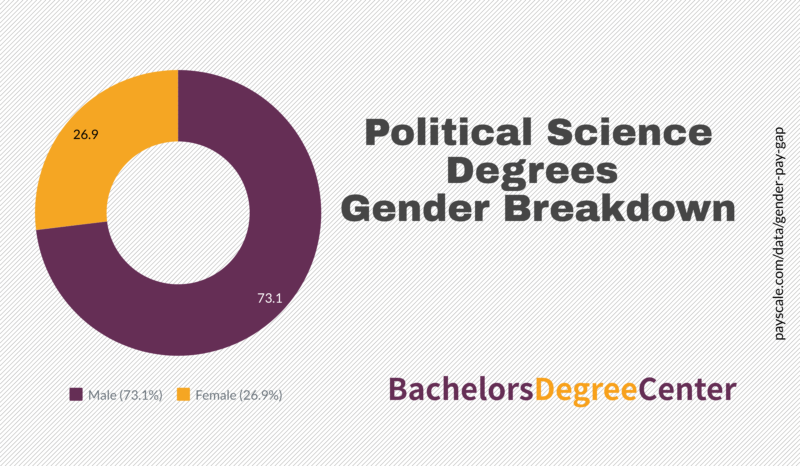 Should I Get a Political Science Degree?
Common queries of prospective students who plan to pursue a political science degree include:
What is political science?
Political science is a broad term used to refer to the social science study of government at the local, state, and federal level. Political science is never focused on one particular type of institution, but will cover topics to provide a broader understanding of politics. Since political science is far-reaching, it does feature numerous sub-topics. Political theory, comparative politics, analytics, policymaking, and international relations all fall under the political science umbrella.
What is political science about?
Political science is about how governments operate. Governments have evolved over time and its important for future representatives to know what policies worked in the past and what policies failed. Courses not only delve into current government organizations, but also historical types. As an example, American politics will begin with the course examining the formation of the government during the colonial period. Political theory is a normal requirement within a political science degree program. Within political theory, students learn about the importance of government and how government influences human behavior. American government and politics are a standard part of curriculums, but students also learn about international governments. International political science subjects will focus on building relationships between foreign entities. International courses may narrow in on a certain country's government formation and current regulations.
What is a degree in political science for?
Although many graduates of political science programs go into politics, degree holders could also choose to pursue jobs in other professions. Political science careers include government officials, lobbyists, public administration officials, non-profit representatives, lawyers, consultants, political analysts, public relations workers, paralegals, and lawyers. Some of the preceding careers are available to bachelor degree holders while others require graduate-level degrees. Political science programs develop skills essential to many jobs. Soft skills honed by political science majors include good communication, critical thinking, negotiation capabilities, conflict mediation, and critical listening. Hard skills will also be convered during coursework such as statistics, big data analysis, economics, and fundraising strategies.
To get started in a lucrative government career, a bachelor degree is a solid start. Many government jobs have a minimum requirement of a four-year degree in political science. Students have the option to attend accredited programs held virtually or on campus. Accelerated options could be offered, but standard political science bachelor degrees take an average of four years to complete when attending full-time. For part-time students, a bachelor degree program could take longer, up to six years if five classes or less are completed each year.
Keep in mind that not all online colleges follow traditional semester schedules. As one example, self-paced online political science degrees allow the student to choose how long class completion takes. Instead of courses lasting months, each class period may occur every four to six weeks. Online colleges also normally operate year-round. This gives students the chance to take classes during traditional breaks, such as the winter and summer.
Accreditation for Political Science Degree Programs
An accredited political science degree is critical for post-graduation job placement. Degrees earned from non-accredited universities may not be accepted by an employer. Also, colleges and universities tend to not accept any transfer credits earned from non-accredited schools. Notably, political science degree online accredited programs are offered. An accredited online political science degree should be earned from a university that has regional approval from an accrediting body. Accrediting agencies will approve both traditional and online colleges.
Regional accreditation is essential for the best political science degree programs. In fact, regional accreditation matters the most for all accredited online political degree tracks. Regional accreditation has widespread acceptance at U.S. colleges with credits earned at these institutions being more likely to transfer. Regional accreditation involves the evaluation of colleges and universities located in certain regions of the United States. The process is voluntary and the regional accreditation organization confirms that the programs and the college meet their established minimum standards. Qualifying factors include faculty background, curriculum, program outcomes, and available resources.
The physical location determines the regional accrediting agency, even if the college provides political science degree online programs. As an example, the New England Association of Schools and Colleges provides accreditation for universities located in New Hampshire, Rhode Island, Connecticut, Maine, Massachusetts, and Vermont. Another key benefit of attending an accredited college is most federal loan and grant programs require regional approval for students to receive any funding. Any scholarship sponsors may also require that the student attends an accredited degree program National accreditation is rarer for political science bachelor degree programs. Trade schools often obtain national accreditation as well as select online colleges. Check the status of a regional accredited college prior to admissions. Colleges are required to apply for renewal status on a routine basis.
Specialized accreditation is another consideration when selecting a political science degree. With specialized accreditation, non-profit political science organizations review a college's curriculum, faculty, and positive outcomes to determine eligibility. The following are a few common associations that award political science degree accreditations:
Although accreditation through these organizations is beneficial, they are not a requirement for an online political science degree. The perk of choosing programs with these accreditations is that students know that the curriculum meets the standards needed to remain competitive in today's job market. Research the organization to determine what rules they use to accredit a political science degree.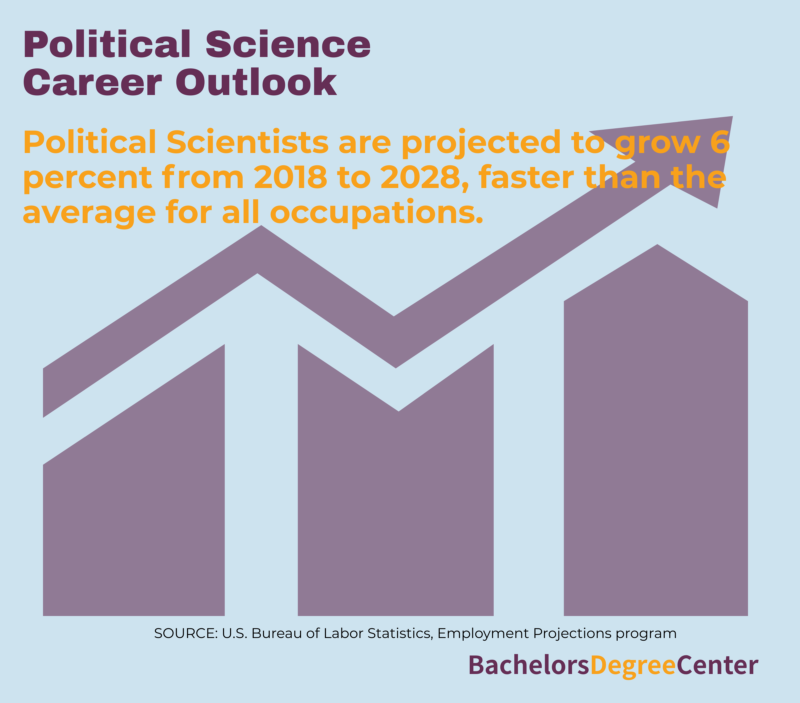 Types of Political Science Degrees
Colleges never provide a one-size-fits-all political science online degree. A bachelor's degree in political science can be made up of a variety of subject matter with electives offered to suit the student's desired career path. Another way to narrow the focus of an online degree in political science, specializations are commonplace. Specializations should be reviewed for students who have clear-cut career goals.
Typically, there are two main types of political science degrees: a Bachelor of Arts in Political Science and a Bachelor of Science in Political Science. Although some core classes are similar with these two types of degrees, Bachelor of Science degree students tend to focus more on methodologies within the field of political science. When enrolling in an online degree in political science program, a college may request the student choose a specialization. The specialization determines what core classes the student must take. The following are the top political science degree specializations:
International Politics– International politics focus on how modern politics operate on a global scale. The student may have the option to specialize in a particular continent or region, such as Europe or Asia. Some international politics majors choose to minor in a foreign language related to their pick.
American Politics– An American politics specialization looks at the historical and current organization of the U.S. government. The student not only finds out about the chains of command, but also researches public service, the media, and legal systems.
Political Theory– When a student specializes in political theory, he or she researches the core premises of legal and political systems. A closer examination is given to the meanings behind government control, authority, and social justice.
Public Policy– Students interested in becoming lobbyists or policymakers, normally choose to specialize in public policy. The students learn about how policies within a government are created and what it takes to repeal these policies. Federal policies are examined during this specialization as well as local and state policies.
Environmental Politics– For this specialization, a student will concentrate on environmental policies developed by government bodies. Environmental politics are discussed at both the national and international level.
For majors without a specialization, political science topics will have a broad context. Examples of standard classes within a bachelor degree online political science curriculum include:
Constitution
U.S. Federal Government
Modern Politics
Foreign Policy
Political Theory
Political Writing
Double or dual majors are offered by several online political science programs. Political science is one of the top degree tracks that include dual degree options. Dual degree tracks normally require 150 credits for graduation instead of 120. Alternatively, a minor may be selected by the political science student. Minor programs will have a requirement between 18 and 30 credits. Dual major and minors that are typically paired with political science include history, economics, business, and international affairs. Online colleges can recommend a schedule of courses to help the dual major student graduate within a four-year timeframe.
Another comparison for prospective students is an online political science degree and in-person political science degree. Employers no longer differentiate between the two types and gladly accept candidates who have earned their degrees through virtual classes. A political science online degree track is ideal for those who need flexible scheduling due to work and family commitments. Online programs also provide convenience for those who wish to attend a college located in another state from their current residence.
For both in-person and online political science degrees, a total of 120 credits is normally required for graduation. For traditional programs, degree completion usually takes four years. At some colleges, accelerated programs allow the student to graduate in a shorter timeframe. Approximately half the credits needed for bachelor degree graduation are from general education classes while the other half derive from core courses, electives, and an internship.
Many graduates will go on to graduate school to obtain a master's degree.
Certifications/Licenses
A political science online certificate is available to both job seekers and those who are currently employed. Political science certifications add more skills to a resume and may also be a requirement of employers. A political science certificate online is a convenient option for those who are already enrolled in classes or working. Some organizations offer low-cost or free certifications for political science majors. Although not all of these certifications are required by employer, the proceeding are the most widespread in the field.
Government Analytics Certification-This is a certification earned following bachelor degree completion. This program focuses on analzying government statistics, public policies, and political behaviors.
Terrorism Studies Certification-With this program, the political science student develops specialized skills needed for jobs in counter-terrorism organizations.
Global Policy Making Certification-For this certification, the enrollee focuses on laws in different countries and how policies are formed in these regions.
Local Government Leadership Certification-Any student planning to secure a position within his or her municipality should consider this program. The courses within the certification aim to develop the skills needed to improve a town's economic and social performance.
Human Rights Certification-This program was developed for political science majors who plan to work as lobbyists or activists. The certification concentrates on the effect social movements can have on government policies.
For most positions, a license is not needed. However, if the political science major pursues careers in education or law, requirements change. For instance, political science teachers need valid licenses in their states. Paralegals and lawyers are also usually required to obtain a state license.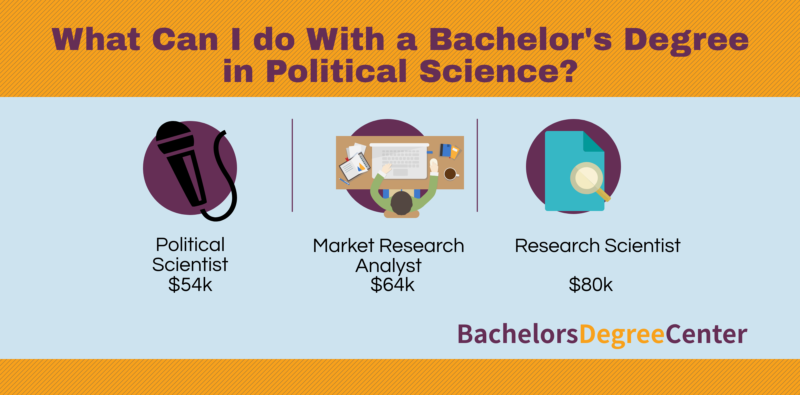 Careers in Political Science: What Can You Do with a Degree in Political Science?
Jobs as a political science major are vast. So you may wonder, what is a political science degree used for? Since the curriculum covers subjects related to so many fields, political science graduates have different career tracks they can follow. Most jobs with a political science bachelor's degree involve working within government agencies, but private businesses and non-profits will also hire graduates. So what jobs can i get with political science degree? The best jobs for a political science degree are:
Educator-Political science degree holders could choose to go into the education field. Both high schools and colleges look for political science teachers.
Public Relations Specialist-With a bachelor degree in political science, graduates could work as a public relations specialist for government officials, businesses, and celebrities. The specialist looks for ways to improve public image and bury negative press.
Paralegal-A bachelor degree in political science qualifies the person to pursue a job as a paralegal. Paralegals conduct interviews and perform research on behalf of a legal team. Political science graduates can enter law school and eventually practice as an attorney.
Fundraiser-Non-profits hire political science degree holders to organize events, contact benefactors, and manage marketing to raise money for the organization.
Consultant-Many individuals who run for office rely on the advice of political consultants. Political consultants make recommendations on how to best manage a campaign and research voting trends. A campaign manager is a type of consultant that organizes the marketing for a government candidate.
Government Official-Those who wish to run for any type of public office will usually have a background as a political science major. Some government positions require the person to be elected through public voting.
Lobbyists-Lobbyists are typically hired by private businesses. Their role is to appeal to government officials to make policy changes that benefit the lobbyists' clients. Lobbyists often ask for tax breaks and grants to improve finances for large-scale industries such as banks and construction unions.
Political scientists don't just work on political campaigns, though. They do research, create public opinion polls, and work in public affairs.
The best things to do with a political science degree depends on the graduate's location too. For instance, if the student lives in a rural area, the number of open political positions could be limiting. Knowing what to do with a political science major may depend on your networking ability. For political science bachelors degree jobs in government, relocation may be strongly considered. The highest concentration of government jobs are found within the nation's capital and metropolitan areas. State capitals also typically house a large number of government offices. Each municipality and county will provide a select number of jobs for political science majors.
Political Science Degree Salary
A degree in political science salary depends on the position secured after graduation. Entry level positions may have a lower starting salary for political science degree holders, but provide the potential for advancement. The most lucrative careers typically occur within private businesses. Taxpayers determine the salary of government officials with certain positions being capped. However, the benefits of a government position should also be carefully considered. Government jobs provide job security, superior health benefits, retirement plans, and guaranteed wages.
An attractive political science bachelor degree salary is usually held by those who go into public relations. According to the Bureau of Labor Statistics (BLS), the average salary of a public relations specialist is $61,150. Public relations managers earn an even higher wage with an average of more than $77,000 per year.
A salary for political science degree graduates who choose a career in consultancy can also be enticing. Consultants, including campaign managers, make an average of $73,000 annually. Those who run large-scale campaigns or who manage fundraising efforts for government officials tend to make a very high salary. The Bureau of Labor Statistics report fundraising managers have a national average salary of $116,180 per year.
Political science teachers who are employed at the high school level make an average of $61,000 per year. Political science professors earn a higher annual wage, but must obtain a master's or doctoral degree for job consideration. At this level, political science professors make around $79,500 per year.
The salary range for government officials has a large range. At the highest level is the President of the United States with an annual salary of $400,000. Senators and representatives earn around $170,000 annually. For all other government positions, the national average is $52,000.
Paralegals have an average annual salary of $51,740 while attorneys make approximately $123,000 each year. Paralegals are hired after finishing a bachelor degree program and taking a certification exam. Attorneys earn a higher salary, but will graduate from law school after finishing a political science degree program.
Lobbyists earn a very generous salary since they represent the interests of private companies. On average, a lobbyist will earn more than $112,000 each year. However, some top lobbyists in Washington DC have a salary in excess of $200,000.
A number of factors determine the average salary for political science majors. One of these factors include the location of the job. As just one example, paralegals earn the highest wages in Colorado, California, Massachusetts, and Washington, according to the Bureau of Labor Statistics. These states pay in excess of $60,000 per year. Metropolitan areas are also known for paying higher mean wages. For instance, fundraising managers make the most in New York City, Washington DC, Los Angeles, San Jose, and Denver. Average salaries in these metro areas are in excess of $148,000 per year.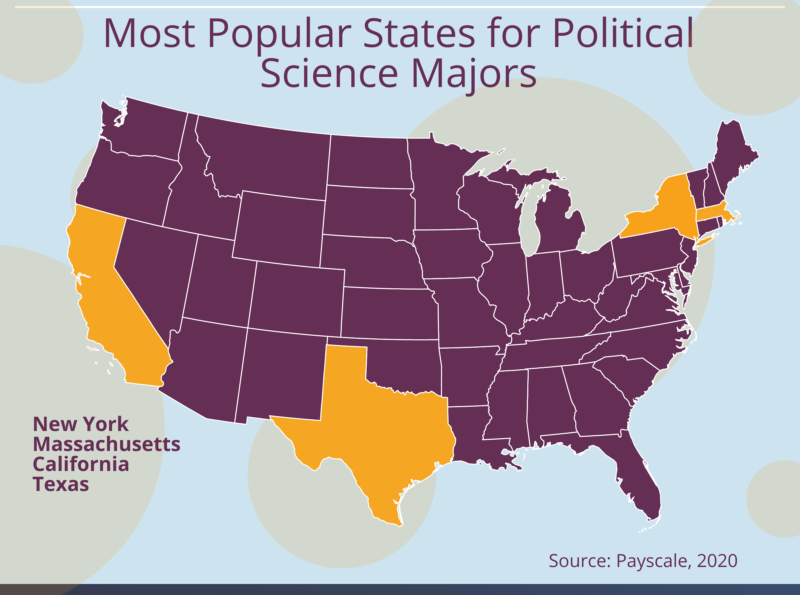 Professional Organizations in Political Science
Professional organizations can add value to a political science major graduate. Many organizations charge a nominal fee for membership and provide substantial benefits. For one, professional organizations often plan networking events to help political science graduates make connections. Career fairs and job boards may also be sponsored through a professional organization. Any type of industry news is also usually first reported through professional communities. Many organizations release publications quarterly or monthly to keep members up to date on the latest happenings. Significantly, professional organizations are traditionally sources of continuing education courses. These courses may be finished virtually or locally if available. Members of professional organization could be given discounted pricing for continuing education classes.
The following are current professional organizations for political science students and graduates:
The American Political Science Association (APSA)
International Political Science Association (IPSA)
American Sociological Association (ASA)
The Association for Political Theory (APT)
Related Rankings:
25 Best Bachelor's in Political Science Programs
15 Best Online Bachelor's in Political Science Programs
10 Fastest Online Bachelor's in Political Science