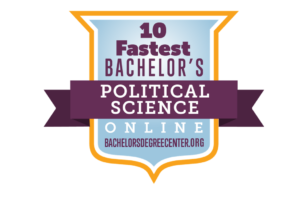 Graduates who have enrolled in an accelerated Political Science degree program are putting their educational goals on the fast track. Not only will they be completing their degree program in a much shorter period of time, they will be able to put their newfound knowledge to use while they are in school. Accelerated degree programs condense the amount of information into fewer actual lessons giving the student an opportunity to graduate in approximately 18 months. Traditional degree programs can take up to two years to complete.
Many accelerated political science degree programs are taught in an online format. Learning in an online format allows the student to remain on the job. Flexible schedules make it easy for the student to study when it is most convenient for them. They are able to take their time with each lesson and go over it fully, pulling out as much information as possible. They can also return to previous course materials to go over them as they feel the need.
Methodology: How We Ranked the Best Accelerated Political Science Degree Programs
Finding a fast-track program is easy, but finding a good one can be hard. Bachelor's Degree Center features only accredited, reputable colleges and universities offering accelerated-format degrees. Programs are ranked by their cost, reputation, and salary potential, using data from Niche and IPEDS.
1. Florida International University

Topping the list of the best accelerated political science degree programs is the online BA in Political Science from Florida International University. This program teaches students the art of political analysis and trains them for challenging careers in the private sector or in government. Graduates are also prepared to pursue graduate-level education if they wish to continue their education beyond the bachelor level. Students learn about a variety of political science topics as they study international politics, political theory, comparative politics, and of course, American politics and government.
Florida International University strives to be a leader in online education. The school is innovative in its use of technology for learning. FIU students are transformed into professionals who make a difference in the world. FIU's mission is to connect lifelong learners to the best online education available anywhere in the world.
What We Like: Every student is matched up with a success coach to help them in their educational journey.
Degree: Political Science, BA
2. University of North Georgia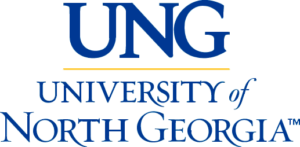 The University of North Georgia offers a BS in Political Science. This accelerated political science degree helps students understand the structure of government and how laws are written and passed. They learn about public policy and the impact of those policies on the economy and social structure of the country. Students who complete the program are prepared to participate in political movements, electoral politics, and community organizations. They are also prepared to seek election and serve in government. The program exposes students to forms of government used all over the world.
The College of Arts and Letters at the University of North Georgia provides a variety of choices and opportunities to help students make an impact on the world. Students are given the tools they need to improve their communications, expand their horizons, and bring new insights to the world.
What We Like: Up to 9 credits of internship can be applied toward this degree.
Degree: Political Science, BS
3. University of Texas – Permian Basin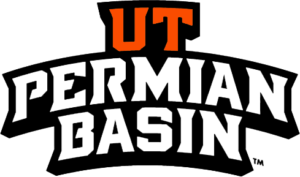 UT Permian Basin offers a BA in Political Science. This accelerated political science degree is 100% online and can be completed in as little as 12 months. Students study how the American government works and gain a basic understanding of political systems at the local, state, and national levels. The curriculum covers problem-solving in government, enabling students to understand how governments solve political and social problems. Students learn to think globally as they prepare to take on leadership roles in the future in roles such as attorney, industry lobbyist, political analyst, congressional staffer, political science professor, or intelligence analyst.
UT Permian Basin values diversity and serves students from all over the state and beyond. The school is focused on its students and emphasizes learning, teaching, public service, and research.
What We Like: The online degree provides the same high-quality education as the on-campus program.
Degree: Political Science, BA
4. Fort Hays State University

Fort Hays State University offers both a BS and a BA in Political Science. The B.A. program requires 10 hours of language courses and 21 hours of electives, and the B.S. degree requires 20 hours of science, math, and applied coursework plus 11 hours of electives. Students are prepared to become caring, principled leaders who are committed to having a positive impact on public policy. Required courses include American government, orientation to political science, introduction to public policy, and introduction to international relations.
Fort Hays State University is a leader in higher education in the Midwest. The school has award-winning programs and reaches students from all over the world. The faculty and staff is dedicated to invest all of their effort into transforming students' lives through education. The school brings together students from all sorts of backgrounds, who all become part of the Hays family.
What We Like: These accelerated political science degree programs are available both online and on campus.
Degree: Political Science, BS/BA
5. Brescia University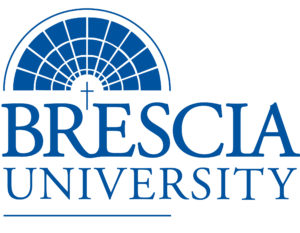 Brescia University offers a BA in Political Science. This accelerated political science degree is designed for students who want to gain a deeper understanding of political science. The program prepares students for careers in the private, public, international, and domestic sectors while teaching them to be responsible citizens. The program looks at how governments and individuals are related and examines how group behavior leads to international and domestic cooperation and conflict. Students learn about the processes involved in policy making and they learn about the rights and responsibilities of citizens.
At Brescia University, education is about enabling students to make a difference in their communities and around the world. The school is a Catholic university and follows the words of Jesus, especially his commandment to love one another. Brescia seeks to nurture every student and encourage students to grow in spirit and in character as they pursue their education.
What We Like: This program is available online.
Degree: Political Science, BS
6. Southeast Missouri State University

Southeast Missouri State University offers an online BA in Social Science. This program explains social science methods and prepares students for careers in the government, military, business, and research. The top-notch faculty works closely with students in small, online classes to help students learn and develop the skills they need to succeed in their chosen career path. Graduates have gained employment at companies such as Nestle Purina, Sherwin Williams, the US Department of State, the Drug Enforcement Agency, and the United States Secret Service.
Southeast Missouri State University is determined to stay on top of the changing demand in the markets. The school is using technology to develop new ways to produce food and to defend against cybersecurity threats. At SMSU, students receive personalized support throughout their academic careers.
What We Like: There are six concentrations to choose from.
Degree: Social Science, BA
7. University of Central Florida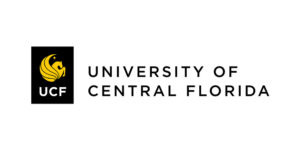 The University of Central Florida offers an online BA in Political Science that teaches students how to be agents of change, developing the policies that will shape the future of our world. Students who complete the program will be prepared to take on a variety of career challenges, including paralegal, lobbyist, law enforcement officer, intelligence officer, foreign service officer, educator, and congressional office staffer. Students learn analytical and critical thinking, politics, government, political theory, international relations, public policy, and more.
UCF Online is a leader in educational innovation. The school helps students reach their goals and achieve success in their careers. Students can get a top-notch degree without having to attend classes on campus. The school offers flexible programs to allow students to fit their classes around their work and lives.
What We Like: UCF Online students have access to academic advisors who help them create an educational plan that addresses their career goals.
Degree: Political Science, BA
8. University of Memphis

The University of Memphis Global offers a B.A. in Political Science that gives students the flexibility to complete their coursework in the way that works best for their schedules. Students can take classes either on campus or online as long as they take the required classes to satisfy their degree requirements. Classes are offered year-round to enable students to stay on track during the summer months. The program requires 120 credit hours to graduate. Transfer students are welcome.
UofM Global caters to students with busy lives. The school believes that life shouldn't keep students from getting an education. Students have access to all the resources typical of a Tier II research university, including a student advisor who is with them every step of the way. Students who complete their courses online earn the same degree as on-campus students.
What We Like: This program can be completed 100% online.
Degree: Political Science, BA
9. Eastern Kentucky University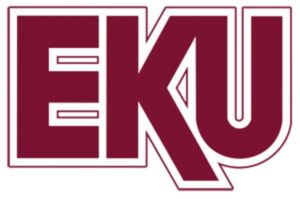 Eastern Kentucky University offers a bachelor's in political science that allows students to make an impact on the positions and issues they care about in politics. Students gain the critical thinking skills they need to take on a variety of roles within the government and politics. Students learn to apply political science theory to problems in the real world and influence decision making on the issues they care about. Graduates are also prepared to continue their education through graduate programs in homeland security, business, government, public administration, and law.
The College of Letters, Arts, and Social Sciences provides education in fields that help students understand themselves and others, such as social science, language, philosophy, and the arts. The school offers a liberal arts education that provides a foundation for life, work, and citizenship. Students learn to succeed in a fast-paced, dynamic world.
What We Like: This program is 100% online and is split into 8-week accelerated terms.
Degree: Bachelor's Degree in Political Science
10. University of Wisconsin Whitewater

The University of Wisconsin Whitewater offers an online BS or BA in Political Science. This program prepares students for careers in the public and private sectors. Graduates are also prepared to further their education through graduate school. Students take courses in public policy, political theory, comparative politics, international politics, and American politics. They learn data analytics and develop professional writing skills. These skills help students succeed in their careers after graduation. Students can also choose from a variety of elective courses.
UW-Whitewater Online empowers students to leave the plateaus of life behind and advance their careers through higher education. Students not only accelerate their careers, but they find themselves feeling more confident as well. Earning an online degree can lead the way to a promotion at work or a higher-paying job at a new company.
What We Like: This program is completely online, and students can attend full- or part-time.
Degree: Political Science, BS/BA
What are the Advantages of an Accelerated Political Science Degree?
Accelerated degree programs are ideal for students who already have a career but are looking to move upward and possibly take on more responsibility. Students who choose an accelerated degree program often do so because they are ready to move forward in their careers. For some, that means pursuing a managerial or supervisory role. Others may want to change careers altogether and take a different path for their future. The opportunities are endless. The first step is enrolling in an accelerated political science degree program that will help them reach their goals.
What If I Don't Need a Bachelor's?
Individuals who have been hard at work establishing themselves in the field of political science may not need to pursue a Bachelor's or Master's degree. Instead, a Political Science certificate program may serve their purpose. Certificate programs are designed to reinforce the years of experience the student already has. They may already have the skills and knowledge they need to do the job, but are lacking the credentials they need to apply for managerial positions. With a Political Science certificate, they can receive the credit they deserve for all of the time they have spent working in the field.
Earning a certificate in Political Science offers a wealth of advantages. In most cases, certificate programs can be completed online as well as in the classroom. By choosing to learn online, the student is able to remain on the job and study whenever they are able. Certificate programs offer flexible schedules and make it possible for the student to utilize many of the same resources that are available to students who choose to study in a classroom.
Certificates also offer individuals with licenses an opportunity to add credentials to their resume as well as fulfill continuing education requirements they need to keep their current licenses and certifications in good standing. The information the student gains through an online political science certificate program can be used to support their career goals on a variety of levels. As the student begins to close in on the end of the certificate program, they can start to look forward to new opportunities that offer more responsibility and a much higher wage.
Can I Get a Job with a Political Science Major?
Political science majors can expect to find jobs in a variety of areas. While politics and the many job classifications that go along with it are obvious choices, there are several other careers that can benefit from having a degree in political science. A political scientist for example, researches and analyzes information that can be used by political parties to create platforms and guide the future of the organization. They can also help to establish protocols on how political events are managed. Political science is a very diverse field and offers opportunities to individuals who are interested in working toward a better future.
A political science major can also be used to obtain a position in the field of Public Relations. Dealing with the public can be a very stressful, yet rewarding job. Individuals must be able to impart large amounts of information to the public in a concise and effective manner. The public relations person you see giving speeches or talking to the public about recent events has had to learn how to maintain their composure while still being able to keep the audience's attention and provide them with everything they need to know.
There are also many positions behind the scenes that call for someone who is organized and able to handle multiple tasks at the same time. Management analysts are expected to analyze large amounts of data and then put that information to good use so that public relations specialists can apply to specific situations and let the public know what is happening. The ultimate goal is to keep people informed about what is going on in their world. With a political science major, all of these tasks are easily accomplished making it possible for the graduate to start building their career almost immediately.
Related Rankings: 
25 Best Bachelor's in Political Science Programs
15 Best Online Bachelor's in Political Science Programs