If you're wondering "what is the primary goal of training and development?" it's likely that you're debating whether it's a good idea to move forward with your career in human resources, specializing in helping organizations train their employees. Many people who are just getting into the field are curious about "what is the objective of training and development?" Here, we'll explore the answer to several questions, including "what is employee training and development?" "what is training and development in HR?" and "what is HR training and development?"
What is HR Training and Development?
While many training and development professionals work within the human resources department of their organizations, they usually aren't involved with the day-to-day operations that most professionals associate with the human resources department. Training and development professionals aren't working through employee disputes or setting up direct deposit — they're working directly with company leaders to develop employee training programs that are engaging and help increase the company's bottom line.
Featured Schools
Training and development professionals are a vital part of any company's well-being. All too often, the burden of training and development lands on a small human resources team without the training and education they need to develop effective training programs. Today, more companies are realizing the importance of hiring a qualified training professional to develop employee training programs and ensure that employee education is in line with the company's goals.
When employees know how to do their job well, they're happier, and they're more likely to stay with the company long-term. Training and development professionals have the ability to directly impact both employee satisfaction and company performance by developing targeted, efficient, effective training programs that help employees take their craft to the next level.
Organizations need to constantly adapt to changing markets, and it's important that they're able to develop effective training and development programs to help their employees do the same. No matter what the industry or size of the company, the importance of human resource training and development can't be overstated. Training and development isn't just about understanding what employees need to know in order to do their jobs well — it's also about collaborating with managers to understand the skillsets they want their employees to improve upon, and creating effective training programs that engage employees and provide companies with lasting results.
Accreditation for Training and Development Programs
Regional accreditation is regarded as the gold standard for colleges and universities in the United States. While regional accreditation can apply to human resources bachelor's degree programs, these accreditation organizations also accredit all higher education programs. The U.S. is divided into six accreditation regions, and seven accreditation bodies oversee the quality of higher education programs in these regions.
Regional accreditation bodies include:
Northwest Commission on Colleges and Universities (NWCCU)
Higher Learning Commission (HLC)
WASC Senior College and University Commission (WSCUC)
Accrediting Commission for Community and Junior Colleges, Western Association of Schools and Colleges (ACCJC)
Southern Association of Colleges and School Commission on Colleges (SACSCOC)
Middle States Commission on Higher Education (MSCHE)
New England Commission on Higher Education (NECHE)
Be sure to look for one of the above certifications when choosing your bachelor's degree program. Training and development degree programs that are regionally accredited let potential employers know that you've created a program that qualifies you to work as a training and development professional. If you choose a program that is not accredited, you run the risk of your degree not being recognized by potential employers, which can severely affect both your earning potential and your ability to get a job.
There are also specific human resources organizations that accredit programs. While the absence of a human resources accreditation does not necessarily mean a program lacks quality, the presence of a human resources-specific accreditation lets you know that the program you choose has met the high standards of expert human resources organizations. Many human resources degree programs follow the standards set by the Society for Human Resource Management, a private organization that works to help human resource organizations ensure that their programs are preparing HR professionals for the workforce.
The HR Certification Institute is recognized as the premiere HR-specific accrediting body for human resources training and development degree programs. The HR Certification Institute is independent and non-profit, so potential students can trust that a program accredited by the organization is truly preparing them to enter the real world of training and development. In addition to offering program accreditation, the HR Certification Institute also offers certifications to HR professionals that can help make them more competitive in the workplace.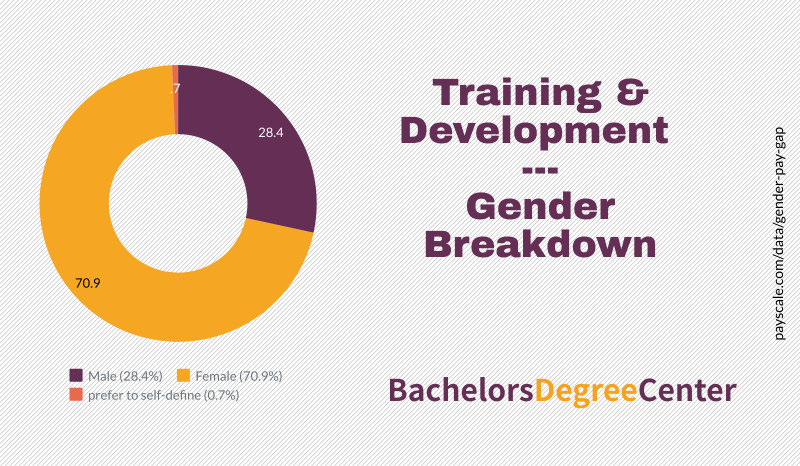 Types of Training and Development Degrees
As you begin searching for more information on your training and development bachelor's degree, you'll find that there are many degree options that can help you move forward in your career. Before you choose a bachelor's degree in training and development program, you'll need to decide whether you want to earn your training and development degree online or in a traditional, in-person program.
Both traditional and online programs offer many benefits to students. Some schools also offer hybrid options, which allow students to enjoy the benefits of both online and traditional programming within one degree program. If you're not sure what type of program makes the most sense for your schedule, reach out to an advisor at the schools you're considering to discuss your options.
Students who have work or family responsibilities that can interfere with their schedules may prefer online schooling options, while students who are able to dedicate all of their time to their schoolwork may prefer an in-person learning environment. Online programs offer more flexibility, while on-campus options can offer easier access to professors and the social environment of a traditional classroom.
It's important for students who are considering online programs to pay close attention to whether their classes are offered asynchronously or synchronously. Asynchronous programs don't require students to be online at certain times, rather, they're able to complete their coursework on their own time. Synchronous programs require students to be online at certain times and may require real-time participation in projects and discussions.
Whether you choose an in-person or online training and development program, you'll have many degree options, including:
B.A. in Human Resources with specialization in Training and Development
B.S. in Learning and Education Studies
B.S. in Teaching and Learning
B.S. in Human Development
B.S. in Applied Learning and Development
B.S. in Human Resource Development
B.A. in Applied Psychology and Human Development
While earning your training and development degrees online, you'll take a number of courses that will help you learn how to best help an organization train its employees. Classes that may be a part of the curriculum in your online training and development degree program include:
Psychology
Introduction to management
Industrial/organizational psychology
Statistics
Ethical issues in the workplace
Human resources management
Performance management
Business communications
Staff development and training
While many of the above courses are offered in various training and development programs, your degree in training and development online may offer different options. Within your online bachelor's degree in training and development program, you may have the opportunity to specialize in a certain area by taking elective courses. If you know the industry in which you'd like to work after graduation, it can be smart to take elective courses that allow you to get information on the ins and outs of your chosen industry before your first day on the job.
Certifications in Training and Development
Before you begin the process of earning your training and development degree, it's important that you understand the certifications in training and development that may be helpful in moving your career forward after you graduate.
Many organizations are just beginning to recognize the need for human resources professionals to earn certifications in training and development. Going above and beyond your degree program by earning a training and development certificate can help you become competitive in the job market, especially if you're working towards an entry-level position. If you're already working, it's possible that your employer will pay for your certificate in training and development. If you decide to talk with your employer about potential tuition reimbursement for your certifications in training and development, be sure to find out if there are any stipulations to which you need to adhere in order to continue receiving aid. Some employers require that employees receiving tuition assistance maintain a certain grade point average or agree to continue working for the company for a certain number of years following their aid award.
Training and development certification options that can help further your career include:
Certified Professional in Training Management (CPTM): One of the most sought after certificates in training and development, becoming a CPTM shows potential employers that you know how to use the organization's goals to create effective training programs that improve the company's bottom line. During CPTM certification, human resources professionals are prepared to work as training managers. Four core competencies are taught in CPTM certification, including training manager responsibilities, how to build a trained organization, using tools and models to inform training decisions, and how to use tools and models to inform day-to-day training-related tasks.
Senior Professional in Human Resources (SPHR): This learning and development certification teaches human resources professionals how to use delivery, timing, and content methods to improve training, development, and employee retention. This certificate also teaches students how to analyze business trends to inform next steps, including identifying talent and creating career progression paths for employees. In order to qualify for this certification, students must fit into one of three categories: four years of experience as a human resources professional and a master's degree (or higher degree), five years of experience as a human resources professional and a bachelor's degree, or seven years of experience as a human resources professional and a high school diploma.
Project Management Professional (PMP): Training and development professionals regularly manage large training projects directly related to organizational growth. Earning a PMP certificate can show potential employers that you know how to work through large-scale programs. If you're just getting started in the human resources field, you may want to get some on-the-job experience before applying to earn your PMP certificate. Most people who complete this certificate program have at least ten years of experience.
Senior Certified Professional (SHRM-SCP): One of the most advanced training and development certificates, SHRM-SCP certified professionals know how to use performance metrics to design training programs and HR strategies. Organizations know that they can trust SHRM-SCP professionals to create programs that make the best use of employees' time by ensuring that training and development programs are directly aligned to desired organizational outcomes.
Association for Talent Development (ATD) Certified Professional in Learning and Performance (CPLP): If you're earning your degree while also working in human resources, you may be interested in learning more about the CPLP certification. This certification measures ten competencies important to top-notch training and development performance including instructional design, training delivery, learning technologies, managing learning programs, evaluating learning impact, performance improvement, change management, integrated talent management, and coaching. Human resources professionals interested in earning a CPLP certificate must have at least five years of work experience in the field.
The field of human resources requires that professionals constantly stay on top of best practices and new trends in the field. Earing certificates in training and development ensures that you continue learning beyond your degree program. When potential employers see that you've earned training and development certificates, it's clear that you're willing to put in the extra work necessary to help take your organization to the next level.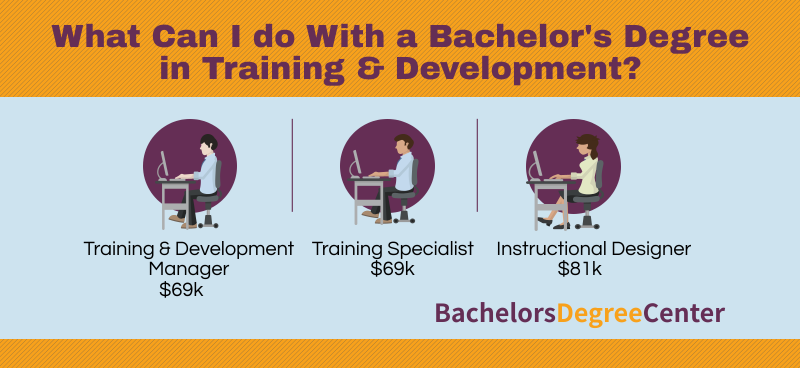 Careers in Training and Development
Thankfully, there are many entry-level jobs in training and development that are accessible to recent graduates. While fresh graduates from training and development programs may lack experience, they understand the latest research and best practices in the industry and can bring a new perspective to organizations that are struggling to develop and implement quality training programs.
Jobs in HR training and development include:
Field Learning Manager: A field learning manager works directly with employees to pinpoint areas where training is needed. The field learning manager then works to develop a training program that both addresses employee needs and stays in line with company goals, then delivers the training programs to the employees. Field learning managers work closely with heads of various departments to understand employees' needs.
Education and Training Manager: Education and training managers may develop their own education and training programs for employees, or they may supervise other training and education providers to ensure that the programs they develop are creating effective, efficient results.
Training Supervisor: In this position, human resources professionals oversee others who are providing training to employees. They may work with employees to develop programs or may oversee the development of training programs. Training supervisors are often responsible for analyzing data to ensure that training programs are effective, as well as working closely with training providers to discuss how they can improve their trainings and their delivery when working with employees.
Human Resources Manager: A human resources manager is responsible for overseeing all aspects of human resources, including training and development. Many human resources managers begin their HR career in a specialty area (such as training and development) and branch out to a more general managerial career to further support their organization.
Human Resources Specialists: Professionals in this position offer their organizations a unique education and perspective on a specific area of human resources. Many training and development professionals fall into the human resource specialist category.
Assistant Manager of Training and Development: Training and development assistant jobs are a good starting point for many training and development professionals who are just wrapping up their bachelor's degrees. The assistant manager training and development job description explains that professionals in this position work closely with the company's training and development manager, learning the ins and outs of developing training programs for the company and using data to inform training and development decisions. The training and development assistant job description may also include working closely with company supervisors in order to fully understand the company's long-term goals, allowing you to help the training and development manager create programs that are aligned to the company's desired future.
As you can see, there are many job titles in training and development. While you may have specific jobs in corporate training and development in mind for after you graduate, be sure that you don't base your decision on whether or not to pursue a job on the job title alone. Different titles mean different things to different companies, and you'll want to be sure that you read the job description carefully (and maybe even reach out to human resources directly) to learn more about the position and whether it could be a good fit for your career goals.
If you're going into your education with a specific career goal already in mind, be sure to stay on top of industry trends. Many organizations are just beginning to realize the value of creating effective, engaging trainings, and are opening up new jobs in human resources training and development. Staying on top of new job titles in the industry can help you ensure that you're applying for the jobs that are best aligned with your preferred career trajectory.
Training and Development Salary
Before you choose a degree program, it's smart to learn about reasonable entry-level salary expectations. In the United States, entry-level human resources professionals make an average of $43,431 per year. This number skyrockets once entry-level human resource professionals make the transition to human resources manager. In the United States, human resources managers make an average of $81,185 per year.
The training and development sector of human resources may offer a faster promotion track than other human resources jobs. While many human resources jobs operate heavily on soft skills (such as satisfying employee disputes), training and development professionals receive hard data that measures the effectiveness of their training programs. Training and development professionals may also receive bonuses when their training helps the company move forward toward long-term goals.
There are many things you can do while earning your degree to increase the probability that you'll get a higher-than-average entry-level training and development salary offer. Using elective classes to create a specialty area within your degree program can help employers in your niche see your value. Internships (both paid and unpaid) can also show potential employers that you're willing to work hard and that you come with experience that proves your ability to succeed in a corporate environment. If you're not able to get an official internship in your field, use volunteer opportunities in your area (such as working with a senior center to develop skills training programs for residents) to prove that you know how to develop programs that help people learn.

Professional Organizations
In all career fields, networking is key. Getting to know others in your field can help you learn about job opportunities first, and can give you an inside route to learning about best practices. There are many ways to network. Using social media to connect with others in your field can be helpful, as can joining professional organizations that make it easy to chat with fellow training and development pros.
Continuing education is also a smart way for training and development professionals to continue learning about best practices in your industry. When you take part in continuing education programs, you aren't just getting the chance to learn more about how to positively affect your company — you're also getting the chance to connect with other human resources professionals and build connections that could benefit your career later in life.
In addition to networking and taking continuing education classes, it's also a good idea to join professional organizations that can provide organized, regular opportunities to connect with others in your field. Professional organizations available to training and development professionals include:
Related Rankings:
25 Best Bachelor's in Training and Development
15 Best Online Bachelor's in Training and Development
10 Most Affordable Online Bachelor's in Training and Development