Psychology students learn skills that give them an edge in situations that require an understanding of people. This includes succeeding in the job market. Graduating from a great school with APA accreditation or a CACREP accredited university prepares you for grad school or a job in the field.
Skills learned with an undergraduate degree in psychology include multidisciplinary fields such as research methodology, individual and group dynamics, memory and learning, statistics, neuroscience, and psychopathology.
The Power of a Psychology Degree
A degree in psychology can open a number of career doors. In this section, we'll answer the following questions:
Is a degree in psychology worth it?
Is a psychology degree worth it from a school with APA accreditation?
Is psychology a good career choice?
Why get a degree in psychology for counseling?
Why get a psychology degree in statistics and research?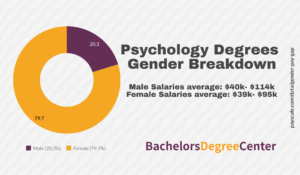 Accredited psychology programs help you develop the following skills:
Understanding of group and individual behavior
Ability to interpret data
Critical thinking regarding claims about behavior
Understanding of how learning and memory work
Insights into behavior problems
Understanding the capacity for adaptation
Management of high-stress environments
Persistence in challenging situations
Ability to help people recover their mental equilibrium
With these formidable skills, graduates immerge with a better knowledge of themselves and people in general. These skills are valuable in any field students choose to pursue. Find out more about the advantages of a psychology degree below.
Is a degree in psychology worth it?
Studying psychology gives students insight into human behavior. This helps graduates predict and explain aberrant behavior. Additionally, psychologists can help people understand and control their own behavior better. Using evidence-based theories as well as holistic approaches, psychologists use their knowledge about the motivation, thinking, sensation and perceptions of people to help those with mental health disorders.
Do you think a degree in psychology is worth it? Even taking entry-level psychology courses can help students become familiar with the major to decide whether they want to pursue it as a career.
Is a psychology degree worth it from a school with APA accreditation?
The American Psychology Association has a commission that verifies that doctoral-level programs meet or exceed standards set by the APA Commission on Accreditation. There is no APA-related accreditation at the bachelor's level. However, attending a school that has APA accreditation at the doctoral level carries weight, especially if you decide to attend the same school for your master's or doctoral degree.
CACREP is another organization associated with Masters and doctoral degree accreditation. It specifically deals with degrees in counseling. So far, more than 870 specialty programs at over 400 colleges and universities have received this distinction.
Choosing CACREP accredited or APA accredited online programs open the door to graduate studies at reputable institutions.
Is psychology a good career choice?
Psychology is a great career choice for those who love solving theoretical problems and applying practical solutions that could help people maintain or regain their mental health. Some psychologists focus on helping people through emotional issues while others conduct research into how the human mind works in order to shed light on behavioral conditions.
Why get a degree in psychology for counseling?
Some practitioners enjoy working with individuals to help them work through mental or emotional trauma. They may also work with groups, especially in a clinical setting for substance use disorders. Getting a degree in psychology paves the way for a career dedicated to helping people.
Why get a psychology degree in statistics and research?
Many students choose to get a degree in psychology through a program that emphasizes statistics and research. This is a great move for students who want to conduct psychological studies and collect data that can add insights into the field of psychology.
Accreditation for Psychology Programs
School and program accreditation are important to validate the educational and scientific rigor of schools offering psychology degrees. Getting a degree from an accredited university online or on-campus can help you qualify for more jobs upon graduation. Psychology accreditation makes it easier to get licensed in the state where you wish to practice. Also, attending an undergraduate program that has an APA-accredited doctoral program can improve your chances of getting accepted into masters or doctoral program.
Psychology accreditation involves obtaining regional and national accreditation as well as program accreditation in psychology.
Besides the APA accreditation mentioned above, boards that approve master's and doctoral psychology programs include:
At the undergraduate level, colleges and universities typically rely on national and regional accreditation to prove the quality of their programs. There are six bodies that accredit universities and colleges in the United States at the regional level. They are organized by geographic region. National accrediting agencies include:
These organizations accredit the entire institution.
Online psychology degrees accredited by APA provide a high-quality education that is recognized by employers and universities across the country. Accredited psychology programs achieve the stamp of approval from regional and national accrediting agencies.
Choosing APA accredited online programs makes your degree much more valuable to employers. Online psychology degrees accredited by APA have achieved the same credentials as brick-and-mortar institutions of higher learning.
Types of Psychology Bachelor' Degrees
There are many types of psychology degrees, most of which focus on various concentrations. A psychology degree online offers the same specializations as those offered at on campus universities. An online bachelors in psychology degree can prepare students for careers in counseling, health care and many other sectors.
Check out a bachelors in psychology online degree with the following specializations.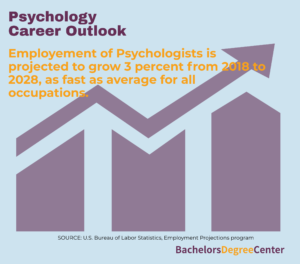 Addiction Psychology
Students can get their addiction psychology degree online. As the name implies, this area deals with the theories, research and practice of counseling those with substance use disorders. Students learn to treat individuals with addictions through cognitive behavioral therapy, psychodynamics and other treatment methodologies.
Biopsychology
This branch of psychology deals with the biological basis for behavior. It includes the how and why of human behavior. Practitioners in this field want to understand why humans act in certain ways. It also includes how behavior impacts your immune system, cardiovascular system and other critical systems.
Cognitive Psychology
An online bachelors of psychology degree includes cognitive psychology, which focuses on what motivates human thinking and emotions. Cognitive psychology addresses memory, reasoning, thinking, learning, language and perception. This specialty has several subspecialties, including social and developmental psychology.
Counseling Psychology
Counseling psychology applies psychological concepts to help people with problems they experience in everyday life. Counseling also helps those with mental health disorders learn to cope with their emotions and thoughts in more productive ways. Students who want to help clients deal with stress, cope with difficult feelings and overcome mental health threats may choose counseling psychology as their major.
Developmental Psychology
An online bachelor's in psychology degree In this area concentrates on how humans develop over the course of a lifetime. Developmental psychology includes the study of the human mind and cultural and social interactions from birth to death.
Educational Psychology
Educational psychology focuses on learning and education. Concepts under this umbrella include intelligence, motivation, cognition, and factors impacting the ability to learn. Much of this specialty centers around classroom experience.
Experimental Psychology
With a degree focusing on experimental psychology, students graduate with the skills they need to successfully complete scientific research. Experimental psychology involves hooking people and animals up to devices that measure their reactions and behavior.
Forensic Psychology
Other types of psychology degrees include forensic psychology, which applies psychological concepts in a legal setting. These scientists assist the court system by providing expert advice and assessment. They often appear as expert witnesses at trials. Forensic psychologists evaluate the credibility of witnesses and help with the profiling of criminals.
Health Psychology
Health psychology looks at the connection between psychology and health. These psychologists strive to understand how to promote good health through psychological well-being. Health psychologists also explore whether mental health can alleviate or aggravate certain illnesses
Human Factors Psychology
Human factors psychology incorporates ergonomics, psychological principles and engineering. These psychologists create objects that people interact with and experiment with how to make them more effective.
Careers in Psychology
If you search the internet for "psychologist jobs near me," you will no doubt come up with career paths like educational psychology jobs, career counseling jobs, and jobs that require the specialty degrees discussed in the last section.
If you are looking for "school psychologist near me," you probably have a degree in educations psychology. For those that wonder what jobs require a psychology degree, we have included more specializations in this section.
Just a few include:
social work
social services
non-profit organizations
substance abuse counseling
criminal justice
disabilities
human resources
human services
public relations
real estate
law enforcement
school psychology
Some jobs include:
human resources specialist
mental health counselors
probation officer
social worker
correctional treatment specialist
development specialist
market research analyst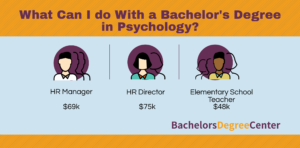 What can I do with a bachelor's in psychology?
With a bachelor's in psychology entry-level jobs are easy to obtain. Other things you can do with a degree in psychology include continuing your education with a master's or doctoral degree. Although, it may be a good idea to work for a few years before returning to school. With a bachelor's in psychology, you may be able to secure an internship or bachelor's in psychology jobs in hospitals.
Alternative careers for psychology majors include the following:
With a degree in industrial and organizational psychology, students will probably secure jobs in an office. This area focuses on human behavior on the job. If you want to know what motivates workers and how to make them happy, this might be the right specialty for you.
Media psychology focuses on how technology and the media impact human behavior. This specialty is often used to study the effects of social media and marketing.
Military psychology applies what you learned in school to military settings. Typical applications include burnout, post-traumatic stress disorder and gaining tactical advantages over adversaries using psychology.
Pediatric psychology is the perfect career for psychologists who love children. This specialty focuses on children's mental health. Graduates use psychological theories to help them understand the behavior of children. It also focuses deeply on family dynamics and health care.
Social psychologists strive to understand why people take certain actions. This may include biases and prejudices that affect underserved populations. Social psychology looks at a number of micro factors such as attitudes and perceptions. It differs from sociology which takes a broad view of human behavior.
Sport psychology concentrates on factors that affect the performance of athletes. It concentrates on how psychological factors impact exercise and sports. This can help improve healing following injuries and help athletes break down barriers that caused them to perform at a lower level.
Students looking for open positions as school psychologist near me should consider seeking jobs as career counselors. Career counselors administer tests such as personality test and interest inventories to help high school and college students determine the best careers for them.
These psychologists can also help older adults who want to change their careers. Sessions with a career counselor typically start out with evaluating a client's work and educational background. This determines what transferable skills can help clients obtain work in other fields. Since switching careers may involve additional educational requirements, it's a good idea for clients to take an inventory of their interest to help them choose their next career.
So you have your BA in psychology now what?
Psychologist jobs near me for new graduates may include the following:
Advertising Agents
Child Care Worker
Career Counselor
Case Manager
Psychiatric Technician
Laboratory Assistant
Market Researcher
Probation and Parole Officer
Educational psychology jobs include acting as a school counselor in elementary, middle or high schools. Others choose career counselor jobs to focus on how psychology can impact job choices and transitions. If getting a job as a "school psychologist near me" doesn't sound appealing, there are many other jobs to choose from.
What jobs require a psychology degree?
If you want to get a job at a mental health clinic or would like to provide counseling to others, you will most likely need a degree in psychology. Bachelors in psychology jobs in hospitals nearly always require a psychology degree.
Other things you can do with a degree in psychology include jobs outside of the psychology field. With a psychology major you can get a job in marketing, human resources, business, health care or education, among other sectors. If you want to work as a counselor, psychologist or therapist, you will probably need a masters or doctoral degree.
What can I do with a bachelor's in psychology?
You have a BA in psychology – now what? Bachelors in psychology entry-level jobs include jobs as lab assistants and clinical research assistants. Graduates have to decide whether they want to work on the clinical side of psychology or conduct research. Typically, undergraduate graduates will need further education to advance their career. However, they might be able to get a paid fellowship that helps them begin earning as soon as they get a bachelors degree.
Whether a position as a school psychologist near me is your top job choice or you want to find alternative careers for psychology majors, a degree in psychology will serve you well.
Psychology Career Salary
Are you wondering what to expect from a bachelors in psychology salary? According to Zip Recruiter, you will make between $23,000 and $100,000 with your bachelor's degree. About 25% of graduates receive an average bachelor degree in psychology salary of $34,000.
What is the average psychologist salary? Factors impacting what you will make include your education, location and experience. The overall bachelor degree in psychology salary is $48,500 and high-paying jobs with a bachelors in psychology net up to $100,000.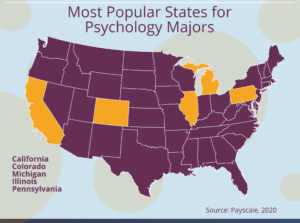 What is the average psychologist salary?
According to Payscale.com an executive directive with a psychology degree can make $68,000. Meanwhile, the bachelors in psychology salary for operations managers is $65,000. Case managers can expect around $39,000.
The U.S. Bureau of Labor Statistics reports similar numbers. According to the BLS, psychologists make an average of $101,790. The bureau reported that a bachelor degree in psychology salary netted graduates a shot at becoming clinical, counseling, and school psychologists.
A bachelor degree in psychology salary largely depends on where you work. Here is a breakout by setting:
Bachelor degree in psychology salary for government jobs averages $97,000
Hospitals pay $88,480 for qualified psychologists.
Teachers make $76,960
Spotlight: What is the average psychologist salary for career counselors?
To become a career counselor, students must receive their bachelors in psychology and go onto obtain a masters degree in this area of specialization. They work with young people trying to determine what to study in college and assist mid-career adults who wanted to change careers
Career counselors take the following factors into account when helping clients decide what career would best suit them:
Aptitude and Skills: Career counselors help individuals choose which career would best suit their skills and interests. Career counselors interview their clients to document their strengths to determine which job would best suit them.
Education: These psychologists also find out what education their clients have. if necessary, career counselors may suggest their clients returned to school to get a bachelor's degree or certificate that would enable them to pursue their career of choice. Many careers now require a bachelor's degree or better. this makes it imperative that the assessment accurately determine a client's skills and goals in order to match them up with the right job.
Personality: Psychologists who specialize in career counseling have to determine the key aspects of an individual's personality. This becomes an important factor and finding a good career fit. For example, shy or introverted clients may not do well in customer service, whereas extroverted individuals might not enjoy a job that does not involve interacting with other people.
Interests: Career counselors inventory clients' likes and dislikes in order to help figure out what career they would enjoy.
There are many specializations to choose from. Pick the one that would allow you to hone your skills and develop new ones.
Although the mean annual salary of a career counselor is just above $53,000, the demand for this job is expected to grow by 12% through 2022. Students need a masters degree to obtain this position. However, these jobs tend to be very stable and rewarding. This is a good job for a psychologist that values the work more than earning a six-figure paycheck.
Why choose a career in psychology?
A career as a psychologist carries plenty of responsibility and deals with a wide range of issues. Despite the stress and pressure, most psychologists value the work they do. Further students decide to become research scientists, sports psychologists, or counselors, Their main responsibility lies in helping patients achieve their emotional or psychological goals.
Many psychologists obtain a masters or doctoral degree so that they can qualify for better paying jobs. Like career counselors, psychologist guide clients through interviews and one-on-one therapy sessions to diagnose and treat various mental health disorders.
Responsibilities of a practicing psychologist might include the following:
Help children and adults overcome behavioral or social issues that can limit their quality of life and potential
Conduct group and individual counseling to help clients talk through their issues in search of a resolution
Work on social skills, organization, time management and stress management
Help clients develop realistic goals for their lives and careers
Psychologists deal with numerous issues that place pressure on their clients. For example, in the school setting, drug abuse, bullying and academic performance can cause psychological issues with certain students.
This guide provides valuable information on jobs, salaries and what to expect as a psychologist with a bachelor's degree. In order to obtain a lucrative job in the psychology field, students must get their masters or doctoral degrees as soon as possible. Students are also encouraged to take advantage of internship and teaching assistant opportunities that would enable them to hone their skills.
Related Rankings:
25 Best Bachelor's in Psychology
15 Best Online Bachelor's in Psychology
10 Fastest Online Bachelor's in Psychology