Entrepreneurship is one of the greatest expressions of individuality and creativity. The entrepreneurial spirit is growing and with good reason. These days, more and more people are seeing the value of working for themselves rather than working for somebody else. However, in spite of what pop culture may tell you, big dreams and determination aren't enough to get entrepreneurs where they want to go. Often, there is a gap between what an entrepreneur wants to do and what an entrepreneur knows how to do. This is where an entrepreneurship degree comes into play. In an entrepreneurship program, students can learn how business administration and business development works. They learn the practical, behind-the-scenes information that can give their big plans a solid foundation in real knowledge.
Still, the idea of an entrepreneurship degree is fairly new. As a result, you may have a lot of questions about getting an entrepreneurship degree and whether or not it is a worthwhile choice for you. What can you do with an entrepreneurship degree? Is an entrepreneurship degree worth it? For that matter, what is an entrepreneurship degree?
Featured Schools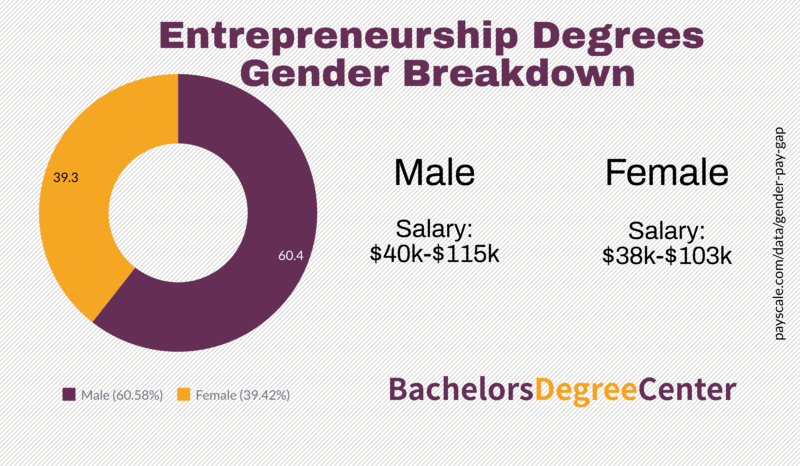 Well, an entrepreneurship degree is, essentially, exactly what it sounds like. This degree helps aspiring small business owners and managers figure out how to turn their goals into measurable, sustainable plans. Have you ever asked yourself "What can I do with an entrepreneurship degree?" In that case, read on to see the information in the paragraphs below. The information in this article contains answers to some of the most common questions about entrepreneurship degrees.
Accreditation for Entrepreneurship Programs
To get an entrepreneurship degree, the first thing that you'll have to do is find the right school. Several schools have excellent entrepreneurship programs, and many more schools have excellent general business degrees.
For those who are considering an entrepreneurship degree, the most important thing to understand is how to find an accredited school. When it comes to any college degree, accreditation matters above most other things. Why? Because when a school is accredited, that accreditation lets students know that they are getting a relevant and worthwhile education. You can even find accredited online entrepreneurship degree options.
No accreditation means no oversight. In other words, without accreditation, there is nothing telling students that their education is providing the information that they need. In a non-accredited program, you run the risk of studying for 4 years only to find out that the information that you learned is outdated.
For that matter, non-accredited classes are not transferable to an accredited school. Say, for example, that you spend a year in a non-accredited business program. After a year, you decide to transfer to an accredited school. Unfortunately, the classes that you have already taken will not count toward your new degree. You will be forced to start from the beginning. Don't take that risk. Instead, look for accreditation right away. When you start your job search, you'll be glad that you did.
Now, how does one make sure that they are getting an education from an accredited school? It's fairly simple. They simply have to look for regional accreditation. Generally speaking, accredited universities will proudly display their accreditation information somewhere on their web pages. If you are interested in a particular school or program, search the website for the word "accreditation". Another thing that you can do is look for that school's region's specific accrediting organization. Each region in the United States has its own collegiate accrediting body. In other words, a university in California will not be accredited by the same organization as a university in New York. However, both universities, if accredited, are worthwhile and relevant places to learn. If interested in a particular school, look up the accrediting organization for the region where that school is located. You can search the school's name on the accrediting organization's website. This is a great way to verify information and make sure that you are getting credible results.
Aside from accreditation for the school itself, you might also look for accreditation for the specific entrepreneurship degree program. You'll know that a program is especially worthwhile if it has been accredited by the AACSB . The AACSB stands for The Association to Advance Collegiate Schools of Business. The Association looks specifically at business schools to make sure that they are teaching students well.
Types of Entrepreneurship Bachelor's Degrees
How do you become an entrepreneur? Officially, there are no entrepreneur requirements in education. In other words, there is no law that states that an entrepreneur must have a specific type of degree. However, the education of an entrepreneur can make a big difference in the success of this person's business. So, what does the education of an entrepreneur look like? What degrees do you need to be an entrepreneur? Well, a person who wants to study to be an entrepreneur can actually take several pathways in higher education. As you may have guessed, this means that the "How do I become an entrepreneur?" question doesn't have one simple answer. On the negative side, this means that there is no clear-cut path to entrepreneurship. On the positive side, however, this also means that future entrepreneurs have a lot of educational choices.
First, to study to be an entrepreneur, one can actually seek out an Entrepreneurship degree. In other words, by graduation, this person's degree will have the word "entrepreneurship" on it. This type of degree covers the basics of business, including financial information and business legalities. You're learn entrepreneurial skills like designing business plans, using social media marketing strategy, market research, public relations, and more. These degrees are specifically designed to cover the education needed for entrepreneurs. Entrepreneurship degree careers include any careers that involve a person starting their own business.
However, other full-time degrees can meet the education requirements for entrepreneurs. A general business degree, for example, can get potential entrepreneurs where they need to go. On a general level, a business degree teaches how business works. This is important information for future entrepreneurs to know. Within a business degree, a person can also seek out certain specializations. There is the entrepreneurship specialization, of course. One can also major in Business Management. With this degree, a person learns how to sharpen their leadership skills, which is very important for those who want to start up their own businesses. The major in finance can be quite helpful for creative types who have a lot of business ideas but want to get better at the nuts and bolts of starting a business.
Keep in mind that if one wants a degree in entrepreneurship, online options exist as well. An online degree in entrepreneurship can serve a future business owner just as well as an on-campus degree can. An online degree in entrepreneurship would come with all of the same classes and materials that its on-campus counterpart would provide. The difference is that online entrepreneurship degrees exist virtually. Students may log in to their classes, participate in online discussions, and have email conversations with their professors.
When considering online entrepreneurship degrees, you should think about the same considerations that you would think about when choosing an on-campus program. Specifically, make sure that your online entrepreneurship degree is accredited. An online entrepreneurship degree can make a great choice, but only if that degree provides up-to-date information and enough academic challenge to be worthwhile. Many accredited universities that also offer on-campus courses have options for entrepreneurship degrees online, and these universities make great places to start.
While searching for entrepreneurship degrees online, you might also consider a hybrid program. These programs have a combination of online and in-person classes. Getting a degree in entrepreneurship online requires a fair amount of internalized structure and self-motivation. However, so does starting one's own business. Therefore, a person's ability to earn an online entrepreneurship degree can be a great measuring stick to see whether or not a person is cut out for the business leadership world.
Finally, you might also look for accelerated programs. Accelerated Business and Entrepreneurship programs exist both online and offline. What sets an accelerated program apart from a regular program? Well, as you may have guessed, an accelerated degree takes less time to earn. As a matter of fact, some people can earn their accelerated degrees in half the time that it takes to earn a regular degree.
Now, you will have to keep in mind that earning an accelerated degree, especially in a challenging subject like business, can be especially difficult. When considering this option, be honest with yourself and make sure that you are up to the challenge. Those with already busy lifestyles may do best to consider a part-time program. Just because a program is accelerated does not mean that it includes fewer classes. On the contrary, accelerated degree programs have just as many courses as regular degree programs. The only difference is that students have less time to finish them.
All of that said, accelerated degree programs are often an appealing choice for future entrepreneurs who are struggling to decide whether they should start their businesses right away or earn a degree first. An accelerated degree program can provide the middle ground that they need to gain practical insight into the business world while still moving quickly.
Aspiring entrepreneurs may benefit from internships with a successful entrepreneur, learning to run their own company, business venture,
Certifications in Entrepreneurship
What about certificates in entrepreneurship? Could you look into entrepreneurship certification programs? Certification is an option for future entrepreneurs who want to learn about business but still want to dive into that business quickly. Like an accelerated bachelor's degree program, a certificate takes about half the time to earn. Unlike a bachelor's degree, however, a certificate program includes fewer subjects. As stated above, there is no law that says one needs a business degree to start a business. Certificates in Entrepreneurship provide a great option for those who want to learn more about entrepreneurship but don't want a full degree.
Entrepreneurship certificates more or less cover the same topics that a full degree would cover. Unlike business bachelor's degrees, Entrepreneurship certificates don't come with core requirements that aren't strictly related to the major. In other words, one can earn a certificate for entrepreneurship and only take business-related classes.
As a result, earning certification in Entrepreneurship does not take as long as earning a bachelor's degree for Entrepreneurship. On the one hand, having certification without a bachelor's degree can sometimes limit a person's employment opportunities. Some jobs simply require a full degree. However, a person does not necessarily need a full degree to start one's own business. A certificate for entrepreneurship, taking less time to earn, can get the new entrepreneur on their feet faster than a bachelor's degree could.
Furthermore, a certificate in entrepreneurship will cost less than a full bachelor's degree. Some students choose to earn that certificate in Entrepreneurship first and then pursue a full bachelor's degree once they have saved up some more money. Others choose to earn their certification in Entrepreneurship while simultaneously pursuing a more general bachelor's degree. For example, some business majors take this route.
When looking into entrepreneurship certificate programs, you may find a lot of online entrepreneurship courses with certificates. The best online Entrepreneurship certificate programs, just like any other program, will have accreditation.
What Can You Do With a Degree in Entrepreneurship?
Some people hesitate to pursue a degree in entrepreneurship because they worry about going to all the trouble to earn a degree if they do not ultimately end up starting their own business. Imagine, for example, that you change your mind about starting your own business after graduation. Maybe you ultimately find a career path that works better for your needs and lifestyle. What happens then? Does that mean that you have wasted the time spent earning your degree? Thankfully, it does not. An Entrepreneurship degree comes with skills that you can transfer to all kinds of other business options, and recruiters appreciate that.
With a bachelor of science in entrepreneurship, you develop the competencies of established business leaders. No need to start at entry-level – your coursework will expose you to business models that will help you start a new business, work in nonprofit, or turn your problem-solving skills to be an operations manager.
So, what jobs can you get with an entrepreneurship degree? Are there any such thing as entrepreneurship jobs? As a matter of fact, a person can seek all kinds of jobs with an entrepreneurship degree. Most people with a bachelor's degree in entrepreneurship sought that particular degree because they wanted to start their own business. However, if the amount of people googling "jobs with a entrepreneurship degree" is any indication, a lot of people also want alternate options. After all, starting one's own business is a risky endeavor. Thankfully, when one has a degree in entrepreneurship, jobs do not come in short supply. Jobs with an entrepreneurship degree include the options on the list below.
Business manager. An Entrepreneurship major shows students the ins and outs of how businesses work. Even when those students do not end up starting their own businesses, this business knowledge can be a valuable asset. That knowledge can help the students serve businesses as managers. For that matter, entrepreneurship requires plenty of leadership skills, and Entrepreneurship degrees impart those skills. Those leadership skills do not only apply to entrepreneurship. If you learn entrepreneurship-related leadership skills while earning your degree, you can absolutely apply those skills to a management position.
Marketer. Entrepreneurship requires business knowledge and a fair amount of creativity. Both of those skills translate very well to the arena of marketing. As an entrepreneur, you would have to learn about marketing either way. You would need to find out what it takes to get your material in front of the right audience. As a marketer, you would simply concentrate that knowledge on audience connection, SEO, and creating the right content. You could also manage marketing teams, another skill that can be learned in an entrepreneurship program.
Sales representative. For the same reasons, people with entrepreneurship majors can also do quite well as sales representatives. Because they know how business works and how to connect to people, their overlapping skills make sales a viable choice.
Business consultant. With an entrepreneurial degree, a person will know how to identify and fix common business issues. If this person also has excellent people skills, they may find a job offering advice to business owners. Plenty of businesses hire consultants so that they can make the best decisions for themselves. Entrepreneurs and business consultants alike know how to examine problems from all angles so that they can come up with the best solutions.
Other career opportunities include human resources, sales manager, venture capital, real estate, and management consultant. When a person has a degree in entrepreneurship, jobs can take plenty of exciting and creative turns. The entrepreneurship degree jobs listed above are not the only entrepreneurship degree jobs in existence. As a matter of fact, with an entrepreneurship degree, you could potentially take your life in all sorts of directions. Entrepreneurship major jobs are varied. If the thought of struggling for entrepreneur major jobs in case you don't start your own business is holding you back,, rest assured that with some research and creativity, you will have options.
Entrepreneurship Salary
Next, there's the question of Entrepreneurship degree salary. Unlike with many other careers, entrepreneurship salaries are much harder to research. When it comes to getting a degree in Entrepreneurship, salary is not always straightforward. If you immediately start your own business, Entrepreneurship degree salary information can get even more complicated. The first year or so after starting your own business can be difficult financially. Making money is tough when you are getting your business off the ground. Of course, a lot depends on the type of business that you decide to open. Factors such as marketing, seasonality, start-up costs, and much more can muddy the waters of figuring out your salary.
Of course, when it comes to the professions listed above, salary information is a lot more straightforward. A middle-level m anager, for example, can make an average of over $75,000 per year. Marketing managers , meanwhile, can make an average of more than $134,000 per year. The average sales representative salary is nearly $49,000 per year, and the average business consultant salary is nearly $74,000 per year.
Professional Organizations in Entrepreneurship
Finally, consider the possibility of joining professional organizations either before or after graduation. Entrepreneur lists several organizations that those with an entrepreneurship degree might join after graduation. These organizations include:
Entrepreneurs' Organization
Young Entrepreneur Council
Social Enterprise Alliance
Startup Grind
Edward Lowe Foundation
Vistage
Association of Private Enterprise Education
United States Association for Small Business And Entrepreneurship
As you can see, there are lots of organizations that entrepreneurs can join. Why should you consider joining a professional organization or two? When you get involved in an organization such as the ones listed above, you may notice a lot of career benefits. The networking opportunities alone are often enough to make the membership fees worth it. Sometimes, professional organizations also come with the opportunity for continuing education credits. By joining a professional organization, you may also get access to private job boards, seminars, publications, and other resources that can help you take your career to new levels.
All of that said, perhaps the biggest benefit from joining an entrepreneur organization is the chance to share ideas with fellow entrepreneurs. If you're considering a degree in entrepreneurship, you are probably the sort of person who has a lot of big ideas and wants to make those big ideas take shape. Often, the best way to make an idea come to life is to share that idea with others and get their input and expertise. Organizations like the ones listed above often have members that range from brand new entrepreneurs to people who have been in the game for decades. As a student, you will get the opportunity to learn from professors who know how the business world works. In organizations like these, you get the chance to continue your education in a way. You can talk to people who have been entrepreneurs for a while and can offer advice based on their experience. Furthermore, in the spirit of networking, you can work alongside people who are also new to entrepreneurship. You and other new entrepreneurs can bounce ideas off of one another.
All in all, professional organizations provide some great opportunities for entrepreneurs at all experience levels. As you research potential universities to attend, you might also look into the possibility of joining some organizations. Having the right support from the start can help you reach success.
Related Rankings:
25 Best Bachelor's in Entrepreneurship
15 Best Online Bachelor's in Entrepreneurship
10 Fastest Online Bachelor's in Entrepreneurship