Business administration is a broad and diverse field of study. Because of that, the business administration definition can sometimes vary depending on how the term is applied and what it's applied to. Generally, the business administration definition will often mean having a general or specialized knowledge of business practices, principles, and philosophies.
But the business administration definition can also depend on the business degree type as business administration often refers to the type of degree rather than to a specific named position. For example, an applicant choosing to take up business courses may wonder what is business administration and management, as these two things, administration and management, aren't always the same.
Featured Schools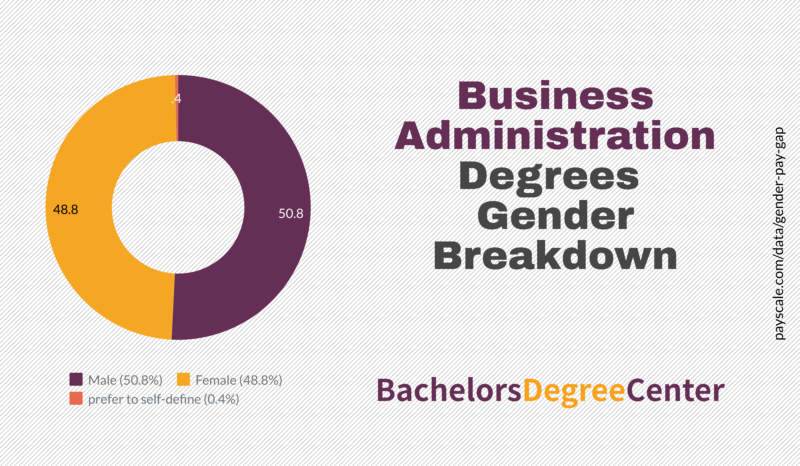 Is a Business Administration Degree a Good Investment?
All that said, is a business administration degree good? Is a business management degree good? Are they the same thing? When asking what is business administration and management, it's important to look at the curriculum. The terms are often used interchangeably, and some degree types may even include both words.
The major difference is that business administration tends to deal more with managing a business on a more technical level. Business administration has a larger focus on back-office activities and day-to-day running of the business or a specific aspect of the business. Business administration graduates will work to improve the efficiency of a business and help it achieve long-term goals.
By contrast, business management tends to deal more with the managerial aspects of dealing with personnel and the more human aspects of a business. As these two types of business degrees contain a lot of overlap, applicants should always make sure they study the curriculum and ask questions before pursuing a business degree.
In some cases, these degrees have elements of both administration and management, so applicants can also choose to purposefully pursue such degrees rather than specialize in one aspect of business over another. For those who wonder is a business management degree good, it will have a lot to do with their goals.
Management and administration can often go hand-in-hand, so many of the benefits of studying business administration are some of the same benefits that come from studying business management. Still, the benefits of studying business administration can easily answer the question of is business administration a good major.
Some of those benefits include the ability to take on opportunities in virtually any type of business in any sector or industry. That includes nonprofits, for-profits, private, and public opportunities. People who want to start their own businesses and entrepreneurs of any type can also benefit greatly from a business administration degree.
Business can look complex and complicated which makes people ask if a business degree is hard. As with any type of higher learning, as long as students put in the work and take their degree seriously, they'll find it's no more difficult than any other type of academic pursuit.
What Types of Accreditations Should a Business Administration Program or School Have?
There are a lot of schools and programs out there offering business administration degrees. One of the best ways to narrow down the options is to pay close attention to the school or program's accreditation status. This is especially true for business degrees, as there are some types of accreditations for business that have a wider recognition than others.
Accreditation from a recognized and respected agency means the school or program has voluntarily allowed its methods and curriculum to go under the scrutiny of accrediting bodies. Those accrediting bodies usually consist of professionals in the field and others who set education, quality, and curriculum standards.
For business schools and programs, there are two main types of accreditations to look out for. Those two are regional accreditation and specialized accreditation.
Regional accreditation comes from one of the regional groups recognized by the US Department of Education. These groups tend to give accreditation to schools and facilities, rather than to individual programs within the school.
This type of accreditation is a good starting point for applicants looking at schools, as these are the most recognized types of accreditation. That recognizable status also means students can have an easier time transferring credits should they need to.
Nevertheless, for business administration degrees, applicants should also look for specialized accreditation status from groups that specifically accredit business programs. Regional accreditation can help someone find a good school, but it doesn't necessarily mean the school will have an excellent business program.
There are several business accreditation groups, but there are three major ones that applicants should look for. These include:
AACSB – The Association to Advance Collegiate Schools of Business
ACBSP – The Accreditation Council for Business Schools and Programs
IACBE – The International Assembly for Collegiate Business Education
When it comes to business accreditation, applicants may have a lot of questions regarding which of these accrediting bodies is the one they need to pay the most attention to. Each of these business accreditation groups have different philosophies and approaches when it comes to a student's business education needs.
AACSB accreditation has the most recognition and is the oldest business accreditation group. A school or program with AACSB accreditation will enjoy an education provided by a faculty that knows about business, business philosophy, and business research. AACSB accredited schools will have a large focus on research-based learning.
AACSB accreditation standards are high, and if the choice comes down to AACSB vs regional accreditation, applicants who specifically want a business administration or any other type of business degree should go for the program with the AACSB accreditation.
What is AACSB accreditation mean in comparison to other types of accreditation? Each accrediting group has its own quality standards and approaches to education. The AACSB accreditation standards will ensure students receive a scholarly business degree that holds the highest recognition in the industry. However, AACSB accredited schools aren't the only ones applicants can look out for.
ACBSP business accreditation focuses on the way the educators teach the subject. The ACBSP wants students to receive an education that focuses on achieving goals through use of their knowledge. Students will likely receive less theory and more workable knowledge and techniques they can apply immediately.
Because the ACBSP isn't as well-known as the AACSB, some wonder is the ACBSP respected or is ACBSP accreditation good or bad. ACBSP business accreditation is well-respected and recognized. Some employers may even prefer ACBSP accreditation, especially if the accredited degree conforms to that entity's way of doing business.
IACBE accreditation and IACBE accredited schools are all about teaching students in an outcome-based environment. An IACBE accredited school or program will strive to prepare students to solve problems to achieve goals. In fact, IACBE accreditation was created specifically as an answer to a market need. That means this type of accreditation does have recognition and even preference in many industries.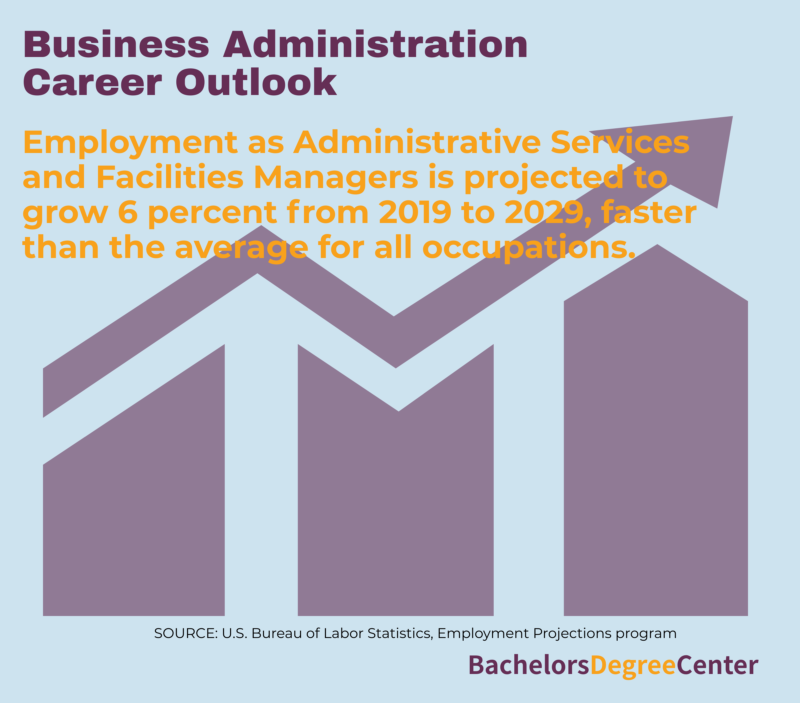 Are There Different Types of Business Administration Bachelor Degrees?
Business administration degrees do come in a variety of types. The type of bachelor's an applicant pursues can dictate the curriculum they will study as well as any specialization they choose. Applicants may see these types of degrees abbreviated in several ways. Generally, the degree designations will conform to one of three main types. These include the BBA, BSBA, and BABA.
The Bachelor of Business Administration (BBA) often offers a more general study of business administration. These degrees tend to focus on producing well-rounded business administration professionals. The curriculum will typically cover various aspects of how business and business systems work without focusing on a single attribute.
BBA subjects can vary, mainly because business administration is a large field. Students will have to take their core classes, but may also need to pick and choose electives to form a degree that fits their ultimate goals in the business administration field.
Equally, for those who choose a bachelors in business management instead, many of the same rules apply when it comes to different degree types and focuses. Swap in the word management for administration and applicants will see they must still make a choice regarding what type of degree they should pursue.
The Bachelor of Science in Business Administration (BSBA) is a degree type with a larger focus on the hard sciences of business. Students will find the BSBA curriculum leans more heavily into the mathematical, statistical, and analytical aspects of business administration. It's these aspects of the degree that can help dictate what types of specializations a student may want to pursue in business administration.
The Bachelor of Arts in Business Administration (BABA) aims to put the focus more on the soft science aspects of business administration. This can include curriculum that offers more by the way of liberal studies and associated aspects of business.
Understand that a BABA is still a business degree and not a liberal arts degree. What students learn in a BABA program can help them in several ways, especially if they're not sure where they want to specialize.
Despite the degree type, business administration courses do have a lot of overlap. For example, BBA subjects in general often form the basis of the other degree types. Equally, business administration degree requirements tend to stay similar between the different types of degrees.
If an applicant were to look at a business administration subjects list for any of these degree types, they will likely find that the business administration courses look largely similar with a few differences in some of the core classes. This begs the question of which business administration courses will offer the most benefit.
Comparing the Business Administration Degree Types
BA vs BBA – When looking at the abbreviations for all these degree types, it can become confusing. A BA is simply a bachelor of arts degree. This is a liberal arts degree and not a business-oriented degree. Although, a BA can become a business degree or a BABA, which is specifically a bachelor of arts in business administration. The BBA is specifically the bachelor of business administration.
BA vs BS Business – Similarly, a BS is a bachelor of science, so those looking for a BS in business would turn to the Bachelor of Science in Business Administration degree path, or BSBA.
BBA vs BSBA – This comparison requires a lot more consideration for applicants. When it comes to a BBA vs BSBA, potential students must weigh their goals against the curriculum. The BBA gives a broader overview of business administration, but the BSBA will work best for those who have a desire to enter analytical or mathematical business administration careers.
The BBA subjects can change depending on degree type because the focus for each degree type is different. Still, these BBA subjects will often overlap with the core curriculums of a BSBA and BABA.
For example, the BBA scope increases with the more a student knows, however, the BBA scope can narrow because of specialization through the BSBA or BABA path. Generally, the BABA offers the broadest BBA scope while the BSBA offers the most narrow and specialized scope. The BBA sits somewhere between the two.
Of these degree types, it's important to remind applicants that a bachelors in business management or BS in business management aren't the same degree. The management degrees also come in similar types, such as the bachelors in business management (BBM), BS in business management (BSBM), and BA in business management.
Some programs offer administration and management degrees interchangeably, so applicants need to pay close attention to the business administration subjects and business administration classes listed. A business administration subjects list and the associated business administration degree requirements may also look similar to those for a business management degree.
Are There Business Administration Degrees Online?
Everything stated about business administration degrees also applies to a business administration online degree. An online bachelors in business comes with the same considerations someone might make when choosing a traditional business administration degree. As with other degree types, a bachelors in business online may come with the same requirements, but usually with a lot more flexibility.
When looking for a business administration online degree, applicants should narrow their searches and take the same precautions as they would when looking for any other type of business education school or program. It's possible to get a business degree online fast under some circumstances, but applicants shouldn't necessarily look for the cheapest online business degree.
In addition, applicants should also make sure they're looking for business administration degrees if that's what they want. Otherwise, they can also find an accredited online business management degree. But, no matter the degree type, applicants should seek reputable and accredited bachelors in business online.
The online business degree cost can vary. In some cases, the online business degree cost can look much the same as the costs associated with a traditional degree path, but there are also cheaper online programs that can also help someone obtain their business degree online fast through accelerated courses that aren't always available through traditional means.
Still, the cheapest online business degree isn't always the most beneficial. Applicants should do their research and due diligence just as they would under any other circumstances.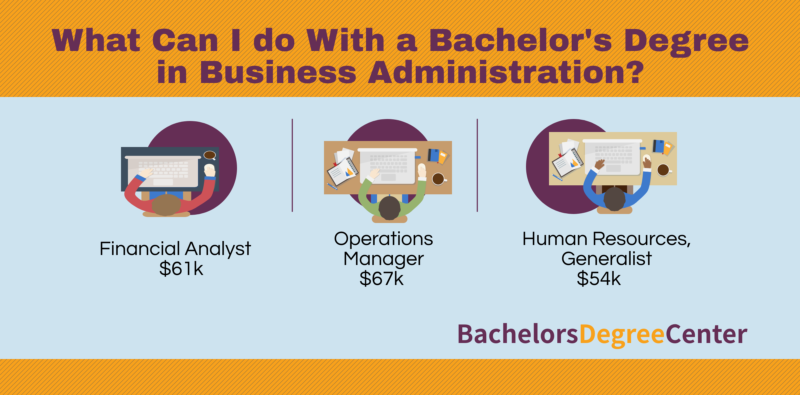 Are There Certifications for Business Administration?
Business certifications exist for practically every type of business administration job or career. Business certifications aren't always necessary, but they're always appreciated. In some cases, business certifications can mean the difference between gaining a position or losing it to someone else. In addition, a business administration certificate can show that an applicant takes their chosen profession seriously and they're willing to work and continue their education in the field.
Some business administration programs offer certification programs so that a student can graduate with a reputable business administration certificate. However, business administration certifications vary widely. When seeking business certifications, applicants should look for those certifications that complement their chosen industry.
Some employers may require someone to have or obtain a specific business administration certificate before they can begin work or continue work. There are also industry-specific business certifications worth getting for those who know precisely what field they would like to apply their business administration knowledge in.
Some employers can also require business certifications just as general proof the potential employee understands the industry they're applying for work in. Certification, in this case, can show the applicant has a working knowledge of how businesses in that sector operate.
Business administration certifications can also show an applicant has command of a particular specialization. Because of these variances, the business certifications worth getting will always depend on numerous factors. However, when someone is ready to pursue a business certification, they should make sure they look for the best certifications online. The best online business certificate programs will have reputability and industry recognition.
Some of the more renowned business certifications worth getting include the Business Development Certification offered by many prestigious schools and groups. There are also international business certifications that can put someone in a good position to deal with international business administration.
The best business certifications for college students are usually those offered by the college or business program they're already attending. In many cases, they can work towards one or more certifications while they work towards their degree.
It's also possible to earn business certifications without a degree. These types of certifications can help show that someone has gained a specialization on top of a non-business degree or help someone advance in the workplace.
Certifications dealing with software typically used for business administration can also be extremely helpful. For example, gaining certification in a CRM that's industry-standard can help an applicant truly shine when seeking employment with a business that makes heavy use of that CRM.
What Types of Careers Are There in Business Administration?
Because business administration lends itself to literally any type of business in any industry, there's always a plethora of business administration degree jobs to consider. With a bachelors in business administration jobs can exist in any sector, anywhere for a motivated career seeker. In fact, a business administration jobs list can include just about anything, which means job seekers will need to narrow that list down.
When looking at a business administration job description, it's important to note exactly what it is the potential employer is asking for. Once again, this can become a question of whether these are truly BBA degree jobs or BBM jobs. Since the positions often overlap, applicants must make sure the business administration job description is really describing an administrative position, rather than a managerial one.
Even so, business administration degree jobs and careers can include:
Office administrator
Account manager
Administrative director
Human resources director
Consultant
Financial analyst
Operation research analyst
Business administration degree jobs also include management positions. The bachelors in business jobs available and the bachelor of science in business jobs may all show up on the same business administration jobs list. When searching for "business administration jobs near me," it's possible to broaden the search to other types of bachelors in business jobs, not just those that specifically look for administrators.
As previously stated, the sheer amount of overlap in business-related positions means applicants should read every business administration jobs description very carefully to make sure the opportunity is in line with their education and desired career paths.
Bachelors in business administration jobs aren't just limited to positions seeking a specific job title. BBA degree jobs can extend themselves into various other types of career paths. This can be very relevant for those who are looking for business administration or business management degree entry-level jobs.
What Are the Salary Expectations for a Business Administration Major?
Business administration degree salary will depend on several factors. As with most degree types, the business administration salary earned in one place or industry can vary greatly from the business administration salary someone can earn in a different locale or in a different job sector. Demand for a particular skill set often dictates salary.
So, what is business administration salary in general? According to Chron, right out of college, a bachelors in business administration salary can earn someone around ~$48k and up to ~$77.9k. However, industry matters a lot when it comes to business administration salary, and so does experience. Some business administration degree salary numbers can reach ~$140k.
The bachelors in business administration salary for those in engineering are currently at the highest. Nevertheless, businesses put different valuations on BA majors, so a BA in business salary can fluctuate depending on the specific company doing the hiring, even among similarly positioned companies. The bachelors in business salary may also depend on the job title as well.

Are There Any Professional Organizations for Business Administration Graduates?
Many professional organizations in business are out there, as well as professional leadership organizations. These professional organizations offer opportunities for training, placement, advancement, networking, and other opportunities that are sometimes impossible to find outside of such organizations.
There are professional organizations for business administrators as well as for specializations in the field. Many schools also have professional organizations that students can join while they're still earning their degree.
These professional organizations in business exist at the local, state, national, and even international levels. Graduates would do well to investigate some of them and join those that can offer them some benefit in their career.
Related Rankings:
25 Best Bachelor's in Business Administration
15 Best Online Bachelor's in Business Administration
10 Fastest Online Bachelor's in Business Administration
10 Most Affordable Bachelor's in Business Administration