The first animated film was created in 1938 by Walt Disney. Snow White captivated audiences and left them begging for more. Thus began an industry based on storytelling, visual media, and entertainment. This medium, and the animation industry itself, continues to blossom, and animation majors master skills needed to succeed in the field. In the age of multimedia content, animation has expanded to a vast industry that spread across entertainment, advertising, education, and much more. This includes graphic-art software as well as basic artistic abilities. It takes a lot of passion to create movies from sequential imaging. However, many people dream of bringing stories to life via computer-aided and traditional animation.
Let's start with some basic information about animation degrees?
Featured Schools
What can I do with an animation degree?
Is an animation degree worth it?
Is a degree in animation worth it?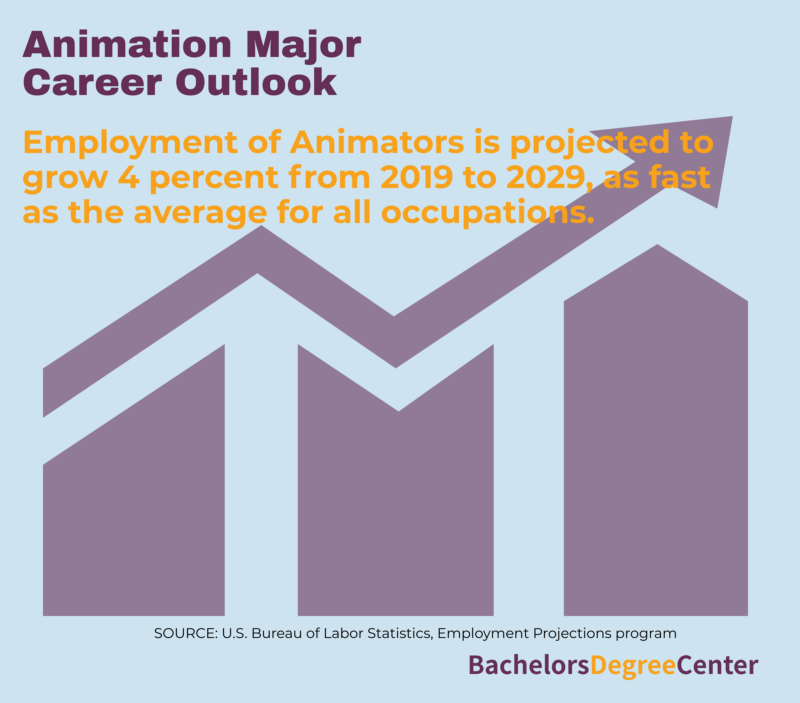 What Can I Do with an Animation Degree?
Animation degrees are available online and on-campus vary greatly, almost as much as the stories they bring to life. However, animation students typically learn character design, multimedia design, 3D modeling, and other software programs. With an animation degree, graduates can create worlds and populate them with charming characters. Others with this degree work in advertising, marketing, gaming or film. For students with natural creativity who want to share their technical and artistic skills with a wide audience, an animation degree makes sense.
In an animation bachelor program, you'll learn about:
motion graphics
digital art
experimental animation
motion capture
animation software
digital media
VFX animation techniques
You'll also learn about industry-standard software like Maya, real-world tools for animation production, and other parts of the business like screenwriting. Your coursework for a BFA in animation will include visual arts, new media, and more.
Typically, prospective employers require a bachelor's degree in order to consider graduates for employment. As in all fields, exceptional talent may rise to the top organically. However, getting a college degree can help students hone their skills and prepare for jobs in animation. Most animators must have the following qualifications:
College degree: As with most other fields these days, prospective employers like to hire applicants with a minimum of a bachelor's degree. Great degrees that can lead to jobs in animation include fine arts, computer graphics and related disciplines. For students who have specific career goals, such as gaming, there are specializations available to help them achieve their dreams.
Courses: Although every program differs somewhat, many animation degrees include classes in drawing, painting and sculpture. Students may also take classes in film and animation, as well as specific courses on gaming and interactive media.
Self-study: In this highly competitive field, anything students can do to show their initiative and skillset improves their opportunities to get a paid internship or entry-level job at studios and other organizations that hire animators. Fortunately, there are many self-study opportunities for students to seek certifications or classes online. Many online classes also have certifications graduates can use to enhance their resume. Students and graduates can also find online opportunities for tutorials and workshops at Animator Guide.
Internships: Paid and unpaid internships are a great way to gain exposure to the industry and build a student's portfolio. For example, students who want to make a career in gaming can check out GameDesigning.org for internship leads. Internships.com has additional opportunities.
Is a Degree in Animation Worth It?
With an animation major, students can learn hard skills they need such as computer literacy. An animation degree is a great gateway into jobs in TV, film and the gaming industry. Additionally, computer programming skills come in handy for animation projects completed in the digital format, which includes most jobs in the field. Obtaining a bachelor's degree is the first step towards a master's or doctoral degree for students who wish to seek roles in academia.
In the century since the first animated film was released, animation has moved from cute children's themes to bleeding-edge entertainment. From space odysseys to adult films, animation has become a fertile field for students who have mastered the technology needed to produce digital animation.
Many bachelor's degrees require rigorous training achieved online or in person at reputable art schools and colleges. Receiving a Bachelor's of Fine Arts and animation prepares students for entry-level animation positions. Some graduates also seek jobs in advertising and publishing where they can showcase their skills.
Whether you take the traditional route or choose flexible online animation degrees, you will meet students with similar interests and talents. This helps you build a network that can lead to career advancement and increased earning potential.
Accreditation for Animation Programs
Accreditation for computer science programs is handled through the Computing Accreditation Commission. The CAC computer science program accreditation falls under the purview of the Accreditation Board for Engineering and Technology (ABET). CAC reviews specific programs to determine if they meet the criteria for computer science program accreditation. In order to achieve accreditation for computer science programs, colleges and universities must offer degrees with the appropriate computer science technical disciplines.
The Council for Higher Education Accreditation (CHEA) handles regional accreditations for colleges and universities themselves. CHEA recognition affirms that schools have met the criteria set by accrediting organizations for accountability and academic quality.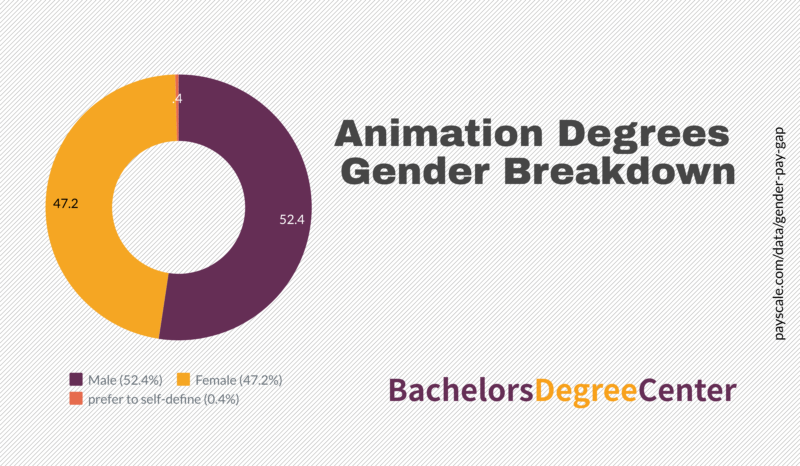 Types of Animation Degrees
Those who choose online animation degrees generally have to take general education courses as well as 3D modeling and animation classes. Online degrees in animation differ strikingly from other majors with traditional classroom assignments and material. Animation degrees online focus on developing both artistic and technical abilities. In fact, a computer animation degree online requires coding and hard skills atypical for many other art programs. At the bachelor's level, you first learn the basics and eventually take upper-division courses that prepare you for internships, entry-level jobs, or graduate school.
There are many types of animation degrees, including a bachelor degree in 3D animation and a bachelor in computer animation. In online animation degree programs, students begin to master software programs such as Mudbox, Adobe Creative Suite and other technology that aids simulations and 3D modeling.
A bachelors degree in animation often includes specializations that cater to each students' skills and talents. For example, a bachelors in animation will include digital sculpting and digital imaging. Many bachelors in animation incorporate design and color theory just like traditional art schools. Other bachelor of design in animation programs focus on interactive animation or media arts.
With a computer animation online degree, students can become graphic designers, creating logos, animation and advertising artwork for companies and organizations. An online computer animation degree gives students a wide variety of specializations, and a bachelor of fine arts in animation helps animation job seekers build a portfolio of their work. Learn more about the advantages of bachelor degree in 3D animation by reviewing specific programs online.
After choosing one of the many types of animation degrees, such as completing a bachelor in computer animation, students sometimes go on to achieve certifications.
Examples of online degrees in animation include the following:
Certifications in Animation
An online animation certificate provides a way to hone specific skills, and current students and graduates can both benefit from these programs. With an animation certificate online program, students deepen their skills in digital storytelling or improve their technical skills with 3D animation platforms.
Students seeking online animation certificates can usually complete them within a year. Online animation certification courses often include 3D animation, game animation, production design, fundamentals of animation and motion studies.
There are many options for students who need an accredited online animation course with certificate. There are even free online animation courses with certificates.
Coursera and other MOOCs are a great source of high-quality online animation certificate programs. They offer animation certificate online courses from top universities. Many free courses on coursera.org offer free classes with a paid option to obtain online animation certificates.
Among these free online animation certification courses, you will find recognizable names, including the following:
Udacity offers an 8-week course on 2D Game Development with libGDX. The course is self-paced, so students can finish quickly or take their time.
New York University (NYU) has a 14-week course on Creative Coding
San Jose State University has a very cool Basic Physics for Animators students can finish in 5 weeks.
There are many options for online animation course with certificate programs. Students should look into free online animation courses with certificates but may need to pay for certification that validates their mastery of the material.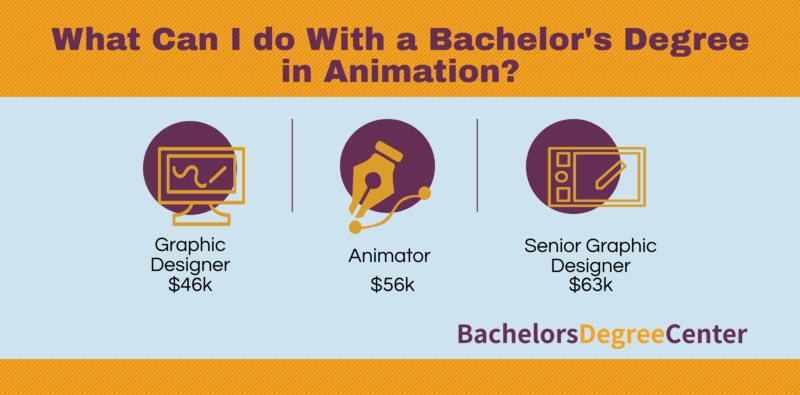 Careers in Animation
Beloved films like Mulan, Frozen, and Soul no doubt inspired many students to seek jobs in animation. Making a living with animation as a job is not an easy endeavor. Careers in animation require tenacity and persistence as much as artistic talent and technical skills.
If you want to work on the next blockbuster, such as The Lion King, Black Widow, or Aladdin, you'll need to prepare for the competition and technical skills required to obtain a job in 2D animation. If you are more interested in careers in 3D animation, you'll also need to master motion science and a specific set of computer skills.
Careers in computer animation demand a willingness to continually learn new technology. Jobs in animation used to consist of drawing artwork and preparing films one frame at a time. Today, however, animation as a job is both much easier and much more difficult. Computer programs make it possible to create effects such as reflections, shadows and distortions. However, animators rely heavily on computer skills to produce finished projects.
Computers make it possible to create colors that would have been impossible for artists painting frames by hand. Special effects generated on hard drives have revolutionized the entire film industry.
Stop motion animation involves taking an object, photographing it, moving it and photographing it over and over to make a short film. Claymation was popular between 1957 to 1968 and featured programs such as the popular Gumby series. These are just two examples of the diverse ways that animation has impacted entertainment history.
Careers in 3D animation include a breadth of opportunities in video games, films and television. Graduates can also find jobs preparing illustrations for mobile devices and software programs. Animators developed storyboards to pitch ideas to their bosses or clients. This requires the skills needed to plan and script narrative sequences and a knack for designing backgrounds that create visual interest for viewers.
Careers in animation include the following job titles:
3D Modeler
Animator
Film and Video Editor
Art Director
Flash Animator
Stop Motion
Video Game Design
Animation Director
Cartoonist
Graphic Designer
Background Painter
Character Animator
Color Key Artist
Character Rigger
Compositing Artist
Director
Effects Animator
Concept Artist
Digital Painter
Forensic Animator
Independent Filmmaker
Inbetweener
Key Animator
Lighting Specialist
Storyboard Artist
Texture Artist
Visual Development
Mathematical Modeler
Multimedia careers in computer animation represent one of the most common jobs in the industry. Multimedia artists use computer software skills to create 2D or 3D models and visual effects for TV shows, internet media and the movie industry. Typically, multimedia animators will work in teams with a creative director to develop an approach for their project and divide up the task needed to complete it.
Multimedia artists need a bachelor's degree and a strong portfolio that displays their work if they want to find a good entry-level position. Check with different employers prior to applying to see what certifications you may need in particular niches.
Art directors provide vision and leadership and oversee projects from start to finish. This involves developing an initial concept to pitch to producers and investors through the final project delivery. Art directors coordinate client changes and oversee adjustments made by different team members. They may or may not directly work on the animation itself. At the end of the day, they require a specific vision that means the client's requirements and taste.
Art directors can be found in many industries. However, animation art directors typically focus on video games, movies and products that require digital storytelling with the latest 3D animation. At the minimum, art directors need a bachelor's degree in animation, and they may need to hold various certifications and licenses required by their employers.
Graphic designers often work on capturing single images that convey a particular feeling to the viewer. Marketing, public relations and advertising are great places to find jobs that prefer graphic design skills. Students who wish to concentrate on this aspect of animation should take courses related to the creation of logos and other visual branding devices. Graphic designers may work on advertisements, brochures and websites to boost the image of their client.
As far as education and credentials go, graphic designers need to have a bachelor's degree in graphic design and should also have extensive portfolio items demonstrating their ability to create and deliver innovative, clean logos and branding art. Certifications for graphic designers might include courses that show their mastery of particular software programs.
Web developers with an animation background can create interactive videos, graphics and audio that bring website content to life. They meet with clients and develop a vision board for the look and feel of a website. This job also requires programming and performance capabilities. If the website freezes up or loads slowly, for example, it will cause visitors to abandon the site in favor of competitors with better websites.
Web developers typically need a college degree in order to attract the eye of prospective employers.
Salary: How Much Do Animators Make?
Learn about the potential salary of an animator. A career in animation salary ranges depends on education level, job experience and location, among other factors.
According to the U.S. Bureau of Labor Statistics, animation jobs salary ranges fall between $40,000 and $140,000. The extreme ranges for the high and low correspond to the top and bottom 10% of animators in the workforce. The average wage for the multimedia artist is about $75,000.
How much do animators make? To give you a better idea of specific jobs and earning potential, here are the top industries that employed animators and multimedia artists:
| | |
| --- | --- |
| Motion picture/videos | $86,000 |
| Software publishers | $80,000 |
| Computer systems design | $72,000 |
| Advertising and PR | $71,000 |
The salary for animation jobs for multimedia artists and animators can be very rewarding. Keep in mind that Careers in animation salary typically don't include overtime for nights and weekends. This means that the hourly equivalent of a salary and animation career dwindle when you're working long days and nights to meet a deadline.
Although the salary of an animator varies depending on the company you work for and your experience in the field, most animation jobs salary and benefits packages are quite lucrative. Additionally, the projected rate of demands impacts the potential salary for animation jobs.
According to the BLS, demand for this job will remain solid at 4% per year. This means that those looking for careers in animation that fall under the umbrella of TV, video games and movies have a good chance a finding work after they graduate from a reputable, accredited online university. Careers in animation salary are quite competitive, with plenty of opportunity for upward mobility. Students who complete their bachelor's in animation can look forward to a decent salary in animation career.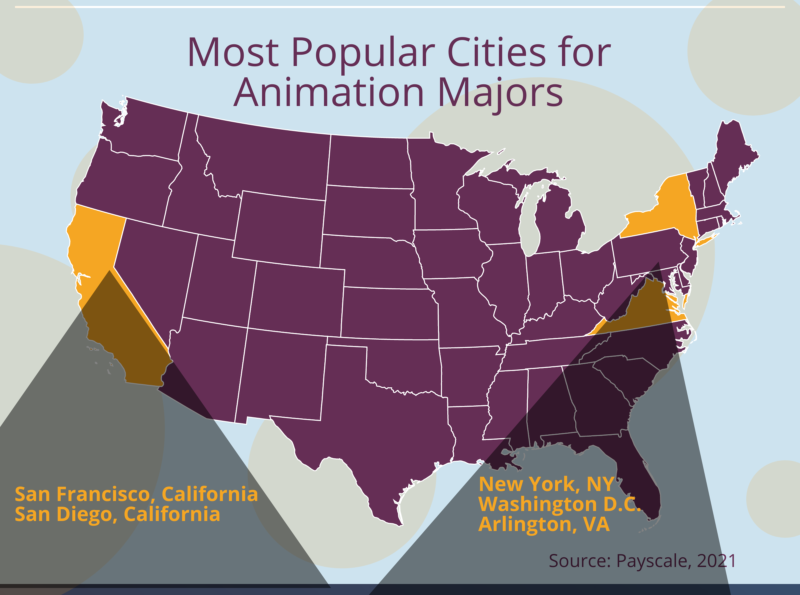 Professional Organizations in Animation
There are many great professional organizations for animators. Professional organizations allow students and graduates to network and look for mentors in their specialization. Animators and graphic artists can find affiliations with their particular interests online or through their colleges and universities. We have also listed several professional organizations well-known on a national and international scale.
Regardless of your major, you can find a professional organization or society that caters to your needs. For example, there are many professional organizations for women who are artists, animators and graphic designers. You can also find professional organizations that specialize in computer systems and 3D modeling. Graphic designers working in advertising and marketing might want to expand their search to include organizations that focus on marketing, sales and advertising professionals.
Professional organizations for animators include the following:
Professional organizations often sponsor opportunities for continued learning, certifications and licensing. Many associations offer free or discounted membership to students or recent graduates. Take every opportunity to make connections in the industry, complete free or reduce priced certifications, and find mentors and potential employers.
Now that you have a great idea of what to expect from a bachelor's degree in animation, the advantages of taking courses online, and where to find free resources, you should be able to navigate online offerings and find the best program for you.
Related Rankings:
25 Best Bachelor's in Multimedia Design
15 Best Online Bachelor's in Multimedia Design
10 Fastest Online Bachelor's in Multimedia Design
10 Most Affordable Bachelor's in Multimedia Design