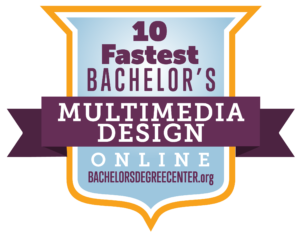 An accelerated multimedia design bachelor's program offers several advantages over traditional degree programs. One of the most notable is the fact that it can shave up to six months off of the time you spend in school. Accelerated programs provide all of the coursework of a traditional degree program, except that more information is offered in fewer lessons. The curriculum is condensed down into more intense, information-rich lessons.
Students who choose to take an accelerated multimedia design Bachelor's degree often do so because they want to spend less time in school and more time building their career. With an online accelerated degree program, students can begin working in an entry-level position while they are still taking their classes. This gives them a chance to support themselves and their families while earning the degree they need to succeed in such a fast-paced, growing industry.
Methodology: Ranking the Best Accelerated Multimedia Degree Programs
The Bachelor's Degree Center ranking of the best accelerated multimedia degree programs focuses on trusted, accredited colleges and universities that offer a fast-track way to earn a degree. Programs are ranked by alumni salary, cost, and student reviews, according to IPEDS and Niche data.
1. University of Florida

The University of Florida has an accelerated multimedia degree that conveys a BA in Digital Arts and Sciences. The BADAS degree incorporates communications, art and technology. Students who want an intellectual challenge that also lets them express their creativity major in this program. The immersive degree has a wide range of topics including animation, programming and game design. Classes are organized around project-based assignments that help students learn how to collaborate in a team environment. This accurately reflects many industry work settings.
More than 32,000 undergraduate students attend the University of Florida, located in Gainesville. This exclusive public university accepts just 39% of students. Popular majors include psychology, biology and liberal arts. UF graduates a phenomenal 88% of students who begin their educational journey as freshmen.
What We Like: The University of Florida is ranked number one among all colleges in Florida. It receives an A+ rating from surveyed students for value, diversity and a number of other criteria.
Degree: B.A. in Digital Arts and Sciences
2. National University

National University's accelerated multimedia degree gives students a way to shape media in the modern world. This BA In digital media design incorporates animation, social networks, games and content that focuses on creating engaging user experiences. Students receive hands-on experience with the latest technologies in demand in media arts. Students who graduate from this program find jobs in visual communications, education, entertainment and marketing.
National University is located in San Diego and has approximately 3,000 undergraduate students. This private university accepts all students who apply and offers majors such as liberal arts, business and nursing.
What We Like: National University accepts 100% of applicants, making it a great place for students who want to continue their education without worrying about standardized test scores.
Degree: BA in Digital Media Design
3. Arizona State University

Arizona State University has an accelerated multimedia degree that students can take online. This BA in mass communications and media studies lets students delve into the foundations of media jobs around the world. The program includes societal, economic, legal and other aspects of mass communications.
This highly rated university is located in Tempe, AZ. It has more than 39,000 undergraduate students and popular majors include psychology, business support services and business. Students can finish many courses within two to three years. The flexible online format suits students who have full time jobs or family obligations to juggle with their educational ambition. The fast-track option allows students to do this quicker than traditional classroom programs.
What We Like: Arizona State University gets A+ ratings on categories such as diversity and value for money.
Degree: B.A. in Mass Communication and Media Studies
4. Texas Tech University

The accelerated multimedia degree at Texas Tech University results in a BA in digital media and professional communications. Students gain marketable skills that transferred directly into media and communications. As part of the coursework, students develop soft skills that transfer to dozens of other industries and which are critical to media and graphic arts careers. Students who complete this program go on to complete masters degrees or enter the workforce as multimedia specialist.
Texas Tech has deep roots as a research university and a reputation for innovative, creative teaching. The university gives students an opportunity to learn in a structured environment and to become ethical leaders in industries from high tech to liberal arts. The school strives to create a cultural environment conducive to learning and to produce students ready to take on the challenges of a complex job market.
What We Like: Texas Tech has a 71% acceptance rate, so just 7 out of 10 applicants receive an invitation to study at the school.
Degree: B.A. in Digital Media and Professional Communication
5. University of Maryland Global Campus

The University of Maryland Global Campus offers an accelerated multimedia degree students can take online. The curriculum allows learners to develop and manage digital media projects so they can learn about emerging technologies in the industry. Students should expect to spend time researching projects and applying business principles to various exercises. The program applies practices and principles that reflect the current marketplace so that students emerge ready to take on jobs in digital media. Students also learn how to script and program multimedia applications to meet customer requirements.
UMGC is located in the Washington, DC, area and this midsized school has nearly 10,000 undergraduate enrollees. Nearly everyone who applies receives an invitation to study at the university in majors such as liberal arts and humanities, business and information science.
What We Like: With a 100% acceptance rate, the University of Maryland Global Campus offers access to higher education for everyone who applies.
Degree: B.S. in Digital Media and Web Technology
6. University of North Dakota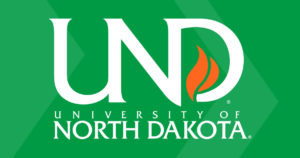 The University of North Dakota offers an accelerated multimedia degree that makes it easy for students to complete their baccalaureate studies. 100% of courses are completed online and available any time of day or night. Students never have to travel to campus to complete their educational requirements, but they have plenty of opportunities to collaborate and network with faculty members and other learners. Students can take self-paced courses or accelerate their learning beyond the traditional academic calendar. At UND, Students have the option to customize their education with a specialty in strategic communication, advertising, digital journalism, digital analytics, public relations or social media strategy.
The University of North Dakota provides a diverse educational experience for students who want to become engineers, teach first grade or run their own Fortune 500 company. The university offers 225 majors and has North Dakota's only law and medical schools. UND accepts 82% of applicants.
What We Like: UND is the #2 ranked best college in North Dakota.
Degree: B.A. in Communication
7. Franklin University
The accelerated multimedia degree at Franklin University offers a B.S. in Interactive Media Design (IMD). Whether students wish to produce websites or mobile apps, their studies at Franklin give them the artistic and technical skills needed to pursue their preferred career paths. From the first meeting with the customer to deployment and post-production support, graduates master technical and nontechnical skills involved in the life cycle of multimedia projects.
About 1,000 undergraduate students study at Franklin University, based in Columbus, OH. The school features dedicated faculty members who are experts in their field and popular major such as accounting, healthcare management and business.
What We Like: A 100% acceptance makes this an attractive option for students looking for access to higher education opportunities.
Degree: B.S. in Interactive Media Design
8. Lindenwood University
Lindenwood University has an accelerated multimedia degree. This program results in a Bachelor of Science and digital marketing. Courses include topics that will enhance students' ability to optimize social media content. Graduates go on to jobs in digital media, including digital content strategists and social media managers. The strong focus on digital media gives Lindenwood graduates a leg up when it comes to satisfying the criteria of media marketing agencies and corporate hiring managers.
Lindenwood University hires professors and staff members who work in the industry. They offer one-on-one communication and guidance to students who need it. The focus of all coursework revolves around the skills needed to succeed in the real world. Lindenwood opens doors to students across a plethora of majors, allowing students to showcase their talents and learn skills to achieve lucrative job offers when they complete their studies.
What We Like: The university offers over 90 majors and has internship opportunities that allow students to graduate with real-world experience.
Degree: B.S. in Digital Marketing
9. Granite State College

Granite State College's accelerated multimedia degree combines technical and creative skills to prepare graduates for jobs in digital media marketing. Students learn to produce effective messaging and respond to new technologies that can strengthen marketing campaigns.
This small public college has under 900 undergraduate students and is located in New Hampshire's Manchester area. It accepts all students who apply and offers majors in psychology, business, liberal arts and other areas.
What We Like: With a 100% acceptance rate and 84% of students receiving financial aid, this school offers accessible, affordable education options for remote learners.
Degree: B.S. in Digital Media
10. Johnson and Wales University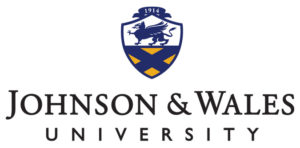 Johnson and Wales University has an accelerated multimedia degree that is well-respected in the contemporary workplace. The program produces graduates who can plan and communicate brand messaging using digital platforms. Social media marketing courses help students master the theory an application of digital marketing. Students learn content marketing, SEO management and the ins and outs of digital advertising. Projects include analysis of data and problem-solving needed to provide effective representation for clients.
Johnson and Wales University has 7,300 students at the undergraduate level. Through its vibrant physical campus and online offerings, this well-respected university offers a high-quality education for students in a variety of majors.
What We Like: Johnson and Wales University is it well-respected college at the regional and national levels. Among other accolades, it ranks number ten among the best value colleges in its home state of Rhode Island.
Degree: B.S. in Digital Marketing and Social Media
What Are the Advantages of an Accelerated Multimedia Design Bachelor's Program?
Another advantage to an accelerated degree program is that the lessons are complete. For some students, it is easier to understand certain concepts if they are taught together. Being able to tie certain concepts together makes it easier to not only remember but also utilize. It enables the student to apply what they are learning as a whole instead of piece by piece. Students who learn faster with more information will thrive in an accelerated learning environment.
What If I Already Have a Bachelor's?
If you already have a Bachelor's degree, you have the option to earn an online multimedia design certificate. A certificate in multimedia design will provide you with all of the basic information you need to put you at the same level as if you had taken a degree program. While you may choose to take a few additional classes to build on what you already know, a multimedia design certificate that you earn online will give you an advantage if you are looking for work in the multimedia design field.
Already having a bachelor's degree gives you a solid foundation to build on. By adding a multimedia design certificate online, you can add other skills to your resume. This means exploring new opportunities and taking advantage of new challenges that may eventually lead to higher pay, more responsibility, and a better benefits package. Once the foundation is there, the next step in advancing your career is continuing your education. Even if you already have a degree, returning to school to earn a multimedia design certificate is well worth the time you will spend.
Most multimedia design certificates can be earned online. This adds to the benefits because it not only allows you to study when it is best for you, it also gives you an opportunity to go to work and start earning experience (and a paycheck) right away! You can begin putting what you are learning to good use and gaining valuable insight in the process. The more you are able to do with what you are learning, the easier it will be for you to remember it. The more you use the knowledge you receive through your certificate program, the easier it will be to implement it in different situations.
What Is the Difference Between Multimedia and Graphic Design?
The primary difference between multimedia and graphic design is the types of media being used and where it will be used. Multimedia design uses all types of media and is instrumental in the production of television programs, movies, music videos, video games, and a variety of other formats. Multimedia design uses animation, visual and audio elements to create pieces that can be placed on a variety of platforms. With multimedia design, many types of media are used to bring together many different elements.
Graphic design, on the other hand, uses visual concepts to create a platform where information can be easily displayed. Websites are an excellent example. A graphic designer uses audio and visual elements to put a website together. They can make it so that visitors can navigate easily through the different pages, and even interact with an online agent. With graphic design, the artist creates the platform as a place to display specific elements that can be viewed easily.
With multimedia design, the concept is fluid. Things are constantly in motion and the designer can change and adjust as they go. Multimedia artists are able to tell stories, create plots and storylines that move from one phase to another. Instead of just showing customers a concept with graphic design, a multimedia artist can bring it to life, making it unique and interesting.
Related Rankings:
25 Best Bachelor's in Multimedia Design
15 Best Online Bachelor's in Multimedia Design