In today's fast-paced work environments, being able to work with the advanced electronics and technology that is now taking over most offices is extremely important. Having the management skills to go along with the IT knowledge will make you an invaluable asset on a variety of levels. Taking advantage of the opportunity to earn your Technology Management Bachelor's degree is a decision that will benefit you for many years to come.
We will cover the following topics in this section.
Featured Schools
What is management of technology?
What is a technology management degree?
Why is management of technology important?
What does a technology manager do?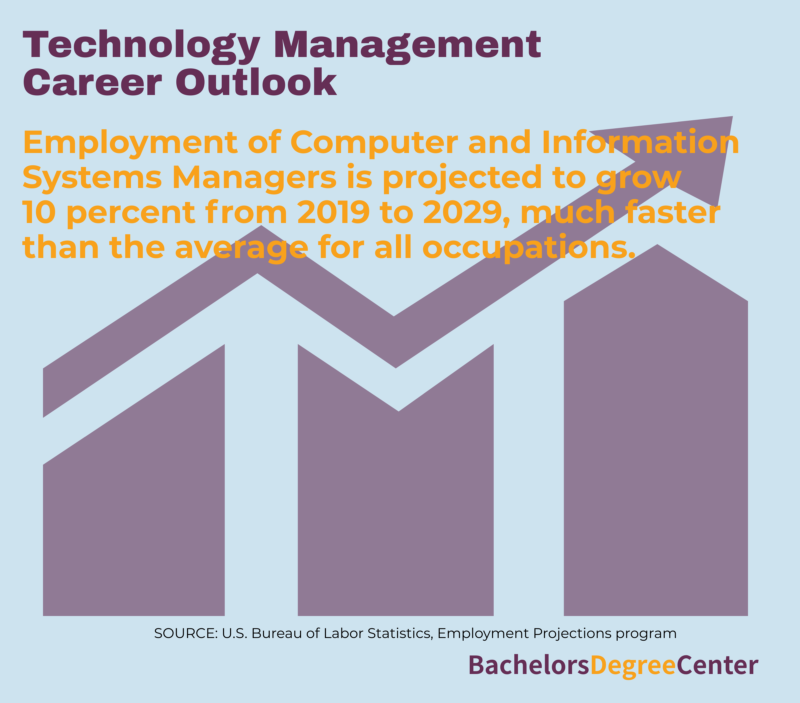 What is Management of Technology?
Technology management often involves a mixture of management, information technology and business tasks, such as the following:
Maintaining technology: Technology managers coordinate all aspects of an organization's technology. They ensure that technical assets work reliably and troubleshoot potential problems to avoid outages. What is technology management? Assets under the purview of technology managers include networks, IT security, hardware and software assets. That's why technology management is important.
Curating new technology: Technology managers are constantly vetting out technological innovations to look for better solutions for their organization. This extends beyond awareness of new trends. Technology managers also have the difficult task of talking leaders into investing in new technology that can help the company gain an edge over competitors.
Budgeting: IT management also involves compiling budgets for monthly and annual costs. technology managers govern purchases, review expenses, and evaluate contracts to ensure they are advantageous for the organization.
Project management: Technology managers lead tech initiatives, creating a timeline and updating leaders on the progress to date. As advocates for technical employees, they may have to push back on unrealistic timelines and expectations.
Supervising: Technology leaders also oversee a company's IT staff. This includes spearheading training and development programs and taking part in hiring decisions.
Information technology managers implement and maintain the IT infrastructure for their organization. Companies rely on information processing to make decisions, and technology managers oversee the design and maintenance of efficient, centralized data repositories. Additionally, IT managers lead the research and development of new strategies and look for cost-effective ways to achieve the company's technology goals.
A bachelor's degree in management information systems, computer science, or a similar field can help students qualify for leadership positions within their organization's technology department. Most IT managers also have a master's degree in computer science or business administration.
What is a Technology Management Degree?
Students who pursue a technology management degree develop managerial and technical skills. Prospective students looking for an online technology management degree can expect to master the following skills:
Understanding of networks and computers
Ability to manage computers and networks
Design of technical networks
Development of security protocols
Ability to train others on a variety of technology tools
Some students go on to complete a master's in technology management. As with many other fields, advanced education can improve a graduate's ability to get higher-paying jobs and positions of increasing responsibility. Technology managers must also understand the ethical and legal conflicts that arise when business goals do not match technical policies or involve rushing into implementations that might compromise the security of the organization.
Why is Management of Technology Important?
There are different types of technology management. However, IT managers usually monitor and administer one or more information systems within their organization. This includes networks, hardware, and software assets. IT management also includes improving how systems work together in order to achieve better performance. This is an important role because it helps people work with technology efficiently to achieve corporate goals. IT departments are responsible for keeping on top of the latest technology and deciding which innovations will lead to positive outcomes for the organization.
What Does a Technology Manager Do?
There are different kinds of technology management. Some IT managers construct business plans and direct online operations. IT managers may be dedicated to coordinating a large project that will innovate core operations. Some managers oversee programming teams or create the architecture for various online assets, such as websites and e-commerce storefronts.
What is technology management? Most IT managers spend a large part of their day overseeing the work of IT employees including software developers, system analysts, and support specialists.
The types of technology management also vary by industry such as:
Computer system design services: Cerner Corporation and Sapient Corporation hire within this industry.
Computer programming services: Hewlett Packard, Oracle, and Microsoft hire in this industry.
Data processing: Facebook, Google, and Amazon hire thousands of employees in this sector.
Governments: Police departments, courthouses, correctional facilities, and other entities hire technology employees and managers.
Telecommunications: AT&T, Verizon, and other carriers require knowledgeable and skilled leaders.
The flexibility to constantly learn new skills comes with the right training. This is not an easy characteristic to develop, which is why technology management is important in recruiting and retaining the best talent.
Accreditation for Technology Management Programs
The Association of Technology, Management, and Applied Engineering (ATMAE) set accreditation standards for colleges and universities with technology degrees. Accreditation indicates that a program adheres to the association's high standards. ATMAE conducts reviews to evaluate whether each school follows the guidelines of the organization. Students can look up accredited schools on the ATMAE website.
Not all technology management programs have ATMAE credentials. However, they are covered by national and regional accreditation for the school itself. Applicants should ensure the institutions they apply to have regional accreditations.
Usually, when people refer to accredited universities they are talking about regional accreditation. The vast majority of online schools have regional accreditation. There are pros and cons to regional accreditation.
Regional accreditation indicates a college or university has achieved the highest academic standards.
This is the most widely recognized accreditation.
Accredited schools only accept credits and recognize degrees from other accredited schools.
Most corporate tuition reimbursement programs require eligible programs to have regional accreditation.
Regionally accredited schools are more expensive than nationally accredited institutions.
National Accreditation
The US Department of Education (DOE) and the Council for Higher Education Accreditation (CHEA) recognize national accreditation agencies. These agencies are national in scale whereas the six regional accrediting agencies stick to one geographic area.
National agencies have historically approved trade and vocational schools. The requirements for degrees and certificates from nationally accredited schools are not as consistent as regional accreditation. Nationally accredited schools receive a review at least once every five years to ensure that they still qualify.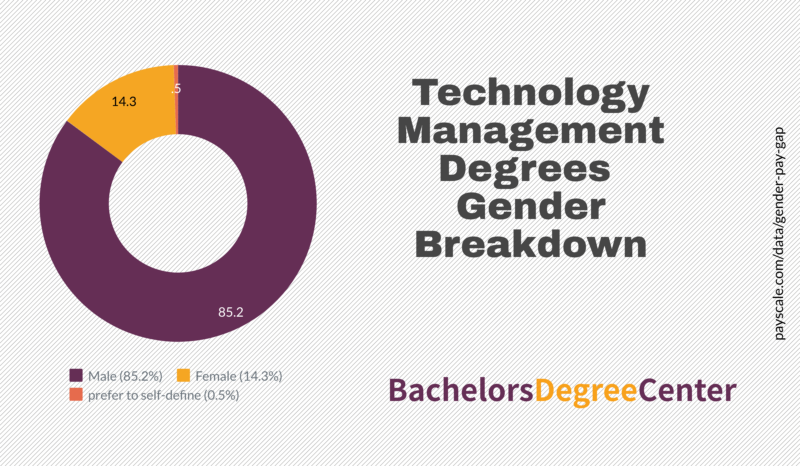 Types of Technology Management Degrees
Students who attain a technology management bachelor's degree master the fundamentals of supervising employees in the computer technology field. Technology management degrees often require rigorous study and the ability to grasp complex technology quickly.
Factors to consider when choosing a degree in technology management include the following:
Students pursuing online technology management degrees should be ready to spend about four years completing the requirements for the degree.
When evaluating technology management degree online programs, students should consider the types of courses available.
Technology management online degree programs should include business courses such as financial management, business strategies, marketing, management information systems and technical research.
Students should also consider the skills they can learn in a technology management degree. Technology management degrees should include courses that help students improve their communication and business skills as well as their technical and computer engineering skills. With a degree in technology management, students can obtain jobs in computer science and serve effectively on cross-functional teams.
With online technology management degrees, students can qualify for jobs as IT support specialists, information technology analysts, and technology services managers. Many students who earn their technology management degree online go on to become directors of technology departments.
Getting a technology management degree online can lead to high-paying jobs, according to a recent Forbes article. According to the article, a technology management online degree can lead to a career in web development or cybersecurity.
In a bachelor of science program, your coursework (in addition to general education and elective classes) may include courses like operations management.
You may also get to choose a specialization like healthcare or criminal justice, and put your decision-making and leadership skills to the test in a capstone project. With career opportunities in many fields, a technology management degree program can change you're like.
An online degree in technology management can lead to top-paying positions such as:
Web Development
Computer Networking Technology
Web Design
Cybersecurity
Game Designer
Software Development
Database Management
Information Systems Analyst
Students seeking a technology management degree often choose online options for convenience. For example, Arizona State University has an online degree in technology management.
At Arizona State University, the online technological entrepreneurship program appeals to students who want to help companies bridge the gap between their business goals and the necessary technology to get there. Some graduates of this program go on to found their own technology-based companies in both profit and nonprofit sectors. Others go on to pursue careers in product design. Students also learn about business operations and finance.
Technology Management Certifications
A technology management certification provides another path for students who already work in technology fields to improve their skills. With so much diversity in the field, it may be difficult to choose from the variety of programs offering a technology management certificate. students should carefully research the different paths available for a certificate in technology management to choose the one that best aligns with their career goals.
Technology management certification programs give students the opportunity to build their technical, interpersonal and management skills. A certified technology manager gains an edge over other applicants with similar work experience.
The curriculum for most technology management certificate programs takes less than one year to finish. Certificates are a great way for students who want to switch careers to find entry-level work in technology. This is particularly true if they already have management experience in business or a related field.
When evaluating different programs offering a certificate in technology management, students should consider the clinical experience and courses offered. Robust programs will offer a combination of technical and business courses that create well-rounded leaders.
These courses might include some or all of the following:
Accounting
Marketing
Business Strategy
Management Principles
Motivation and Productivity
A certificate in technology management can help students look for work as desktop support technicians and help desk consultants. Even with a degree in technology management, students should also consider getting certifications that show their expertise and help their resumes stand out.
Some of the more common certifications include:
Cisco Certified Network Associate (CCNA)
CompTIA A+ Technician
Network+
Other certifications that can help graduates find work in technology management include project management certifications, business management certifications and human resources management certifications.
George Washington University offers a graduate certificate in Management of Technology and Innovation. This program focuses on innovation and entrepreneurial endeavors. Students learn the fundamentals of technology strategies needed to launch and build new ventures.

Careers in Technology Management
There are many lucrative jobs in technology management. Prospective students may wonder, What can I do with a technology management degree? One of the more lucrative management of technology jobs lies in software applications development. Jobs for technology management related to software application development are growing rapidly and include entry-level and technology manager jobs. Software application developers create computer programs and customize application software for clients. This field involves the development, testing, maintenance, and improvement of software applications.
Software developers must master a number of programming languages such as JavaScript, Python, and Java. They must be able to troubleshoot and solve problems and answer questions from end-users regarding the use of their applications.
Other technology management jobs include information security analyst. For students wondering, What can I do with a technology management degree? These jobs in technology management fulfill a vital role in keeping private, sensitive data away from prying eyes. Security management of technology jobs often pays in the six figures and allows students to continually update their skills and knowledge. Information security analysts guard against cyber attacks from hackers and other bad actors. This is done by monitoring networks and proactively seeking out potential security breaches. Information security analysts also install and maintain protective software and enforce a company's security standards.
Information security analysts need to understand network security and information systems. Since this field is constantly evolving, students should ask themselves if they're willing to continually improve their skills. Vulnerability tests, penetration tests, and other proactive measures are the purview of information security analysts.
Jobs for technology management graduates include computer systems analysts. These include both technology manager jobs and important support roles. Students hoping to obtain these technology management jobs need to develop skills that helped them understand data processing and computer systems. Computer systems analysts consult with leaders to recommend software solutions that meet the needs of the business.
Students who would like to become computer systems analysts need a solid understanding of information systems, project management skills, and communication skills
Database administrators use special software tools to organize and store data. DBAs Are responsible for assigning access to different user segments. They also employ security measures to guard against unauthorized access. To become a database administrator, students must learn Structured Query Language (SQL), which is designed for data management.
Management analysts generate reports that help managers strategize how to increase profitability. To do this, they compile information from different systems and conduct interviews to get to the root of any issues holding back production and profitability. Management analysts must have business acumen and technology skills. Courses that can help improve students' chances of entering this field include budgeting, business analysis, process improvement, and project management.
Computer network architects create computer information systems and complete network modeling regarding the installation of new hardware and software. These professionals need a wide skill set that includes network engineering and system configuration.
Salary for Technology Management Professionals
Now that you've explored some of the jobs available in technology management, it's time to have a look at the salaries that go along with those positions.
Technology management salary jobs are some of the most lucrative positions available. A technology management salary job also tends to hold a lot of stability since many employees in this field become subject matter experts.
According to the US Bureau of Labor Statistics, technology management salary jobs will grow by 11% through 2029. This is faster than the average of all jobs. demand for technology management workers will increase due to the rise of cloud computing, big data, and the need for more secure systems.
Technology manager salaries average over $88,000 compared to a median wage of $40,000 for all occupations. For example, the technology management degree salary for Computer and Information Research Scientists, which generally requires a master's degree, exceeded $123,000. These professionals design solutions to computing technology and improve existing technology.
Computer Network Architects also earn a competitive technology manager salary. these professionals build daily communication networks. This includes Intranet, local area networks (LANs), and wide area networks (WANs). With a bachelor's degree, the technology manager's salary for this job exceeds $112,000.
There are many other technology management degree salary positions for successful graduates with an online or on-campus degree in technology management. Potential students should research the management of technology salaries for jobs they think they might be interested in. This can help them narrow down the schools and programs that appealed to them.
Technology manager salaries for computer programmers vary greatly depending on work experience, job location, and many other factors. However, the average technology manager salary for computer programmers with a bachelor's degree is $87,000, according to the BLS. Computer programming accounts for one of the most lucrative technology manager salary buckets. Programmers write code that allows software programs to function,
Computer Support Specialists answer questions regarding the operation of software and hardware assets. The average salary for this position is approximately $55,000.
Computer Systems Analysts with a bachelor's degree can make about $91,000. Many students who pursue this career earn their technology management degree online. Computer system analysts find solutions to inefficient processes.
Database administrators are called DBAs. Play store and organize data using specialized languages such as SQL. With a bachelor's degree, these professionals can make about $94,000 on average with 4-5 years of experience.
Information Security Analysts plan security measures that can protect computer networks and other digital assets. on average, information security analysts make about $100,000.
Network and Computer Systems Administrators Bring home about $84,000 after a few years of experience. They keep computer networks operational by monitoring activity and tweaking different configuration settings, among other duties.
Software Developers create software applications and earn an average of $107,510. Many students with technology management degrees eventually become developers.
Web Developers create and maintain websites and average $73,760 with an associate's degree.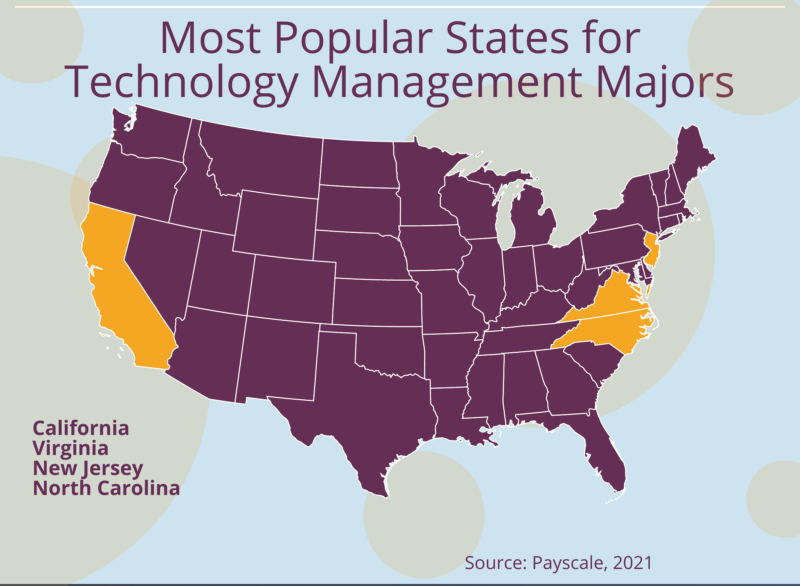 Professional Organizations
There are hundreds of organizations that can help students looking for networking and mentoring options. The following list can help students explore the types of associations that can help them connect with like-minded technology management professionals.
Joining IT professional associations looks great for students who may not have an extensive resume. Graduates can also put professional associations and organizations on their LinkedIn profiles to help establish authority in the field.
If the list of options seems overwhelming, students can scan through and choose a few that jump out at them and appeal to their interest. By visiting the pages of the selected organizations, students can determine is the membership fee and benefits align with their career goals. Many organizations have deep discounts for students, and some offer free student membership. Any organizations offer certifications, training opportunities, and other perks that help technology management professionals hone their skills.
Choosing organizations with local chapters gives students an opportunity to attend conferences and events sponsored by the organizations. By becoming active in professional associations, students can beef up their resumes and network with potential employers.
A degree in IT management opens up a lot of doors for students who are interested in technology, computing and business. With a degree in technology management, students can pursue careers in business or technology roles. This versatility is a big advantage in a world that has become more and more dependent on technology.
Related Rankings:
25 Best Bachelor's in Technology Management
15 Best Online Bachelor's in Technology Management
10 Fastest Online Bachelor's in Technology Management
10 Most Affordable Bachelor's in Technology Management
15 Best Online Training and Development Programs