A bachelor's in library science is one of the most flexible degrees today. Library and Information Science professionals are those who have an innate passion for helping others and making a change in the world. Students with a keen interest in working in a library, archive, or similar setting will likely be curious about the specifics and nuances of a bachelor of library science career and degree program. If you are interested in understanding what is a library and information science, it is also essential to understand – what is the difference between library science and information science?
Library science is the field that prepares professionals to manage/organize books, media, and digital information. In fact, library science today is more closely related to information technology than to the humanities or liberal arts. The management of this information & books includes –
Collecting
Reserving
Archival methodology
Organizing books and other materials in various kinds of libraries
If you have a serious interest in a career as a professional librarian, it is highly likely you will need to ultimately earn a Master of Library Science degree (aka, an MLS) or MLIS – Master's of Library & Information Science).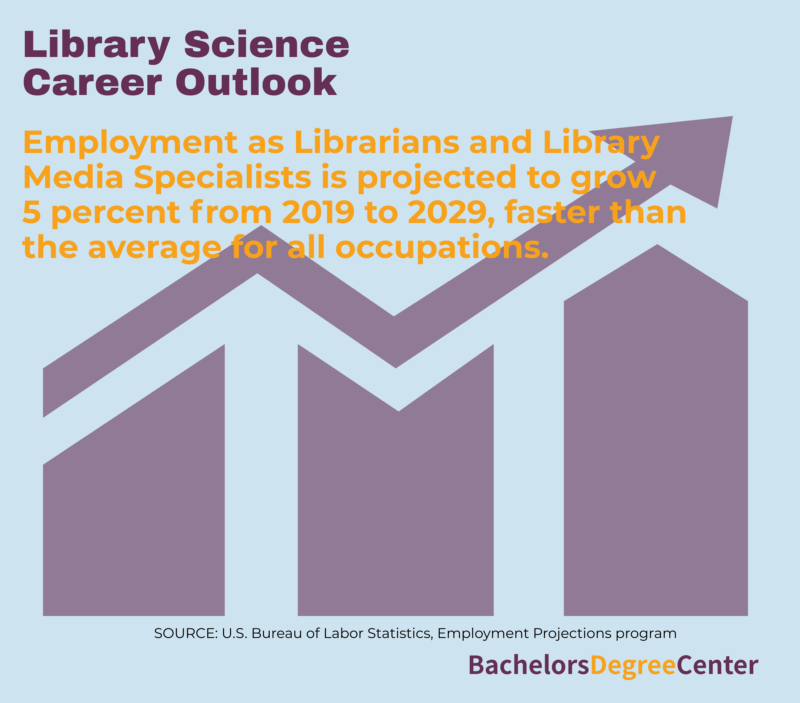 More specifically, library science professionals have the skills to –
Design and implement effective knowledge-organization systems.
Develop advisory resources for readers and researchers that help to encourage younger students to become lifelong learners and reading lovers.
Assist scholars in locating archival resources critical to the completion of their work.
Identify resources to help others in times of crisis.
Assist medical personnel in locating important and relevant health information effectively.
Accreditation for Library and Information Science
An accredited bachelor in library science is the first step to a library science career. The process of accreditation is considered an evaluative process during which schools and academic programs are reviewed against a set of predefined factors and standards. Depending on the exact type of accreditation, the process may evaluate a school or academic program's quality contingent on factors like –
The curriculum/coursework
Student support
Learning outcomes
Faculty, among other factors.
There are two types of accreditation found in the US – Regional/National or Specialized Accreditation. Each of these types of accreditation is discussed next.
Regional Accreditation
Regional accreditation is an accreditation process that the federal government administers through its nine Regional Agencies. These regional accrediting agencies are managed by the USDE – the United States Department of Education manages these agencies.
The WASC Senior College & University Commission
The Southern Association of Colleges & Schools Commission of Colleges
The Middle States Commission of Higher Education
The Northwest Commission on Colleges & Universities
The New England Commission on Higher Education
The Higher Learning Commission
Regional accreditation is awarded to schools, universities, and colleges across the United States if they meet the criteria set forth by these regional academic agencies.
Specialized accreditation is typically awarded at the program level. As such, it is important to determine which of the available accredited library science programs fit your budget and your educational goals.
Specialized Accreditation
In addition to regional accreditation, institutions of higher education have the option to voluntarily submit their programs to an approved-accrediting process, which awards specialized accreditation if the program meets the established accreditation criteria. Accredited library science degree programs
Programs and schools open their books and institutions to an evaluative accreditation process that is typically done by an accrediting agency sanctioned by the industry. Programs and schools may seek to be awarded specialized accreditation, which is generally administered after the school meets the specialized accreditation. The two primary accreditation agencies for library and information science degree programs are the American Library Association & the Council for Accreditation of Educator Preparation.
Like many higher learning academic degree programs, students researching if a bachelor's in library science online program has library science accreditation should determine which of the accredited online library science degrees will best serve their academic and career objectives.
The American Library Association – The ALA
The ALA was established in the mid-1870s. The ALA is one of the accrediting agencies in the field of library and information science. This includes the accreditation of library schools and academic degree programs that prepare professionals for work as professional librarians across the United States, Canada, and Puerto Rico.
Programs that have received accreditation from the ALA – the American Library Association are generally those that have been designed to train library & information specialists for professional work in a wide variety of library environments, including academic libraries, school libraries, to corporate libraries. ALA accredited degree programs will typically meet the established requirements for most states across the nation.
The Council of the Accreditation for Educator Preparation
The CAEP – also known as the Council for the Accreditation of Educator Preparation is a second professional organization in the field of library science that accredits certain academic degree programs in education that offers professionals a specialty regarding the management of a school library and its support services.
It is noted that some states, on an individual basis, may offer accreditation for library and information science programs, which is the reason it is important to determine the requirements of each state within the state's Department of Education.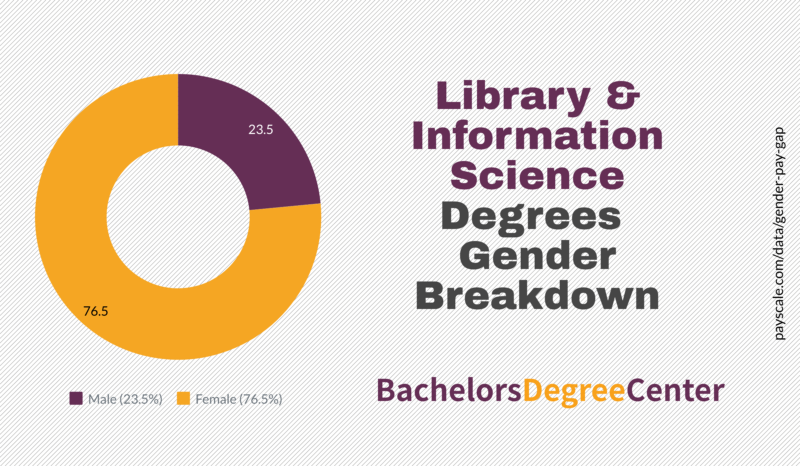 Types of Library and Information Science Degrees
The field of library and information is a dynamic career field that offers professionals many types of settings, careers, and disciplines from which to choose. Students with an interest in an on-campus or online library and information science degree are encouraged to check out the many bachelor of library and information science options available before making any final academic or career decisions. A library science bachelor degree online can make all the difference.
Students should explore the many specialties and academic concentrations that are available in the bachelors in library and information science degree programs, especially the newest, most innovative library science bachelor's degree online options if students require flexibility in scheduling. Your elective options may lead you to specializations. Financial aid may depend on your full-time status and GPA.
In an information and library science bachelor of arts or bachelor of science program you will learn skills like information management, information studies, library management, library technology and more. Besides traditional librarian, career paths for library science students include library technicians, archivists in special libraries, and more. You may also add a teaching certificate for more options.
A Sampling of Concentrations for a Bachelor of Library and Information Science Degree Programs
Public Librarianship – public libraries have been enriching people's lives since the mid-1800s. Librarians working in public libraries have diverse responsibilities, which may include offering programs in ESL (English as Second Language), technology training, or storytime for infants and toddlers, among others. Public librarians will also help develop programs for the community in the areas of retirement and life skills and have an innate need to help others find information to meet their specific objectives.
Science Information – information specialists in the area of science have the skills to support an extensive scientific processing community. Science information specialists work alongside scientific researchers, exploring and using the latest technologies.
Academic Librarianship – an academic librarian may work in any higher education academic library, which may include a college, professional school, community college, or technical school, among others. Library specialists in an academic setting work to support the school's research, students, and teaching efforts. An academic librarian may also conduct research and even have some educator and instructional duties within their job responsibilities.
Geographic Information – geographic information specialists are tasked with the responsibility of managing print and digital cartographic resources related to geospatial technology. Geographic information is recognized as the process in which industry/scientific information is organized and accessed across industries and in everyday life.
Digital Collections (Archives & Repositories) – digital librarians must complete a range of library and information science duties to manage current and future digital libraries and archives. Content may be created through digitalization or born as a digitalized document. Digitization includes the access, retrieval, organization, storage, preservation, and ultimately, the dissemination of digital collections.
Information Organization – information organization professionals, seek to control the bibliographic process that includes –

The creation
The exchange
The preservation, and
The use of information resources and data. In other words, that management of records in a way that facilitates a user's experience and access to that information.

Youth services – a youth services librarian works with children from birth through high school and often through the early part of college. Youth service librarians develop programming to support users in print, digital media, and information literacy, to name a few. Programming can be quite diverse as it may include robotics for children and life-skill programs for younger adults.
User Experience (UX) – a librarian who specializes in user experience is skilled in improving the design of information systems. A user experience concentration for an on-campus or online library and information science degree will include training in UX research in all information-intensive settings. UX professionals are well-skilled in relevant UX techniques related to user design and user experience.
Data Curation /Data Management – data curators and data professionals work with all kinds of data, but most often, their work will be dedicated to scientific research. Data curation specialists develop policy and seek compliance in the preservation and planning of data and data processes. Among the responsibilities are –

Reference collections that may include a protein data bank or genome database.
Data collections related to research.
Data collections with significant scientific or research merit.
Certifications/Licenses in Library and Information Science
If you have spent sufficient time reflecting on the library science degree program that will meet your academic objectives, you have likely asked yourself – What can I do with a degree in library and information science?
Now, it is time to consider these relevant inquiries with regard to library and information science degree jobs –
What types of information science degree jobs are available in the area in which you live?
What jobs can you get with an information science degree that is earned online from an accredited institution of higher education?
What Bachelor of Library and Information science jobs are available at the entry-level?
The requirements for licensure in library science differ from state to state. While some states only require certification for specific job responsibilities, others mandate that librarians hold a graduate level (master's degree) in library science. Everylibraryinstitute.org offers an updated list of requirements for each state. The most significant difference among the states' requirements is related to educational mandates.
The ALA offers a variety of state and regional certifications for library science and information professionals. The American Library Association's state certifications are categorized based on whether the candidate holds an MLS – a Master of Library Science degree or not. Here is a partial list of some of the available industry certifications in the field of library science –
The Library Support Staff (LSSC) Certificate – this certificate program from the ALA is for those who wish to work in a library setting that does not require library science professionals to hold a master's degree in library science. The LSSC candidate is required to complete six of ten available sets of competencies. To be eligible, an LSSC candidate must hold a high school degree (or an equivalent) and have work/volunteered for a minimum of 1,820 hours over the last sixty months or five years.
For those who wish to research the certification requirements of each state with regard to library support staff, follow this link provided by the American Library Association (ALA).
The Certified Public Library Administrator (CPLA) Certification – is available for post-MLS degree holders. Students complete seven courses and are provided a five year renewal recertification when complete.
Students and recent graduates have the option of demonstrating their commitment and professional skills to the library profession by a voluntary certification. Potential school librarians have the opportunity to pursue a voluntary certification offered by the NBPTS – the Nat'l Board for Professional Teaching Standards – which offers a library media certificate for students aged from early childhood through young adults.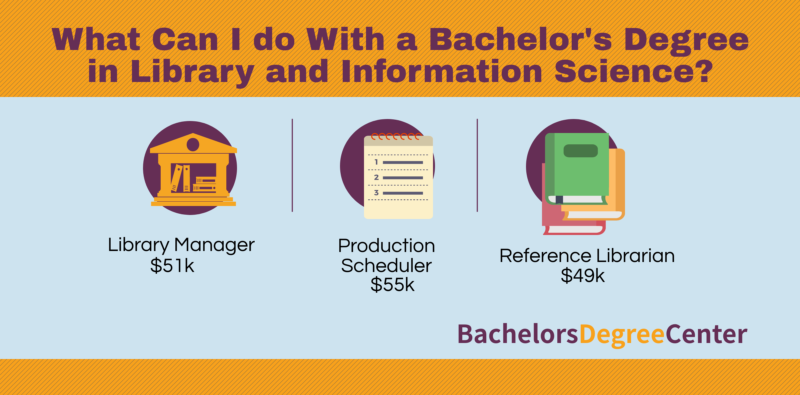 Library and Information Science Salary Data
Can you work at a library without a degree? Of course – but you can't be a librarian. You can work at a library with an associate degree or other undergraduate degree. You can earn an online bachelor while you're working, and that online degree can help you advance.
According to the statisticians at the Bureau of Labor Statistics (BLS), there were more than 140,000 librarians and library media specialists working in the United States during 2019. The projected growth for the library science profession through the next decade is 5%, which includes the creation of another 7,000+ jobs through 2029.
The following represents the percentiles of available library sciences salary ranges.
| | | |
| --- | --- | --- |
| Salary Percentile Data | Library Sciences Salary – Annual | Library Science Degree Salary – Hourly |
| 10% | $ 33,820 per year | $ 16.26 per hour |
| 25% | $ 46,030 per year | $ 22.13 per hour |
| 50% (Median) | $ 59,500 per year | $ 28.61 per hour |
| 75% | $ 75,700 per year | $ 36.40 per hour |
| 90% | $ 94,520 per year | $ 45.44 per hour |
The top paying industries for an information science salary are as follows –
| | | |
| --- | --- | --- |
| Top Paying Industries for Library Science Jobs Salary | Number of Jobs | Library Science Degree Salary |
| Federal Executive Branch | 1,240 | $ 89,010 per year |
| Legal Services | 1,120 | $ 77,840 per year |
| Scientific R & D | 470 | $ 77,730 per year |
| Computer Systems Design | 200 | $ 72,230 per year |
| Architectural & Engineering | 110 | $ 71,040 per year |
The top paying states for library science salaries are as follows –
| | | |
| --- | --- | --- |
| Top Paying States for Library and Information Science Salary | Number of Jobs | Library Science Salaries |
| Washington DC | 1,260 | $ 87,250 per year |
| California | 10,300 | $ 78,650 per year |
| Maryland | 3,330 | $ 74,340 per year |
| Washington | 2,960 | $ 73,910 per year |
| Connecticut | 2,410 | $ 72,540 per year |
The top paying metropolitan areas for library science salaries are as follows –
| | | |
| --- | --- | --- |
| The top Paying States for Library and Information Science Salary | Number of Jobs | Library Science Salaries |
| San Luis – Paso Robles, CA | 30 | $ 89,880 per year |
| San Francisco – Oakland, CA | 1,530 | $ 89,390 per year |
| Merced, CA | 30 | $ 87,800 per year |
| DC – VA – MD – WV | 4,310 | $ 84,630 per year |
| Fresno, CA | 150 | $ 82,030 per year |
Professional Organizations in Library and Information Science
Professional organizations are available in almost every industry and sector as they work in an overall supportive role for businesses and professionals employed in the specific industry. Professionals organizations often perform as the voice for the industry when advocating for changes to improve the industry and its clientele.
Each professional organization will offer unique benefits and services based on its mission and ethos. However, most professional organizations are designed to administer and accredit education programs that train industry professionals. In the realm of library science, there are a variety of professional organizations that support the industry and industry professionals.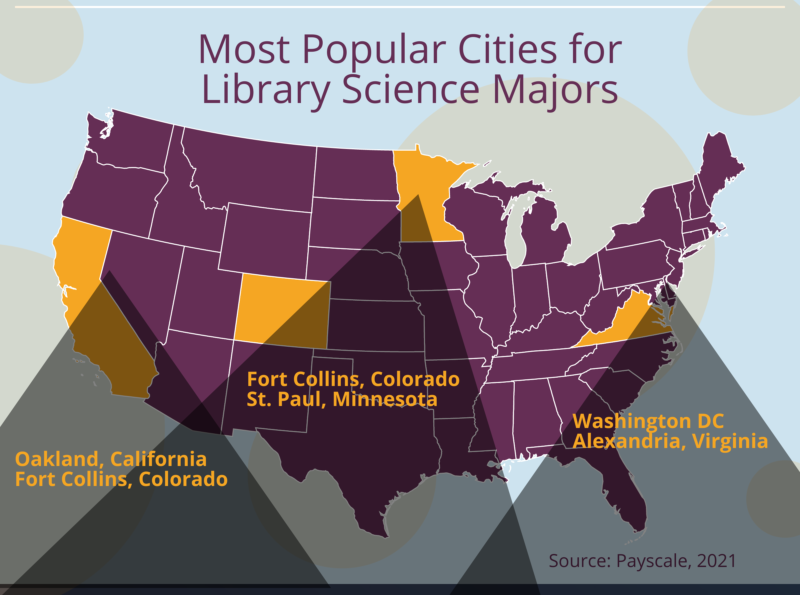 Memberships for these organizations will differ, depending specifically on each professional organization but typically include –
Job boards.
Advocacy services.
Continuing Education opportunities.
Accreditation services.
Credentialing.
Annual conferences
Licensure, among others.
The American Library Association – The ALA
The American Library Association is recognized as the largest (and the oldest) of any professional library association across the globe. Established in the mid-1870s, the American Library Association offers its members a variety of resources. The ALA seeks to offer leadership in the improvement/promotion of the library and information science and services.
ALA's Specialized Divisions
The Black Caucus of the ALA – the American Library Association – The BCALA
The American Library Association's Black Caucus was developed to promote and advocate for library service and resources to serve the country's African American community. The BCALA offers professional development options to create African American leaders in American libraries.
The Association of College & Research Libraries – The ACRL
The ACRL – the Association of College and Research Libraries is another (and the largest) divisional section of the ALA. The ACRL is the professional organization for academic library & information professionals that seeks to enhance the librarian professionals who serve the higher education academic community in the areas of teaching, research, & learning. More than 10,000 academic librarians are members of the ACRL, which equals about 1/5 of the total membership of the American Library Association.
The American Indian Library Association – The AILA
The AILA – the American Indian Library Association, was established in the late 1970s, born from a conference meeting at the White House regarding information services on or near-native American/Indian reservations across the country. The AILA is another divisional component of the American Library Association that was designed to meet the library science and information needs of American Indians or Alaskan Natives. Membership is available to research, school, and public librarians on reservations, with a primary object of finding ways to disseminate information regarding the culture, values, and language of Alaskan and Native American information.
In addition, there are a variety of professional organizations that offer membership benefits based on more specific subject areas or perhaps, geography, or maybe both.
The American Association of School Librarians – The AASL
The ASSL – the American Association of School Librarians is a divisional component of the ALA. It is recognized as the only national organization dedicated to advocating and promoting the school library community and the professionals working there. The AASL offers services to more than 7,000 school libraries and librarians in the U.S. and also across the globe.
The Association for Library Service to Children – The ALSC
The ALSC – the Association for Library Service to Children is considered the globe's largest professional organization exclusively dedicated to the promotion and support of library services available to children of all ages. The ALSC members are given opportunities to partake in creative programming, networking opportunities and obtain relevant continued education in their specific field.
The American Association of Law Libraries – The AALL
Established in the early 1900s, the AALL, the American Association of Law Libraries, was designed as a promotional vehicle in support of public/legal libraries and to provide industry leadership in the field of legal information.
The Association for Library Collections & Technical Service – The ALCTS
Established more than a half-century ago, the ALCTS – the Association for Library Collections and Technical Service was developed to serve its professional librarian members who hail from more than 40 countries across the world. With about 4,000 members, the ALCTS has grown to be one of the industry's premier sources for information professionals in the business of the collection and preservation of information across mediums. The ALCTS seeks to create the principles and standards for managing the organization and delivery of information across forms.
The Asian Pacific American Librarians Association – The APALA
Established in 1980, the APALA – the Asian Pacific American Librarians Association (and previously affiliated with the American Library Association) grew from the AALC, a discussion group of Asian American Librarians in 1975. The APALA offers support services to librarians working in Asian and Pacific heritages and ancestries.
The Chinese American Librarians Association – The CALA
The CALA – the Chinese American Librarians Association was founded in the mid-west in 1973. Several other chapters of CALA were formed over the next few years, and by 1983, these five chapters (across the nation) – Northeast, California, Mid-West, Southwest, and Atlantic merged to create the current iteration of the CALA.
Related Rankings:
15 Best Bachelor's in Library and Information Science