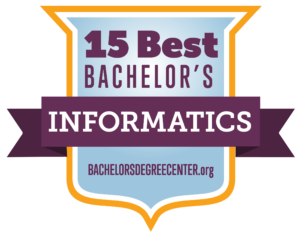 The world runs on data in the 21st century, regardless of the industry or occupational field, and professionals with a degree in informatics are masters of the world – even with a bachelor's. Those considering a bachelor's degree in informatics will learn a wide range of computing disciplines and applications and how they are used in different industries.
Many are interested in an informatics bachelor degree because it is such a diverse degree with many types of jobs available for those that pursue their education. As we rely more and more on computers to help solve complex problems, students, instructors, and IT professionals are looking to see how computational thinking can help solve problems in a wide range of industries.
Methodology: Rankings the Best Bachelor's Degrees in Informatics
To rank the best informatics bachelor degree programs, Bachelor's Degree Center editors researched on-campus and online programs from respected, accredited institutions. We base our ranking on factors such as cost, reputation, and student outcomes, using data from Niche and IPEDS.
1. University of Washington

The University of Washington offers informatics bachelor degree programs in numerous specializations, including Biomedical & Health Informatics, Data Science, and Human-Computer Interaction. Biomedical and Health Informatics helps students learn the fundamentals of information management, patient data systems and health care systems, while Data Science focuses on managing and organizing information. Students can also design their own custom specialization.
The University of Washington, based in Seattle, has more than 29,000 undergraduate students. This highly-rated public university is a large institution with 29,500 undergrad students. Students who apply for entrance meet with a fair bit of competition. The school only accepts 52% of applicants. It offers a plethora of majors including psychology, communications, political science and informatics. Washington graduates 84% of students who enroll.
What We Like: The University of Washington is the top college in the state, according to niche.com.
Degree: Informatics BS
Format: Campus
2. University of Michigan

The University of Michigan has an informatics bachelor degree for on-campus learners, who receive an informatics degree upon completion of the program. This bachelors degree in informatics teaches students how to use artificial information systems. Curriculum designers acknowledge that science is now intricately linked to health care. Biology has effectively become an information science. So, students have to learn how to use data to evaluate biological hypotheses and research.
The University of Michigan, located in the Detroit area, has more than 29,000 undergraduate students. The school has a very competitive admissions process and it only admits 23% of those who apply. Among the many choices of study, students sometimes choose information science, business or economics.
What We Like: The University of Michigan is the top public university in the country.
Degree: Informatics Major
Format: Campus
3. University of Texas at Austin

Students who want to pursue an informatics bachelor degree may also consider the University of Texas at Austin. This on-campus bachelor degree in informatics focuses on User Experience (UX) Design Six concepts and requirements. Students learn about the design of data, technology and information systems. At every step of the process, designers need to keep user experience top of mine. After completing the requirements for this major, students are ready to fulfill job responsibilities related to informatics. They become experts on interaction design, web and mobile apps and other applications that need to include human factors in their design.
UT Austin is located in the state capital and has 38,000 students. This large public university has a fantastic reputation, making admissions more than normally competitive. About one in three students who apply are accepted into at the university. Meanwhile, UT Austin graduates a phenomenal 86% of freshman.
What We Like: Surveyed students gave UT Austin an A+ in areas such as academics and value.
Degree: BA/BS in Informatics
Format: Campus
4. University of California, Irvine

The University of California Irvine has a campus informatics bachelor degree program that focuses on core courses that give students foundational knowledge in the field. This bachelor degree in informatics includes courses such as human-computer interactions and design, software programming, requirements gathering, human behavior, and courses that support the two specializations. Students can choose either information technology or human-computer interaction as their focus. Within these areas of specialization, students can choose from dozens of courses to customize their learning.
UC Irvine has 29,000 undergraduate students and this large University has a highly competitive admissions program. In fact, it only accepts 27% of applicants. Those who do make the cut can choose from a range of majors that include biology, computer science and social psychology. Thanks to its competitive admissions process, UC Irvine graduates a whopping 84% of students.
What We Like: in a recent survey, 60% of students felt that professors remained engaged and put a lot of effort into their classes.
Degree: BS in Informatics
Format: Campus
5. University of Iowa

The University of Iowa has an on-campus informatics bachelor degree program that combines practical and fundamental computing with specific areas of liberal arts studies. This bachelor degree in informatics provides learners with the background needed to guide developers working on applications in specific disciplines. Students can declare their Liberal Arts and Sciences major at any time.
The University of Iowa is a research university that has 33,000 students who come from 114 countries. It has a significant history that began in 1847, and it is the state's oldest university.
What We Like: The University of Iowa is the state's premier public university.
Degree: BS or BA in Informatics
Format: Campus
6. Indiana University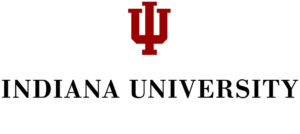 The online informatics bachelor degree at Indiana University prepares students to work in health information systems, technology startups, sustainability, and human-computer interactions. Graduates take on jobs as user experience designers, digital library specialists, web developers, network managers, and information architects. Others may choose eCommerce, system administration, or software development as their career choices. The 100% online program allows students to take courses offered at a variety of campuses while learning at home.
IU is a large university with award-winning faculty dedicated to the student experience. There are hundreds of majors to choose from. Students often customize their major by mixing and matching courses in their fields of interest.
What We Like: Indiana University ranks as the second top public university in the state. This ensures that students will receive high-quality academic instruction and enjoy the perks of graduating from a large school.
Degree: Informatics BS
Format: Online
7. Arizona State University

Arizona State University has an on-campus informatics bachelor's degree that helps students make connections between the way people work and the technology they need to work efficiently. This bachelor's degree in information takes an interdisciplinary approach to learning. It gives discipline-specific instruction in mastering advanced information processes and making it easy for people to find, analyze and store data. Students learn how to apply informatics concepts to the development, evaluation and application of systems that truly meet the needs of users.
Arizona State has 39,000 students and is located in the Phoenix area. It has a generous acceptance rate of 86% and some of the students who study at the school choose majors such as psychology or business.
What We Like: Arizona State University has a diverse student body and students surveyed gave the school an A grade in academics and value for money on their education.
Degree: BS in Informatics
Format: Campus
8. Texas Woman's University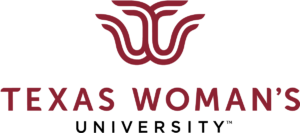 Texas Woman's University has an on-campus informatics bachelor degree program. This bachelor degree in informatics concentrates on informatics and health sciences. Students choose from four different concentrations so that they can customize their education to their career plans. The program begins with core computer science and includes components from health studies, nursing and library and information science. Taking an interdisciplinary approach help students prepare for a variety of career options.
Texas Woman's is a well-regarded public university located in the Dallas-Fort Worth Area. this midsize school has 7,000 undergraduate students, and it accepts nearly everyone who applies, meaning 93% of applicants can study at the school if they so choose. Among its many majors, some students choose nutrition and wellness studies or liberal arts and humanities.
What We Like: Approximately 93% of students receive some kind of financial aid, making higher education affordable to a large subset of students.
Degree: BS in Informatics
Format: Campus
9. SUNY University at Albany

The online informatics bachelor degree at SUNY University at Albany bridges the gap between information technology and specific application types. For example, learners who enroll in the school's bachelor degree in informatics may specialize in public policy, economics or health care. Information technology and computing are increasingly becoming part of daily living around the globe. Graduates can help bridge the gap by mastering different technologies and applying them to various fields.
UAlbany Has 13,000 who choose an array of majors such as psychology, biology and business. Just over half of applicants received the green light to study at the university, making admissions a very competitive process.
What We Like: About 85% of students receive some form of financial aid, including online learners. The fully online program gives students a great deal of freedom about where and when they will study.
Degree: Informatics BS
Format: ONLINE
10. Indiana University-Purdue University-Indianapolis

IUPIU has a campus-based informatics bachelor degree. This bachelor degree in informatics program acknowledges the rule of technology and modern living. Successful graduates look forward to lucrative careers in data science and related fields. Learners who want to turn data into solutions for clients and employers can master the latest advances in technology, art, science and entertainment. This program combines technology, business and experiential studies that help students gain the skill they need to stand out in the competitive computing field. Graduates look forward to careers in behavioral science, industry and health care.
The Indiana University School of Informatics and Computing specializes in technology studies. The program integrates social science, computing and information systems to create robust curricula that prepare students for work in the real world. The school explorers the use of computing in the way humans work live and play. Many students combine their interest in science and technology to become data scientists in specific fields or to go on to careers in law, entertainment and media. The university has 4,500 students who study informatics across various campuses.
What We Like: Up to 94% of students find jobs in their field within two years of graduation. Also, 76% of students felt confident that they had great career opportunities lying ahead of them after graduation.
Degree: BS in Informatics
Format: Campus
11. Rowan University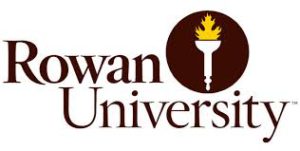 Rowan University has a BA in Computing and Informatics, which is a campus-based informatics bachelor degree. This bachelor degree in informatics caters to students who want to work in information technology. It requires a solid understanding of computing but doesn't focus on the underpinnings of computer science. Graduates go on to careers as infrastructure administrators, software testers, programmers, and computer service coordinators.
Rowan University has a low student-faculty ratio of 17:1, and 74% of students felt that their teachers put a lot of effort into their classes.
What We Like: Students surveyed gave professors a B+ grade based on faculty accomplishments and other factors.
Degree: BA in Computing and Informatics
Format: Campus
12. Baylor University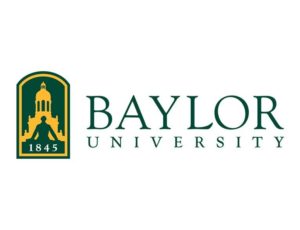 At Baylor University, students can choose a BS in Informatics based on-campus. This informatics bachelor degree program lets students choose between majors in data science or bioinformatics. Learners who choose bioinformatics enroll in multidisciplinary courses that include computer science and biology classes. The bachelor degree in informatics provides a strong foundation in both fields. Graduates go on to pursue careers in biology or computer science.
This Christian University has a great reputation. Located in Waco, TX, this large institution has 14,000 undergraduate enrollees. The school graduates an outstanding 78% of students. However, it has a very competitive admissions policy and 45% of students receive an acceptance letter and 55% have to make other provisions for their education. Some students choose majors such as nursing, accounting and biology.
What We Like: Baylor could be the right school for students who want to attend a Christian college. It ranks #14 among the best Christian colleges in the country.
Degree: BS in Informatics
Format: Campus
13. Northern Arizona University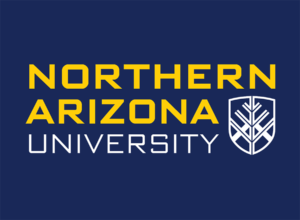 Northern Arizona University also offers a BS in informatics that is a campus-based informatics bachelor degree. This bachelor degree in informatics prepares students for interdisciplinary careers. Students emerge with expertise in data analysis and computing. Classes include programming, computer science, statistics, mathematics, and software engineering. Graduates also gain mastery over natural sciences such as ecology, biology and astronomy.
Students at Northern Arizona University can choose from a wide range of majors at this nationally ranked university. Professors help students understand the potential within them and make the learning experience meaningful. In fact, students can work alongside mentors in undergraduate research and internship opportunities.
What We Like: The school accepts 85% of applicants and 95% of students receive financial aid.
Degree: BS in Informatics
Format: Campus
14. Dominican University
Dominican University has a campus-based informatics bachelor degree program. Its bachelor degree in informatics courses examines the way people use technology. Students learn how to keep users at the center of application design. Graduates can find jobs in this in-demand field or go on to grad school.
Dominican University is ranked number 10 in the Midwest and has 160 master degree programs. It has been ranked as a best-value university and received a number one ranking and social mobility. These rankings confirmed the university's success in attracting, educating and graduating students from a wide swath of socioeconomic backgrounds.
What We Like: The university accepts 64% of students who apply. However, 100% of students who enroll receive some kind of financial aid.
Degree: BAS in Informatics
Format: Campus
15. Indiana University Southeast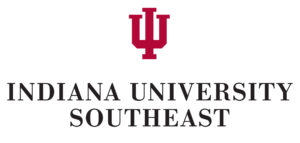 Indiana University Southeast has an informatics bachelor degree program that's based on campus. This bachelor degree in informatics fosters an interdisciplinary approach to informatics. Students learn to serve users and clients by focusing on how people use technology and what they need from software applications designed to help them. Courses may include business, computer science, natural sciences, and arts and humanities.
IU Southeast Is a small school with 3,200 undergraduate students. Located in New Albany, Indiana, the school offers a range of majors that includes liberal arts and humanities, nursing and business. The school accepts 82% of students who apply.
What We Like: Indiana University Southeast ranks number five among the state's top public universities.
Degree: BS in Informatics
Format: Campus
Can I Get an Informatics Degree Online?
Those that wish to take informatics courses online are in luck, there are many options to choose from.
Many of those that are looking to pursue an informatics degree online are already working in their chosen field and wish to change careers or get a degree to elevate their positions with a degree. Even busy moms often find that they can continue their education online when their children are sleeping or at school.
Online informatics degree classes Offer students great flexibility, yet the student gets the same top-level degree as face-to-face learning. Most master degrees in health informatics require 30 to 50 credits; for most online students taking an accelerated class, this can be achieved in only 18 months.
That is a very small time investment when you consider how lucrative this degree is becoming. With the added flexibility of online learning, this is becoming a very attractive option for many students that are juggling home, work, family and school.
What is Informatics?
If you have never heard of informatics, it would be no surprise. Informatics includes the study of computational systems, especially when it comes to data collection and storage. It is essentially the field of study that focuses on the interactions between humans and machines and the collection and organization of data.
According to other Google searches for "What is Informatics?" you may get many diverse results and many diffferent industries. You will see information on how informatics plays a vital role in biomedical and healthcare industries and how it is being used in medical research, education, public health, and patient care. By many, it is considered Health IT and is a growing and essential part of the medical information industry.
Informatics is also used in applications for manufacturing, data centers, social media outlets, and data security.
According to many IT and health IT publications, the study of informatics has exploded, jobs are plentiful, and this is a wonderful field of study today with promising options for jobs shortly. It is thought to be an increasingly good career choice with more and more industries seeking the help of qualified personnel and experts in informatics.
Informatics is also called by several names, so students interested in the field of informatics may also look for the following degrees:
Informatics
Human-computer Interaction
Interactive Computing
Information Technology and Informatics
Information Science and Technology
What Can I Do with a Degree in Informatics?
Because a degree in informatics is so broad, those that get a degree can work in healthcare, ecology, epidemiology, population health, astronomy, supply chain, manufacturing, and many other different careers.
Possible careers include:
Data analyst
Research scientists
Data scientist
Research programmer
Medical records administrator
Professor
Researcher
Health economists
Bioinformatics specialists
Medical technologists
Informatics jobs are plentiful because it is currently a growing field and more and more industries are appreciating the benefit that data and those that collect important data are important in business, healthcare, and many other fields.
Jobs in informatics include many emerging fields as our reliance on computer technology expands. So, students that decide to get an online, or in-person degree should be able to apply their skills and knowledge to many types of informatics jobs upon graduation.
How Much Can I Make with an Informatics Degree?
Informatics is a growing field and those with advanced degrees have a wide range of career choices. According to the Bureau of Labor Statistics (BLS), the need for medical and health services managers will grow 19% between 2014 and 2028. This will result in an expected 2.3 million new jobs in the health informatics realm alone. This is above many other jobs as far as growing need. Because of this need, those with a master's degree in medical or healthcare informatics can expect to earn around $70,000 or more based on their position and job title.
When students consider the growing demand for those with an informatics degree, it is an attractive option, not just because of the growing need, but the attractive income.
So, looking at an informatics degree salary of $70,000 or above, those that pursue this degree will be able to earn a particularly good living.
Related Rankings:
15 Best Bachelor's in Library and Information Science
25 Best Bachelor's in Analytics