Human services is a broad field that appeals to anyone who is interested in helping others. Those who earn a human services degree often either assisted individuals or communities to achieve measurable goals. As part of the curriculum for a human services program, the student learns about the importance of community outreach and crisis interventions. Jobs related to those who earn a human services degree include counselor, therapist, health aide, and social worker.
Human services degrees prep individuals for entry-level careers in social service departments. Furthermore, a human services bachelor degree prepares the student for any graduate-level courses. After earning a human services degree, the graduate may earn a master's or doctoral degree in human services or social services. Oftentimes, graduates gain counseling experience before attending a master's level program in the human services field. However, a master's degree is not required for many jobs as a social worker and counselor. With a bachelor's degree, the graduate can decide to become a counselor for those suffering from mental health disorders or addictions. Counselors provide treatment for substance abuse, eating disorders, and other mental health issues.
Featured Schools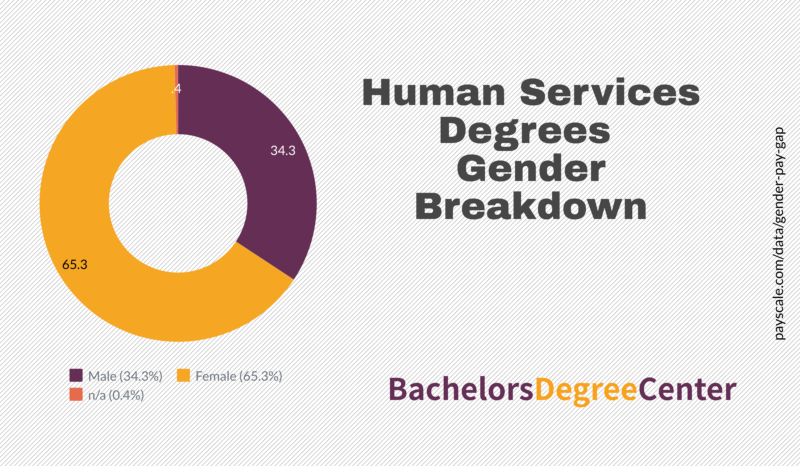 So what can you do with a human services degree? Common questions for those interested in the field of human services and degree programs for human services commonly ask the following questions before applying for admissions:
What is Human Services?
According to the National Organization for Human Services , human services is typically defined as strategies used for the prevention and remediation of problems typically found in communities. By providing human services, the employee is looking for ways to improve a client or community's overall quality of life. Workers within the field of human services provide direct services, but also ensure individuals have improved access to the services they need to thrive. Social workers and medical workers are two categories of employees who provide human services. There are numerous ways that these professionals are able to help community members. For example, a human services specialist could process application to determine a family's eligbility for housing aid. Another specialist could be enlisted to help evaluate whether a juvenile is living in a safe and healthy environmnent. Although many people who work in human services assist individual clients and families, there are workers who develop outrach services to aid entire communities.
What is the Department of Human Services?
A Department of Human Services is a government organization run by the state. Each state department is responsible for providing health and related services to their residents. Many of these services are intended to provide aid to the underprivlidged. Examples of programs run by the Department of Human Services include background checks, home heating assistance, medical assistance, housing aid, crisis intervention, and nutrition assistance programs. Each of these divisions within the Department of Human Services are managed by those with degrees in social services or human services. Within these departments, employees are needed to evaluate applicants, customize services based on client needs, and ensure positive program outcomes.
What is the Department of Health and Human Services?
The Department of Health and Human Services is a division within the federal government of the United States. The priority of the Department of Health and Human Services is that all citizens have access to programs and resources to improve their quality of life. A few examples of needs met through the Department of Health and Human Services are:
Emergency preparations
Temporary assistance for needy families (TANF)
Health insurance assistance
Health screenings and prevention
Medical care research
School readiness programs
By pursuing a bachelor's degree in human services, graduates are prepared to secure positions within the Department of Human Services and the Department of Health and Human Services. Entry-level titles for jobs within these government agencies include liasion, screening agent, and social services assistant.
School and Program Accreditation for Human Services
School and program accreditation are a top consideration when selecting human services degree tracks. Accreditation adds value to a degree and improves chances for securing a top position after graduation. Employers often research degrees earned by candidates to confirm that applicants have attended an accredited school. With the rise of junk degrees, an accreditation confirms to the employer that the applicant has graduated from a challenging academic program.
Regional accreditation is more important than any other type of accreditation. The Council of Higher Education Accreditation recognizes seven current accrediting bodies for colleges located in the United States. Each accrediting agency is assigned a specific region of the country. For instance, the Middle States Commission on Higher Education evaluates schools located in Delaware, the District of Columbia, Maryland, New Jersey, New York, Pennsylvania, Puerto Rico, and the Virgin Islands. For a college to receive regional accreditation, it must offer at least an associate's degree. The physical location of the college determines the assignation for the regional accrediting body. Accreditation status isn't impacted if the college offers online courses and degree programs.
Regional accreditation evaluates the school and its majors. To obtain accreditation, the agency reviews program outcomes, staff credentials, and curriculums. Degree-granting institutes are evaluated periodically to maintain their accreditation status. The benefit of attending an accredited school is that many colleges only accept transfer credits from regionally accredited institutions. Furthermore, federal loan and grant funding is only available for schools that have achieved accreditation.
After confirming a school obtains regional accreditation, the student should consider program accreditation. Professional organizations are responsible for reviewing and accrediting degrees in the field of human services. The top provider for program accreditation in this area is the Council for Standards in Human Services Education. The organization has been around for more than forty years as a way to give credence to degree programs that train human services professionals. The council is recognized by the Council of Higher Education Accreditation and has strict standards for associate, bachelor, and master degree programs in the human services field.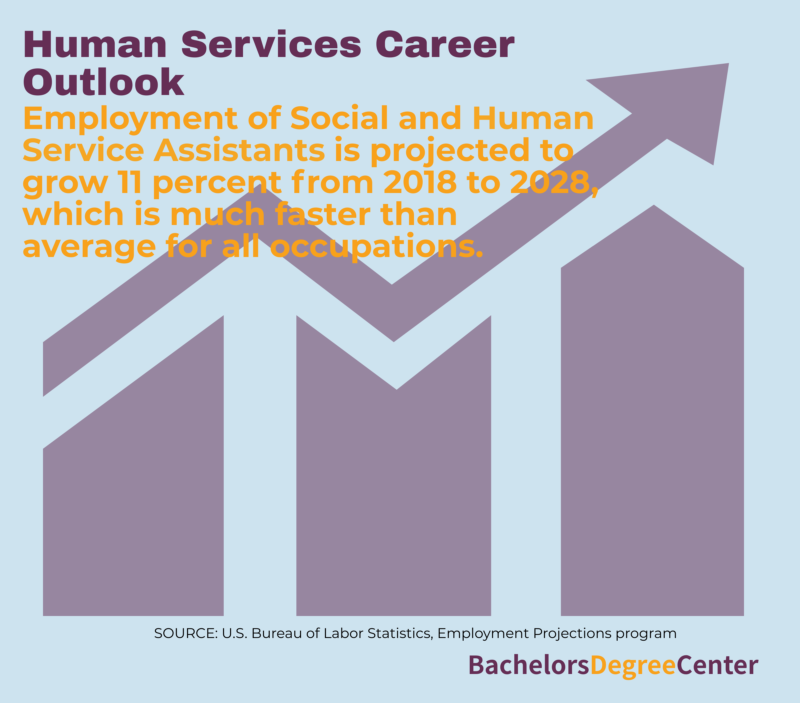 Types of Human Services Degrees
Degrees in human services are offered online and on-campus at colleges and universities around the world. Online degrees in human services are very convenient for those with schedules that make it difficult to attend in-person classes. Employers don't note a difference between a traditional degree and human services online degree. At the bachelor level, a total of 120 credits is needed for degree conferment for both types of degrees in human services. The credits include a combination of core major classes and general education requirements. General education requirements normally include introductory classes in disciplines such as mathematics, art, science, and philosophy.
A bachelor's degree in human services is the most popular choice among students looking to find gainful employment post-graduation. An associate's degree is available at some community colleges, but very few positions are offered at that level. With a bachelor's degree in human services, the candidate has an increased likelihood of finding an entry-level or mid-level position. If the student does earn an associate's degree before enrolling in a bachelor degree program, he or she should confirm that all credits are transferable.
Human services degrees online may have different names, but include similar course loads. Here are the top names of degrees in human services found at accredited colleges and universities around the country:
Bachelor of Science in Human Services
Bachelor of Applied Science in Human Services
Bachelor of Applied Human and Consumer Sciences
Bachelor of Science in Human Service Management
Bachelor of Arts in Human Services
Some human services degrees are housed in criminal justice departments as well, and may be designed as a. specialization in criminal justice, due to the close relationship between the fields.
Although human services degrees come by different names, all programs have similar classes within their curriculums. Examples of courses found within human services online degree programs include Case Management, Psychology, Human Behavior, Ethics, Community Health, Communications, Social Policy, and Intervention Strategies. Most colleges require that at least 60 credits are earned through core and elective human services classes prior to degree conferment. Internship programs may also be part of the graduation requirement for human services degrees.
Some human services online degrees offer the topic as a specialization within a major. For instance, a college with a Bachelor of Liberal Studies will often have human services as a specialization to narrow the program's focus. Additional specializations include Bachelor of Science in Mental Health-Human Services and Bachelor of Applied Arts and Sciences-Human Services. Class offerings may vary from college to college, so review the catalog to confirm that the school provides the appropriate specializations to reach any career goals.
Furthermore, human services online degrees could allow for specializations within the major. As an example, at Southern New Hampshire University, online students with human services as a major can choose between three tracks: gerontology, substance abuse/addiction, or child and family services.
The timeframe to complete a bachelor degree is usually around four years. However, online degrees in human services are oftentimes finished at an accelerated rate. Program requirements are usually met in two to three years with classes taken in the evening or weekends. Many colleges offer self-paced human services degrees to allow students to finish classes when their schedules allow it. For any type of work-study programs and internships, they can be arranged at the student's location.
After graduating, students either enter another degree program in the field of human services or secure a position at a local, state, or federal agency. Online master's degree programs are offered for human services. At the master's level, degree tracks are for those who want to pursue careers as therapists, higher education instructors, counselors, and human services managers. An online master's degree takes around two years of full-time study to complete. Most professionals obtain a human services entry-level position before enrolling in a graduate-level position.
Human Services Certifications
During or after graduating with a degree, professionals pursue human services certifications. Human services certification programs enhance a person's skillset. In most cases, a certification in human services is job-specific. Human certificates online programs are a very convenient option to consider. These programs allow the requirements to be finished when the professional isn't working. Since in-person meetings aren't a requirement, a human service certificate online is usually cost-effective too. The following are human services certifications that may help an individual secure an advanced position within the industry.
Human Services Board Certified Practitioner is the most established certification program in the field. This credential was created to standardize the field of human services. To qualify for the certification, the individual must have an associate's degree or higher from an accredited university. The applicant must also complete 350 hours of post-graduate work experience in the field of human services. After passing the examination, the certification is good for five years before renewal.
Commission for Case Manager Certification provides a certificate to those who plan to work within the medical field as a case manager. To qualify for the certification, a bachelor degree in human services is required. Furthermore, a minimum of 12-month case management experience must be completed before applying for the program. To receive the certification, a passing grade is needed on the administered examination. Certification is good for five years.
The National Alliance of Direct Support Professionals offers an employment support credential for those who have degrees in human services. Employment specialists work with communities and individuals who need assistance with securing gainful employment. To qualify, you need a degree in human services and 40 hours of employment support experience before taking the examination. Renewal is required every three years.
Licensure is needed for some positions within the human services industry. Each state has different licensing requirements. For instance, individuals pursuing careers as counselors or therapists often need a license to practice in their states. A counselor who wishes to receive a license in his or her state must obtain the appropriate educational background and work experience. As an example, in New Jersey, a licensed counselor needs 60 credits of course work in counseling and three years of supervised work experience.
If you want to know what to do with a human services degree, continue reading!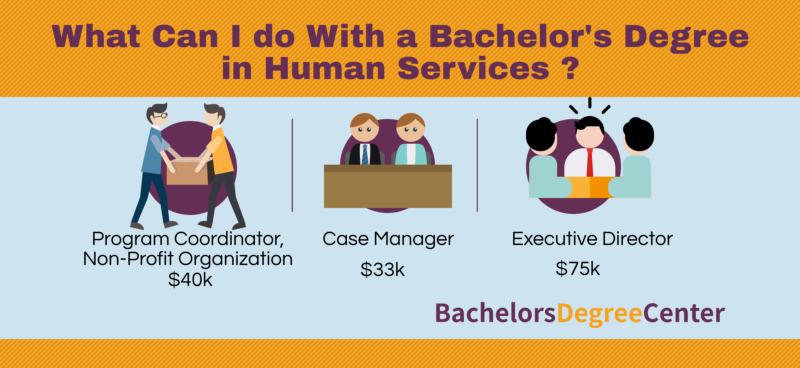 Careers in Human Services: What Can I Do with a Degree in Human Services
A common question before enrolling in a degree program is: What jobs can I get with a human services degree? Careers with a human services degree are varied due to the broad nature of the discipline. Here are a few human services bachelors degree jobs that are possible after finishing an undergraduate degree in human services.
Human services degree programs prepare you for work in non-profit organizations, public health, community organizations, and more.
Human services careers are found within the Department of Human Services and the Department of Health and Human Services. For many of these agencies, eligibility screeners are needed. An eligibility screener evaluates each applicant to determine what services he or she could benefit from. Community outreach workers are also employed by the agencies as a way to provide information to those who may not have easy access to programs and services. Other career options include becoming a case worker in foster care, a substance abuse counselor, a domestic violence agent, working in disabilities services, or other sorts of advocacy.
Another popular job title is human services liaison. Liaisons in human services provide client support within different departments. For instance, a liaison may evaluate a family to determine if they qualify for any nutrition or housing assistance.
Human services degree jobs also include assistant and aide positions within fields such as childcare and medical care. Social service assistants and aides are hired by nursing homes, medical centers, and government agencies to create treatment plans for clients and make recommendations for their ongoing care.
One of the most readily available jobs for those with a human services degree is working as a personal care or home health aide. In these positions, caregivers provide assistance with any daily living activities. Duties may include dressing, transportation, and medication management. Caregivers can work on-site or travel to a person's home to assist with these tasks.
Jobs with a human services degree are also available for those who want to work in the field of case management. Case managers are hired by agencies such as rehabilitation centers, medical facilities, and therapy offices. A community service manager is another opportunity.
Social work is a potential field for those who graduate with a human services degree. Many organizations accept a bachelor's degree for an entry-level social work job. Social workers provide support and care to their assigned client base. Social workers may interact with children and families. Often, organizations hire social workers and mental health counselors to be a part of their teams. Examples of places to find a job as a social worker include mental health clinics, schools, medical centers, and human services agencies.
Criminal justice is another related industry that could appeal to those with a human services degree. By having a human services degree, the graduate could find a job as a probation officer, court liaison, or rehabilitation case manager. Traditionally, probation officers assist with making the transition from prison back to public life go smoothly for an inmate. The officer helps with employment and also conducts any illegal substance testing. Probation officers are also utilized to evaluate current inmates. The officer evaluates a prisoner to determine if he or she has shown signs of rehabilitation. Court liaisons are non-uniformed employees of a law enforcement agency. Their role is to act as a go-between for the courts and will often help with witnesses in court cases. The liaison may schedule court appearances for a witness or prep the individual to take the stand.
Salary Expectations in Human Services
The average human services bachelor degree salary depends on what type of position the graduate obtains. With the broadness of the field, the salary range for human services employees is large. Entry-level employees can earn anywhere from $24,000 to $40,000 yearly depending on what type of position they obtain.
Although aide and assistant positions have a lower starting salary than other jobs, the work also prepares the professional for more advanced positions. According to the U.S. Bureau of Labor Statistics (BLS), home health aides and personal care aides make an average annual salary around $24,000. These positions are ideal for those who are thinking of getting a case manager or department manager job in the future. Direct care experience makes an employee a more attractive hire for mid-level and managerial positions.
Social and human services assistants have a higher earnings potential than home health aides and personal care assistants. These professionals make an average of $35,000 per year and are employed by non-profits, government agencies, and social service organizations. As a person gains more experience, he or she may be considered for more advanced positions with higher pay rates. For instance, social service managers have an average yearly salary of $67,000. Social service managers oversee social service assistants and plan out programs for the organization that benefit the community.
With a bachelor's degree, a person can get a job as a social worker. Typically, agencies only require a master's degree for the title of clinical social worker. Social workers make around $50,000 per year.
The most lucrative positions for human services degree holders is jobs related to criminal justice. Probation officers and related careers have a median pay of almost $60,000 per year. These professionals work with both incarcarated individuals within a prison and at their offices once the prisoners have been released from custody.
The location of the job will also impact the human services degree salary. The top states with the highest mean wage for social service workers include Rhode Island, New Jersey, Colorado, and New York. For instance, social service managers make more than $94,000 in Rhode Island, compared to the national average of $67,000. Top paying cities for social services and human services workers are Denver, Washington DC, New York City, and Santa Barbara.
The top-paying bachelor degree in human services salary can be found within different industries. Many professionals find that the highest paying positions are done by working privately or for a government agency. For instance, case managers employed by the government make an estimated $85,550 yearly. In comparison, the average pay for case managers is $67,150.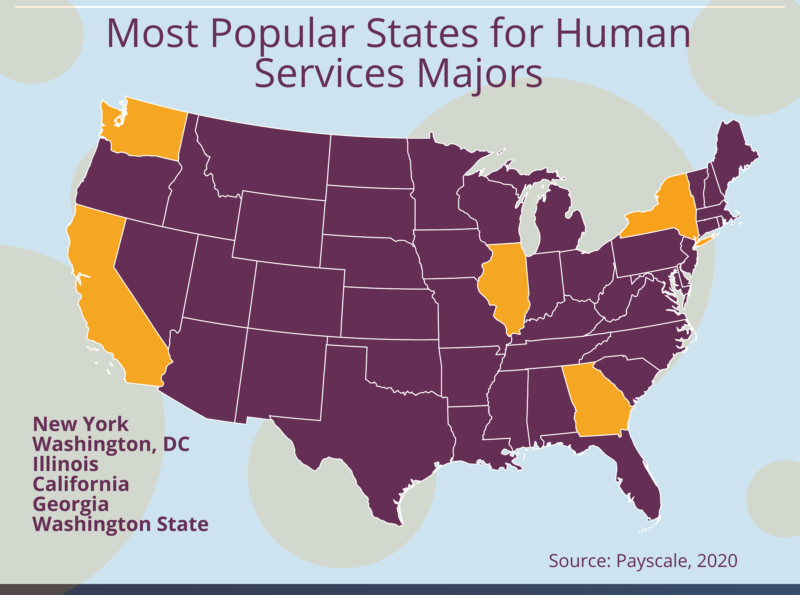 Human Services Professional Organizations
Joining a professional organization helps a person within the human services industry immensely. Professional organizations provide services such as continuing education credits, training seminars, and networking events. Professional organizations also often publish materials to keep members up to date on the latest industry news. Most professional organizations charge a nominal fee for yearly membership. If continuing credits are needed for a person's current job, professional organizations will usually provide members with a discount on their course offerings.
Related Rankings:
25 Best Bachelor's in Human Services
15 Best Online Bachelor's in Human Services
10 Fastest Online Bachelor's in Human Services
10 Most Affordable Bachelor's in Human Services