Engineering is a vast field that focuses on solving problems and creating solutions through small- and large-scale applications. As a purely technical field, it's often necessary to have someone who can combine that technical capability with leadership skills to help guide projects and achieve goals. That's what engineering management is all about.
But, is a degree in engineering management worth it? When it comes to engineering, it's important that leadership, guidance, and planning come from someone who understands engineering basics, fundamentals, and application. This is what makes an engineering management degree worth it. Industries that hire engineers also need someone who can help make decisions that include both technical knowledge and business insight.
Featured Schools

What Is Engineering Management? Is An Engineering Management Degree Worth It?
Because the engineering field is vast, there's also a need for engineering managers who have specializations. Through an engineering management degree program, engineering professionals can learn how to take their technical skills and apply them to management. Some things that an engineering management program will teach can include:
Problem-solving as a leader and technical contributor to projects
How to apply engineering and scientific principles to leadership capabilities
Managing technical pursuits in multidisciplinary technical environments
Using technical knowledge to create workflows and interpret information from various sectors
Keep in mind that engineering management consists of two things; the engineering aspect, and the management aspect. That means this is, at its core, a management degree. That means a lot of the curriculum will have to do with the managerial aspects of business, rather than the purely technical aspects of engineering.
Engineering and technical employees or organizations have a special need when it comes to management, and the engineering management degree program is designed to facilitate that need. In addition, there are people with engineering or technical backgrounds that may want to learn management and leadership skills to help with their own businesses.
The world needs engineers of every type, in every sector, in every industry. But the world also needs engineers who know how to lead, analyze, administrate and manage. So, the question of is engineering management a good degree, is often answered with a resounding yes.
Beyond all other considerations, it's worth noting that an engineer management degree is still a management degree. That means graduates can apply their knowledge to other pursuits that require management training as well.
How Important is Accreditation for Engineering Management Programs?
When it comes to technical and STEM fields, accreditation absolutely does matter when choosing a school or program. This is especially true for engineering management programs. There are several different types of accreditation. For engineering school accreditation, it's important to look for both regional accreditation and specialized accreditation for any engineering program.
For most brick-and-mortar schools and universities, the first thing to check for is if the school has regional accreditation from one of the accrediting bodies sanctioned by the Council for Higher Education Accreditation (CHEA). This is the de facto accreditation that most schools and organizations should have as it's a standard across the country.
As regional accreditation is generally accepted around the country, it's easier to transfer credits and move between schools. It's also easier to transfer credits from a regionally accredited program to one that isn't accredited than it is to do the opposite.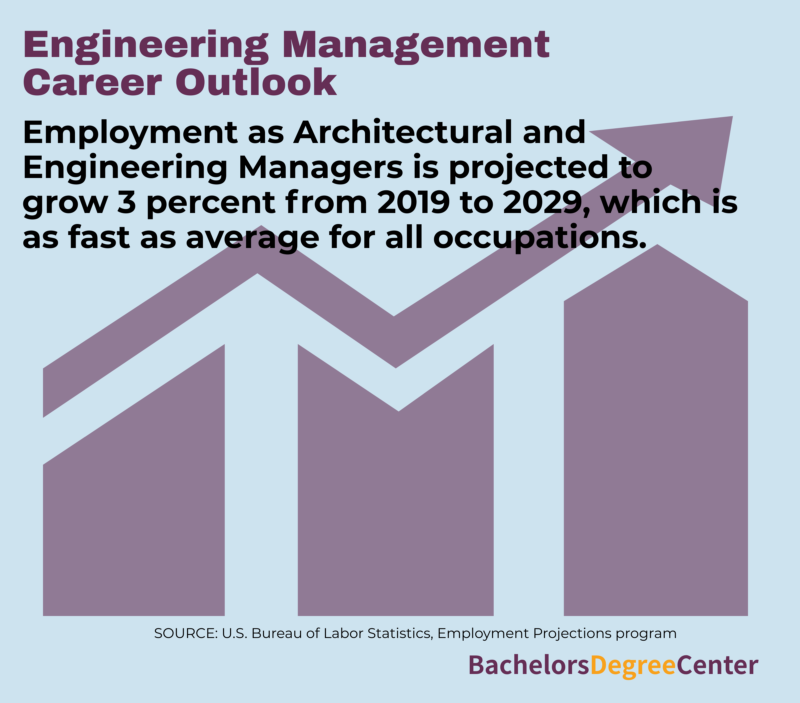 Specialized Accreditation of Engineering Programs
However, engineering also requires separate, specialized accreditation. For engineering programs, this type of accreditation will come from groups that consist of engineering professionals and engineering academics who set guidelines, standards, and best practices for teaching engineering courses as well as for preparing students to enter the field.
There are many accrediting bodies for engineering, especially since there are various, disparate types of engineering out there, each with its own considerations for teaching and learning. However, for engineering management, the engineering school accreditation will typically come from ABET.
Is ABET accreditation important? The Accreditation Board for Engineering & Technology (ABET) is the most recognized accrediting body for STEM education in the country. It's even recognized internationally with many engineering programs around the world that adhere to its guidelines for education.
ABET accredits programs, not institutions. It's possible to find a school or university with lackluster accreditation in other areas, but an excellent ABET-accredited engineering program.
ABET accreditation requirements typically require programs to have some general education, some mathematics, as well as a year of study in physical or natural sciences. ABET accreditation requirements set the baseline standard for bachelor-level education, which means all students will have a basic skill set that will allow them to enter an engineering field or to prepare them for future study for a higher degree or specialization.
Engineering school accreditation or sanctioning can also come from ATMAE or ASEM. Even though there are some other accrediting bodies for engineering, it can make an applicant ask does ABET accreditation matter. Generally, yes, ABET accreditation does matter, but for especially discerning applicants who know precisely what type of career trajectory they want, it might not matter as much.
For example, if an engineering job or industry in a particular town values graduates that have a degree from a specific local engineering program, then a student who wants to join that town's industry may not need an ABET-accredited degree. However, having an ABET-accredited degree is typically preferable in most circumstances.
Another thing about ABET is that they do fully accredit online degree programs. So, it's possible to earn an ABET-accredited online degree. That might not always be possible with other accrediting bodies that don't do full evaluations of online programs.
Are There Different Types of Engineering Management Degrees?
Engineering consists of various disciplines, so it makes sense that there are various types of engineering management degrees. An engineering management bachelor's can come in a variety of types. In many cases, an engineering management bachelor's can look like a management degree for a specific concentration.
For example, instead of a bachelor of engineering management, a student may pursue a bachelor of information technology management. This is still an engineering management degree, to an extent, but it has a fine focus on IT. Generally, the degree type name may contain a branch of engineering combined with a management or administration designation.
In addition, different schools may have different names for their bachelor's in engineering management. For example, applicants may see degree types such as:
BSEM – Bachelor of Science in Engineering Management
BEEM – Bachelor of Engineering in Engineering Management
BSc – Bachelor of Science (in Engineering Management)
BSE – Bachelor of Science in Engineering (in Engineering Management)
If in doubt, an applicant should pay close attention to the course structure and curriculum. In some cases, the degree type can have more to do with a specific aspect of management in an engineering field, rather than on engineering management in general.
A bachelor of engineering management can have some flexibility to it, especially if a student wants to specialize in one of the many aspects of engineering. However, most bachelors in engineering management will offer a career-ready education that prepares a student to either enter the workforce or to take their knowledge to the next level of their education.
Everything here also applies to an engineering management bachelor degree online. An accredited online degree holds just as much recognition as one earned offline, but applicants will still need to put as much consideration into the degree type they wish to pursue.
The coursework for full-time enrollment will include general credit hours for core courses, electives, and typically a capstone project. Engineering management can also include specializations like:
industrial engineering
mechanical engineering
computer science
chemical engineering
operations management
electrical engineering
aerospace engineering
systems engineering
Many engineering management programs will also emphasize business management skills like writing budgets, human resource management, decision-making, supply chain management, product development, and other business administration and management skills beyond just those in the engineering discipline.
While many students will prefer on-campus learning, working professionals benefit the most from online education programs. Before signing up for your undergraduate degree, consider the admission requirements and financial aid opportunities. Every college of engineering will have its own requirements.
As before, when looking at a potential engineering management bachelor degree online, applicants should pay attention to the degree type, the course, the curriculum, and its structure. They should make sure they're going to receive the engineering management degree that adheres to their goals.
Does Engineering Management Require Licenses or Certifications?
Engineering management certifications are important in the STEM and technical fields. In many cases, a degree will show an applicant has the basic knowledge to accomplish managerial goals, but a certification shows they have the training and recognition to do so. In some other cases, a certification can become required to show that an applicant has spent time beyond the classroom learning a specialization.
Certification can also show competency in management or in an engineering-related field. For these and more reasons, engineering management certifications are worth considering. Some employers may require engineering management certification as it can show an applicant understands what's expected of them in that particular job or industry.
Unlike an engineering management certification, some places can require an engineering manager to have licensing before they can work in any capacity as an engineer or engineering manager. This is a level beyond an engineering management certificate and may become an absolute necessity in some jurisdictions and industries.
Many of the professional organizations in engineering offer certifications and licensing for engineering management. Through these official programs, applicants can often gain titles such as Certified Associate in Engineering Management (CAEM) or Certified Professional in Engineering Management (CPEM).
In addition, colleges, individual organizations, and even businesses may offer an engineering management certificate. Some engineering management programs offer a certificate in engineering management on completion of the program. So, a graduate will have their degree and some certification when they start.
There are specific types of certifications for engineering managers, such as an engineering project management certification. In this case, an engineering project management certificate shows the applicant has both an engineering management education, but also extra training for dealing with managing projects which are often multidisciplinary and doesn't necessarily consist of just the types of engineering the manager has an education with.
It's possible to earn an online engineering management certificate. Many of the engineering groups have online avenues toward certification or licensing. When looking to earn an online engineering management certificate online, applicants should make sure the certification is coming from a relevant or reputable group.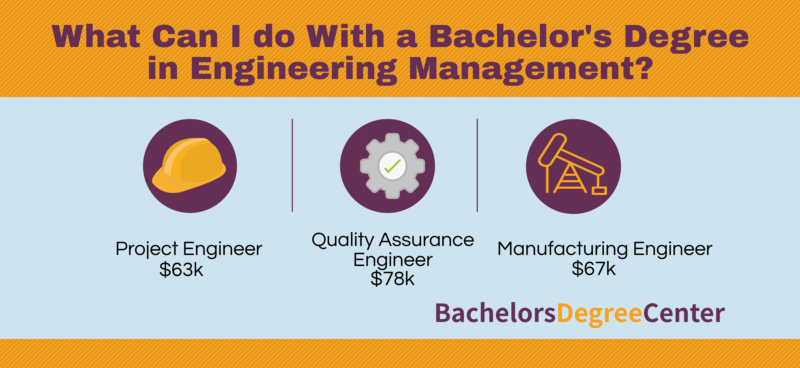 What Are Some of the Careers in Engineering Management?
Engineering management is both a career unto itself, but also a path toward many other potential careers across just about any industry. When considering an engineering management career path, applicants should always keep in mind that career path can include both engineering careers, management careers, and any combination of both.
An engineering manager career path can also include job-hopping. In this way, an engineering management graduate can gain additional skills, potentially higher salary, and improve their portfolio as they go. Because engineering manager careers often exist because of a specific need, it's possible for someone to find engineering management degree jobs in various places at various times.
While some engineering management careers can consist of directing a particular business, these careers can also mean moving from project to project within or outside of a particular company. As the need for engineering managers can come and go within a single business, jobs for engineering management degree holders can also evolve as they move along in their careers.
For those who wonder what can I do with an engineering management degree, the answer typically involves figuring out what that person's goals are. There's a lot someone can accomplish through engineer manager careers, but the degree allows for a lot of flexibility when it comes to jobs and careers. Some of the jobs with engineering management degree credentials include:
Project manager
Senior lead analyst
Industrial management
Construction management
Technical recruiter
Engineering manager
Chief engineer
There are plenty of career opportunities in engineering management and opportunities beyond that as well. Some of the career opportunities in engineering management can require certifications or licenses, so applicants should make sure they know what's required of them before pursuing certain jobs.
In some cases, engineering management jobs will hire someone and give them a chance to earn the needed certification during their training period. Different industries may have wildly different requirements for people with engineering management degrees.
For example, the engineering project manager career path can look a lot different for someone who is entering the field of scientific research and development than it does for someone entering the oil and gas field. Still, every industry needs engineers of one type or another, so the engineering management career outlook only includes growth.
The more experience someone with a management engineering degree can accrue, the more desirable they will look to employers who need engineering managers and project managers for engineering projects. For this reason, engineering management majors should always seek to learn more, gain more certifications, and make themselves invaluable to whatever industry they choose to apply their knowledge and skills in.
It's important to note that an engineering management degree career can also include engineering jobs the applicant has training in, as well as management or administration positions in just about any other type of industry. This is because, once again, the degree is both an engineering degree as well as a management degree.
What Are the Salary Expectations for Engineering Management?
Salary expectations for engineering management can vary quite a lot. Engineering management degree salary can also depend greatly on the job title someone has. In addition, location, demand, experience, and industry can play a huge role in engineering management degree salary.
Another thing that can affect engineering manager salary is the degree level. It's possible to start an engineering management career and go far with an bachelors in engineering management. However, some employers may want applicants to have a masters degree or heavily specialized degree before they will consider them.
Is a master's in engineering management worth it? A masters degree can help someone claim a higher salary, but a bachelors degree with experience and some certifications can also help someone achieve a commensurate salary. Still, it's important to keep in mind that engineering industries often consider the bachelor's degree as the entry-level requirement. This is why it's important to add as much as possible to the degree while pursuing an engineering management career path.
According to the OOH, engineering managers have a median pay of ~$149.5k. Glassdoor lists the average base pay as ~$110.5k for general engineering management positions, but ~$150k for engineering manager positions specifically.
According to Michigan Tech, engineering jobs have the highest average starting salary in the country. This means engineering management graduates entering the field have a good chance of earning a very good salary that will only grow with time and experience.
As mentioned, job title and industry will play a large role in engineering management degree job salary. For example, while Glassdoor shows that the ~$110.5k figure as an average for engineering management positions, it also shows that some companies offer salaries far higher than that for the same positions. Some businesses are willing to pay over $200k and better salaries.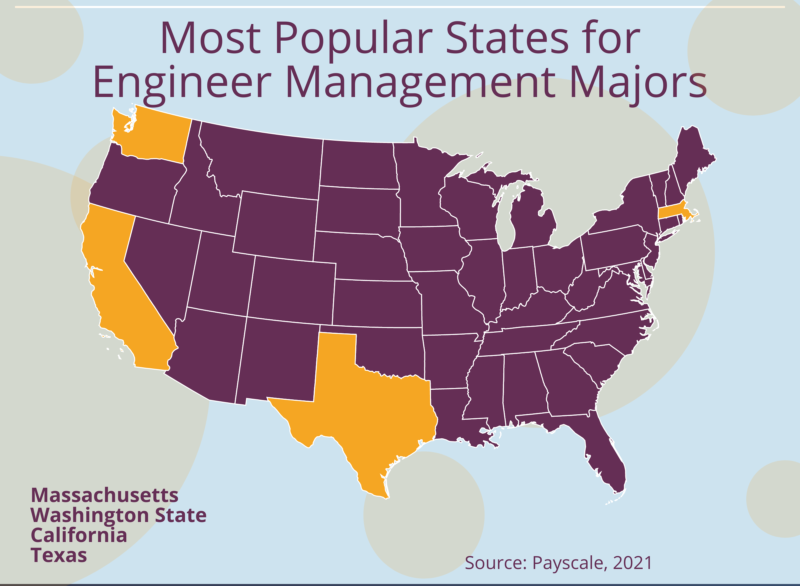 What Are Some of the Professional Organizations for Engineering Management?
Numerous professional organizations exist in the realm of engineering management. There are some large conglomerations of various engineering industries and disciplines that form together to create powerful professional organizations in this field. There are also smaller, local organizations that can play just as important a role for a new or senior engineering management graduate.
Because engineering consists of numerous disciplines, there are also professional organizations dedicated to those individual disciplines. A graduate can join a professional organization dedicated to engineering in general, or they can join one dedicated to a particular discipline, niche, or other aspects of engineering that the applicant works with.
In addition, the fact that engineering management is both engineering and management, applicants can look for organizations that consist of management professionals, as management is a discipline unto itself. A lot of this depends on the goals of the applicant. Nevertheless, joining a professional organization or several of them grants an incredible number of benefits.
Why Should an Engineering Management Graduate Join a Professional Organization?
There are numerous reasons to join a professional organization as an engineering management graduate and no reasons not to.
Exclusive resources that are impossible to find elsewhere. Many of them have online resources that only members or affiliates can access. For engineering managers, especially those who job hop, these resources can prove invaluable to their careers and growth.
Networking opportunities abound. Perhaps the greatest benefit of a professional organization is its networking opportunities. These organizations include other professionals and sometimes even the largest names in a particular field. Having an opportunity to network, exchange ideas, pick brains, and generally meet others who can take someone's career to the next level is worth whatever dues or fees the organization requests.
Training and development opportunities. Many professional groups offer training, development, seminars, credits, and other opportunities for professional development. In addition, these organizations can offer certifications or advanced training on new technologies and techniques.
Job opportunities. Many job openings appear on the boards of a professional organization first. As these organizations often include job creators and other influencers in the field, they're also the first place where new job opportunities might appear.
There are many, many more reasons to join a professional organization. In addition, a professional organization looks excellent on a resume.
What Are Some Professional Engineering Management Organizations Worth Joining?
Professional organizations exist at every level of society, from local to international. All the benefits of professional organizations exist at each of these levels as well, but broaden the larger the group becomes. For example, a local engineering organization may help with local opportunities and local networking.
However, a broader, national professional organization can help with larger opportunities. Engineering management graduates should join those organizations that will help them and their careers the most. To that end, it's worth it to do some research into the professional organizations that suit the graduate's goals.
A good place to start is within their own school. Many colleges and universities have professional networks of current students and alumni within a specific discipline. Looking at local or state groups after graduation can help as well if the graduate plans to work in their county or state. Some general recommendations for engineering management graduates specifically include:
There really are a lot of these organizations out there. In addition, applicants should consider organizations that are specific to their field of engineering.
For example, a professional IT organization can offer a lot more benefits to someone in computer engineering than a more generic professional group. For those in construction, architecture, and design, there are a lot of professional organizations at every level for that type of engineering as well.
Engineering management graduates who want to focus on the managerial side of their degree can join professional management organizations. These are all things graduates should keep in mind when seeking out professional organizations that will help to advance their lives and careers.
Related Rankings:
25 Best Bachelor's in Engineering Management
15 Best Online Bachelor's in Engineering Management
10 Fastest Online Bachelor's in Engineering Management
10 Most Affordable Bachelor's in Engineering Management