Agribusiness and agriculture are two fields that can offer lifelong rewards for those who choose to build a career in those areas. Agriculture and agribusiness involve much more than just farming and raising cattle. It involves researching sustainable farming methods for food production as well as managing the business practices that make it all work. Both online and on-campus degree programs in agricultural science, animal science, and food science will allow students to learn what they need to know to effectively manage all sizes of agricultural products and operations. Many universities offer a hybrid approach in which a portion of the program's classes are held in the classroom and the others are offered over an online learning platform.
What Is Agribusiness Management?
Agribusiness management is much like managing any other form of business. It involves monitoring the day-to-day business practices associated with a ranch, farm, or any other type of agriculture operation. Understanding what practices work and how you can implement them during the daily operations of the business is what agribusiness management is all about. A degree in agribusiness management offers agriculture graduates all of the skills they need to bring together both management skills and the concepts and practices associated with agriculture.
Featured Schools
Related programs include:
plant science
soil science
forestry
horticulture
food safety
natural resources
crop science
land use
agricultural technology
Career opportunities include:
agricultural sales
crop production
ranchers
food safety
agronomist
agricultural consultant
Agriculture programs may offer specializations and technical skills that provide job opportunities in the agriculture industry, the USDA, and private industry.
Good management involves good leadership skills. In order to be an effective leader, you need to understand the importance of being a good listener and learning how to develop a plan of action that involves incorporating ideas from every team member. Managing any type of business involves knowing how to fully maximize every resource you have to its fullest potential. This includes both material resources as well as human resources.
What Is the Definition of Agribusiness?
The definition of agribusiness is any business practice that is effectively used to manage a farming or ranching operation. Agribusiness also includes the business of marketing crops and produce. Farming and ranching are multi-billion dollar industries that must be managed properly if the owner plans to turn a profit each year. There are several aspects of business that is involved in the field of agriculture. From researching new, sustainable farming methods to marketing campaigns that help producers buy the right products to make sure that their operation runs efficiently.
Degree programs that provide the management skills that are needed to oversee the day-to-day operations of an agricultural enterprise, be it a ranch, farm, or other types of facility. Many of these degrees are offered online as well as in the classroom so that anyone who is interested in earning their degree can jump at the opportunity. Those who are already working may choose an online learning platform so that they can continue to earn a paycheck while they are going to school. This is especially beneficial if they have a family to support.
The Importance of Accreditation
Accreditation is the benchmark of a quality degree. Schools and degree programs that have earned accreditation status have met or exceeded the standards of the industry they represent. There are two types of accreditation, each one being important in its own way. Many employers rely on the fact that a future employee's degree program was accredited and met industry standards. Taking a close look at a student's resume will help them find the answers.
Accreditation is not a one-time deal. The accrediting board must approve each school or degree on a regular basis. This involves thoroughly evaluating the school and its programs to ensure that they meet the latest possible standards for their particular industry. These standards change from year to year. In order to maintain their accreditation status, schools must be able to prove they can provide the latest skills and information required. The same holds true for degree programs.
What Is Specialized Accreditation?
Specialized accreditation is the process of evaluating degree programs to ensure they are as up-to-date and accurate as possible. Accredited degree programs have been thoroughly researched by an accrediting board that closely evaluates the course material that is being offered. Much like regional accreditation, specialized accreditations must be renewed on a regular basis. Degree programs can change from year to year. This means that they may require yearly accreditation reviews to stay current with the accrediting board's guidelines.
What Is Regional Accreditation?
Regional accreditation focuses on the school itself, not the degree program. Just like specialized accreditation evaluates the quality of the degree program and the information/skills it provides to each student, regional accreditation evaluates the school's resources, teaching methods, faculty members, as well as many other aspects of the educational process. The accreditation board strives to ensure that students receive every advantage possible as they pursue their education.
Regional accreditation is awarded to schools that meet or exceed the standards put in place by the accrediting board for academic excellence as well as exceptional teaching methods. This is not a long-term award. Schools must be reviewed on a regular basis to ensure that they are continually exhibiting the highest educational standards at all times. In order for a school to maintain its accreditation, it must pass each review successfully.

Types of Agriculture and Agribusiness Degrees
There are several types of agriculture and agribusiness degree programs students can enroll in, depending on where they are at in their education. Most degrees are offered online as well as in a classroom setting. This makes it easier for a student to pursue their educational goals. Many schools are offering hybrid programs that offer students the opportunity to use both types of learning environments to their fullest advantage. This works well for students who want to be able to go to work before they complete their education.
Associate's Degree
Associate's degree programs provide the basic classes students will need to begin their education. These classes lay the groundwork for the student's future education, giving them a solid foundation to build on. Most of the Math, English, and other generalized courses are included in your Associate's degree, as well as many of the more basic core classes you will need before moving up to the next level of your education. An Associate's degree will give you everything you need to begin your education and take the first tentative steps toward a lucrative career in agriculture or agribusiness.
Bachelor's Degree
Bachelor's degree programs are the next step up after completing your Associate's degree. Enrolling in a Bachelor's degree program allows you to begin to learn about the core essentials that make up your degree program. You will begin to learn core concepts and techniques that ensure you have all of the necessary skills and knowledge to be a professional in your field. With a Bachelor's degree, you will be able to move up into mid-level positions and may actually qualify for management or supervisory positions if you include a few business courses in your degree program. Online degrees in agriculture at this level are a great way to further your education and your career.
Master's Degree
Master's degree programs offer the most advanced course work for agriculture and agribusiness students who are ready to move up to the next level of their career. With a Master's degree, students are ready to take on the more lucrative, decision-making positions. They are ready to handle more responsibility and are capable of handling more difficult and complex situations. Students can expect to earn higher wages and receive advancement opportunities that may put into upper management roles.
Doctorate Degree
A doctorate in agriculture or agribusiness is ideal for the student who is interested in continuing with research related to their chosen field of study or for a student who is interested in teaching at any level. Agriculture and agribusiness degree programs are both diverse and very challenging. Students who were raised around the industry can find many career options to choose from that will allow them to stay as hands-on as possible after graduation. With a doctorate degree, graduates can advance to the highest levels of management and begin to work toward the type of career they will truly enjoy.
Dual Degree Programs
Dual degree programs are an ideal way for students to gain the advantage and earn skills for both agribusiness and agriculture. By enrolling in both degree programs, students receive the best that each has to offer. They can take their blended degree programs and utilize what they learned to support their own business, or they can go to work for someone else and assist them in reaching their goals when it comes to implementing new techniques and concepts or simply increasing their overall profit margin. Dual degree programs not only give you the agricultural knowledge you need but also the managerial skills to oversee your operation effectively.
Where Can I Get a Degree in Agriculture?
Most colleges and universities offer some form of agricultural degree programs. The type of degree you earn will primarily be based on where you want to work and what type of agriculture you are interested in. There are many different avenues to choose from. When choosing where to go to earn your degree, you should first ask yourself where you want to be in five years and what type of work you hope to be doing at that time.
How to Find the Best Colleges for Agriculture Degrees?
If you want to find the best colleges for agriculture degree programs, you need to look in areas where agriculture is prominent. Areas that are widely known for their large agricultural business and population are most likely where you will find schools that are dedicated to this type of coursework. Students who choose to pursue a degree in agriculture or agribusiness can now learn from almost any location since many of the required courses are now available through an online learning platform. When looking for the best college to earn an agricultural degree, you need to find the one that offers exactly what you are looking for in terms of content, cost, and resources.
Earning an Online Degree in Agriculture
With today's advanced technology and the majority of students holding full- or at least part-time jobs, many colleges and universities are choosing to offer their agriculture and agribusiness degree programs over an online platform. This allows maximum convenience for students who need to support their families or help their families work the farm. With online degrees, schedules are flexible and students can study when it is easiest for them to learn. This is also a great option for students who have trouble concentrating in a classroom full of distractions. Enrolling in an online degree program allows students the opportunity they need to fulfill their education and reach their goals.
Certifications and Licenses
Certifications and licenses are a great way to prove to employers that a graduate has the qualifications they need to be successful at their chosen position. Many states require certifications or licenses to be able to work in certain positions. Colleges and universities sometimes offer certificate programs to help students pass their tests. Certification programs are much shorter but provide an abundance of information that can support a student's many years of experience. Certifications can be earned online or on-campus depending on a student's preference.
Earning an Online Agriculture Certificate
Online agriculture or agribusiness certificates provide valuable, up-to-date information that a student can use to validate the experience they have already earned. Online certifications allow students to meet any special licensing requirements the state asks for before performing certain tasks. Online agriculture certifications can last anywhere from two or three months to a year. During this time students are able to attend classes online and complete their assignments in their free time.
Online agriculture certificate programs are available through a large number of colleges, universities, trade schools, and community colleges. These programs are actually shorter versions of the more advanced degrees. Students can get a condensed version of what they need to know through a certification that can be completed in a much shorter period of time. Many certification programs are designed to meet the continuing education requirements that are needed to maintain state licensing.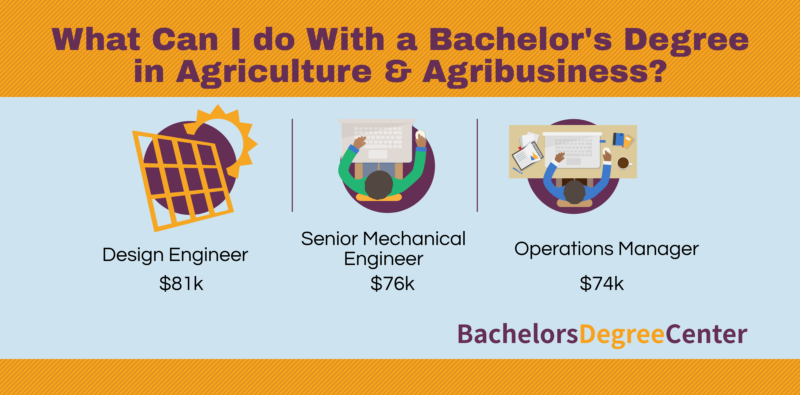 Careers in Agriculture and Agribusiness
Agribusiness careers will often require that the student also possess leadership skills. When it comes to the business side of agriculture, becoming an agribusiness lender who works primarily with large farms and agricultural operations can be a very lucrative career. Agribusiness lecturers and educators are also in high demand, especially when it comes to teaching more advanced, sustainable farming methods to farm and ranch owners.
Careers in agriculture run the gamut from the field to the laboratory. Agricultural engineering and design help with building more efficient farm equipment. Food scientists are constantly working to develop safer ways to process and store fresh fruits and vegetables. Zoologists and animal husbandry professionals work with animals. They study genetics and work to improve the bloodlines of cattle and other farm animals. Farm managers also fall into this category and are extremely important when it comes to maintaining all sizes of farming operations.
Career Pathways in Agriculture
Career pathways in agriculture often start with groups like FFA (Future Farmers of America) and 4-H. Working the land and raising cattle are the only things many students really know. Life on the farm means long hours and a lot of hard work. These are often the beginning steps on many agricultural career pathways. Those who choose to enroll in online agricultural and agribusiness degree programs can use their experience as a youth to build a solid career plan. Students who have spent years on the farm already have an abundance of experience they can build on as they further their education.
Career pathways in agriculture and agribusiness can take any direction a student chooses. All they have to do is put in the time and effort to earn the right degree program. Students who are in line to manage a large family farming operation may choose to enroll in a dual degree program. Having a degree in both agribusiness and agriculture can offer a student the chance to earn the management skills they need to succeed. They will know both sides of the farming equation ranging from the functional to the financial.
What Can I Do With an Agriculture Degree?
Degrees in agriculture allow you to follow many different career paths. Many of the obvious career pathways including farming, ranching, dealing with crops/cattle, and many other aspects of a mid-size to larget farming operation. Agriculture degrees also go hand in hand with many environmental careers as well. Wastewater management, environmental engineer, agricultural engineer, and water resource specialist are also considered to fall into the agricultural category. Purchasing agents and buyers of products and other crops also require an in-depth knowledge of both agriculture and agribusiness.
These career paths can be found in both the public and private sectors and can be very lucrative depending on where you are located and who you are working with. Students who already have a strong background when it comes to agriculture can find the degree programs they need to help them advance to higher-paying positions with more responsibility.
Salary for Various Agriculture/Agribusiness Careers
The salary for many agriculture positions can range from mid $50,000 to close to $100,000. In fact, well-trained water resource specialists can earn as much as $130,000 if they have the right education and a few years of solid experience. Environmental engineers and farm managers can make close to $90,000 per year, even more, if they have an agribusiness degree. Students can also explore many different avenues that will result in salaries that top out at $75,000 or more if they have a solid education to back them up.
When it comes to the salary options for agribusiness graduates, most career salaries can range from $50,000 to $90,000. These salaries can dramatically increase as the person continues to gain the experience they will need to take on more responsibility and move forward in their careers. Analysts can make approximately $85,000, while consultants and underwriters fall just short of that at $81,000 and $83,000 respectively. Agribusiness managers can make as much as $75,000 with the right education and amount of experience. Individuals with dual degrees can expect to boost their earning potential depending on the career path they choose.
Professional Organizations in Agriculture
Professional organizations offer resources and support to farmers and agriculture and agribusiness professionals across the globe. Organizations like these allow members to share ideas and bring about positive change when it comes to protecting our farmland and the rest of the environment.
International Food and Agribusiness Management Association
The International Food and Agribusiness Management Association is dedicated to helping agribusiness and food management professionals across the world come together to solve many of the issues the world of agriculture is facing. They work together to find solutions to complex dilemmas that are facing the world on a global level when it comes to agriculture and the business aspect of the field.
Food and Agriculture Organization
The Food and Agriculture Organization is a group of professionals in the agriculture and agribusiness sectors that help individuals share concepts and methods that lead to more sustainable farming practices. The organization strives to help professionals within the industry learn about the latest practices and protocols within their chosen career field. Members of the organization work together to ensure that they have everything they need to be successful.
American Farm Bureau Federation
The American Farm Bureau Federation is one of the most well-known agriculture/agribusiness organizations in the world. Local Farm Bureau co-operatives offer insurance programs and other benefits to their members. The organization is one of many that is geared toward helping farmers maintain a productive and thriving business.
North American Agricultural Marketing Officials
North American Agricultural Marketing Officials is an organization that focuses on helping American farmers and other agricultural professionals market their business and continue to remain as profitable as possible. The organization offers a variety of marketing methods that are designed to assist farmers in reaching their goals. The marketing concepts that are promoted enhance both the agriculture and agribusiness sides of the field giving both an advantage.
Related Rankings:
25 Best Bachelor's in Agriculture and Agribusiness
15 Best Online Bachelor's in Agriculture and Agribusiness
10 Fastest Online Bachelor's in Agriculture and Agribusiness
10 Most Affordable Bachelor's in Agriculture and Agribusiness