The world of real estate is an exciting place to be with the potential to earn an excellent salary while helping make a difference in people's lives. As with most things, the more knowledge you have about the ins and outs of real estate, the less likely you are to run into trouble, and the more likely you are to make money. Working in real estate can also provide a satisfying career for the entirety of your adult working life. The pathway to gaining entry into the field is getting a bachelor's in real estate. Then, leverage your knowledge into a great well-compensated career. So, is a real estate degree worth it?
Yes. Getting a real estate degree is worth it as it gives you access to employment roles that are interesting, exciting and challenging. It provides you with a foundational understanding of the world of real estate and enables you to enter a career at a level that goes beyond brokerage. You're probably asking yourself "what can I do with a real estate degree?" at this point, especially if you've never considered the idea of real estate being a career that is more than brokering homes.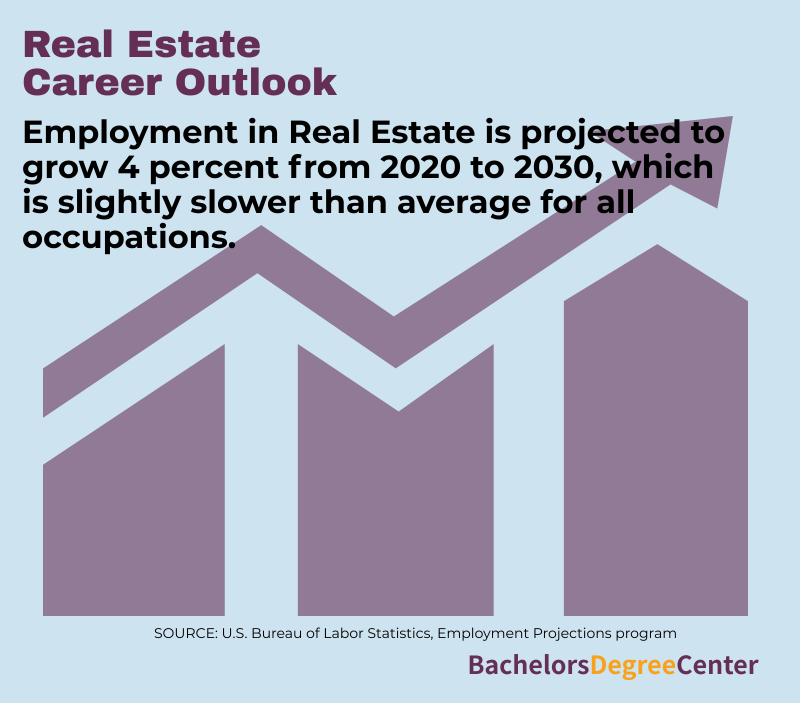 The types of careers for people who earn a real estate degree include working as a real estate agent or broker, property appraiser, asset manager, land use development, and real estate financier. The real estate degree stands on its own, and also acts as an umbrella for different concentrations in the area of real estate and business. There's something for everyone who's interested in working in real estate and wants to make the world a better place for people to live their lives.
Types of Real Estate Business Degrees
Bachelor degree programs for real estate are plentiful and are offered by top universities across the U.S. As you look at schools with a real estate degree, you'll note that the best colleges for real estate degrees are ones that bring a business or finance concentration into the program. This aspect is beneficial to students due to the fact that all real estate transactions involve one or multiple financial components. College real estate programs differ from school to school with some calling their program a real estate major while others outline the type of education that's provided under the umbrella description of a degree in real estate.
Some of the different types of real estate business degrees include:
Commercial real estate
Residential real estate
Real estate development
Urban planning and land use
The top universities for real estate typically combine their real estate classes with classes from their business school, but the college major for real estate is a true major. In other words, when you graduate with a degree in real estate, you have engaged in an education that covered the real estate disciplines of law, design, finance, and planning. These classes cover everything real estate with the business classes providing you with an understanding of the business management practices you'll need as part of your career. An employer in the field of real estate understands the value of the college major for real estate, and is aware of the best undergraduate real estate programs and what they offer.
Earning a bachelor's in real estate studies prepares a student for a career in one of the many roles related to the real estate industry. Attending the best college for real estate degree can position a student to start a career working for a major real estate developer, manage the operations of a real estate division of a corporation, or work in a financial institution that provides construction loans to small or large builders. Good schools for real estate are ones that offer a real estate program that's aligned with your career interests and has a concentration in one of the major areas of real estate. You may want to get a business degree for real estate, or you might be interested in getting one of the best degrees for real estate development.
Online Degrees in Real Estate
When the best college for real estate that provides the education you want isn't easily accessible, you may be able to get an online real estate degree. Degrees in real estate online programs offer the same education as a traditional program, and gives you access to a program in a way that makes it affordable. As you consider your options for an online real estate degree, remember that you need to get your real estate license in your state of residence. An online real estate degree program taken in another state may not provide you with the right information you need to get your real estate license in your state. Outside this minor issue, getting a real estate degree online has a lot of potential to provide you with an education and a solid degree with excellent earning prospects.
The fact that you can learn how to get your real estate license outside a degree program opens up the opportunity to engage in a "learn and earn" pathway. That is, you attend a real estate degree program and start your career as a real estate broker at the same time. There is nothing that stops you from getting your real estate license and attend school at the same time, but you might want to consider getting your real estate degree online. Attending an online real estate degree program offers flexibility in terms of attendance and coursework while saving you time on the commute to a campus for a traditional program.
Programs for degrees in real estate online provide the same education as a traditional program that requires classroom attendance. Online degrees in real estate are especially advantageous as they can enable you to start your career in real estate as a sales agent or broker. The experience you gain while working is directly transferable to your education in that it can help you earn higher grades and improve your employment prospects after graduation from an online degree in real estate program.
Another aspect to consider when looking into programs for real estate degrees online is the ability to engage in an internship. You don't necessarily forego an internship when attending a school that offers real estate online degrees, but you may need to work out an arrangement with the school to find an organization that will accept you as an intern. Online internships are also an option and can give you access to professionals in the field who can potentially help your career.
Taking an internship helps you network with professionals in the real estate industry, especially in the niche of your career choice, and helps you with finding employment when you graduate. Bringing real world work experience to a job position after graduation works in your favor as employers know that you'll need less time to get up to speed with the position.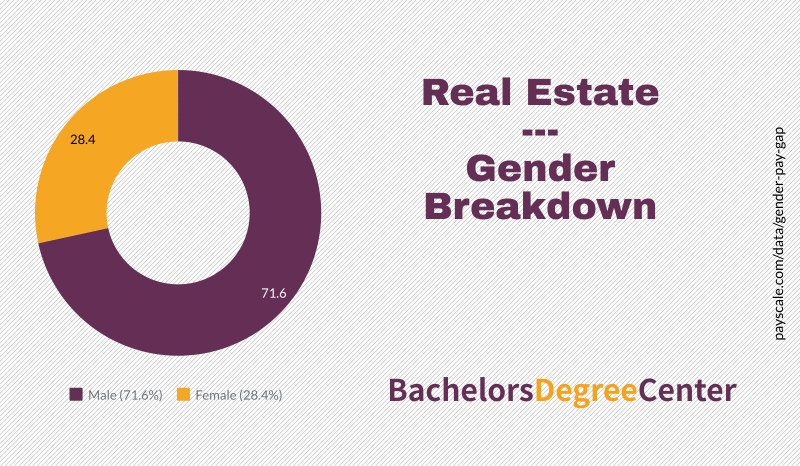 Professional Certifications for Real Estate
As you look for real estate certifications online, you'll find there are two types of professional certifications for real estate: a professional certificate that requires attending a school and designations and certifications from various councils, institutes, and societies. A graduate certificate provided by a college or university and certificates from councils, institutes, and societies that offer certification in a specific area of real estate. Students who don't have a degree can enroll in a college-level certificate program, as can someone with a degree from a different field. Certifications and designations from real estate associations are awarded to real estate professionals who take classes and pass an exam.
College Certification Courses
The graduate certificate in real estate online from a university is usually similar in nature to a real estate licensing course and provides the necessary education to sit for a state exam and gain licensure. Many schools offer real estate certifications online, and are beneficial to newcomers and those with industry experience. Taking an online real estate certification course is a convenient way to prepare for taking a state licensure exam.
A college that offers professional online real estate certification courses typically has student learning outcomes that result in a student developing the skills they need to:
Conduct real estate transactions after licensing
How to understand the legal documents involved in a real estate transaction, conveyance, financing and leasing
Understand the purpose, methods, and use of appraisals on real estate
How to administer brokerages using the application of laws and rules related to real estate
An online real estate certificate program may also provide practical advice in the form of how to interact with clients, how to act professionally, and provide an overview of the type of administrative work you'll perform in a real estate office.
Professional Designations and Certifications
There are numerous designations and certifications available to real estate professionals that serve to show clients that you have made an effort to gain a credential that proves your expertise in a specific area of real estate. Oftentimes, these credentials are available as an online real estate certificate program that allows you to learn at your own pace. Some designations and certifications available to real estate professionals include:
Short Sales and Foreclosure Resource (SFR)
Real estate professionals can learn how to work with distressed sellers and guide them through the process
Real Estate Investing (REI)
Teaches real estate professionals who want to learn how to work with investors as well as become an investor.
Society of Industrial and Office REALTORS (SIOR)
SIOR is held by top professionals in the commercial real estate field. Members have to meet standards that include experience, ethics, production, education, and have recommendations.
General Accredited Appraiser (GAA)
Awarded to appraisers who have education and experience that go beyond state appraisal certification requirements.
Certified Residential Specialist (CRS)
This is the highest credential that residential sales agents, brokers, and managers can earn. Those who receive this credential earn almost three times more than non-credentialed REALTORS.
Certified Commercial Investment Member (CCIM)
The CCIM designation is the global standard for professional achievement in commercial real estate. It's earned through 200 classroom hours and meeting professional experience requirements.
Certified Property Manager (CPM)
Designees of CPM are real estate professionals who can demonstrate expertise in real estate management. The designation shows the public at large that the designee is trustworthy and an expert in the field.
Real Estate Licensure
The first step in learning how to get your real estate license is to gain the necessary knowledge for your state's licensing exam. This can be achieved by taking a class for real estate brokers, or as part of your degree program. Most states require an aspiring broker to take a course that takes an average of 70 actual hours to complete in order to take the exam to get a real estate license. Upon successful completion of the exam, you can get your real estate license and find employment with an agency.
As you look into how to get your real estate license, you'll find that there is no federal requirement for licensure. Your state of residence provides the licensing exam for a real estate agent or broker's license (the two terms are sometimes used interchangeably), and the license is only good for that state. In the event you want to move to a different state, but maintain your career in real estate, you'll need to learn how to get a real estate license for that state.
When considering how to get your real estate license, you need to examine your financial, educational, and career goals. Does it make sense to attend the top real estate program for a broker's license, pass the state test for your real estate license, find employment as a real estate agent, then attend the best real estate school you can? Or should you attend a school with a college major for real estate and earn your real estate license after graduation? These are questions you can consider at any time during your real estate degree program and take action if it's the right decision to make at that time.
Careers in Real Estate
One of the biggest reasons to get a degree in real estate is the fact that there are multiple real estate career paths that fall under the two major branches of the real estate college degree program. A graduate can enter into the business side of real estate management, or enter into a real estate finance position, then find their way into one of the different types of careers in real estate that enable them to focus on a career path that suits them best.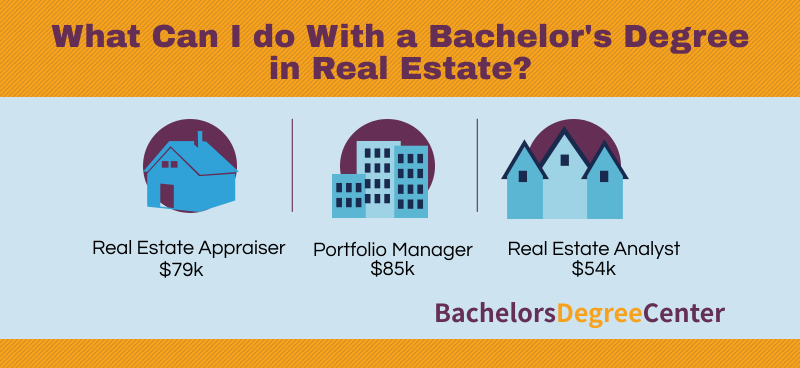 Real estate career paths include:
Agent
Appraiser
Broker
Asset management
Lease negotiation
Market analysis
Property manager
Investment
Finance
Development
Public and private partnership
The many professions in real estate can enable a graduate to enter into one of the real estate career paths that makes the most sense for them. Here's insight into some different professions in real estate that reflect the various career options in real estate:
Real Estate Finance
Real estate finance is intertwined with the purchase of real estate. A majority of people and organizations that buy property need financing to make a purchase. You can work in a bank providing retail loans to homebuyers or work in commercial real estate finance. The types of jobs for real estate majors who want to work in real estate finance include residential mortgage loan officer, real estate asset manager, commercial mortgage loan analyst, and commercial real estate underwriter.
Property Management
The role of property manager is one of the career options in real estate that pulls together management skills with financial education. A property manager needs to stay on top of things such as building maintenance, scavenger service, landscaping, building security, and leases. They also have to make sure that the property taxes are paid, funds are set aside for maintenance, and pay the mortgage and insurance premiums. Employers typically seek out people with a real estate degree for this position, making it one of the great jobs for real estate majors.
Appraiser
The role of the appraiser highlights the fact there are different types of careers in real estate that go beyond the retailing of homes. An appraiser determines the market value of the home based off multiple factors that they're trained to look for. They have to be unbiased in their observations in order to come to a fair market value for the property, and be capable of recording their observations in a clear format. The finished appraisal is used by the lender to determine if they're going to lend the money for the property or not.
Average Income of a Real Estate Agent
According to the Bureau of Labor Statistics, the average income of a real estate agent was $51,220 per year in 2020. This amount averages the salary of real estate brokers and real estate sales agents which are $60,370 and $49,040 in May 2020, respectively. The job outlook for these roles is projected to grow 4% between 2020 and 2030, and is slower than average for job growth across all industries. Most of the job openings are projected to come from the need to replace people who move into other careers or exit the workforce. It's worth noting that this data for the average income of a real estate agent reflects the average salary for an agent or broker who works for an agency or as an independent, and is not involved in other areas of real estate.
The highest paying real estate jobs include:
Retail real estate manager
Zoning manager
Relocation director
Commercial real estate executive
Property manager
Community development manager
How much does a real estate agent make?The real estate agent average income varies from state to state and role. For example: the average salary for a full-time commercial real estate broker in California is $136,160 with the 75th percentile earning $98,130. The average income of a real estate agent in states with less commercial real estate activity may be lower than average due to less opportunity. However, the lack of opportunity for one type of real estate doesn't mean this applies across all sectors of real estate.
The entry-level salary range doesn't really tell you how much a real estate agent makes, though. Median salary or national average is just the start; the best paying areas, like New York, will add so much to your base salary from commissions and more.
An enterprising individual who has earned their degree in real estate is qualified to work in many areas of the industry, and can create their own career pathway if they're so inclined. There's nothing stopping an individual with a degree in real estate from hanging out their shingle and getting involved in multiple aspects of real estate transactions. For some, this is one of the best careers in real estate because it involves working for oneself as an entrepreneur, and offers the opportunity to keep a variety of skill sets up-to-date, and build experience.
It's also possible to work in real estate part-time as you prepare for a new career.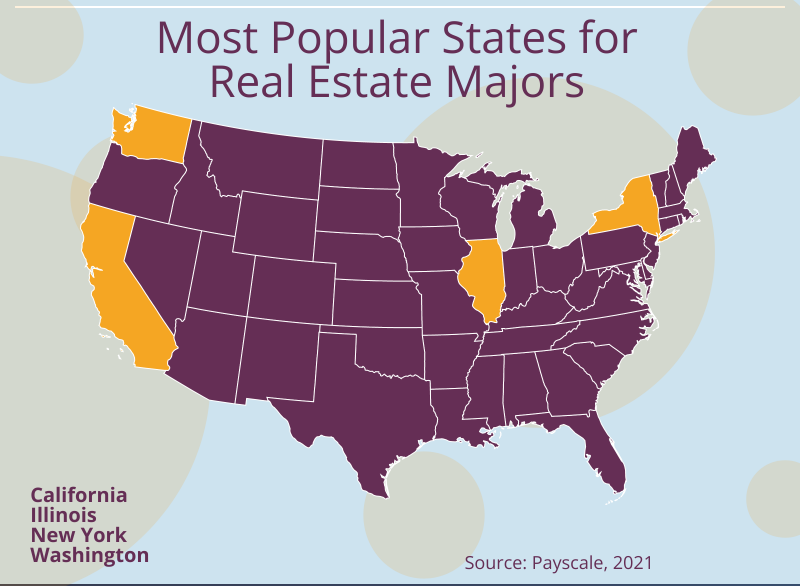 Professional Organizations and Associations in Real Estate
Joining a professional organization or association in the field of real estate provides access to the latest industry news, networking events, trade publications, and continuing education opportunities at the hyperlocal, local, state, and national levels. They also discuss the current job market in the various facets of the real estate industry and provide you with insight as to where you might find the best job prospects and career growth. You can join as many organizations and associations as you like, or just the organizations that are most closely aligned with your field of real estate. Many organizations allow membership from real estate students to help them get an idea of what it's like to work in the real estate industry. Following is a look at some of the professional associations and organizations in real estate:
National Association of REALTORS (NAR)
The National Association of REALTORS is the largest association of its type in the U.S. It's been in existence for 112 years, has 1.5 million current members, and has 1,200 offices across the country. NAR offers continuing education for its members, has a strict code of ethics, provides exclusive data for the real estate market, and aids in the promotion of individual REALTORS.
NAIOP or Commercial Real Estate Development Association
NAIOP, originally known as the National Association of Industrial Parks, is one of the largest commercial real estate associations in North America and has created a strong network of individuals and companies involved in the commercial real estate development and investment industry. It has over 19,000 members and provides them with advocacy, business opportunities, and education.
Appraisal Institute (AI)
The Appraisal Institute is a worldwide professional association of real estate appraisers and has almost 17,000 members from around the world. Most of the members of AI are involved in real estate appraisal and property analysis in order to provide property values to homeowners, buyers, government agencies, financial institutions, and more. AI sets high standards for its members through processes that include peer review, education, designation programs, publishing, and more.
National Trust Real Estate Association (NTREA)
The National Trust Real Estate Association is aimed at real estate professionals who perform fiduciary roles for individuals or work for a financial institution. The organization is dedicated to advocating for and against laws on behalf of its members, providing networking opportunities, educational and information resources, and enables members to better serve their clients.
Related Rankings:
25 Best Bachelor's in Real Estate
15 Best Online Bachelor's in Real Estate
10 Fastest Online Bachelor's in Real Estate