Among the most remarkable medical breakthroughs that happened in the 20th century was the scientific harnessing of radiation as a viable way to diagnose, treat and even cure diseases, especially cancer. Scanning procedures – that use x-rays, gamma rays (and other ionizing radiation procedures) offer incredible medical insight and effective treatment but can also put professionals and patients at risk during radiology scans if done incorrectly.
Medical Radiation Scientists (MRS) find rewarding careers in healthcare with professional responsibilities that include performing diagnostic imaging on patients. In addition, radiation science professionals may also participate in studies that are related to imaging technology or administer radiation to cancer patients. Most radiation science or therapy degrees train students to diagnose & treat patients in a clinical or health care setting.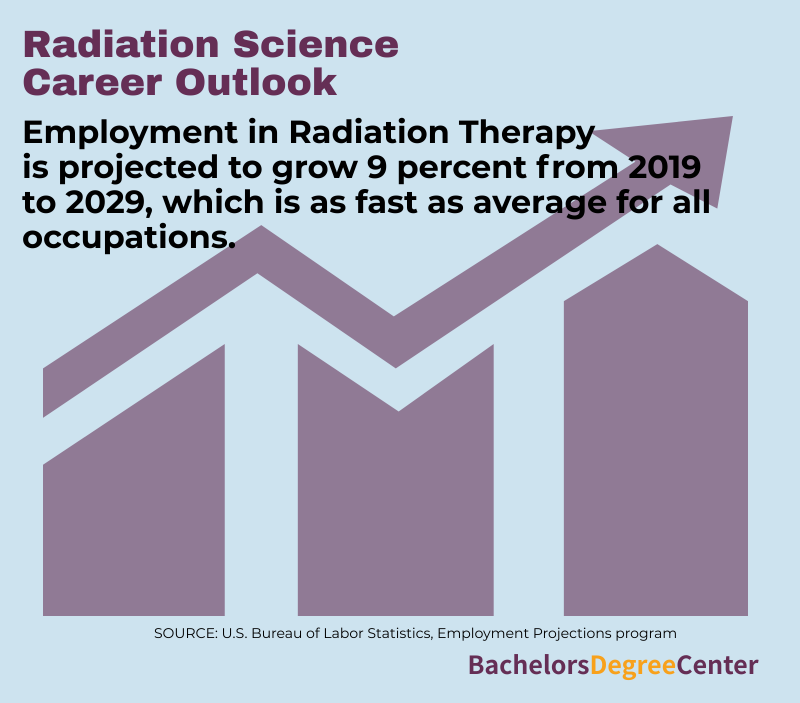 If you are seriously invested in pursuing a rewarding career in the field of medication radiation as a Medical Radiation Scientist (MRS), it is essential to first answer this essential query – What is medical radiation science?
Before committing to any program or school, it is critical to understand why to get a degree in radiation therapy. This analysis leads to your best opportunity of selecting a program that meets your career and educational objectives – with the best bang for your tuition buck.
School/Program Accreditation
Deciding on which of the many radiation therapy accredited schools available in the marketplace is an important and far-reaching educational decision. But how would someone with an interest in radiation science decide which of the available non-accredited and accredited radiation therapy programs would be a good fit?
The most effective & direct way to decide which of the accredited radiation therapy programs would help you reach your career goals is to investigate if the program has received regional or specialized accreditation. Accreditation is performed as an accurate barometer of higher education that has been used for more than a century.
There are two primary accreditation types granted in the United States. Both regional and specialized accreditation is discussed below.
Regional Accreditation
Regional accreditation, the oldest of accreditations, is managed by an agency within the United States Federal Government. CHEA-overseen agencies are tasked with the responsibilities of evaluating a school or college to determine if the subject school or program meets the criteria established by the agency. The following map reveals how the regional accreditation agencies are divided across the country.
Regional accreditation plays an important role, especially for students who plan to pursue further education, as most programs require master's degree candidates to have completed a regionally accredited degree program.
Specialized Accreditation in Radiation Therapy Science
When searching for available campus-based or online accredited radiation therapy schools, it is best to select a radiologic or radiation science school that has received accreditation from the JRCERT – which is an acronym for the Joint Review Committee on Education in Radiologic Technology. JRCERT – the Joint Review Committee on Education in Radiologic Technology accreditation process requires programs and schools to meet/exceed the standards set forth by JRCERT and must be renewed every 18 months to 36 months, contingent on the exact type of program.
Students are encouraged to select an accredited school as the school/program's academic standards required for accreditation promotes excellence in patient safety and quality healthcare in these programs –
Radiography
Radiation Therapy
Magnetic Resonance
Medical Dosimetry
Types of Radiation Science Degree Options
If you are wondering – Can you get a radiation therapy degree online? – you are not alone. With the advent and popularity of online degree and certificate programs, students interested in earning a bachelor's degree in radiation therapy now have great campus-based or online radiation therapy degrees from which to choose – most of which will offer program options to meet the time constraints and educational needs of most students.
A radiation therapy online degree allows students to explore the use of advanced radiologic technology equipment that generates digital images of various parts of the body. These Radiologic images are then used in the diagnosis and treatment of many medical conditions. Coursework included in a radiation therapy online degree program will also teach degree candidates how to provide competent medical care to their patients.
While there are available certificate or associate degree programs to begin a career, those who wish to move towards managerial and leadership programs should seriously consider earning their bachelor's degree in radiation therapy – on-campus or online.
Available majors for those interested in radiation therapy degrees online (or on-campus) are as follows.
Radiography
Radiation Therapy
Nuclear Medicine Technology (NMT)
Sonography/Ultrasound
Magnetic Resonance Imaging (MRI)
These online radiation therapy degrees often appeal to students with a math and science affinity as the course load includes heavy science. But note, there is a practical element to the coursework, with a need to understand how to operate a variety of Radiologic diagnostic and treatment equipment. Students should expect to complete coursework and clinical training in the areas of –
Ethics
Image Evaluation
Anatomy
Patient Care
Radiation Physics & Protection, to name a few.
A Bachelor's degree in Radiation Therapy earned from a top accredited school is a great springboard to rewarding career opportunities across medical and manufacturing sectors. An on-campus or online radiation therapy degree can also open other careers related to the Radiologic technology industry.

A radiation therapy online degree can also open doors and other professional opportunities to related careers – like a career in respiratory therapy and nursing. A radiation therapy degree online offers students a flexible education option as the program combines scientific principles with patient care. Radiation science degrees online or on-campus are offered in a variety of degrees, such as a Bachelor of Science in Radiation Science Degree, Bachelor of Applied Science Radiation Science Degree, or Bachelor of Radiography, to name a few.
With radiation therapy degrees online, earned from a reputable and accredited program school, degree holders can pursue rewarding careers in physician's offices, clinics, hospitals, clinics & other health care settings.
With online radiation therapy degrees, graduates are very likely dealing with patients on a direct basis. As such, it is essential to have a full understanding that many patients may be in critical condition or even have a terminal condition, which is not something every student will be able to manage. Attending physicians provide supervision for a radiation therapist.
Many graduates from accredited on-campus and online radiation therapy degrees choose to obtain certification. This is discussed in the next section.
Certifications/Licenses for Radiation Science Degree Holders
According to ARRT – the American Registry of Radiologic Technologists, more than ¾ of the states have enacted licensing laws regarding Radiologic technology practice, with many states having candidates complete exams administered by ARRT. In these states, a license (independent of an earned radiation therapy certificate) is required to work within state law. The American Society of Radiologic Technologists (ASRT) offers specific guidance for each state's legislation, regulations & advocacy, plus a summary of these issues with regard to radiation control programs in the United States.
ARRT – the American Registry of Radiologic Technologists is the primary accreditation agency with regard to programming, schools, and radiation therapy certificate options and related fields. Many states mandate that radiology techs also earn the certification as a Registered Radiologic Technologist (RT), which requires earning a degree from an accredited program and passing a certification exam.
To maintain ARRT certification in radiation therapy, rad techs must meet a minimum of 24 hours of continuing education every two years – related to the certificate in radiation therapy. This can be completed by taking online classes, lectures at networking meetings, as well as classroom learning, as long as the selected continuing education meet the pre-approval from the American Registry of Radiologic Technologists.
A certificate in radiation therapy can be earned on-campus and online – at the undergraduate level, postgraduate level, or even as a standalone program. the American Registry of Radiologic Technologists offers these radiation therapy certification options –
Follow this link to ARRT guidance regarding the ways to maintain certification and registration. As you build your radiologic career, it is important to consider which of the available radiation therapy certification options may help advance your career to meet your professional objectives. With so many certification in radiation therapy options, there is usually one that meets a student's professional interests and goals.
Careers in Radiation Science and Therapy
Once you have considered the various education radiation therapy career path options, it is essential to review the understand the many available radiation therapy career options. This begins by answering questions like –
What types of jobs to get with radiation therapy degree associate program?
What kind of jobs can I get with a radiation therapy degree earned on campus? Online?
Where can I find a career counselor who can offer solid radiation therapy career information?
Are there radiation therapy career opportunities available near my home?
What jobs do a bachelors degree in radiation get for entry-level work?
Where can I find radiation therapy career information that helps describe radiation therapy career pros and cons?
The radiation therapy career outlook is anticipated to be quite positive because, as the baby-boomer age, the need for medical personnel (i.e., radiation therapy as a career) will grow correspondingly. But to attain the education for one of the many rewarding radiation therapy technologist careers, students must commit to a significant path of study. But, as noted above, jobs with radiation science degree can span sectors – with careers in radiation therapy
As noted above, radiation therapy careers span many industries and can lead to careers in related radiation therapy and related fields.
The reality is that graduates will find a variety of rewarding radiation science degree jobs available – across the country. Most entry-level jobs with radiation therapy degree holders are available in doctor's offices, urgent care facilities, local clinics, or hospitals.
Professionals who wish to find non-clinical radiation therapy careers may choose to pursue radiation science careers in technology repair or imaging sales. Those who wish to pursue radiation therapy as a career in research or academia will likely need to complete a master's level or doctoral program to meet those career objectives.
Radiation Therapy Careers – What Careers Can I Have With A Bachelors Degree In Radiation Science?
The pros and cons of radiation therapy career choices will depend on your education and career objectives. Here are a few relevant considerations when seriously considering radiation therapy as a career –
Radiation therapy career opportunities generally include administering medication and/or the operation of some sort of medical equipment that delivers the medication to the patient. Due to the risk of radiation exposure (that may lead to unforeseen consequences over time), radiation technology careers do involve some risk.
Radiation therapy careers also involve working with many vulnerable cancer patients, which can be quite rewarding, but also emotional to watch patients endure the treatment and its side effects as they work to beat cancer. If you would like to work with cancer patients, this is a great, well-paying choice. Conversely, patients who go into remission due to the impact of your Radiologic treatment can be incredibly rewarding.
A career in radiation therapy is also quite a lucrative career choice. This is discussed below in the next section.
A career as a radiation technology professional can be competitive. As such, it is important to thoroughly research the industry and the specialty tracks that may be of interest. Check out the Bureau of Labor Statistics (BLS), a federal agency that offers topical data on radiation science (and all other) occupations in the United States. The good news is that there is a tremendous amount of radiation therapy career information available online and through higher learning institutions and professional training schools.
But, in the end, what is among the most important questions to answer is as follows -Is radiation therapy a good career choice for someone with my skills and interests?
Speak with counselors at potential radiation science schools about their programs and existing potential employers. Continue gathering radiation therapy career information as you move towards your final decision. Radiation therapy careers offer professionals competitive salaries – even from the outset.
Radiation Science Salary & Wage Data
According to the statisticians creating the Occupational Outlook Handbook from the Bureau of Labor Statistics – BLS, there were nearly 18,000 radiation therapists working in the United States in 2020. The median annual medical radiation sciences salary for 2020 for radiation therapists was $86,850 or $41.76 per hour. The anticipated job growth over the next ten years is 9%, with is a bit faster than the calculated average of all other US occupations. One's radiation therapy starting salary will likely depend on the individual's skill, education, experience, and location of the job.
Radiation Therapists Salary Data
Percentile of Clinical Rational Salary
Radiation Science Salary – Per Hour
Radiation Science Salary–
May 2020
10% –
Minimum Radiation Therapy Starting Salary
$ 26.88 Per Hour
$ 60,080 per year
25%
$ 34.30 Per Hour
$ 71,350 per year
50% –
Median Radiation Therapy Technologist Salary
$ 41.76 Per Hour
$ 86,850 per year
75%
$ 51.84 Per Hour
$ 107,830 per year
90% –
Top of the Radiation Therapy Tech Salary
$ 63.91 Per Hour
$ 142,930 per year
The top-paying states for radiation science salaries are as follows –
States w/ Top Paying Radiation Therapy Technology Salary Options
Number of
Employed Professionals
Medical Radiation Science Salary
California
1,260
$ 126,610 per year
New York
1,320
$ 120,470 per year
Oregon
190
$ 107,920 per year
Washington
300
$ 106,450 per year
Montana
60
$ 103,570 per year
The sectors that offer the highest Bachelor of Science in radiation therapy salary are as follows –
Industries & Sectors for Top Paying Radiation Therapy Technologist Salary -Jobs
Number of
Employed Professionals
Radiation Therapy
Technology Salary
Outpatient Care Centers
1,030
$ 119,530 per year
Professional Merchant Wholesalers
50
$ 109,310 per year
Specialty Hospital
1,070
$ 104,520 per year
Physicians' Offices
4,270
$ 98,470 per year
Petroleum & Coal
220
$ 97,290 per year
The following industries represent those that offer the highest employment levels for those in the logistics and supply chain field –
Radiation Therapy
Tech Salary Jobs w/high employment concentrations
Number of
Employed Professionals
Radiation Therapy
Tech Salary
General Medical & Hospitals
10,130
$ 88,740 per year
Physicians' Offices
4,270
$ 98,470 per year
Specialty Hospitals
1,070
$ 104,520 per year
Outpatient Care Centers
1,030
$ 119,530 per year
Medical/Diagnostic Labs
180
$ 93,030 per year
Radiologic & MRI Technologist Salary Data
The median 2020 salary for the more than 250,000 radiologic and MRI technologists working in the United States was $63,710.
The highest paying states for radiologic technologists or technicians include the following –
Available Radiologic Jobs
By State
Number of
Employed Professionals
Radiation Therapy
Tech Salary
California
16,670
$ 95,010 per year
Hawaii
620
$ 82,990 per year
District of Columbia
440
$ 82,270 per year
Alaska
370
$ 79,330 per year
Massachusetts
5,220
$ 78,830 per year
The highest paying states for MRI (Magnetic Resonance Imaging) technologists or technicians include the following –
Available MRI Jobs
By State
Number of
Employed Professionals
Radiation Therapy
Tech Salary
California
2,870
$ 106,040 per year
District of Columbia
80
$ 98,470 per year
Hawaii
100
$ 96,000 per year
Washington
800
$ 95,850 per year
Alaska
70
$ 91,360 per year
Medical Sonographer and Cardiovascular Technologists/Technicians
According to the OOH from the Bureau of Labor Statistics, there were approximately 134,100 medical sonographers and cardiovascular technicians working in the US, earning a 2020 median salary of $70,380.
The highest paying states for Cardiovascular Techs or technicians include the following –
Cardiovascular Technicians
Number of
Employed Professionals
Radiation Therapy
Tech Salary
Rhode island
160
$ 85,590 per year
Oregon
710
$ 82,810 per year
California
4,650
$ 79,490 per year
New Jersey
840
$ 78,850 per year
District of Columbia
140
$ 78,040 per year
The states that offer diagnostic medical sonographers the highest salaries include the following –
Diagnostic Medical Sonographers
Number of
Employed Professionals
Radiation Therapy
Tech Salary
California
7,030
$ 108,400 per year
Hawaii
160
$ 101,570 per year
Alaska
160
$ 95,990 per year
District of Columbia
140
$ 94,260 per year
Rhode Island
220
$ 92,460 per year

Professional Organizations
Professional organizations are created with supportive functions across industries and sectors. They are comprised of the finest, most experienced experts in the industry to help promote ideal standards as professionals.
Many professional organizations in radiation science provide membership benefits designed to help new graduates locate their professional footing, and experienced professionals contribute to the industry in which they work. Many professional organizations offer networking events, mentorships, and education opportunities.
American Registry of Radiologic Technologists (ARRT)
Headquartered in St. Paul, Minnesota, the ARRT is a professional organization that seeks to support the Radiologic technology industry. The American Registry of Radiologic Technologists provides credentialing exams and continuing education options, plus resources and networking events.
American Society of Radiologic Technologist (ASRT)
Located in Albuquerque, New Mexico, the ASRT represents radiation therapists, mammographers, radiographers, and nuclear medical technologists (among others) by offering resources, education, networking, and mentorships opportunities and the publication of a newsletter bi-monthly and an annual journal.
Radiological Society of North America (RSNA)
Headquartered in Oak Brook, IL, the Radiological Society of North America was developed to promote high ideals and standards in radiology and related services through research & education. The Radiological Society of North America provides allied health and Radiologic scientists with networking, education, and research opportunities and seeks to improve research in health care.
The Association for Medical Imaging Management (AHRA)
Located in Sudbury, Massachusetts, the Association for Medical Image Management operates as a nonprofit professional organization designed to support industry professionals, firms, and education in the field of radiological sciences.
Related Rankings:
25 Best Bachelor's in Radiation Science
15 Best Online Bachelor's in Radiation Science
10 Fastest Online Bachelor's in Radiation Science