Lawyers can't do all the work themselves. Behind practically every legal professionalism is one or more people who have the title of a paralegal or legal assistant. Becoming a paralegal can represent a fruitful and rewarding career path for those individuals who want to pursue a legal studies degree and begin a journey towards becoming a legal professional. Getting a bachelor's in legal studies means increasing your earning potential, according to the Bureau of Labor Statistics (BLS), even more.
What Is a Paralegal or Legal Assistant, and How do I Become One?
The literal definition of paralegal is right there in the name. In this case, the prefix, -para, means next to or alongside of. And, legal simply means related to the law. Of course, as a profession, the definition of paralegal can vary depending on which group is the one defining it.
Featured Schools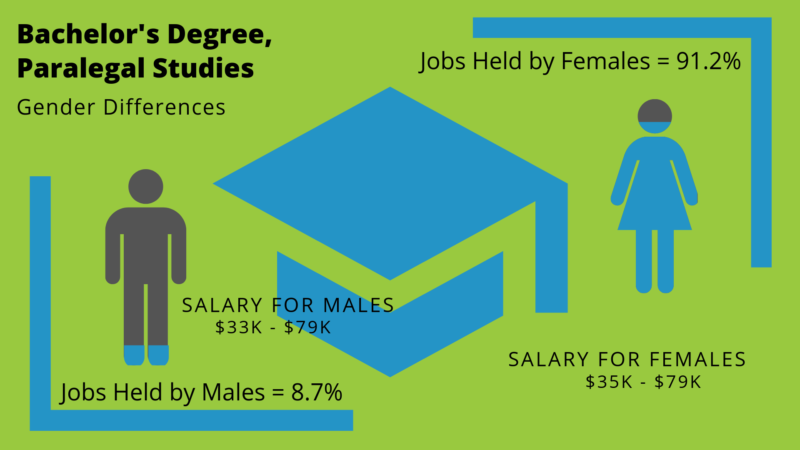 However, every definition of paralegal has similar wording. Becoming a paralegal means becoming someone with the education, training, and experience necessary to assist with legal work, legal concepts, and legal duties that come with procedural law.
In many cases, people who wonder how to become a paralegal already understand some of what the position entails. However, when wondering how to become a paralegal, it's important to understand that the paralegal profession offers opportunities that aren't limited to assisting attorneys.
What Paralegals Do
The duties of a paralegal or legal assistant can vary. In some cases, a paralegal can offer a type of legal service all on their own without working directly for a legal office. For example, a paralegal or legal worker can often prepare legal paperwork for clients, draft agreements, explain legal procedures, and give general legal advice.
Note that legal workers who are not attorneys or lawyers cannot give direct legal advice or personalized legal advice. However, they can give general knowledge and facts. Paralegals cannot act as advocates or practice law in any way.
Generally, a paralegal will spend most of their time dealing with case management, filing legal documents, speaking with clients, drafting legal documents, assisting attorneys, locating witnesses, drafting summaries, attending legal proceedings, and performing general office duties. Paralegals can also be their own bosses or run their own firms where they carry out all these duties for their own clients.
Paralegals communicate, pay attention to detail, show versatility, and often specialize in a specific type of law. While a paralegal cannot represent someone like a lawyer or attorney, they're often sought out by those who need help with finer legal aspects such as filling out forms, finding the right information, or figuring out what steps they need to take for certain legal processes.
How to Become a Paralegal in Brief
The path to become a paralegal or legal assistant is a straightforward one. Applicants who wish to pursue this particular career path can do so by attending paralegal or legal assistant courses or programs. In some cases, the only requirement to become a paralegal with a law office is certification. However, without education, the odds of landing a position in any office are drastically low.
Paralegals do not have licensing requirements, so it's usually the individual offices that set their own requirements for legal assistants. In the modern-day, as more educated people enter the field, the requirements set by lawyers, attorneys, and other legal professionals have grown. This leaves applicants with a few choices to consider when they're wondering how to become a paralegal. There are
Certifications in paralegal studies
Associate's degrees in paralegal studies
Bachelor's degrees in paralegal studies
This means applicants can take an associate's approach, then tie the associate's degree with certification. Applicants can also pursue a bachelor's degree, which puts them a step beyond, and they can still obtain certification as well. In the majority of cases, a bachelor's degree will allow for more job opportunities as well as non-standard legal work as well.
What Kind of Schools or Programs Should I Look for to Become a Paralegal?
Several programs exist to help someone make the transition into the paralegal field. In fact, people are spoiled for choices since there is no strict licensing for the profession. However, for an applicant that wants the best chance to enter the field with a good salary and the ability to advance, choosing an accredited school or legal studies program is the best possible path.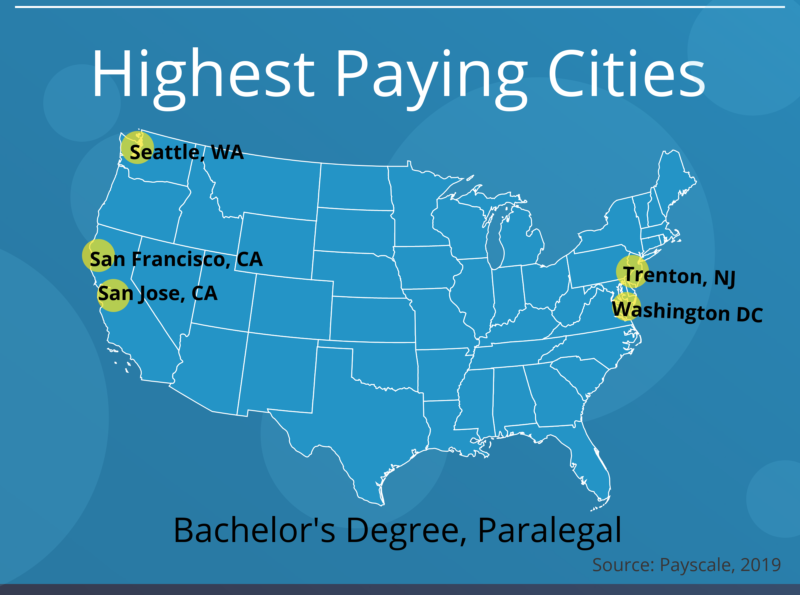 Accreditation means the school or program has gone through professional vetting from accreditation groups that set academic standards for either the facility, the program itself, or both. For colleges and universities, it's a good idea to make sure they have regional accreditation from one of the seven accrediting groups given permission to set school standards by the US Dept. of Education and the Council for Higher Education Accreditation. These groups set standards, typically for brick and mortar institutions.
Credits earned at regionally accredited schools can easily transfer to other regionally accredited schools and even to those that don't have regional accreditation. This is mainly because everyone understands that the standards set by the regional accreditation groups are high and generally accepted by everyone. However, regional accreditation typically applies to the institution as a whole, and not to the individual programs of the school. For legal studies, prospective paralegals will want to look for an accredited paralegal program specifically.
Applicants will want to look for an accredited paralegal program that has accreditation from the American Bar Association. The ABA provides the highest standards pertaining to leadership and governance of the legal profession, so it makes perfect sense why they're the group to accredit paralegal programs. ABA approval of paralegal programs allows applicants to attend classes with the confidence of knowing that their certification or degree will have the widest possible acceptance in the country.
In all cases, applicants should definitely look for ABA-approved paralegal degrees, even if the school or program does not have too many other types of accreditation. It's also possible to seek an ABA-approved paralegal degree online.
What Are the Different Types of Legal Studies Degrees Available?
A legal studies degree is actually a broad legal degree. Becoming a paralegal is only one thing someone can do with a legal studies degree. This is the main difference between pursuing some type of paralegal certification for a paralegal job, and receiving a BA or BS legal studies degree that can help applicants pursue a career in the legal field. This is the main difference in legal studies vs paralegal considerations.
To put that in perspective, someone with certification may find a place somewhere to practice being a paralegal. Someone with a legal studies degree can find a career that includes increased possibilities for more pay, upward mobility, more responsibility, and a better chance to do more in the legal field. So, it is not specifically right to think of the legal studies bachelor's degree as a paralegal bachelor's degree. Although, the bachelor degree in legal studies offers the best possible avenue toward becoming a paralegal.
The best paralegal programs give applicants a foundation in law they can build on. However, finding the best paralegal programs requires applicants to do their due diligence to figure out which school or program will work best for their specific needs and goals. One thing to note is that a legal studies bachelor degree is not the same as a criminal justice program. When it comes to legal studies vs criminal justice, there is a lot of overlap. The main difference between the two is that criminal justice tends towards law enforcement and crime prevention while legal studies have more to do with how the law works in relation to those things.
Can I Earn My Bachelor's in Legal Studies Online? Can You Get a Paralegal Degree Online?
Online paralegal programs exist in abundance. The only thing an applicant needs to worry about with online paralegal programs is the accreditation status of that program. The best online paralegal programs will have a current accreditation status in good standing from the American Bar Association. With that in place, applicants can choose from the best online paralegal programs with confidence, whether it is an accelerated degree program, a low-tuition college, or another great online program. Online bachelor's degrees are the new standard.
The online paralegal programs available will allow an applicant to receive their legal studies degree online and that degree will always remain a valid one. For any who may worry that there's some stigma or other problem attached to online legal degrees, they can rest assured their degree will hold just as much weight as a degree from any college or university. In fact, many colleges and universities do offer a bachelor's in legal studies online through their own online offerings.
One thing applicants should show care with is free online paralegal courses, or anything marketed as a cheap paralegal degree online. In the case of free online paralegal courses, applicants must do some research and make sure there's value in the courses. In some cases, free online paralegal courses can help with gaining a paralegal certification. These courses can also help to supplement knowledge gained from their official legal studies degree online courses.
Aspiring paralegals and legal assistants may specialize in an area of law like:
family law
legal research
corporate law
criminal law
estate planning
intellectual property law
legal writing
personal injury
All of these areas see job growth and similar paralegal duties. Your credential and work experience, along with formal education programs, can prepare you for full-time work in legal departments and government agencies.
In the case of finding a cheap paralegal degree online or something advertised as the best online paralegal degree, applicants should always make sure the degree program has ABA accreditation. Cheap doesn't always mean bad, but applicants need to make sure before they go forward with pursuing online legal degrees from that source.
Does a Paralegal Need Certifications or Licenses?
Paralegals don't always need certification or licensing. However, seeking certification, even when it's not specifically necessary, can only help an applicant who wants to pursue a paralegal career. Certification can also help applicants who want to pursue any job in the legal field. Applicants can also seek a legal studies certificate, which is similar to how to get a paralegal certificate.
In addition, applicants should understand there's a difference between having a paralegal certification and being a certified paralegal. In most cases, those who complete an ABA-accredited course can claim the title of certificated paralegal. Nevertheless, the title comes from education itself. The ABA accredits some certificate programs, but it does not certify paralegals.
Since adding specific certifications are voluntary, the employer will usually dictate whether or not a specific type of paralegal certification is a necessity for the position. This is an important consideration because there are numerous certification programs out there. It would make no sense for an applicant to pursue an unneeded or unusable paralegal certificate. However, there are certain paralegal certifications that have broad recognition and will improve an applicant's chances at a job with a law firm or with other types of legal institutions. Certifications can help set an applicant apart from the competition and show the applicant has full command of the profession.
Some states offer official certifications. While they're not mandatory, they can allow an applicant to add an official title designation after their names. This shows the applicant has exceeded the level of training provided just by their schools or programs and may be worth it to those who are serious about the paralegal profession. Many national paralegal associations also offer certifications.
Certifications can also show an applicant has advanced training a specific or specialty skill. For example, the Professional Legal Secretary (PLS) certification means an applicant has mastered the office aspects of the legal field, including things like using the proper software and knowing the proper legal terminology for back-office legal operations.
Some certifications are a necessity for working in the public sector as a paralegal. Applicants will have to look into certification requirements in their own states or inquire what types of certifications their local legal institutions prefer. There is no mystery to how to get a paralegal certificate.
The certification process usually requires some training and possibly some testing. Many accredited online paralegal certificate programs exist, so applicants won't have to go too far out of their way to research a legal studies certificate or to obtain one. When checking for accredited online paralegal certificate programs, keep in mind the keyword is accredited. Don't pursue certificates from places that have no reach or recognition.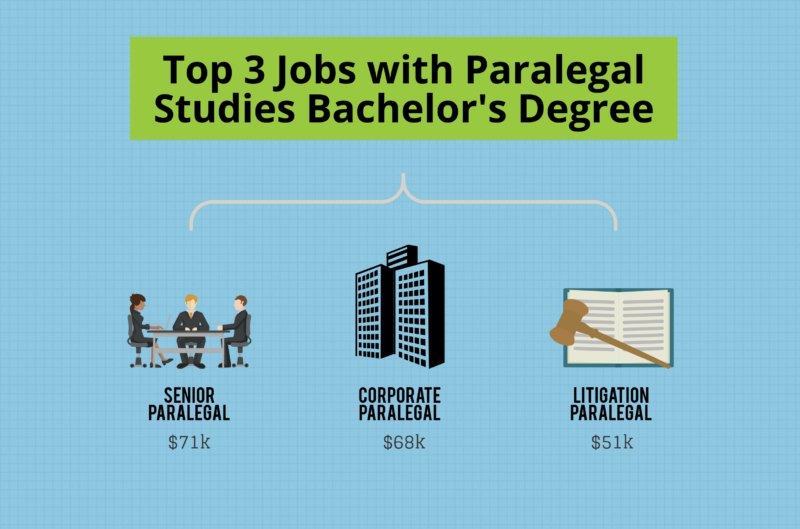 What Are the Different Types of Careers in Legal Studies?
While the main focus here is on the paralegal profession, it helps to understand there are different types of paralegals who work in different capacities. In addition, legal studies jobs are not limited to just paralegal work. But, before going into the list of careers in legal studies, applicants who want to pursue the paralegal field should know a few of the different types of paralegal careers available. These include, but are not limited to:
Corporate paralegals
Government paralegals
Litigation Paralegals
Real estate paralegals
Generally, if there's a body of law attached to something, then there's a paralegal position available for it. Consider that practically every aspect of society has a body of law attached to it. This means there are many ways a paralegal can specialize or find niches they can apply their education to.
Legal studies degree jobs range across various fields and verticals of those fields. This is because jobs in legal studies field can include things that are only tangentially related to the broader legal field. For example, legal studies degree jobs can include things like corporate administrative assistants, consultants, and human resources assistant positions.
Pulling up a list of careers in legal studies will likely mention jobs and careers applicants were not even aware were obtainable with their legal studies bachelor's degrees. Knowledge of the law in general and knowledge of specific types of law can go a long way in various industries and careers.
Earning the degree also opens up possibilities for further education in legal professions and studies, should an applicant want to continue on to pursue a higher degree while having their legal studies education to use towards working in the field while they do it.
Applicants should keep in mind that a paralegal doesn't have to work for any person or group directly. Paralegals have the freedom to operate on a freelance basis as contractors or to run their own business. A lot of people seek paralegals for general information and legal paperwork filing without ever needing to speak to a lawyer or attorney. In this way, a legal studies degree can become a path to entrepreneurship.
What Kind of Salary Can I Earn with a Bachelor's in Legal Studies Degree?
According to the OOH, the median pay for paralegals and legal support workers sits around ~$50k. The industry can matter a lot, as the same source shows that the median for legal workers at the federal government level is around $67k, $62k for those who work for a financial institution. What is a paralegal salary for the highest earners? Paralegals at the far end of the spectrum can earn more than $82k.
Many of these salary numbers assume a paralegal at entry-level knowledge with only an associate's degree. Those with their bachelor's can earn more, and those with a bachelor's as well as the right certification can earn even more by way of salary.
A legal studies jobs salary, like any other salary, can vary greatly depending on location, experience, and demand. Legal studies degree salary can also depend on specializations. For fields with more obscure bodies of law, the need for a professional paralegal will be much greater and the job will likely pay much more.
Also, applicants must remember a paralegal bachelor degree salary is not the same as a legal studies degree salary. A paralegal is only one career avenue available to someone with a legal studies degree. Looking at paralegal bachelor degree salary alone does not paint the broadest picture for those who want to know what is a paralegal salary.
It would behoove applicants to take a look at job listings in the legal assistant, paralegal, and legal administration fields. While these can all describe the same type of job or career, some places that post jobs make distinctions between them and can offer more by way of salary for one designation over another.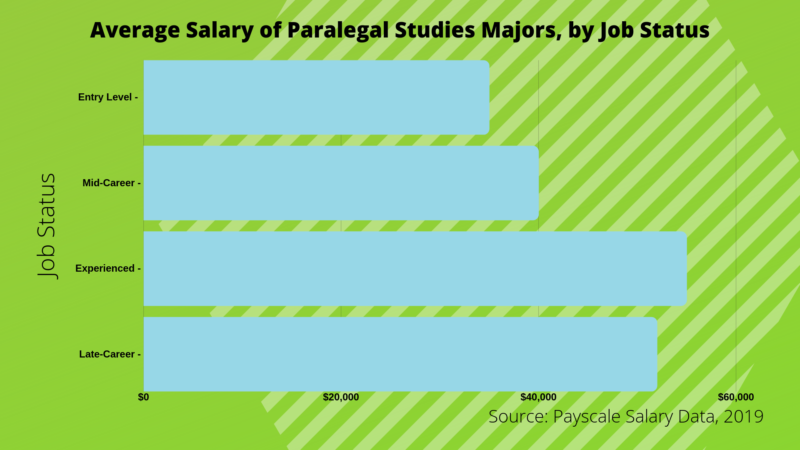 What Are Some Professional Organizations for Paralegals and Legal Workers?
Many professional organizations exist for paralegals and legal professionals. Some of these organizations are actually the ones that can help provide official and recognized certifications for applicants. Joining a professional organization for paralegals or legal professionals comes with a lot of benefits that any applicant would do well to take note of and take advantage of.
Depending on the organization, a professional association can offer internships and educational resources. As these organizations often sit at the forefront of changes, advancements, and developments in the field, they're often good places to find new opportunities and other information related to the legal profession. Finding new career opportunities often starts with professional organizations.
One of the most important aspects of joining a professional organization is the ability for applicants to grow their professional network. Like any other field, tempering knowledge and education with knowing those in the same field can help anybody along their career path. Since professional organizations for legal professionals exist at every level, it is possible for applicants to create and nurture relationships with important as well as like-minded people.
Professional organizations exist at the local, state, national, and international level. Some organizations even exist as part of the school a student may already have enrolled in. This means applicants can, and should, start forging relationships immediately. Local groups can help someone find the right jobs and ease the transition into them. At the state level, the benefits grow further. Some of the more important national-level groups include:
American Alliance of Paralegals, Inc.
American Association for Paralegal Education (AAfPE)
Association for Legal Professionals
National Association of Legal Assistants (NALA)
National Association of Legal Secretaries
National Federation of Paralegal Associations (NFPA)
National Paralegal Association (NPA)
The National Federation of Paralegals is one of the most well-known organizations. However, many other professional organizations for paralegals exist. The American Bar Association itself is one of the largest and most recognized groups in the country. However, the ABA is an association for all legal professionals and not specifically for paralegals or legal assistants. However, the ABA does have the Standing Committee on Paralegals and offers an ABA membership for paralegals.
Graduates should make joining a professional organization a priority. In some places, having a membership in a professional organization can make everything easier for job seekers and those trying to advance.
Related Rankings:
25 Best Bachelor's in Paralegal Degree Programs
15 Best Online Paralegal Degree Bachelor's Programs
10 Fastest Online Paralegal Degree Bachelor's Programs
10 Most Affordable Paralegal Degree Bachelor Programs