Nuclear engineering is a highly specialized field that requires very specialized education. Most nuclear engineers work with nuclear energy like that found in nuclear power plants, nuclear weapons, and submarine propulsion systems. Other specializations include working with diagnostic equipment used in the medical field, like MRI machines and the production of food. Waste disposal facilities that deal in radioactive waste are also places where nuclear engineers can be found. These are just a few of the many different types of jobs that can be found within the nuclear industry.
Nuclear energy and engineering have several specializations that an engineer can focus on. Even though the number of nuclear power plants has skyrocketed across the globe and the development of nuclear energy is a top priority, the other specializations are still just as valuable in their own right. With a nuclear engineering degree, a graduate can work with nuclear energy in a variety of ways including power plants, weapons, food production, radioactive-waste, and medical applications. Understanding how nuclear energy can be used and why it is so efficient will give you a good idea as to why it can be used in so many different areas.
Featured Schools
The nuclear age began over 80 years ago. With its introduction, scientists had to learn how to harness the energy that was produced and use it to their advantage. A short six years later, the first atomic bombs were dropped proving the tremendous power this type of energy produced. Since that day nuclear energy has been on the front burner. Now, we have many different ways to use nuclear energy that offer benefits to almost everyone. As more research continues to be performed, new ways will be uncovered that will allow nuclear energy to be used more efficiently and in many more ways.
Nuclear Engineering Program Accreditation
Accreditation falls into two specific categories, specialized and institutional. There are several reasons why accreditation is important. When it comes to nuclear energy in any form, there can be no mistakes. Accreditation for both the degree program and the institution is extremely important. The entire accreditation process must be reviewed regularly to ensure both the institution and the degree program are still continuing to adhere to the industry's incredibly high standards. During the accreditation process, every aspect of the degree program and schools' teaching methods are thoroughly reviewed to ensure that all of the information is accurate and the teaching methods are effective.
Specialized accreditation is a thorough review that is performed on specific degree programs. There are many different specializations when it comes to nuclear engineering. Medical imaging (MRI), the disposal of radioactive wastes, food preparation, and nuclear weapons are just a few of the different types of specializations that require accreditation. Each specialization requires its own type of accreditation to ensure that the degree program is providing the most accurate information possible. With specialized accreditation, the student knows they are getting the best possible education and future employers know that the student has been taught the proper skills they will need to perform the duties that are required for their job.
Institutional, or regional, accreditation verifies the school's ability to provide the highest quality degree programs. Instead of evaluating the degree program, institutional accreditation evaluates every component of the teaching process. The teachers are evaluated as well as their methods. Every aspect of the school's teaching process is put under strict review. This ensures that the faculty, educational resources, and various types of equipment all meet or exceed industry standards. Just like with specialized accreditation, institutional, or regional, accreditation must be renewed on a regular basis. It is not a one-time deal. In order for the school to maintain its accreditation status, it must be able to pass the rigorous renewal test each time it comes due.
ABET and SACSCOC are two of the primary agencies that are responsible for providing accreditation to colleges and universities. ABET stands for the Accreditation Board for Engineering and Technology. It is responsible for providing accreditation for schools all over the country. In the southern states, SACSCOC is another accrediting body. Also known as the Southern Association of Colleges and Schools Commission on Colleges. It is both a non-profit and a private organization that is dedicated to maintaining the highest standards of excellence. Because of the nature of the nuclear industry, the strictest standards must be adhered to at all times. With that being said, it is up to organizations like ABET and SACSCOC to be diligent in their task to check and verify both the schools and the degree programs.
Types of Nuclear Engineering Degrees
There are many different types of Nuclear Engineering Bachelor's degree programs to choose from. Traditional classroom degree programs give the students an opportunity to work one on one with the instructor in a hands-on learning environment. This is the ideal learning environment for students who prefer being in a classroom with other students. No matter what type of nuclear engineering degree program you choose, the coursework and the faculty must be of the highest quality. Looking for schools and degree programs that are accredited will provide you with a solid guarantee that you will receive the level of education you will need to succeed in this technologically advanced industry.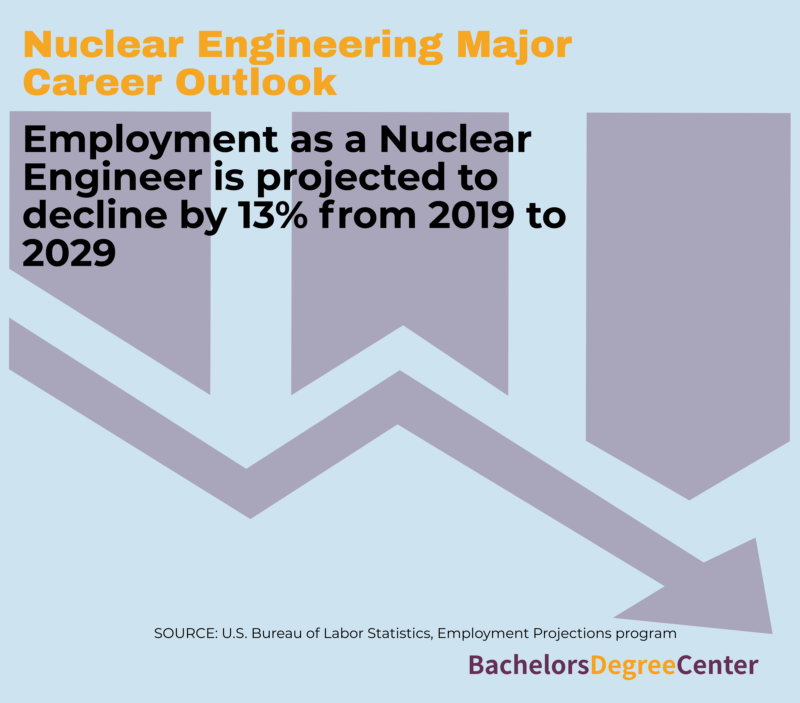 Online Bachelor Degree Programs
Online bachelor's degree programs offer many benefits for students who prefer to work alone or in the comfort of their homes. There are fewer distractions and the student doesn't have to be nervous about keeping up with the rest of the class. Online degree programs offer flexible class schedules that allow students who are already employed, the opportunity to continue to work and support their families. If they are lucky enough to be working in their chosen career field, they can use the skills they are learning in real-time. An online degree program offers many benefits that allow the student to tailor their learning experience into the type of degree program they are looking for. Flexible schedules, quality content and delivery, as well as having the option to study at the school of your choice are primary reasons why people choose to enroll in online degree programs.
Traditional Bachelor Degree Programs
Traditional bachelor's degree programs for nuclear engineering students often provide many of the more basic or generic courses. There are several reasons for this..One reason is that nuclear engineering is a broad degree program. There is a lot of important information that a Bachelor's degree student will need before they begin to advance up to the higher degree programs. Taking many of these generic courses will allow them to learn the basics as well as a small sample of many of the specialization courses. Once the student has an understanding of the basics, they can then begin to explore the specializations. This gives the student a chance to choose which specialization they may be interested in as a final career choice.
Specializations
There are many different specializations in the field of nuclear engineering. They can include, but are not limited too:
Medicine – Nuclear energy has many uses in the medical field. It is used with MRI or magnetic resonance imaging. It can also be used in some types of medication, especially those used to treat thyroid cancer. Nuclear energy has many uses in the medical field that people are continually learning about. Although food production and preparation are a specialty on their own, they also fall under the medical category since the debate about how safe it is to radiate food is still ongoing. Maintaining the nutritional value of foods as well as ensuring that the production and preparation methods meet or exceed safety standards is extremely important.
Security – With this type of specialization, students are taught how to keep nuclear components secure and out of the hands of hackers and other nuclear terrorists. They learn how to monitor and track various types of advanced radiation using specialized detectors. This type of specialization is extremely important and can be used to protect not only the environment but also human life. Individuals who take on this type of job must have a solid understanding of how nuclear energy works, the risks involved in its use, and how to handle a leak if one should happen to occur.
Environment – Radiation appears naturally within our environment. Nuclear engineers are responsible for creating detectors and tracking systems that can be used to identify potential sources of natural, radioactive materials. The ability to measure radiation precisely requires a high level of skill that is needed for 100% accuracy. The environmental specialization includes the study and testing of Radon gas and many other radioactive elements that are found in the environment. When it comes to the environment, an engineer must also recognize what will happen to an area if radiation is leaked in any way. They must know how to contain the problem and take the right precautions to minimize the impact on all life forms in the area.
Energy – Nuclear engineers often deal with nuclear energy that are used as major power sources. Nuclear fission, for example, is the type of energy produced by large nuclear reactors. Engineers are responsible for developing new reactors, monitoring existing reactors, and making sure everything runs smoothly on all levels. Fusion is another type of nuclear energy. Although fusion is the type of reaction produced by the sun, man has had a more difficult time harnessing this type of energy. Another type of nuclear energy is the space power that we use to power our smaller spaceships. The more the world embraces nuclear energy, the more engineers and scientists will be needed to continue to do the required research.
Certifications/Licenses
Because of the nature of nuclear energy and how specialized the field is, nuclear engineers and other specialists who work in the field must be properly licensed and certified. Certifications and licensure prove that the individual has the knowledge and experience to take proper action if an accident or major issue were to reveal itself. Being certified and licensed also ensures that the person knows what to do in case of an emergency as it relates to dealing with the public and following local, state, and federal protocols. Certifications and licenses should be renewed every year or so, depending on the state and federal guidelines. This includes enrolling in a specific number of continuing education courses each year to keep your credentials current and in good standing.
Careers in Nuclear Engineering
Students have several nuclear engineering careers to choose from, depending on their specialization. With more and more job positions opening up in the field of nuclear engineering, a new graduate can practically choose from multiple options in almost every specialization. They include:
Nuclear engineer – Nuclear engineers develop and build nuclear reactors, power plants, and other pieces of equipment that produce large amounts of nuclear energy. Nuclear engineers are responsible for not only building reactors and power plants, it is up to them to come up with the necessary safety protocols to keep everyone safe.
Nuclear weapons specialist – A nuclear weapons specialist is familiar with how nuclear weapons work. They know how they are built, what sets them off, and how they are deactivated. A weapons specialist will be called in if a weapon is discovered and needs to be disarmed. This works in much the same way as if the bomb squad was sent to diffuse a bomb. Nuclear weapons specialists must be highly skilled and have high attention to even the smallest details
Security specialist – Security specialists are specially trained to maintain security in locations where large amounts of radioactive materials are kept. They are taught all of the required safety measures and protocols to keep themselves and other workers safe from any type of exposure to radioactive materials. This includes knowing how to properly transport and care for radioactive materials.
Medical technician/radiologist – Medical technicians/radiologists work with MRI machines and other radioactive materials that are used in the medical field. They are taught how to reduce a patient's exposure to various radioactive materials during and after treatment. In many cases, a medical technician or radiologist may need to have at least a modest amount of medical training as well.
Nuclear maintenance specialist – Nuclear maintenance specialists work in environments where nuclear materials are stored or used. They are responsible for keeping all pieces of equipment in good working order so that the risk of exposure to any radioactive material is kept to a minimum. Maintenance specialists also work with nuclear engineers to come up with solutions when parts or pieces of equipment break down. They are the ones who are called in to make the necessary repairs and keep the machinery working at top capacity.
Nuclear aeronautics specialist – Space power is what drives small satellites and other airships that travel into outer space. A nuclear aeronautics specialist is capable of designing these nuclear power systems so they operate at maximum efficiency and keeps the entire crew safe and out of harm's way. Working with space-related nuclear activities can be exciting and will open the door to many new opportunities.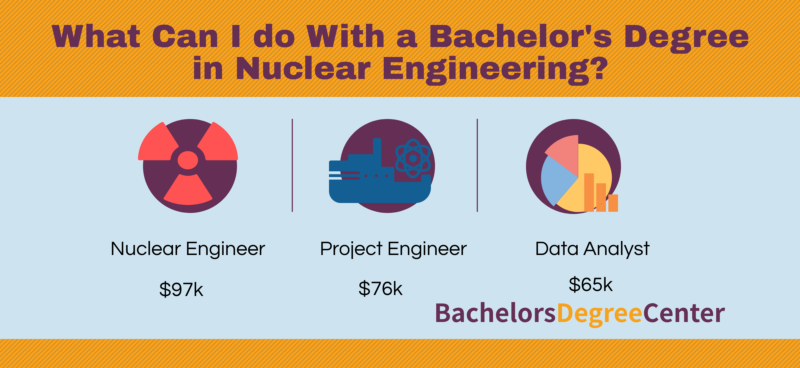 Salary for Nuclear Engineering
In 2019, the average pay for someone with a Bachelor's degree in Nuclear Engineering was about $113,000 per year. That averages out to approximately $55 per hour. A graduate who is just starting to find work in their chosen field may make considerably less, even with a stellar education. Individuals who have been working in some capacity within the nuclear engineering job classification and have actually returned to school and earned a higher degree may be able to earn quite a bit more.
When it comes to salary, it's important to remember that the nuclear engineering field is quite diverse. The range of pay between specializations is considerable and will be affected by several different factors. These factors include location, education, experience, and willingness to take on more responsibility once hired into a position. With this type of career, salary is also sometimes negotiable, especially if a company wants a particular individual on their team. A person's level of experience working in certain areas may be the ticket to a long and very lucrative career.
Professional Organizations in Nuclear Engineering
The nuclear engineering job classification is much like the medical community in that it has special organizations that are dedicated to it. The following organizations are just a few of those that are committed to working with nuclear engineers and promoting their safety and expertise.
American Nuclear Society – The American Nuclear Society (also known as the ANS) is a non-profit organization with a global reach. It is made up of engineers, scientists, and other professionals who work in the nuclear industry. The ultimate goal is to support the nuclear industry's engineers, scientists, and other professionals. Within the organization, there are three primary groups. They include the professional community, plant branches, and local communities, and a student community. Within the organization, there are several membership levels including fellows, professionals, and students. Large corporations, educational institutions, government agencies, and a variety of associations are also represented within the tight-knit organization. The group has over 10,000 members across the world. In 2020, at least 40 countries are represented within the organization.
Nuclear Institute (UK) – The Nuclear Institute is based in the United Kingdom and represents professionals who work within the nuclear industry. The charity is not affiliated with the industry but does promote it and what it represents. By promoting nuclear energy and its benefits to the public and to the groups' members, it offers an avenue that can be followed if someone wants to receive professional qualifications that can be used to advance their career. This is available to nuclear engineers and scientific professionals who are working in the field. The group works to support education so that individuals can gain the skills and knowledge they will need to continue to move forward with their careers. This initiative provides students with the ability to design, construct, operate, tear down, and eliminate wastes produced by nuclear sites. Although the organization is strictly professional, the meetings can be attended by the public and there is no charge to attend.
International Atomic Energy Agency – The IAEA, or International Atomic Energy Agency works on a global level to promote nuclear energy in a peaceful and sustainable manner, The goal of the organization is to help minimize the use of nuclear weapons and materials in the military. Established in 1957, it works hand in hand with the United Nations and has an international treaty that allows it to operate. It is known as the IAEA Statute. The Agency works directly with both the Security Council and the United Nations General Assembly. With its headquarters located in Vienna, Austria, the Agency has a global reach that allows it to collect valuable information and report it back to international leaders.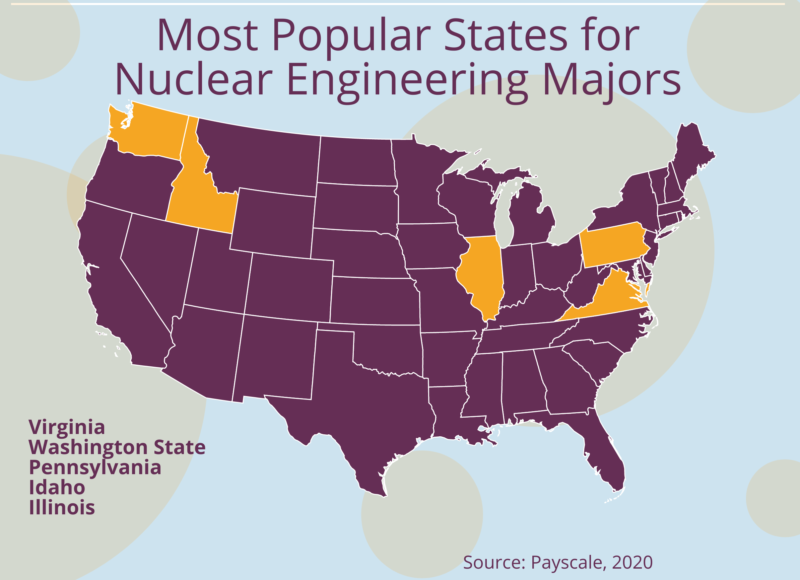 Job Outlook for Nuclear Engineers
The job outlook for nuclear engineers is very good over the next few years. Even with the continued growth within the nuclear industry, the number of professional nuclear engineers and scientists has been dropping steadily over the last few years. This means that as new jobs continue to be created, more and more jobs are being left open. Graduates with solid grades and minimal experience are being able to enter the workforce at a much higher pay rate than ever before, simply because their skills are in such high demand.
If you are thinking about making nuclear engineering your career of choice, now is a great time to take those first steps. You can pick and choose from a wide variety of job openings that will allow you to advance into higher positions in a relatively short period of time. Once you have enrolled in the final year of your Bachelor's degree program, you can begin to look for work in the field of nuclear engineering. Many companies will hire you and put you to work prior to graduation so that you have a head start on your career by the time you receive your diploma.
Related Rankings:
25 Best Bachelor's in Nuclear Engineering
15 Best Online Bachelor's in Nuclear Engineering
10 Fastest Online Bachelor's in Nuclear Engineering
10 Most Affordable Bachelor's in Nuclear Engineering
15 Best Online Training and Development Programs