Individuals who have a passion for the law have many different avenues to choose from when it comes to career choices. Legal studies degree programs are available, both online and on-campus that provide students with the skills they need to be successful in almost any type of career in the legal field.
Even criminal justice majors have the option of choosing a legal studies specialization that will allow them to better understand certain aspects of their own degree programs. They can use this information to become better police officers and investigators.
Featured Schools
Making the decision to return to school to earn a degree in legal studies is your chance to turn a regular day-to-day job into a long-term, very lucrative career that you can be proud of. For some, the question of whether or not returning to school is actually worth it. The only way a degree program holds value for you is if you put the effort into it that will allow you to succeed.
If you don't put in the work to get the best grades, the money you pay for your degree won't mean anything. When it comes to legal studies, getting the grades you need to succeed will take hard work and dedication. In the end, you will have an education that is worth much more than the money you paid to attend class.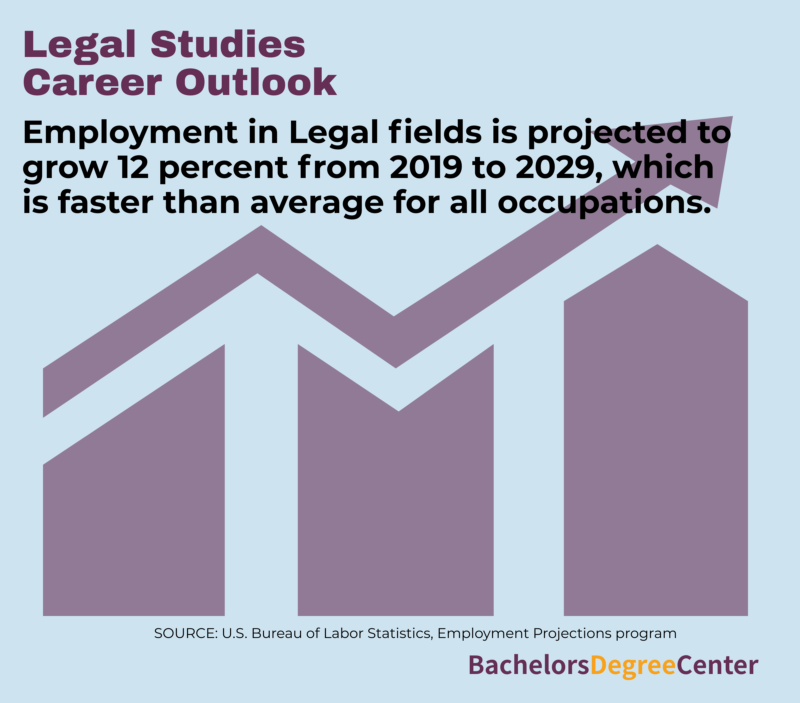 What Can I Do with a Legal Studies Degree?
A legal studies degree can provide you with several career options. Students who are enrolled in criminal justice degree programs may choose to add a legal studies specialty to their curriculum. This will enhance their ability to do their job more efficiently by giving them additional skills that they can use to fulfill their duties. While criminal justice is similar to legal studies, it does have aspects that are quite different. Having a legal background while working in law enforcement gives insight into how the process works after an arrest has been made or charges have been filed.
In addition to being beneficial for criminal justice graduates, a legal studies degree will lay the foundation for students who are studying to be paralegals or legal assistants. Earning a legal studies degree will open many doors to positions in law firms, judicial courts, or any other office where legal documents are created, signed, or authorized. A legal studies degree program offers the knowledge and skills that will be required to perform your duties as a legal secretary, paralegal, legal assistant, or investigative researcher.
What Is Criminal Justice vs Legal Studies?
While many people use the terms criminal justice and legal studies interchangeably, they are dramatically different once you begin to delve deeper into the skills offered by each degree program. Criminal justice degree programs involve using forensics, investigative tools, and interviewing skills to solve criminal activities that are sometimes incredibly complex. Law enforcement officers, private investigators, detectives, and security professionals will often enroll in criminal justice degree programs to gain the tools and skills they need to be more effective at their job.
A legal studies degree, on the other hand, allows the law to be applied to certain events and activities so that justice can be rendered to its fullest extent. Choosing a legal studies degree will give you access to everything you will need to thrive in a legal environment. Law firms and judicial courts look for students who have excelled in legal studies degree programs. Many will offer internships and mentor programs to students who qualify with the highest academic reputations. These internships give students a chance to actually work in the field and receive valuable on-the-job training.
Accreditation for Legal Studies
Accreditation is used to prove that a degree program or school has met or exceeded the expectations of specific industries. Each industry has a board of review that evaluates both schools and degree programs, ensuring they meet or exceed the required standards. Accreditation is an ongoing process. Both schools and degree programs must be reviewed every few years to ensure they are maintaining the appropriate standards.
What Is Regional Accreditation?
Regional accreditation is given to universities and colleges that meet the accrediting boards' strict standards. Schools must perform regular self-reviews and submit their findings to the accreditation board. A few of the factors that are looked at include graduation percentage, average GPA of the students, and the performance of each faculty member. Regional accreditation is important because it highlights the positive aspects of the school and shows how well it compares against other learning institutions of the same caliber and ranking.
Regional accreditation is also important to students who want to know they are getting the best possible education, especially if they want to work in the legal field. Earning a degree from an accredited institution is one way of knowing that they will have access to top-of-the-line faculty and degree programs in a positive learning environment. You will have peace of mind as well as a quality education.
What Is Specialized Accreditation?
Specialized accreditation is used to validate the degree programs a school offers to its students. Each degree program is held to the industry's highest standards. This includes materials used, resources, skills, abilities, and completion percentage. Students and employers pay close attention to a degree program's accredited status to ensure they are getting the most out of each class.
Degree programs are continually being reviewed, just like the schools. Accreditation is not a one-time award. Once it is earned, it must be maintained. With specialized accreditation, this may mean upgrading the content every year or so to ensure students are getting the most up-to-date information in their courses. By choosing a degree program with specialized accreditation, you know that your education will provide you with everything your employer will expect after you have graduated.
Where Can I Find the Best ABA-Approved Legal Studies Programs?
There is no single place to look to find the best ABA-approved legal studies programs. Some are more affordable than others. Many schools have started offering online degree programs for students who are already working but want to complete their education. Online programs allow students to kill two birds with one stone by working and learning at the same time.
Many online programs have received both regional and specialized accreditation. Students can choose either online or on-campus learning and know they will get the same quality education from either one. In order to find the best ABA-approved legal studies degree program, you need to find the degree program that matches up the best with your individual goals.
What Are the Best Schools for Legal Studies?
In order to find the best school for legal studies for your needs, you will have to know what type of school you want to attend. Community colleges are sometimes more affordable. Ivy league colleges and universities may offer the highest quality education possible, but they may not meet your individual goals. In order to find the best school for legal studies, you need to look at your needs and then find a school and degree program that will help you reach your individual goals. Whether online or on campus, if you want to be successful, you will need to choose the school and program that is tailored to your needs.
Where Can I Find the Best Legal Studies Undergraduate Programs?
If you want to find the best legal studies undergraduate program, you may want to start with where you earned your previous degrees. Changing schools is not difficult but you will need to find out how many of your credits will transfer from one school to the other. You will also want to find a legal studies undergraduate program that is comparable to the type of lessons and materials that you have experience with.
Undergraduate programs are now being offered online for students who have gained valuable experience at their place of employment and want to complete their education. Most students who have reached this level have been working in their field for quite some time and don't want to lose their position at work. Opting for an online degree program allows them to have the best of both worlds.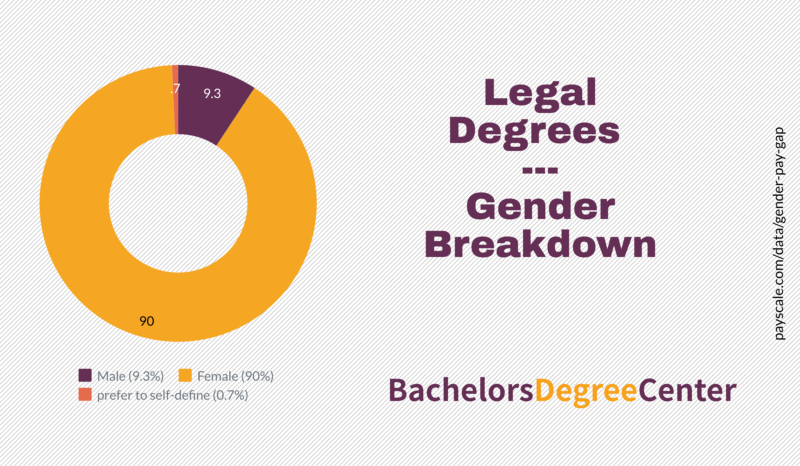 Types of Legal Studies Degrees
There are several types of legal studies degree programs. Many colleges and universities are offering online degree programs as well as those taught on campus. Bachelor's degree programs are often the ideal way to start since most now contain the entry-level courses that used to be a part of the traditional Associate's degree programs. A Bachelor's degree in legal studies will lay the groundwork to start building a career you can really enjoy.
There are many potential specializations for legal studies majors as well, such as:
real estate
healthcare
human resources
legal research
criminal law
dispute resolution
A legal studies degree can also lead you to law school and a legal career of your own.
Are Online Legal Studies Degrees Worth It?
The value you place on any online legal studies degree program will depend on how badly you want to succeed. Even the highest quality degree program won't be worth the money you paid for it if you don't put everything you have into getting the best grades. If you do everything you can to learn as much as you can and succeed in becoming the very best at what you do, then your online legal studies degree is well worth the money, time, and effort you put into it. The more of you that you invest in your education, the more valuable the payoff will be.
What Are the Benefits of a Bachelor's Degree in Legal Studies?
A Bachelor's degree in legal studies offers many benefits that people may not even realize. In the past, students would start out by taking an Associate's degree that would give the student the basics they would need to start out with. Things have started to change. Now, many universities and colleges are phasing out their Associate's programs and adding the classes into the Bachelor's degree program. This means students get a more substantial education in less time, allowing them to advance their careers at a much faster pace.
Other benefits include being able to push yourself beyond any boundaries you may have set for yourself. Many people get stuck in a place where they think they have reached their limit. With a Bachelor's degree, they can use their newfound skills to explore new options and take on new challenges that they may not have ever thought possible.
Certifications and Licenses for Legal Studies
Legal studies degree programs will give you more than enough to sit for and pass your legal assistant or paralegal certification. You also have the option to enroll in an online legal studies certificate program. The online legal studies certificate program is designed to act as a stepping stone between degree programs or as a validation tool for individuals who have several years of experience but never went to school to earn their legal studies degree.
Being able to pass a certification or licensure exam, will give them the validation they need to prove they have the skills and abilities to take on the responsibilities associated with many positions in the legal or judicial fields. It is never too late to enroll in an online legal studies certification program. Even if you have been a paralegal for twenty years, you should never stop learning.
How Long Does It Take to Earn an Online Legal Studies Certificate?
The length of time it takes to earn an online legal studies certificate will depend on where you are enrolling in the program and what their exact requirements are. Some programs can require as many as 45 credit hours. Others may be able to be completed in less than a year, allowing you to sit for your test in just a few months' time. Individuals who have been working in the field for many years may be able to reduce the number of credit hours based upon the number of years of experience they have. Being able to study online means that the class schedule is flexible and they can do the work any time that it's convenient.
Is a Certification Better Than a Degree?
Certifications and degrees are both extremely valuable. Some prefer to have both, while others may choose one over the other. In most cases, it will depend on what is most beneficial for you. If you have worked in the field for several years, a certification may be all that is needed. Individuals who are just starting out with their careers may decide that a legal studies Bachelor's degree is more in line with what they need.
Earning a degree will provide them with more skills and knowledge that they can put to good use now. It may take working for many years to learn everything they would gain from a quality degree program. If they are lucky enough to attend a school with an internship, they may be able to gain hands-on experience as well. Degree programs will also look more appealing to a future employer.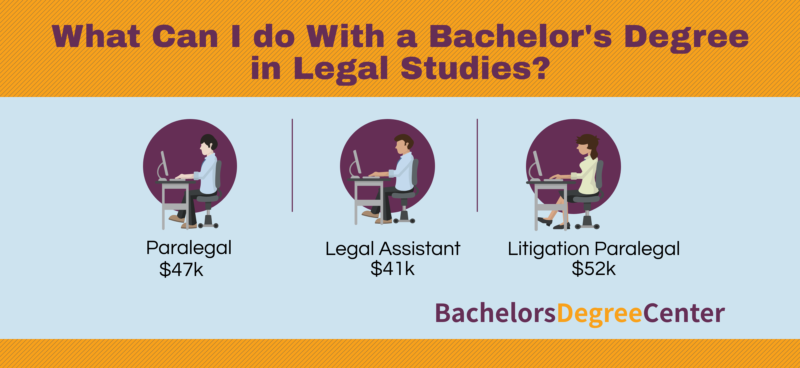 Careers with a Legal Studies Degree
There are many careers you can pursue with a legal studies degree. Paralegal, investigative researcher, and legal assistant are the most common. If you choose to work in a court setting, there are many jobs that entail working with judges or clerks in judicial offices that will require many of the same skills that are offered in a legal studies degree.
If you are interested in learning more, contact your admissions advisor and ask for a list of careers in legal studies. They will be able to provide you with an entire list of career possibilities that will benefit from a legal studies degree or certification. You can also talk to a legal professional in your area and find out what many attorneys or judicial offices are looking for.
What Are the Most Common Legal Studies Jobs?
There are many jobs that will benefit from a legal studies degree or certification. In addition to paralegals, legal assistants, and investigative researchers, you can also find work as a clerk or a court reporter. Court reporting requires other skills as well, such as transcription and being trained to use the court reporting equipment.
There are also jobs within the criminal justice field that will benefit from a degree in legal studies. Investigators and detectives can learn valuable techniques by enrolling in a legal studies degree program. This added layer of skills will allow them to be more thorough when completing their tasks and collecting vital information and evidence.
Legal Studies Careers in Law Enforcement
While most law enforcement officers choose to enroll in criminal justice degree programs, they can benefit from specializations in the legal studies field. By understanding what happens on both sides of the law, they can be more thorough during investigations and know what things they need to have in place to provide a more airtight case. Legal studies may also be beneficial for law enforcement officers who are moving up into management positions.
Legal Studies Careers in the Judicial System
When it comes to the judicial system, a legal studies degree can come in handy, especially if you are working as an assistant to a judge or clerk. By understanding the legal aspect of things, you will also have the skills you will need to take on a variety of tasks that involve working with files and processing exhibits that will be used during court proceedings.
So there are lots of career paths within the legal system, government agencies, the nonprofit sector, and more. You don't have to practice law or even work in a law office. You may take your knowledge of legal issues to become a compliance officer in a company, or a probation officer in the justice system. Legal studies graduates may become social workers. You may become a real estate agent, an arbitrator, or a public servant in a variety of government positions.
With an advanced degree, like a master of legal studies, you may work in higher levels of legal services. Paralegal studies is just the beginning. Beyond your undergraduate degree, you may get a law degree (juris doctor) and become a lawyer yourself.
Legal Studies Degree Salary
The salary you earn working in the legal field will depend on three basic factors. This includes how much experience you have, the level of education you have completed, and where you will be working. Larger metropolitan areas will offer higher wages than their rural counterparts.
What Are the Highest-Paid Legal Studies Careers?
Paralegals and legal assistants can make quite a bit of money, sometimes upwards of $75,000 to $120,000, depending on their area of expertise, level of education, and years of experience. The more skills and abilities you have, the more likely you are to be considered for the big promotions. Part of improving your earning potential means pursuing your educational goals and taking on new challenges that push your comfort zone. Your pay will steadily increase as you begin to prove your value to those you work for.
Paralegal Bachelor's Degree Salary
A paralegal who has a Bachelor's degree in legal studies may start out earning between $30,000 and $60,000. Working in a rural area or smaller community will result in lower wages but may provide you with valuable experience that will benefit you later on. The longer you work in your field, the more skills you will learn. Many of them will not be taught in a classroom. It's up to you to take the initiative and accept these new challenges.
Paralegals who have worked in their field for over 20 years will have already proven themselves in many ways, especially if they have a specialization that offers them a unique set of skills. Even if they don't return to school to earn a degree, their earning potential will still be rather high due to their level of experience. Returning to school to earn a certificate will take less time and may give them the boost they need to earn the type of wages they want and deserve.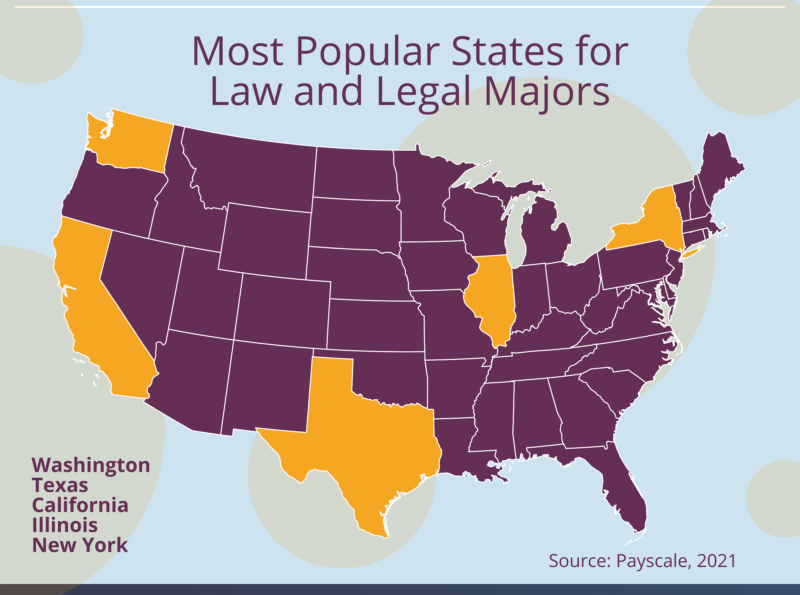 Professional Organizations
There are two primary professional organizations that individuals who have a degree in legal studies may find beneficial. They include:
NFPA – The National Federation of Paralegal Associates, Inc. works closely with the American Bar Association to ensure paralegals are able to achieve their goals. The NFPA also works to assist in the certification process for states that require their paralegals to be certified or licensed.
NALA – The National Association of Legal Assistants offers resources to legal assistants and paralegals across the country. The NALA also works to help maintain the highest quality standards when it comes to both education and licensing or certification requirements.
State Associations – Most states have their own independent paralegal associations that help paralegals maintain the highest possible standards. Each state has its own requirements on whether or not a paralegal needs to be certified or licensed.
Related Rankings:
25 Best Bachelor's in Legal Studies
15 Best Online Bachelor's in Legal Studies
10 Fastest Online Bachelor's in Legal Studies