Before entering college, prospective students may come across majors that may have not been previously on their radar. For instance, students could be interested in hospitality management as a career. Hospitality management teaches the professional to oversee administrative tasks within the tourism industry. Hospitality management degree holders could choose to pursue a high-level position at resorts, cruise lines, casinos, and hotels.
Before entering a college program for hospitality management, you may wonder what to do with a hospitality degree. Is a hospitality management degree worth it? Hospitality management degrees prepare students for all administrative tasks needed to run a hotel. Hospitality management professionals need to know the ins and outs of all areas within a resort. Different services are necessary to keep a resort up and running. Top ranking mangers at a hotel or resort are likely to be involved in confirming all departments are in line with meeting customer demands. Degree in hospitality jobs of the manager may include front desk, housekeeping, reservations, concierge, conference space management, event management, guest services, and onsite activities.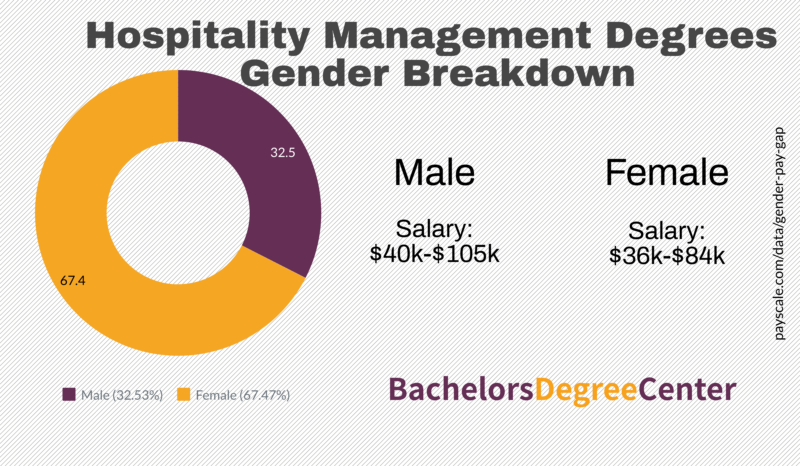 Is Hospitality Management a Good Career?
When pondering hospitality management as a career, applicants should review the skills needed for the position. Soft skills needed include good communicator, excellent task manager, leadership qualities, people person, pays close attention to detail, and superior time management. Technical skills are also an asset for those interested in hospitality management as a career. For instance, when running a hotel or resort, the manager may be involved with budgeting and financing. Moreover, he or she may also be responsible for handling the hotel's software programs that book reservations.
Although associate-level degrees for hospitality management are available, colleges do provide bachelor's degrees in the field. Bachelor degrees are preferential since employers confirm the applicants have studied the best practices for running hotels in-depth. Current hotel employees may also be enrolled in bachelor programs for hospitality management as a way to qualify for promotions. Due to the nature of the courses, many colleges permit select or all hospitality management courses be completed online.
Besides pursuing a hospitality management career, professionals often want to know what type of job titles are available. After degree conferment, the following are job opportunities to consider after finishing a hospitality management program:
Hotel manager
Resort manager
Event coordinator
Tourism marketing manager
Cruise ship director
Salary is a strong consideration when asking "Is a degree in hospitality management worth it?" It's not unusual to want a program that promises a high return on investment. According to the Bureau of Labor Statistics , lodging managers make an average of $53,390 per year.
Course offerings vary from school to school. Hospitality management programs are flexible with topics changing based on industry trends. Some subjects the degree track may cover are hotel management styles, guest satisfaction, resort budgeting, hospitality marketing, and revenue tracking.
Hospitality management is a specialized field and not all colleges offer bachelor degrees within their universities. However, since hospitality management as a career fulfills a niche, job competition is less fierce.
Accreditation for Hospitality Management Programs
The best hospitality management schools obtain proper accreditation. For a college to become accredited, both the school and hospitality management degree program must meet the accreditation board's stringent requirements. The board reviews the following before awarding accreditation: program curriculum, faculty credentials, and overall post-graduation outcomes. The best colleges for hospitality management have been accredited as a way to confirm industry standards are maintained. If the student requires financial aid for a bachelor program in hospitality management, regional accreditation is a must. Keep in mind there are national accreditation agencies for colleges with hospitality management degree programs. National accreditation may be acceptable for certificate programs that the student takes in conjunction with a bachelor's degree in hospitality management.
Another thing to keep in mind is regional accreditation confirms credits earned through the hospitality management program will more likely be accepted as transfer credits. This is an important consideration if the student plans to start earning credits at a community college before heading to a four-year university. The best hospitality management programs are flexible with transfer credits. The schools may also choose to apply any hotel work experience the student has to his or her degree credits. Within the United States, all states are assigned a specific regional accrediting agency. For instance, the Middle States Commission on Higher Education accredits the best hospitality management schools located in northeast states such as New York, New Jersey, and Delaware.
The best hospitality management programs are also accredited through industry-specific agencies. These governing bodies are solely responsible for reviewing hospitality management degrees to confirm legitimacy. The following are the top organizations that govern the best hospitality management schools.
ACPHA: The ACPHA stands for the Accreditation Commission for Programs in Hospitality Administration. To earn the organization's seal of approval, the best colleges for hospitality management must exceed educational standards. The programs within the field of hospitality administration must have clear objectives and a format that allows for these objectives to be achieved. The commission is made up of hospitality management educators and industry professionals. The organization accredits both international and national institutes.
CAHM: CAHM stands for the Commission for Accreditation of Hospitality Management. Originally, the CAHM only evaluated hospitality management degrees at the associate level or above. However, in 2008 the CAHM merged with the ACPHA to form one organization. Some associate's programs may still have CAHM accreditation, however.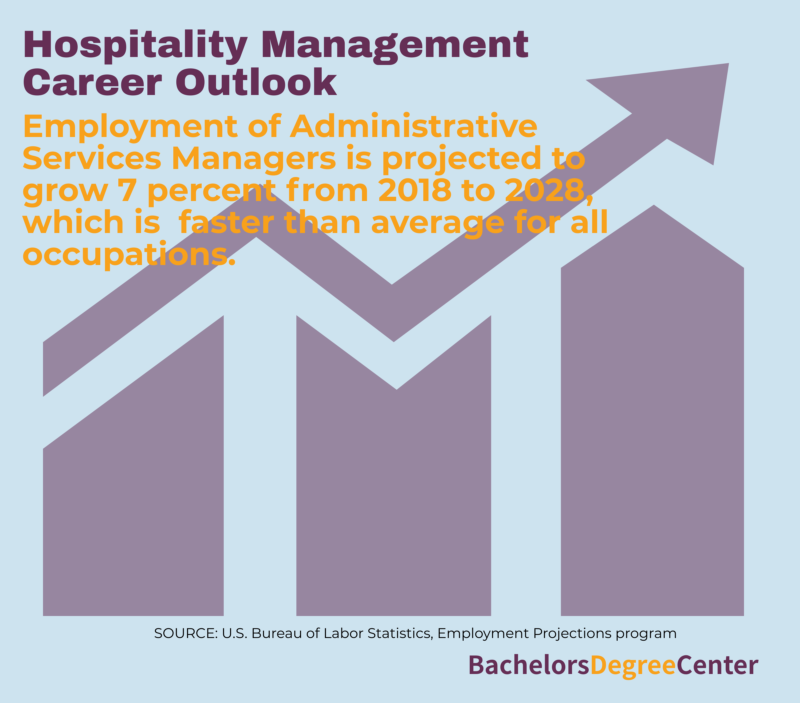 Types of Hospitality Management Degrees
Is hospitality management a good major? Hospitality management degrees are available at four-year universities. Although two-year degrees in hospitality management are provided at community colleges, a bachelor's degree expands the student's knowledge base. Traditional programs are available for hospitality management degree seekers. However, an online degree in hospitality management has become a popular choice. Online hospitality management degrees provide the opportunity to gain work experience while attending courses. Years of experience are important in the field. Many resorts, casinos, hotels, and cruise lines hire applicants with a blend of tourism experience and degrees in hospitality management.
Many colleges, both traditional and online, will have some type of hospitality degree available. Although hospitality management is the top choice in the industry, the degree may also be called hospitality administration, tourism management, or hotel management. Courses within these programs are usually similar. Degrees in hospitality management at the bachelor-level will require 120 credits for graduation. At a traditional university, the courses may take four years of full-time study. However, online hospitality management degrees often have an accelerated track available. An online hospitality management certificate and degree may only take one to two years of study to complete.
Courses within hospitality administration focus on the operations of hotels, resorts, and cruise ships. Example courses within a hospitality management major are Foundations of Hotel Management, Customer Service Principles, Tourism Delivery Systems, Revenue Management, Tourism Marketing Techniques, and Reservations Systems. For any type of bachelor degree program, the university will require general education courses too. A total of 120 credits is the minimum needed to graduate with a bachelor degree from an accredited college. Admissions requirements depend on the school. In the majority of cases, a college will look for candidates with a 2.75 GPA and a high school diploma. The college may also ask for SAT scores to be considered for the bachelor degree program. Professionals already in the hospitality industry may want to include work experience in their applications for the degree track.
Specializations are available within the field of hospitality management. Any type of specialization increases the value of the degree. Typically, specializations are not dual degree programs, but instead provide certificates in hospitality management. The following are typical certificates in tourism and hospitality management earned through a selected specialization:
Gaming management-This type of specialization is for those in hospitality management that want to work for a casino. The hospitality management online certificate for gaming operations would review gambling regulations and cash flow policies within a casino.
Event coordinator-Event coordinators are responsible for managing any type of meetings and conferences held at a resort. The event coordinator will work with vendors to plan a successful event.
Restaurant administration-For this specialization, the hospitality management certificate asserts that the professional is trained wo work as a restaurant or bar manager. Food safety and alcohol regulations would be two key topics covered in this type of certificate in tourism and hospitality management program.
Hospitality management consultant-For this program, the degree seeker is interested in consultant work. The consultant assists tourist companies with launching or improving operations.
Online hospitality management degrees are standard in the industry. Flexible scheduling options permit the professional to take courses in his or her free time. Since hospitality management is a profession within the tourism industry, remote learning is especially important. Degree seekers can continue to work for a hotel or resort while taking online courses to leverage their positions. Many online hospitality management degrees allow the individual to set the pace. If work commitments are minimal, the student may be able to earn the bachelor's degree in three years or less.
Part-time schedules for hospitality management degree programs may require he or she attends at least two courses per semester. Semesters for online degrees are often accelerated and may only last eight weeks. The pace is quick with course loads challenging. Online degrees are no longer less valued than traditional degrees. Most employers don't distinguish between an online and traditional hospitality management, but instead focus on courses taken within the accredited program.
Online degrees in hospitality administration have the same curriculum as traditional bachelor programs that take place on campus. Core courses may include classes that study business principles. Finance, marketing, and economics are all important topics within the field of hospitality management. In fact, instead of offering hospitality management as a major, select colleges have hospitality management as a specialization for those pursuing a Bachelor of Business Administration. Hospitality management bachelor degree holders may choose to eventually earn an MBA.
Certifications/Licenses for Hospitality Management
Earning a certification in hospitality management is extremely important in the field. Hospitality management certificate programs give the professional a chance to receive specialized training on key topics. In fact, once hired, employers often expect employees to continue taking hospitality management certification programs. The certification in hospitality management courses focus less on broad topics and instead hone in on a specific facet. For instance, hospitality management certification online could be offered on a new software program being used by tourism professionals. The following are the top hospitality Management certification programs:
Certified Hotel Administrator: The CHA program covers how to be a leader within a hotel setting. The certification is specifically for professionals already at the executive level within the hospitality industry. Only managers and assistant managers with two years of hotel experience can apply to take the CHA examination and become certified by the agency.
Certified Hospitality Educator: With the CHE , the individual is certified to teach hospitality courses and programs. The certified educator will learn how to use innovative techniques when students struggle to grasp key concepts. Bachelor degree holders who currently teach post-secondary hospitality courses are eligible for the CHE program.
Certified Hospitality Trainer: The CHT is considered the top certification open to those in the field of training hospitality executives. To qualify for the certification course and examination, a minimum of one-year corporate training experience is needed.
Destination Management Certified Professional: This program is intended to certify managers who have demonstrated best practices within their careers. Destination management competencies are confirmed through a multiple-choice examination. A minimum of three years of destination management experience is needed to qualify for certification.
Digital Event Strategist: The DES is the perfect certification for hospitality executives interested in digital strategies for event spaces. The course focuses on planning events that boost engagement through digital technologies. No prior experience is needed to enroll in the DES course. Certification is good for two years through the program.
Licensure is not required to work in most positions within hospitality management. However, certain career tracks may require licensure. For instance, some states require that bar managers obtain a special license. For instance, Washington DC has ABC license requirements for all bar managers. The ABC manager license is good for three years and certifies that the holder is legally able to serve alcoholic beverages. Before a license is given, the bar manager must complete a series of certification programs. The certification programs cover food and beverage handling regulations and alcohol awareness topics.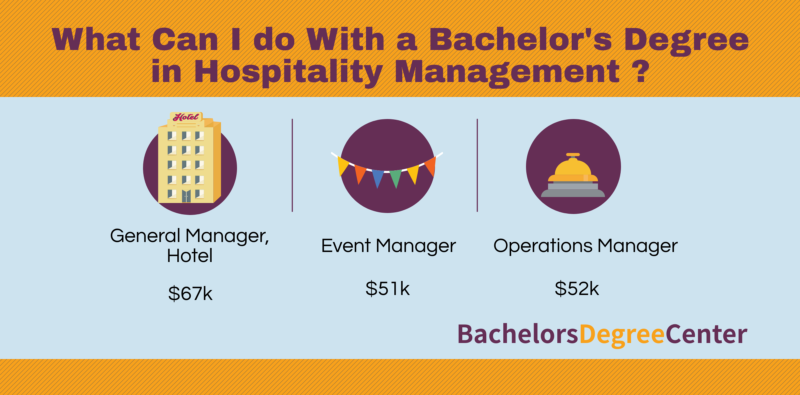 Careers in the Hospitality Industry: What Can You Do with a Degree in Hospitality?
So what can you do with a hospitality degree? Careers with a hospitality degree provide the opportunity for the professional to help a hotel or resort run day-to-day operations. Hospitality management jobs are normally found at hotels, but other tourism sectors hire hospitality management degree holders. With a degree in hospitality management jobs you can get are usually not entry-level positions. Hospitality major jobs are intended for those looking to secure career paths at the executive level.
So what does hospitality management do? Hospitality management degree jobs are open to those who also have some work experience. The hospitality industry is broad and professionals can leverage their applications by showcasing work experience at hotels, restaurants, bars, and resorts. Working in customer service and strong problem-solving and communication skills are also beneficial when seeking out careers with a hospitality degree.
The top jobs you can get with a hospitality degree include:
Hotel manager
Restaurant manager
Event coordinator
Tourism marketing manager
Cruise ship director
Travel Agent
General manager
Operations management
Public relations
Beverage management
Catering manager
Executive chef
Hospitality careers often require human resource management and business management skills. Hotel managers oversee the operations of a single hotel or chain of hotels. The hotel manager may be involved with scheduling, billing, reservations, payroll, event planning, special events, and more. The manager also handles any type of issues onsite too like guest complaints.
Restaurant managers are in charge of operations within a bar or restaurant. Managers will be in charge of human resources tasks such as scheduling and payroll. The manager may also be asked to handle all hiring and firing duties. Managers are often charged with reviewing inventory needs too to confirm the location is well-stocked.
Event coordinators can work on a freelance basis or be hired by a resort or wedding venue. Event coordinators are provided with a budget and must plan an appropriate event that falls within monetary constraints. Event coordinators handle contracts with vendors and logistics of any gatherings held on the property. The coordinator is expected to manage staffing needs too. For instance, the coordinator will ensure the appropriate amount of wait staff is on hand during the event.
Tourism marketing managers are responsible for advertising any type of hospitality business, from the hotel industry to real estate. The marketing manager will be in charge of creating and implementing campaigns to increase brand awareness. Marketing efforts can be both traditional and online. Tourism marketing managers must also have the capacity to advertise a company within budget terms.
A cruise ship director is considered the top executive position within a cruise ship. The cruise director is in charge of all hospitality tasks onboard. The cruise director needs to plan and execute different events as a way to increase guest satisfaction. Programming is developed by the cruise ship director with the goal of widespread appeal.
If you want to know "what can I do with a degree in hospitality management," the preceding is just a sampling of hospitality management degree jobs. Executive-level positions are available within different departments of a resort or cruise line. For instance, those interested in the business side of the hospitality industry may head up a hotel's finance department. Before going into a managerial position, the professional may also choose to work as a concierge for a hotel or cruise ship. Activity directors are another type of job that prepares the professional for a management position.
Salary for Hospitality Professionals
Salaries in hospitality management are dependent on the position secured upon graduation. Salary in hospitality management can vary dramatically based on factors like geography. As an example, a manager at a New York City hotel will have a much higher salary than those positioned at a small rural operation. Along with a competitive hospitality management salary, industry professionals have substantial perks. For instance, cruise ship directors are provided with the opportunity to travel around the world to exotic locations. Hotel and airfare discounts are also standard perks given to managers within the field. Hospitality management jobs salary packages will also typically include benefits such as health insurance, retirement plans, and life insurance policies. Job seekers should review any benefits and perks along with the base hospitality management salary before accepting positions.
Lodging managers typically make an average of $53,390 per year. Hotel managers are needed year-round and can have schedules around the clock since hotels are open 24/7. Hotel managers can find numerous positions in highly populated areas or places that are considered tourist destinations. In the United States, most jobs for hotel managers are found in California, Florida, and Texas. Top-paying states for hotel managers are the District of Columbia with an annual average of $116,600 and Hawaii with an average mean wage of $100,600. Top paying hospitality management salaries are found in the following cities: Honolulu, San Francisco, Reno, and New York.
Casino hosts make slightly more than lodging managers. Casino hosts use strategies to attract and keep high-profile gamblers. On average, a casino host will make more than $55,000 per year. Best paying cities for casino hosts include Reno, Las Vegas, and Atlantic City.
Event coordinators have the capacity to make a competitive salary in the hospitality industry. Coordinators manage large-scale events and are paid to make sure everything runs smoothly during the gatherings. Event planners make more than $50,000 per year, according to data collected by the Bureau of Labor Statistics .
Professional experience will have a strong impact on hospitality management salary figures. Large hotel corporations will seek out experienced managers to remain competitive within the industry. Salary packages for larger operations will typically be substantially more than a boutique hotel.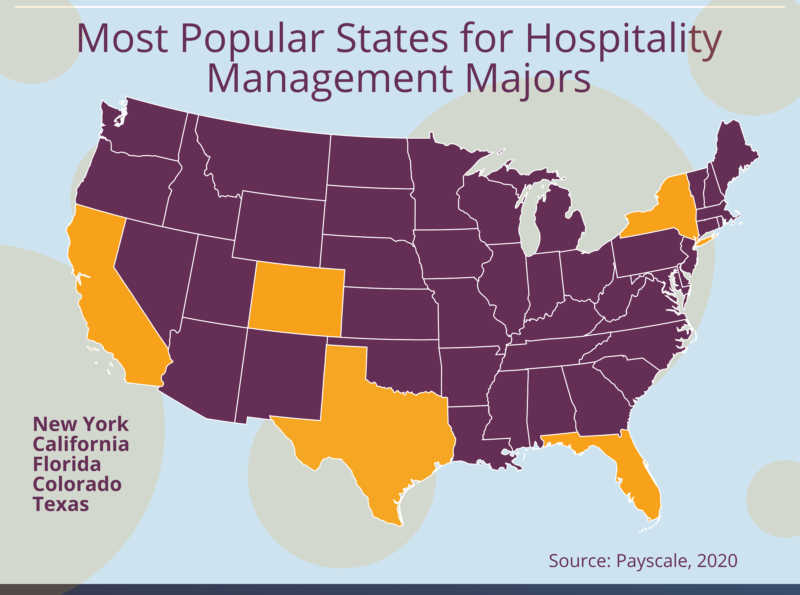 Professional Organizations in Hospitality and Tourism Management
Professional organizations are very important to workers in the hospitality field. Hospitality trends change at a dramatic pace. Top travel locales one year may go out of favor the next. Also, technological advancements affect current accommodations. Joining a professional organization allows the hospitality manager stay in tune with their guests' wants and needs. Another benefit of joining a professional society is that the manager gains access to networking events. By meeting others in the field, new career opportunities may open up. Also, professional organizations usually sponsor certification programs. These certification programs verify experience in the field. Hospitality management degree holders should consider the following organizations upon degree conferment.
American Hotel and Lodging Association
Corporate Event Marketing Association
Hospitality Sales and Marketing Association International
Related Rankings:
15 Best Online Bachelor's in Hospitality Management
10 Fastest Online Bachelor's in Hospitality Management