In today's world, an engineering bachelor's degree can take someone very far – it's one of the best investments in a bachelor's degree. Engineers build the world and how people interact with it in ways that go beyond what many people traditionally consider as the type of thing engineers do. That is to say, there is a lot more to engineering than building structures, although the building of things is definitely a large part of engineering as well.
So, what is engineering? What does an engineer do in general? What is the difference in engineering technology vs engineering? The answers to these and other questions concerning engineering as a career option have a lot to do with the type of engineering degree an applicant will want to pursue. In all cases, an engineering degree is certainly worth the effort it takes to obtain one.
Featured Schools
An engineer takes the theories and mathematics of the hard sciences and finds ways to use them to benefit society. The engineer uses the tools offered by science to solve economic problems or figure out ways to transform the theoretical into something useable, practical, or sellable. Engineers work in every sector and are just as important to commercial enterprises as they are to public ones.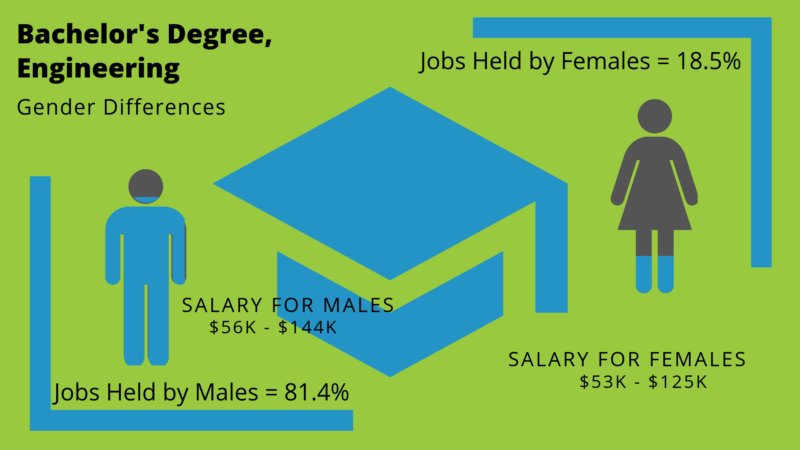 What Is an Engineering Bachelor's Degree? What Are the Different Types of Engineering?
Engineering is an incredibly broad category with many bachelor's specializations, which can sometimes lead to a little confusion regarding what exactly constitutes engineering. The first thing applicants should understand is the difference between engineering technology vs engineering.
An engineer and an engineering technologist can have some overlap, but they are two different categories and often have different degree requirements. One broad and very simplistic way to look at the two categories is to consider an engineer as the brain and an engineering technologist as the brawn.
Engineers use math and science to benefit society by solving practical problems. Engineers create advanced designs and systems; they forward the field with theories and figure out solutions to complicated problems. Although this can seem like a broad definition of the duties of an engineer, it answers the question of what does an engineer do in general. Engineer scientists also exist as part of this group.
Engineering technologists have the knowledge to design, build, and create practical solutions that bring the advanced designs of engineers to life. These people often manage the top-level aspects of projects and deal with the real-world practicalities that come with creating an engineering project.
A third group also exists, which are the vocational or specialized technicians. This group typically consists of those who have only obtained a two-year engineering degree. These people often work the service jobs necessary to install, troubleshoot, and repair systems.
Engineering degrees usually start at the technician level, move through the engineer technologist fields of stud, and end with a full engineer education. For example, students may start out learning about the various systems in place because of engineering and how they work, depending on the type of engineering field the student chooses.
From there, a student can choose the path of the engineering technologist where he or she may learn the more practical aspects of engineering and management, such as sales, production, manufacturing, operation, maintenance, etc. For those who want to obtain the engineer status, those studies will become more about research, complex design, analysis, and theory.
When choosing engineering as a career option, it can help if the applicant has a firm idea of what exactly they want to do in the engineering field. Many branches of engineering exist, and each branch will have subcategories as well. The main engineering branches include:
Chemical engineering
Civil engineering
Electrical engineering
Mechanical engineering
Where these branches cross, there is also interdisciplinary engineering. The best engineering degrees to get are those the applicant feels they have the most affinity with. The world needs engineers of all types and at all times, so applicants should not fear their degree is tied to a dead or dying discipline.
Complex computer systems are constantly undergoing new designs and new ways to maintain them. Construction always requires new techniques and ways to build things in different climates and in different environments. So, when considering the best engineering degrees to get, applicants should always consider those they feel they will receive the most rewarding experience from.
How Do I Find the Best Engineering Schools and Programs? What Kind of Accreditation Should an Engineering Program Have?
For those looking for the best engineering undergraduate schools in the world, the search starts by looking at the accreditation status of a school or program. As with most facilities and programs that offer undergraduate degrees, applicants must make sure that they stick to those schools and programs that have current accreditation from the right accrediting groups. For colleges and universities, a good place to start is with regional accreditation.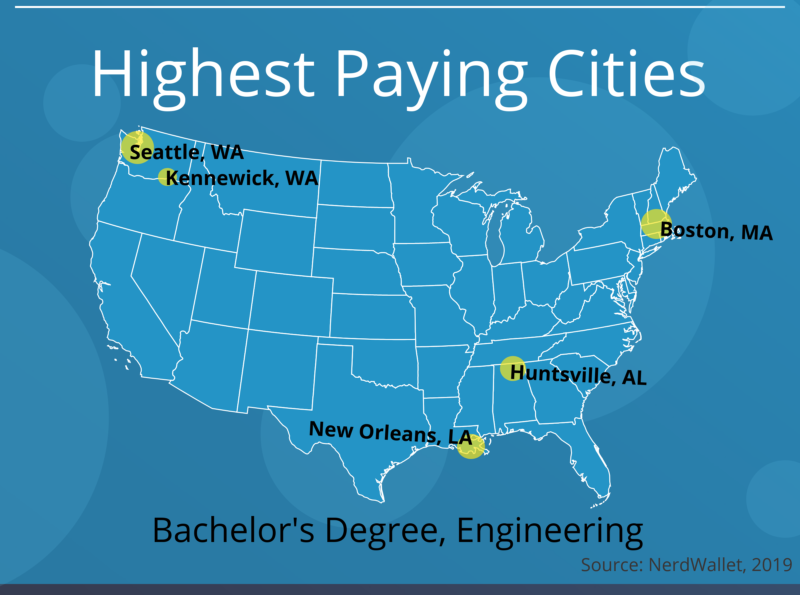 Regional accreditation means a school, college, or university has voluntarily applied for their accreditation status from one of the seven regional accrediting agencies. These agencies form the Council of Regional Accrediting Commissions. They set educational standards with the full approval of the US Dept. of Education and Council for Higher Education Accreditation.
Regional accreditation is the most widely known and popular form of accreditation when it comes to institutes of higher learning. In some cases, this accreditation status can make the difference between having the ability to transfer credits between schools or not.
As the most well-known schools, colleges, and universities have regional accreditation, they are more prone to accept credits from other regionally accredited facilities. One caveat to regional accreditation is that it typically applies to the institution as a whole – it is not specific to individual programs.
A school may meet or exceed all standards, but that does not mean the individual tracks or programs within the institution fully meet the requirements of their respective industries. This is an extremely important consideration for those who choose the engineering field. Because of this, applicants must also look for specialized engineering school accreditation.
Specialized or programmatic accreditation typically comes from accrediting groups more directly related to a specific industry or field. Sometimes, the accrediting body sets standards that practically the entire industry adheres to. For example, engineering school accreditation in the United States and even internationally comes mainly from the Accreditation Board for Engineering and Technology, Inc. (ABET).
Is ABET accreditation important? Does ABET accreditation matter? ABET accreditation is incredibly important. In large swathes of the engineering field, ABET accreditation requirements take center stage.
An engineer will almost certainly need an ABET-accredited diploma or an ABET-accredited online degree. This applies to engineers of practically every type as well as to engineering technologists. Even the vocational or specialized technicians may need to show an ABET-accredited degree in some cases.
If the question is ABET accreditation important ever crosses an applicant's mind, they should know the answer is yes. Of course, it is possible to get into the field and advance without an ABET-accredited engineering degree, but applicants would do themselves a heavy disservice by not seeking an engineering school or program that has not met ABET accreditation requirements.
Types of Engineering Bachelor's Degrees
Because engineering is such a broad field with a tremendous amount of specializations, there are also various types of engineering bachelor's degrees. The best undergraduate engineering schools will likely offer programs that allow students to choose an engineering path that works best for their goals. The two main types of engineering bachelor's degrees are the Bachelor of Engineering Technology and the Bachelor of Science in Engineering. Often, the two will come down to a case of Bachelor of Engineering vs Bachelor of Science. Each of these degree types can come with a concentration in a particular field. The requirements for an engineering degree will also have variations between these two degree types.
Bachelor of Engineering vs Bachelor of Science
The main difference between the two degree types comes down to curriculum. The Bachelor of Science has a more pronounced leaning towards theory while the Bachelor of Engineering will focus more on application. A huge amount of crossover exists between the two types of degrees, so applicants should not worry they might not receive a full and well-rounded education in either case.
Some examples of what a student will learn in a Bachelor of Science program include:
Advanced analysis of engineered solutions
Applying engineering theories to new engineering challenges and techniques
Larger scale design fundamentals, such as for infrastructure
Some examples of what a student will learn in a Bachelor of Engineering Technology program include:
Manufacturing and development techniques for commercially viable engineering designs
Research skills with a focus on new and emerging technologies
Practical use of and dissemination of engineered designs for immediate projects
Basically, the two degree types mark the difference between engineers and engineer technologists. The best undergraduate engineering schools typical have paths for both types of degrees and similar requirements for engineering degree types.
Since the curriculums have so much overlap, students will have to put some extra thought into which direction they want to go in. However, requirements for engineering degree applicants are not just the main concern. When speaking of types of bachelor's degrees in engineering and college classes for engineering, it is important to speak of the different disciplines or specializations.
Engineering covers a wide array of specialties, and not all schools will offer all types of college classes for engineering. For example, a bachelor's degree in engineering at the most affordable engineering schools does not always include every engineering discipline for an applicant to choose from. In fact, applicants who have a firm idea of what type of engineering discipline they want to pursue should look for the most affordable engineering schools that have a history of dealing with the particular specialization they are looking for. Agricultural engineering and audio engineering are wildly different things, even though they both fall under the engineering umbrella. Applicants can earn a bachelor's degree in engineering in:
Aerospace engineering
Automotive engineering
Civil engineering
Computer engineering
Electrical engineering
Mechanical engineering
Software engineering
Biomedical engineering
engineering management
systems engineering
environmental engineering
industrial engineering
health care engineering
Engineering majors will need to study coursework like thermodynamics, materials science, applied science, and computer science, as well as soft skills like problem solving and project management.
The list goes on and on. Basically, if someone can use math and science to build something of any sort, be it a sound recording or a skyscraper, there is a category of engineering to go with it. In addition, the engineering bachelor degree requirements may vary widely depending on the type of specialized engineering degree an applicant chooses.
Can You Get an Engineering Degree Online?
If you wonder can you get an engineering degree online, the answer is a definite yes. Obtaining a bachelor's in mechanical engineering online or procuring an online mechanical engineering bachelor degree works the same way as obtaining an engineering degree at a college or university. In fact, online degree programs have many advantages for working adults.
Applicants must choose an engineering technology degree online with a good reputation, a curriculum that fits their goals, and accreditation. The most affordable online engineering degrees are directly comparable to the most affordable degree programs at any college or university.
However, an engineering technology degree online, online mechanical engineering bachelor degree or any other type of engineering degree online may have some limitations. For example, some engineering curriculums require more hands-on education than others, such as aerospace engineering. The opposite is true of other types of engineering technology degree online options, such as computer engineering.
In addition to traditional online degree options, accelerated engineering programs also exist. Accelerated engineering degree programs can typically help applicants compress some of the bachelor's curriculum into as little as two years. Nevertheless, those who seek an accelerated engineering degree online must make sure they are prepared to put in the extra effort that comes with such accelerated engineering programs.
What Types of Careers are There in Engineering?
Numerous types of engineering careers exist. Non-traditional engineering jobs and careers are out there as well. Students of engineering can apply their knowledge of the inner workings of complex systems to a number of different things, so there is always something for those who want to know what to do with engineering degree knowledge. Still, the traditional types of engineering careers offer a lot of options on their own and even non-traditional engineering jobs can show up as subcategories of the traditional ones.
Some of the more currently popular types of engineering careers can include:
Aerospace engineering – Air and space travel
Chemical engineering – Foods, pharmaceuticals, etc.
Civil engineering – Infrastructure design
Electrical engineering – Electrical design and technology
Mechanical engineering – Machine design
Petroleum engineering – Working with oils and plastics
These engineering career fields are only a tiny part of the industry. However, these are some of the most popular fields in modern times.
Is mechanical engineering a good career? Is mechanical engineering a good idea for all engineering students? As mechanical engineering technology jobs increase, the urge to go directly for that particular specialty may grow, but these jobs are comparable to the other popular engineering specialties as far as how good they are as a career choice.
Understand that each of these fields come with several subcategories of engineering. Applicants looking for the highest paid engineering field or the best engineering degrees for jobs will likely find it in one of these career specialties.
Engineering job requirements will depend on the type of specialty involved. Applicants may have to seek further training, education, and certification to enter some fields or to meet engineering job requirements. This can be true even with engineering technology degree jobs that do not outright state other engineering job requirements may become necessary.
Nevertheless, the question of what to do with engineering degree credentials does not just start and end with the traditional engineering fields. The highest-paid engineering field for one person may not offer another person enough to achieve their goals. For example, a lot of entrepreneurial opportunities exist for those who want to know what can you do with an engineering degree besides engineering.
A passion for engineering can lead down a number of paths, and a passion for other things can give someone a reason to apply their engineering expertise to a given subject. Engineering technology degree jobs are not the only thing available to an engineering technologist.
To make the most of your career opportunities, the Bureau of Labor Statistics suggests getting a master's degree, although internships are a great way in the door as well. An online bachelor degree can set the stage and cover prerequisites for graduate study with higher-level engineering courses. Some careers, like electronics engineers, may also require licensure.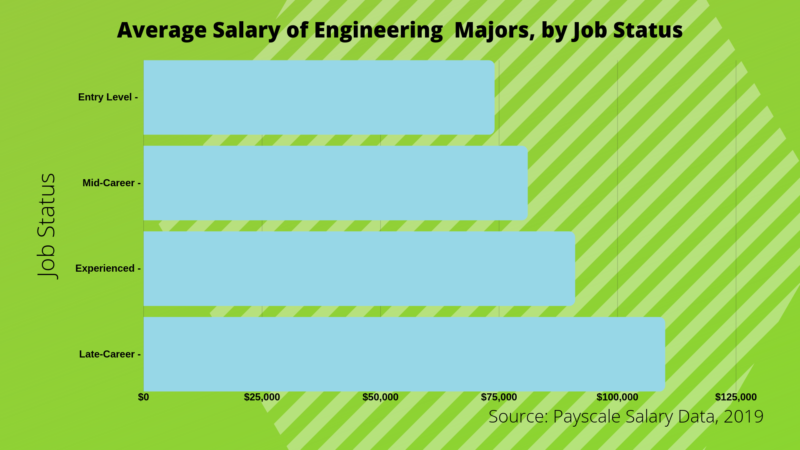 What Kind of Salary Comes with an Engineering Bachelor's Degree?
Engineering salary varies widely and depends heavily on different factors. Some of the most obvious factors that determine salary has to do with location, demand, and the engineering specialty in question. Experience also plays a large role in engineering salary expectations.
The types of engineering and salary also sometimes go together. For this reason, looking at specific types of engineering and salaries associated with those specific types of engineering is important. Many people may want to start by knowing the highest paying engineering jobs or which engineering has the highest salary possibilities.
Indeed lists a generic engineer salary average of approximately $86k. However, engineers of the same experience can see up to and over $100k if they work for some key companies. According to PayScale, the average mechanical engineering salary is around $70k
Average electrical engineering technology salary, according to the BLS, is approximately $100k while the average computer engineering technology salary has median salaries ranging from $93k to $114k depending on the type of computer engineering technology salary involved.
When it comes to the highest paying engineering jobs and which engineering has highest salary potential currently, the petroleum engineer comes with an average salary of $156k. Understand these numbers aren't always a good indicator of what an applicant can make in their particular location with their particular specialty.
Electrical engineering technology salary can rise if the applicant seeks a career where that type of engineering is in high demand. This also all applies when comparing things like engineering technology salary vs engineering salary. Engineering technology degree salary is comparable to engineering salary in general and comes with all the same variables.
Professional Organizations in Engineering
Engineering is a broad field full of specialists, experts, and people who play a role in planning whole societies. It makes sense there is a plethora of professional engineering organizations out there. Professional organizations for engineers exist at the local, state, national, and international levels.
Joining a professional organization comes with tremendous benefits such as access to jobs, continuing education opportunities, access to materials and information not found elsewhere, and various other things. Maybe most importantly, professional organizations offer networking opportunities.
As these groups tend to consist of those in the field who move things forward, it is always a good idea to join an organization, participate, and meet members. As there are so many of these professional organizations for engineers, applicants should narrow their choices down by seeking groups that consist of those who practice the same specialty or subspecialty of engineering.
In addition, engineering organizations also exist for people of particular designations. For example, there is the Society of Women Engineers, the National Society of Black Engineers, and other such groups. Many schools also have engineering groups, so students do not have to wait until they graduate to join an association. Students can start building connections, networking, and expanding their understanding of their chosen field while they are still learning.
ABET itself, consists of various organizations which are professional engineering societies and groups in their own right. Many places offer lists of engineering groups.
The Future of Engineering
Engineering is one of those fields that will exist forever. For applicants looking towards the future or those who want to know which engineering branch is best for future endeavors, or the best engineering jobs for the future, all they have to do is look at the world around them.
Electronics, AI, robotics, and computer technology are all creating interdisciplinary engineering opportunities. Private, commercial enterprises are actively making efforts to do more in the realm in space. Companies are trying to figure out how things like self-driving car technology can work with current infrastructure even as governments are trying to figure out how to get the infrastructure in line with current technology.
For an applicant looking for which engineering branch is best for future growth, there is no one answer. The best engineering jobs for the future will encompass practically every type of engineering discipline.
Related Rankings:
25 Best Bachelor's in Engineering Degree Programs
15 Best Online Engineering Degree Bachelor's Programs
10 Fastest Online Engineering Degree Bachelor's Programs
10 Most Affordable Online Engineering Degree Bachelor Programs