Students who choose digital communications often have fun, creative personalities. Many can either write content or have a flair for optimizing content to maximize its appeal to shoppers and online surfers. In this article, you will learn what digital communications is and why it's important. Prospective students can also learn about online degrees, certifications and licenses that are valuable for those who want to work in this field.
We will cover the following topics in this section:
What is digital communications?
What is the definition of digital communication?
Why is digital communication important?
What is Digital Communications?
Digital communications connects people with branding online. Before the digital revolution, professionals used TV, print media, billboards and radio to advertise their brand. Those channels are still important but email, social networks and blogs have gained precedence as ways to connect to prospective customers.
Individuals who work in digital communications design, implement and manage digital advertising and marketing for their clients or employers.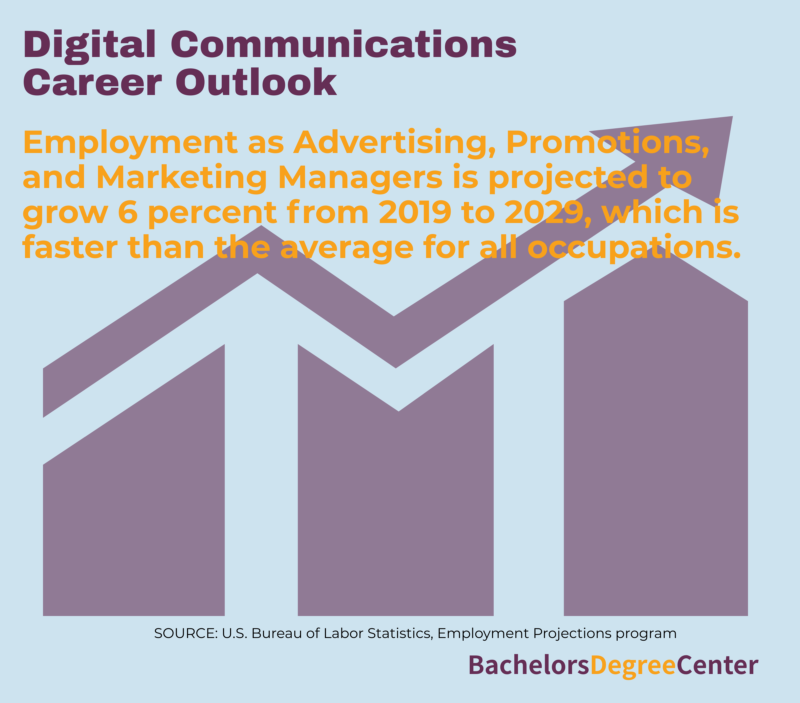 Why is Digital Communication Important?
One reason why digital communication is important is for businesses launching campaigns to build their brand. Businesses create brand images for anything from launching a start-up company to the rebranding of a legacy company moving in a new direction.
Another reason why digital communication is important is to generate awareness. Companies cast their nets on the digital sea hoping to draw attention to their products, values and services.
Digital communication professionals design and implement online campaigns designed to increase conversion. Conversion describes the process which inspires customers to move through different stages of the marketing funnel. At the top of the funnel, the customer first hears about the company, product or service. At the bottom of the funnel, they (hopefully) convert from prospects to buying customers.
At its core, digital communications is about customer service. Community managers try to solve issues and answer questions so that customers can see that they are going the extra mile. A solid digital presence can help companies manage risk by conducting damage control when something goes wrong. For example, a customer may leave a bad review about their experience with a product or service. Digital managers can try to improve the situation by offering a discount or free products.
Marketers sometimes create funny videos or content designed to entertain prospective customers. Other times, advertising and content focus on customer education such as how their product can address pain points and improve the shopper's life.
Accreditation for Digital Communications
When considering digital communications programs at online and traditional colleges and universities, students should ensure that the schools they are looking at have the appropriate accreditation. Although there are national boards, regional accrediting bodies hold sway over colleges based in geographical areas.
The US Department of Education recognizes agencies that evaluate colleges and universities and determine whether they have the academic rigor demanded of top-quality schools and universities. They also consider other aspects that create effective learning environments.
Choosing a school with appropriate accreditation status enables students to get financial aid and transfer credits if they decide to switch schools. Without national or regional accreditation, courses taken at a college or university are not recognized by accredited schools or prospective employers.
The regional commissions represent the oldest accrediting agencies and the United States. There are six different geographical areas: Middle States, New England, Southern, North Central, Northwest and Western. Additionally, there are seven commissions that review institutions to approve or oppose their application for accreditation.
There are nearly 120 schools that have received ACEJMC accreditation. The Accrediting Council on Education in Journalism and Mass Communications evaluates schools tha offer programs in digital communications and related fields. When the ACEJMC accredits a school, it denotes that the school has meant the rigorous standards of other academic institutions assessed by the organization.
Both online and traditional schools and universities publish their accreditation status on their websites. Students can also visit the US Department of Education website, which has a database where students can check whether a school has been accredited.
ACEJMC does not provide ratings or rank colleges and universities. It also does not provide accreditation status for doctoral programs. The organization re-evaluates schools and universities every six years. This provides a continual feedback process that ensures accredited schools meet updated standards set by ACEJMC.
After considering the accreditation status of online or traditional colleges and universities, students should next evaluate whether each school has courses that align with the student's career goals. There are numerous specializations available in digital communications, so it's important to choose whether to pursue a certification or a four-year degree.
Types of Digital Communications Degrees
These days, more and more students are choosing online digital communications degree programs. Getting a bachelor's degree opens doors for students who want to pursue postgraduate education or obtain a job in their field. Many graduates go on to find fulfilling jobs as journalists, social media experts and professional writers. There's also room for advertisers and public relations specialist in this diverse field.
Earning an online communication degree has a number of strategic benefits for students who do not desire or are not able to attend classes in person. For example, students who already have jobs but want to switch careers can take advantage of online classes and complete their studies at nights and on weekends. Additionally, some students live in remote areas where it's not easy to attend classes in person. Other students may have family obligations as caregivers or parents and prefer to fit their studies around their other responsibilities.
Whether students want to work in journalism social media or traditional print formats, there are tons of opportunities opening up all the time in this field. There are also many transferable skills for students who go on to study law, education and related fields. Taking a degree online can save students time and money and give them more time to strategize their future career goals.
As they complete their digital communications degree, students gain confidence and the knowledge necessary to become successful professionals in digital communication roles. Many courses include hands-on practice with technology. Additionally, many faculty members are working professionals who can give students relevant input into working in digital communications.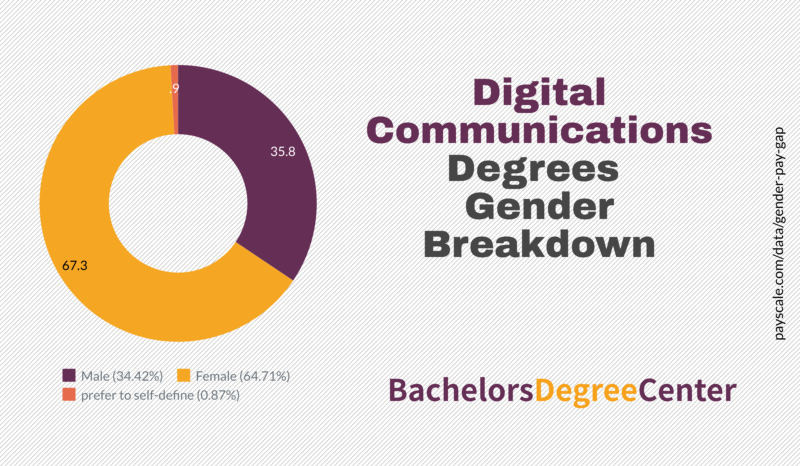 With an online digital communications degree, students master the following skills:
Oral, visual and written communication skills
Analysis and troubleshooting skills
Leadership and managerial skills
Creative thinking
Most online digital communication programs also offer concentrations that allow students to carefully tailor their education. This provides it incredible opportunity to gain a broad skill set while focusing on specific career goals. While many students begin working after finishing their bachelor's degree, others immediately begin applying for masters-level programs.
A digital media and communications degree helps students polished their professional writing, advertising and broadcasting skills. Many programs also feature public relations as a core part of their courses. Other core courses for a digital communications major may include digital marketing, web development, and content creation. Your coursework may also include electives and a capstone project.
So, what do career opportunities at this field look like? Many graduates go on to hold the following roles:
Account executive. This role combines business expertise with knowledge of digital communications. Account executives act as go-betweens for clients and agency team members. They provide feedback and make decisions on how best to accomplish the client's objectives.
Copywriter. Copywriter's right compelling copy that educates readers about services and products and how they can benefit potential customers. As part of a digital communications degree, students learn how to write highly effective copy in a number of styles and formats.
Journalist. Many television shows and movies glamorize the role of journalists. In reality, although covering the news has its share of excitement, it also involves a lot of hard work and research. With so many conflicting sources of information, readers often appreciate online news and information sources that carefully curate precise, accurate, and interesting content. Students who want to monetize a podcast or become a reporter for a news outlet can benefit from an online digital communications degree.
Social media specialist. A degree in digital communications can also lead to a career as a social media specialist. These digital communication experts draft messages for social media platforms visited by their target audiences. A degree in digital communications includes brand awareness and teaches students how to build relationships with customers online.
Other career options include becoming multimedia developers and managers.
Digital communication relies heavily on technology and those hoping to succeed in this field should become familiar with a number of online tools. from artistic productions to graphic design to entertainment, the sky is the limit for capable, hardworking digital communications professionals.
The foundation of digital communication starts with the basic building blocks of the online world, computer programming. Not all digital communicators have highly technical rules. However, it's important to understand the technology behind teleprocessing, digital photography, graphic design and video production.
Additionally, students will learn about the laws and regulations that govern digital communication. With cybersecurity and ethics constantly headlining news reports, there's a lot of ground to cover for those who want to get a comprehensive background in online communications.
The good news is that multimedia is rapidly expanding. from interactive museum exhibits to video installations at the mall, digital communication can be found almost everywhere. There are even multimedia events on social media that Facebook friends can attend "together." For students who like constant change, digital communications may prove to be the ideal career choice. There's always something new and exciting evolving and technology constantly pushes the bounds of possibilities and changes the standards of service.
With a digital communications degree, students gain access to the most recent technology and get hands-on experience with helpful analysis and research tools. A bachelor of digital communications challenges students to keep up with the latest technologies and debates. Digital media careers also put graduates at the forefront of new trends and influences.
A degree in digital communications can also focus on media studies. Media studies offer a more practical approach that focuses on the moral, historical and political effects of digital communication. For example, media studies include practical skills such as copywriting and video production. However, students with this specialization may also explore the influence of gender or race on political and cultural environments.
Communication studies is another specialization where students look beyond the media domain. This focus allows students to explore the world of human communication and how it influences marketing, journalism and entertainment.
What Are the Requirements of Digital Communications Degrees?
Students who study digital communication come from numerous academic backgrounds. However, you may be required to do a video interview and submit an essay to show your motivation and related writing and presentation skills. Working on these skills can help students prepare for online and traditional media and communications programs.
For programs that emphasize journalistic writing or copywriting, students may also have to submit a language test and writing samples.
Assessment Methods
Courses in digital communication often use seminars, lectures and other formats. Some programs can be taken completely online while others require class attendance. Students should carefully assess the learning format that works best for their lifestyle prior to enrolling in a digital communications degree.
Assessments occur in the form of written assignments and online or in-person exams, depending on the digital communications degree chosen by each student. With a bachelor of digital communications, students learn skills that can transfer into many other fields. A digital media and communications degree helps successful students attain entry or mid-level positions in digital media agencies, government departments and corporations.
Certifications/Licenses in Digital Communications
Students who already have a bachelor's degree may decide to get a certificate in digital communications. This provides continuing education opportunities for professionals already working as journalists, advertisers, public relations experts or digital technology professionals. Certificate programs vary greatly but typically require at least six courses.
Students study how digital technology affects communication with target audiences. Legal and ethical considerations often play a role in certification courses. Students with artistic or writing skills may focus on copywriting or content strategy in their search for an appropriate digital communications certificate program.
Some digital communications certificate online programs focus on senior-level communications professionals or open the doors to anyone seeking the skills needed for corporate digital communications jobs.
Students who already have jobs as marketing professionals or who have worked in communication for more than five years might want to focus on managerial digital communication certificates.
With a digital communications certificate, participants will know how to apply digital strategies across different channels in order to produce strong brand management results. They learn how to analyze personas and figure out how to market products and services that appeal to their target audiences. Students who successfully finished digital communications certificates can successfully take on roles managing social media and online content that builds synergy with there are various products.
A digital communications certificate online allows working students to juggle their education without giving up their income or careers. Mid-career professionals often seek out digital communications certificates to update their skills and remain relevant in the market. Others decide to pursue a bachelor's or master's degree that can help them achieve their career goals.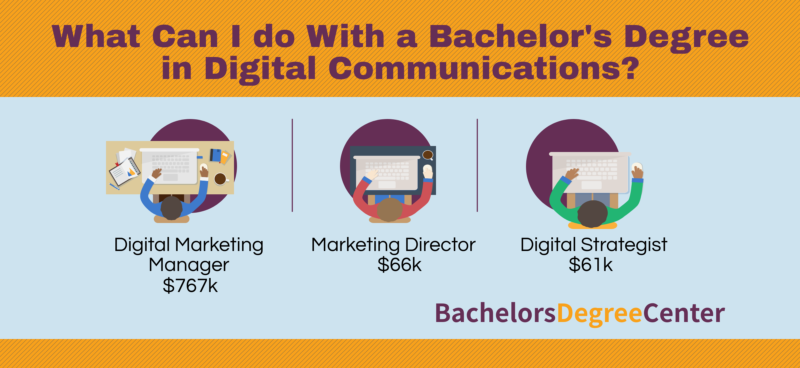 Careers in Digital Communications
A digital communications manager job description looks a lot different from entry-level digital communications jobs. In fact, careers in digital communications include a vast array of industries and opportunities, including wireless communications, media arts, online marketing, video editing, web design, product design, and art direction, among many, many other opportunities in the digital arena.
Surfing through the Bureau of Labor Statistics and other resources reveals hundreds of job titles in this area of expertise. So, how can students choose the role that's right for them? Many students choose programs that offer internships that can give them hands-on experience with experts in their field. Internships offer an excellent opportunity to try on a role before committing to a career path.
Some job titles include:
Transmedia Specialist
Social Media Coordinator
Mobile Journalists
Social Media Manager
Digital Specialist
Media Content Creator
Advertising Specialist
New Media Storyteller
Other in-demand careers in digital communication and media arts include the motion picture and video production industry. Advertisers, public relations firms and website designers are always looking for new talent to create content and deliver an amazing customer experience.
A digital communications job description for local governments might seem like an unusual twist. However, local government officials often partner with media outlets to put out information about government programs and public service announcements. Telecommunication companies often employ copywriters and marketers to attract customers and write compelling copy for blogs and websites.
Students who have an artistic bent can use their skills to become animators and multimedia artists. Other jobs in digital communications require a master's or doctoral degree. These graduates may go on to teach at professional schools, colleges and universities. There are many radio and television personalities who started out their careers as digital media students.
Digital media communications jobs are diverse and exciting and graduates may find themselves drifting into specific areas that appeal to their natural talents. For example, students who write well might start off as copywriters and later develop lucrative digital communications careers as media strategists.
Careers in digital communications often focus on social media. Creating social media content is important for brand building and communicating with potential customers and clients. This role includes creating video clips and ensuring that a company's media platforms remain up to date with timely information.
A digital communications professional may focus on website design and maintenance. Keeping websites accurate and relevant is a full-time job. A digital communications specialist job description sometimes focuses on sourcing original content for websites.
Some digital communication jobs involve managing email marketing campaigns. These professionals create email campaigns that may include event invitations, newsletters and customer retention efforts.
Other jobs in digital communications involve analyzing marketing campaigns and preparing reports and publications indicating the return on investment of various approaches. Digital media communications jobs can also provide production support or event planning for physical or virtual events.
A digital communications manager job description may vary depending on the industry and company posting the position. However, those wishing to attain a leadership role in their digital communication careers may want to take business and management courses as well as digital communications courses.
Digital communications careers are fun, dynamic and can lead to satisfying careers in digital communications. As a digital communications professional, graduates can choose hey career path and align with employers they can help them continue their professional journey. Whether applying for a digital communications specialist job description or a digital communications job description, having a degree from a reputable accredited college or university can give students the right start to their career.
Digital Communications Salary
Of course, an entry-level digital communications specialist salary varies greatly from an experienced digital communications manager salary. However, there are many lucrative positions available in this industry.
According to Ziprecruiter, the average salary for a digital communication manager is about $61,000 per annum. That equates to $29 per hour or just over $5,000 per month. The full range for this position goes from $39,000 for smaller markets to over $127,000 for experienced managers.
The digital communications' salary for different positions varies depending on the employer, location, experience and education of the job applicant.
A digital communications coordinator salary ranges from as low as $22,000 to as high as $88,000. The majority of digital communications coordinators make between $40,000 and $67,000. Top earners make over $73,000 in the US.
A digital communications strategist salary average is $75,000 but typically falls between $67,000 to $82,000. Education, skills, certifications and years of experience usually drive digital media communications salary ranges. As you can see, digital communications jobs salary ranges vary great. However, with experience, salary typically increases dramatically.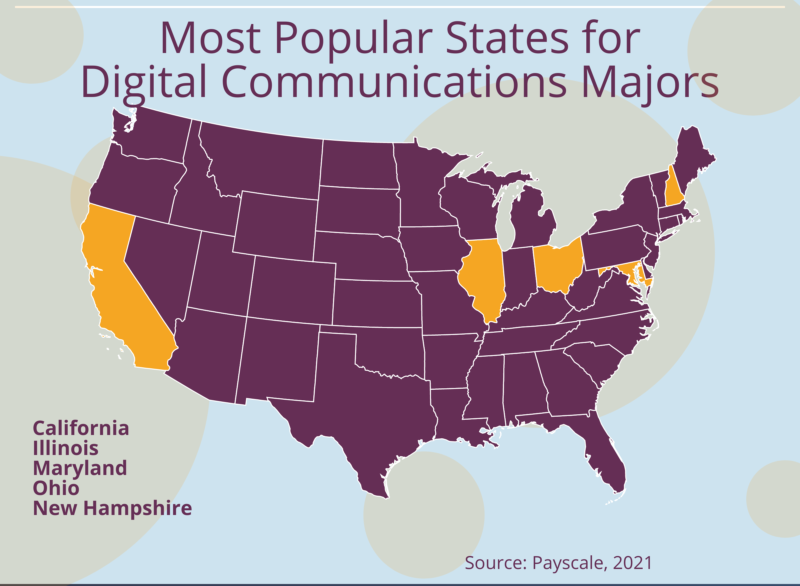 Professional Organizations in Digital Communications
Professional organizations offer networking opportunities for new graduates and often have continuing education credits that enhance the resumes of graduates and professionals alike. Professional organizations for digital communications graduates include the following:
American Communication Association
Association for Women in Communications
International Association of Business Communicators
Students should explore professional organizations that can enhance their career paths.
Related Rankings:
25 Best Bachelor's in Digital Communications
15 Best Online Bachelor's in Digital Communications