Addiction and substance abuse counseling is a rewarding career for individuals who have dealt with or know someone who has dealt with the ugliness of addiction. This type of career will provide you with the tools you will need to help those who suffer from addiction and the support they need to work their way through a very difficult time. With the right type of online addiction or substance abuse counseling degree program, you will learn the skills you need to make a difference in the lives of those suffering from addiction or substance abuse.
With the right online Bachelor's in substance abuse or addiction counseling, you can work in almost any type of environment ranging from inpatient/outpatient facilities to halfway houses that help individuals transition back into normal life. Your degree will give you the skills and knowledge you need to assist those suffering from addiction find their path back to sobriety. It is a challenging path that may be difficult at times. With your help, they will be able to get back on track.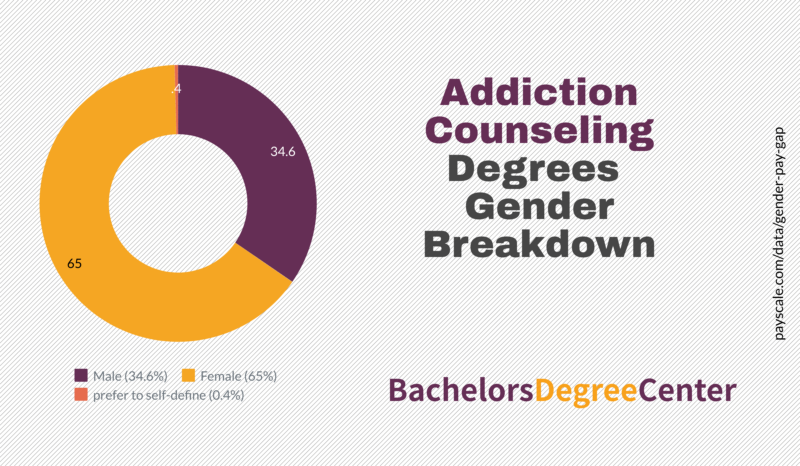 How to Get a Degree in Addiction Counseling
The first step in getting an online Bachelor's degree in Addiction Counseling is making the choice to go back to school and work towards earning your diploma. Once you have determined what degree program you are going to enroll in, you need to find a school that offers what you are looking for in terms of courses, resources, and scholarship programs. If you are interested in an online platform, you will have to include that in your research criteria. Online programs allow you the freedom and flexibility you need to move forward with your education while still working a full-time job.
Once you have enrolled in your chosen online Bachelor's degree program, you must commit yourself to learn as much as you possibly can. This ensures that you will have all of the skills and abilities you will need when it comes time to help others get their lives back on track. It will be easier for some than it will be for others. It's up to you to help them face and overcome those challenges. With an online format, you will be able to find work at facilities that treat substance abuse and addiction. Gaining experience while you are still in school will help you move forward after you graduate.
Should I Get a Degree in Substance Abuse Counseling?
Getting a Bachelor's degree in Substance Abuse Counseling is a very personal decision. No one can make the decision for you. Most people choose this type of work because they have watched a close friend or family member struggle with addiction or substance abuse. It is not an easy thing to watch. The struggle can be heartbreaking and may lead to mental health concerns or a dual diagnosis that may have gone unnoticed if they hadn't chosen to seek treatment.
If you truly want to make a powerful difference in the lives of those who are recovering from addiction and substance abuse, then earning a degree in that field is the right choice. Learning how to properly guide and nurture someone along their sobriety journey takes both skill and patience. Working toward this type of degree can lead to a variety of challenges and obstacles that will make you take a closer look at your own life. This will give you a unique insight that you can use to help others. Being able to see things from a different point of view is the best way to help others find a new solution to their own obstacles and challenges.
What Is Accreditation?
Accreditation is the benchmark that colleges and universities strive to reach in terms of both quality degree programs and teaching techniques and resources. Accreditation is not a one-time award. Once it has been earned, either regionally or specialization, it must be renewed on a regular basis. The length of time between organizations will vary. After initial accreditation, the process must be renewed again after three years. After the first successful renewal, the process must be completed every five years thereafter. Maintaining accreditation is important if the university wants to maintain the support that is associated with its funding and other financial resources.
What Is Regional Accreditation?
Regional accreditation involves verifying the standards and protocols of the school itself. The school must perform a self-evaluation and provide proof that they are meeting or exceeding the standards held by the national accrediting organizations that monitor the quality of educational institutions. Earning regional accreditation certifies that the college or university has continued to meet the highest standards required for a quality education.
Regional accreditation is a valuable tool that students can use to choose the right school. While you can choose any school to earn your online Bachelor's in Substance Abuse degree, picking one that is accredited will open many more doors when it comes to scholarship funding and valuable resources. It also adds weight to your resume. Showing a diploma from an accredited college or university gives your degree a little more value and substance.
What Is Specialized Accreditation?
While regional accreditation focuses on the school, specialized accreditation is designed to support the value of a degree program. The degree program must be able to meet or exceed the standards of the industry they represent. This means that the program will provide students with all of the skills and abilities they need to be sufficient at performing the duties of their job. Specialized accreditation is just as beneficial as regional accreditation and will add value and substance to your diploma.
Specialized accreditation, especially when it applies to any type of counseling program, ensures that the person who is working to earn their degree is getting everything they need to be able to support and guide others on their sobriety journey. It also adds the finishing touch that will make potential employers take a second look during the hiring process. Specialized accreditation lets them know that your education has the seal of approval from organizations that deal with the addiction and substance abuse field.
Choosing an Accredited Addiction Counseling Program
The key to earning a quality education is to find an accredited addiction counseling program that will provide you with not only the skills you want but also the resources you need to build a successful career. With the right online Bachelor's in Substance Abuse Counseling degree program, you will be able to lay the foundation for a career you can be proud of. It gives you an opportunity to choose where you want to work, be it an inpatient/outpatient facility or a healthcare facility.
An accredited addiction counseling program makes it possible for you to continue to move forward with your career knowing you have a powerful educational degree to back up your efforts. It's important to be confident in the degree program that you choose. Accreditation gives you that confidence and allows you to take on new opportunities in the counseling career of your choice. It also ensures that you have chosen the best possible degree program when it comes to the curriculum and method of teaching.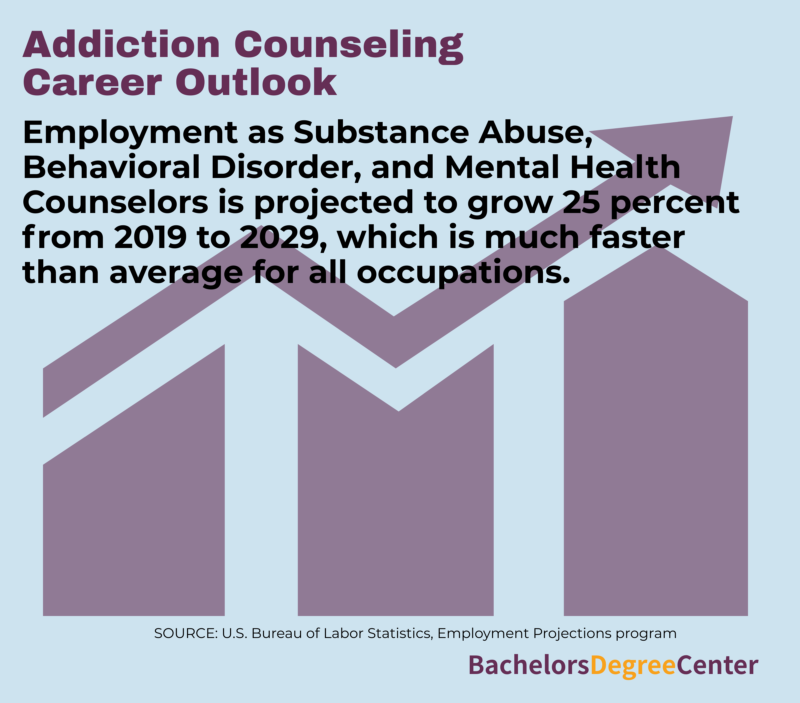 Types of Addiction Counseling Degrees
There are several types of degree programs available. Starting out with an Associate's or Bachelor's degree is a good way to start to focus more fully on your career path. Knowing that your goal is to help others along their path to sobriety, choosing the right degree program is incredibly important. Many Bachelor's degree programs include the courses that would have fallen into an Associate's degree program. Cutting out the Associate's degree and going straight into a Bachelor's degree program can be accomplished. It will simply extend the amount of time you spend in school by a year or more.
An online Bachelor's in Addiction Counseling degree program will provide you with the educational foundation you will need to become licensed or certified to work as a substance abuse or addiction counselor. Whether you choose an online degree program or one that is held in a classroom setting, a Bachelor's degree will lay the foundation for a long and lucrative career that will continue to offer benefits for both you as well as the individuals you serve with your counseling services.
Why Choose a Bachelor's in Addiction Counseling Degree Program?
Choosing a Bachelor's degree in Substance Abuse Counseling allows you to bypass an Associate's degree and will help you lay the groundwork for a career that will provide you a wide range of opportunities depending on which avenue you choose to pursue. It also allows you an opportunity to continue moving forward with your education by giving you everything you need to enroll in a Master's degree program.
In addition to furthering your educational goals, an online Bachelor's in Addiction Counseling will also allow you to start working with patients as soon as you become eligible to take your licensing or certification exam. You will be able to begin working while you finish your chosen degree program. The experience you earn during this time is invaluable and will give you a chance to provide a higher level of care to all of your future patients.
What Are the Benefits of an Online Bachelors in Addiction Counseling Degree Program?
An online Bachelor's in Addiction Counseling degree program is one of the best ways to advance your education while continuing to pursue your career. Online platforms offer many new opportunities to students. Enrolling in an online degree program gives you the flexibility and freedom that you need to explore new employment opportunities while you are still attending school. This freedom makes it possible for you to study when you are better able to dedicate the time you need to learn the lessons that are being offered.
Online Bachelor's in Addiction Counseling degree programs provide you with the same opportunities and resources you would get if you would have chosen to attend school in a classroom. While you may not have physical access to the school itself, you still have access to the staff and faculty members who can guide you along on your educational journey. The coursework is the same and all of the resource materials are the same as well.
Certifications and Licenses
Certifications and licenses are important if you plan on working in any form of capacity within the healthcare field. As you begin to move through your coursework, you will begin to gain the knowledge and experience you need to apply for certain certifications and licenses. As you become eligible for each of these new opportunities, you can add them to your long list of accomplishments. Each certification you earn is another milestone you can use to improve your resume.
As you come closer to graduation, you will be given the information you will need to apply for and take any state licensing exams that you will need to become a licensed counselor. In most states, you will not be allowed to work as a counselor without first earning a license. You may be able to work as a counselor if you have a certification, but you will eventually want to complete your licensing exam as soon as possible.
Earning an Online Substance Abuse Counselor Certification
Earning an online Substance Abuse Counselor certification is a great idea if you are planning on continuing to work as a counselor and build a long-term career in the addiction and substance abuse field. An online program will allow you to work while you are attending class. The freedom and flexibility that this offers make it a solid career choice. A certification will give you the education you need to begin your career and will lay the foundation for any future education you may consider.
An online Substance Abuse Counselor certification offers you many of the skills and abilities you will need as a counselor. Earning a certification as a Substance Abuse Counselor is the first step in building a career that will allow you to help others. A certification will give you what you need to get started. If you want to be effective as a counselor, however, you will want to enroll in an online Bachelor's degree program with a focus on Addiction Counseling or Substance Abuse Counseling. Certifications make a great stepping stone and will allow you to meet your continuing education credit requirements.
Why is Licensing Important?
When you are dealing with any type of addiction or substance abuse counseling, licensing is a must. As part of the health and medical field, being mindful of each patient's physical, mental, and emotional well-being is extremely important. Licensing is a state or organization's way of verifying that you have met the eligibility requirements to counsel or guide other people along their journey to better health. It also shows that you have the knowledge and skills to be proficient at what you do.
Licenses must be renewed every two to five years to ensure that the counselor is up to date on all of the latest training and resources. In order to maintain their license and remain in good standing, the counselor must complete a specific number of continuing education credits before they can renew their license. If they don't complete them on time, they must start over and re-apply.
What Are Continuing Education Credits?
Continuing education credits are like credit hours for a college course. Each course carries so many credit hours or continuing education credits. Individuals who are trying to maintain their license need to take their courses early enough so that their continuing education credits will be applied to their license prior to it expiring. In most cases, the continuing education courses they take must have something to do with their primary area of expertise.
Continuing education courses can be in the form of a certification course or a refresher course that goes over everything that they may have already been tested for in the past. This ensures that the core knowledge is still there and the person taking the test is still proficient at their duties and can use the skills they have effectively. The goal of most continuing education courses is to make sure that the information a counselor has is as current as possible. Continuing education courses are oftentimes the best way to learn what is new in the world of addiction and will give you insight into how to better handle certain situations.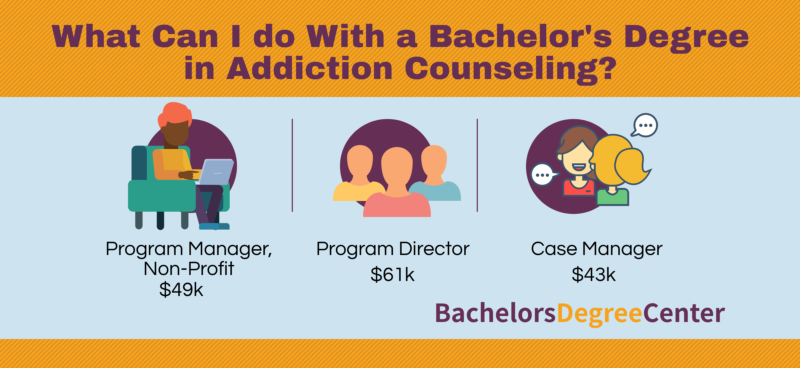 Careers in Addiction Counseling
Careers in addiction counseling are available in hospitals, rehabilitation facilities, inpatient and outpatient treatment centers, and boot camp-type facilities. In addition to counseling positions, you may also be eligible to teach lifestyle or healthy living classes that will allow the patient to regain some of the organizational skills they may have lost due to their addiction. Working in a facility allows you to work with other healthcare professionals who can assist you in guiding patients in the right direction on their journey to sobriety and better health.
If you feel confident enough in your ability to counsel others, you may choose to open your own counseling practice. This allows you to focus on working with groups of people you are most comfortable with. Some choose to work with teens, while others may want to focus on individuals who have been addicted to alcohol or prescription drugs. Understanding the unique circumstances that teens often find themselves in will help you interact with them on their level.
Addiction can be a scary subject. A substance abuse counselor is a perfect teacher to educate teens and young adults about how addiction can affect every aspect of your life. Working with youth groups, schools, and youth organizations is a great way to help prevent addiction in some of the most at-risk groups in your area. Addiction affects people of all ages, even the elderly. Substance abuse counselors need to be able to work with all age groups if they hope to be effective.
Salary for Substance Abuse Counseling
Substance abuse and addiction counselors can make anywhere from $30,000 to $73,000 per year on average. For an entry-level position that involves little to no experience, you will be paid on the lower end of the scale. The more experience you gain as you start working in the field, the higher your pay will be. With substance abuse and addiction counseling, the more experience you have, the better you will be at doing your job.
If you want to advance to a management position, you will want to move up to a managerial or supervisory position, you will need to enroll in a degree program that will allow you to add to your skills. It will also help you learn how to be a more effective manager. Learning to manage treatment plans and keep patients on the road to sobriety is different than managing a business. Things are constantly changing. It's important to be able to work with each individual on the level of their recovery. The more education you have, the more capable you will be at handling obstacles and challenges that you may face while working as a counselor.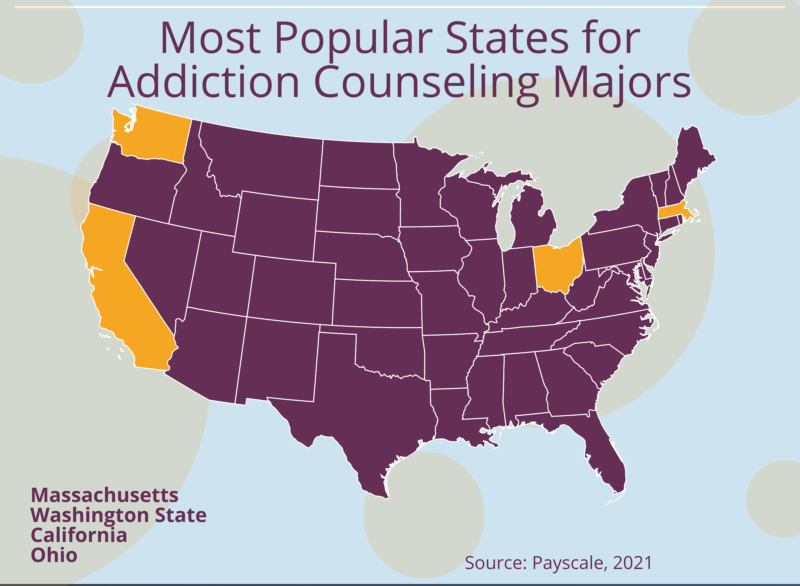 Professional Organizations
There are many organizations that are open to individuals who specialize in working with individuals who are suffering from addiction. Some of these organizations are open to family members who act as caregivers.
NAADAC – Is a professional organization that supports individuals who work in the healthcare field and specialize in working with patients who are dealing with drug and alcohol addiction.
ASAM – The American Society of Addiction Medicine is intended for professional addiction and substance abuse counselors. Members work together to come with viable treatment plans and educational tools that can be used to prevent addiction or relapses.
NAATP – The National Association of Addiction Treatment Providers is an organization for counseling professionals who deal with patients who suffer from addiction and substance abuse. Members can network, share ideas and work together to find viable solutions that will benefit their patients and help them stay on their road to recovery.
Related Rankings:
25 Best Bachelor's in Addiction Counseling
15 Best Online Bachelor's in Addiction Counseling
10 Fastest Online Bachelor's in Addiction Counseling