Accounting is one of the very few truly evergreen fields. Accounting degree holders can find a place in any industry, niche, or business. Whenever money or numbers become involved, an account becomes essential. Many accounting degree holders can work for businesses or start their own business, which makes accounting an unusually flexible career choice as well. So is a bachelor's degree in accounting worth it? Let's explore.
Is Accounting a Good Job for the Future?
There is a demand for accounts right now, and the demand for accountants in the future will only grow. Because of the demand for accountants in the future, people looking for a viable career path, who have strong mathematical abilities, and solid technology skills, need look no further than a bachelor's in accounting. The nature of the field makes it a constantly in-demand profession.
Featured Schools
For those wondering "what can I do with a bachelor's in accounting," the answer is, basically, anything you want. For those wondering "is accounting a good job for the future," the answer is an emphatic yes. Understand that an accounting degree is versatile. An education in accounting lends itself to professional positions at every level, from entry to a corner office, in practically every kind of setting, from private industry to education to government to self-employment.
Even if a student doesn't plan to specifically go into the accounting business, they can still use their degree to help them launch and maintain their own entrepreneurial business, or help someone else do the same.
"What can I do with a bachelor's in accounting?" is better expressed by wondering what one can't do with such a degree. Is accounting a good job for the future? Not only is accounting a great job for the future, but it's future-proof. Even with all the technology that helps with accounting duties, a qualified accountant or someone trained as an accountant will remain necessary. The demand for accounts in the future will not wane. Therefore, applicants seeking a bachelor's in accounting can rest assured they will have options available to them going forward.
Are Accountants Happy with their Career Choice?
Many wonder if accountants are happy with their jobs. Are accountants happy? Of course, that's a subjective question – what makes one person happy won't make everyone happy At any job and on any career path, some people may find dissatisfaction with what they're doing. But according to U.S. News polls, accountants score pretty high on the satisfaction scale; in fact, they name it one of the top 10 professions. https://money.usnews.com/careers/best-jobs/accountant
Since accounting can lead to several different types of careers, students should do their best to follow paths that give them the most fulfillment. Pursuing an accounting job or using accounting skills for a business doesn't automatically equate to boring or unhappy if the person finds satisfaction with their work and occupation.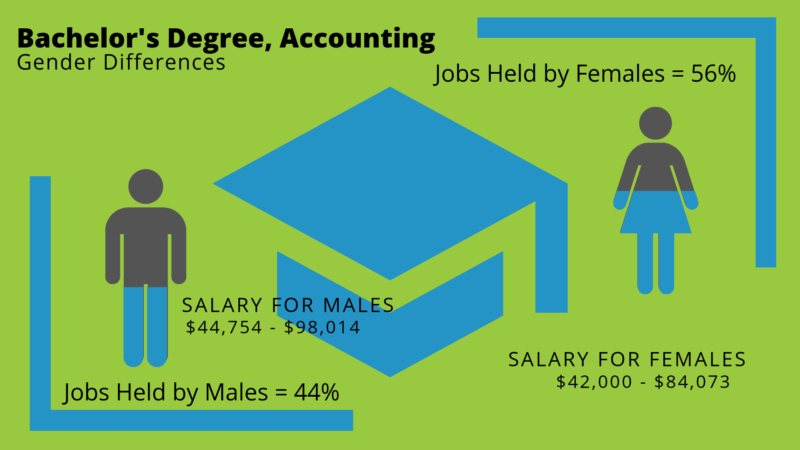 Getting a Bachelor's in Accounting
As with all postsecondary or undergraduate education, applicants seeking a bachelor's in accounting must first choose a school or program. Obviously, many people want to find the best colleges for accounting majors. However, finding the best school or program for accounting depends on several factors. The first thing an applicant should start with is the school or program's accreditation status.
Business School and Accounting Program Accreditation
Simply put, accreditation is the process that ensures a school or program meets quality and education standards set by a professional group formed specifically to create and maintain those standards. A university or program can have more than one accreditation and the more the better. When looking for accredited programs, applicants should know a little about the different types of accounting school accreditation and what they mean.
Regional accreditation – This means the college or university as a whole received the stamp of approval from one of the larger regional accreditation agencies (there are six, representing US regions: New England, the South, the West, etc). Regional accreditation represents the norm, and any institution with regional accreditation meets or exceeds standards. Credits from these types of institutions have wide acceptance and applicants can typically transfer them should they change schools or pursue further education in accounting. Degrees from schools with regional accreditation will have more recognition in the accounting industry and broader acceptance.
Program accreditation – National accreditation typically goes to specific programs, rather than an entire institution. For example, a university with regional accreditation may have an accounting program that also has national accreditation from an accrediting group with a specific focus on accounting education and activities.
National or specialized accreditation is just as important as regional accreditation for those who are looking specifically for an accounting program. As accounting falls under the business disciplines, the largest and most recognized accrediting agencies for accounting programs include the ACBSP vs AACSB. Another accrediting body, the IACBE (International Assembly for Collegiate Business Education) exists, but for those seeking the best colleges for accounting majors in the US, the first two accrediting bodies are the ones that really matter. However, when it comes to the ACBSP vs AACSB, applicants will have to decide which accounting school accreditation group standards aligns most with their goals.
ACBSP vs AACSB: What's the Difference?
Both the ACBSP and AACSB are highly respected and recognized accrediting agencies for business programs. The main difference between the two agencies has to do with which standards they value most.
ACBSP – The Accreditation Council for Business Schools and Programs puts a focus on outcomes and aligning the goals of accounting programs with the goals of employers who need accountants. That means a school with ACBSP accreditation will seek to prepare a student for the accounting workforce by focusing on the skills employers need right now.
AACSB – The Association to Advance Collegiate Schools of Business International is an older and far more recognized accreditation agency. This group values research and published works. Faculty members at an AACSB accredited institution or program will spend more time exploring accounting theories and concepts. What is AACSB accreditation mean? It means these programs will take a more scholarly approach to accounting education.
Both these organizations grant 10-year accreditations and constantly strive to improve business and accounting programs for everybody involved. They perform reviews to make sure the programs maintain quality standards. In a way, the two groups actually complement each other.
ACBSP accreditation can prepare students to use their accounting knowledge in real-world applications immediately. An AACSB accredited program can help students learn the fundamentals and building blocks of accounting to help them adapt their accounting knowledge to any situation or need.
Even if applicants are seeking an accredited online accounting degree, they should still look for the ACBSP or AACSB logo. An accredited online accounting degree program is no different from any other program when it comes to the need to ensure that accredited status is there. Both ACBSP accredited online schools and AACSB accredited schools online exist. Always look for one or both of these accreditations, even when seeking graduate studies in business and accounting or even AACSB accredited online PhD programs.
Types of Accounting Bachelor's Degrees
Say you're ready to go back to school, but you don't know where to start. You search "accounting colleges near me," or "bachelor's in accounting near me." You will face a bombardment of sites and information. It's going to take time to narrow down that search, you can start by knowing a little more about what they're looking for.
For starters, two main types of bachelor's accounting degree options are most common in the US:
Bachelor of Accounting (BAC) – This is the most recognized type of accounting bachelor degree. These degrees have a more general arc as university programs will include some liberal arts classes. A dedicated BAC program may forego unrelated electives for a total focus on accounting – all electives will be business or accounting-related. Nevertheless, the broader focus of a BAC program will prepare students for both the real-world use of their degree as well as for continuing their education should they want to pursue graduate studies.
Bachelor of Science in Accounting (BSAcc) – This accounting bachelor's will have courses with a heavier focus on the technical aspects of accounting. While a BSAcc will require general education as well, it will emphasize mathematics, science, and usually technology. Since this degree is mostly technical, it can help students finish their degree and immediately join an employer to do accounting duties.
Beyond these two accounting degree types, applicants can also pursue business bachelor's degrees that have a concentration in accounting. These accounting degree options include Bachelor of Business Administration (BB), Bachelor of Science in Business Administration (BSBA), and Bachelor of Arts in Business Administration (BABA) degrees.
Applicants must remember these types of degrees are absolutely business degrees first and accounting degrees second. They're ideal for those who want to start or run a business, or those who want to take on more duties at an established business.
Applicants can also pursue specialized bachelor's degrees in accounting. These types of programs will prepare students to enter a specific accounting field. The coursework will typically include accounting classes, but also classes that teach students more about a particular use for accounting. For example, applicants can pursue an accounting degree with a focus on global finance, financial accounting, or forensic accounting.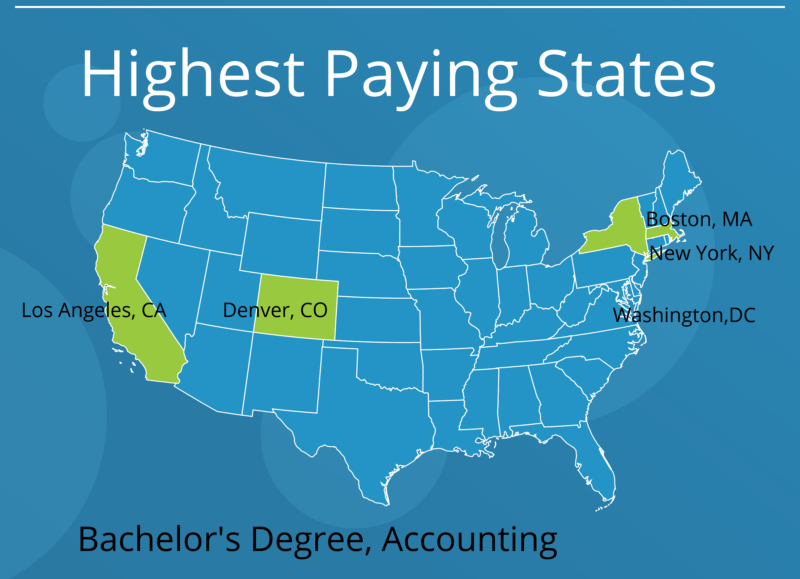 What is the Difference: Accounting Certificate vs Degree?
When looking at the types of accounting degrees, applicants will invariably come across accounting certificates. When it comes to accounting certificate vs degree, here's what applicants should know.
A certificate or short diploma in accounting provides a way for people to earn just enough accounting to perform an entry-level accounting job. Do not confuse these certificates with professional certifications for accounting and specialized accounting work. An accounting certificate can help someone get a foot in the door, or find work as a clerk or low-level bookkeeper; certification is a special credential (for instance, in taxation or forensic accounting) that shows you are qualified for specialized accounting work.
Often, students taking a dedicated accounting degree program can also earn a certificate so they can work in an entry-level position while they learn. Occasionally, it's possible to find online accounting certificate courses free.
These courses can take a handful of months and will allow people to learn some accounting basics, such as reading balance sheets and other financial statements. Using online accounting certificate courses free can also help someone figure out if they're ready for a more robust degree program or not. In these ways, certification programs can offer value for people whether they're already accounting majors or not.
What Types of Bachelor's Degrees are Available from Accounting Schools Online?
In truth, there's no end to the number of accounting schools online opportunities for online bachelor's degrees in accounting. Applicants will find dedicated online programs, universities with partial or full online degree options, and even online degree options that allow applicants to earn their degree at their own pace.
Accounting schools online will still have the same type of coursework and accounting degree requirements as any on-campus course. Depending on the types of accounting degrees, the basic accounting classes may also come with other types of coursework, such as humanities or basic computing courses. The accounting degree requirements will typically consist of the basic accounting principles such as:
Introductory accounting courses
Intermediate accounting courses
Advanced accounting courses
Financial records and tax-related courses
Managerial accounting courses
Business law
Some general business management courses to make business decisions
Accounting courses will also emphasize decision-making, critical thinking, and problem-solving, major aspects of an accounting career.
Altogether, a conventional bachelor's of accounting degree usually takes about 120 credit hours to satisfy the accounting degree requirements for licensure, but that is changing. The Uniform CPA exam now requires 30 more credits – 150 credits in all – which means that many business and accounting schools are reconfiguring their bachelor's program to meet the new accounting degree requirements. It's important, for students who are considering a CPA license, to look for programs that are already providing the full 150 credits, if only for their own convenience.
Programs and accounting schools online can also offer accelerated accounting degree online programs. When it comes to what classes to take for accounting degree success, each school or program will post their specific curriculum to let applicants know. Accelerated programs are only for the most motivated and the best at managing their time.
The admission requirements for an accelerated program may be lighter. If you have transfer credits from an associate degree, you can shorten how long a full-time program will take. You may have knocked out prerequisites that would slow down other accounting students.
How Much Does an Accounting Degree Cost?
When seeking an accounting bachelor's degree online, the same accreditation rules apply. Applicants should look for value, but they shouldn't necessarily seek out only the cheapest online accounting degree. Instead, applicants should look for the cheapest accredited accounting schools online.
For example, AACSB accredited online undergraduate schools that don't cost much will still offer high-quality education accounting majors and a recognized degree. The cheapest online accounting degree isn't worth much if the student doesn't leave it with a degree they can use in the real world.
As an applicant tries to figure out how much does an accounting degree cost, they should also consider all the costs that go with attending school. In addition, they will have to factor in things like financial aid, scholarships, grants, fellowships, and anything else that can change the overall tuition cost. Applicants can easily find yearly prices ranging from the $8,000 range well into the 60k range.
Some free online accounting degree programs exist, but applicants must read all the instructions and requirements for attending such programs. In addition, applicants must know what they will get out of free online accounting degree programs. Once again, look for accreditation.
Accounting Certifications, CPA Certification, and Other Licenses
A bachelor's degree in accounting can open doors, but applicants should really consider pursuing a degree that also helps them receive proper licensing to perform accounting work more broadly. This also applies to obtain accounting certifications to perform specialized accounting work.
Many certifications and licenses exist. Applicants will find there's an accounting certification for practically every type of specific accounting job. Here are some of the possible certifications out there for accountants:
Certified Bank Auditor (CBA)
Certified Financial Services Auditor (CFSA)
Certified Fraud Examiner (CFE)
Certified Government Auditing Professional (CGAP)
Certified Information Systems Auditor (CISA)
Certified Internal Auditor (CIA)
Certified Management Accountant (CMA)
Certified Public Accountant (CPA)
Chartered Financial Analyst (CFA)
Chartered Global Management Accountant (CGMA)
Enrolled Agent (EA)
Forensic Certified Public Accountant (FCPA)
More accounting certifications exist besides. Included in that list are the top 10 accounting qualifications in the world. For most people, obtaining the CPA certification or CMA certification tends to take priority. The CPA certification opens the most doors generally, and it's the most widely recognized of the accounting certifications.
A CMA certification has a focus on practical company financial management, and people who plan to work in the corporate sector would do well to gain CMA certification. However, both the CPA certification and the CMA certification can complement each other. Many people pick up both these accounting certifications, as there's some overlap of subject matter.
Knowing the need for certification, applicants should apply to programs that offer a degree as well as a path to accounting certification. Certified public accountant programs tend to do this, and applicants can find a CPA school online or other accounting certifications online.
The educational requirements for a CPA certification are high, including an undergraduate degree with 150 college credits and a high GPA.
A Certified Management Accountant CMA can still hold specialization in accounting. Combining the accounting certification and the specialization in accounting can help the applicant find niche employment opportunities suitable for their skills.
For holders of accounting certifications salary ranges grow. In addition, many accounting certifications have recognition as international accounting certifications. This fact improves the job prospects for accounting bachelor degree holders.
Enrolled Agent represents tax certifications that allow applicants to work with the IRS or represent clients in front of the IRS. An Enrolled Agent exam focuses on income tax. It makes for a good secondary accounting certification behind a CPA certification. For those specifically looking for government accounting certifications, other than the Enrolled Agent, the CPA, CGMA, and CGAP offer access to government work. As previously mentioned, applicants can still pursue more specific certifications and even some accounting certifications without degree such as the bookkeeping certifications.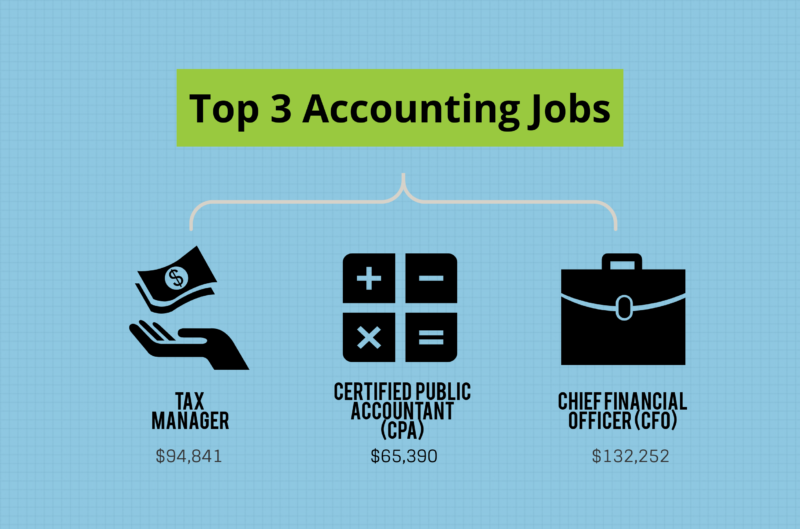 Careers in Accounting
An accounting career can take various paths. Careers in accounting and finance are both numerous and lucrative. Even entry-level accounting jobs can start with a good salary and room for a lot of growth. Is accounting the best job in the business field? Many people think so. An accounting career path can start with entry-level accounting jobs or even home-based jobs accounting. The accounting career can grow from home-based jobs accounting to an office and viable business. Entry-level accounting jobs can turn into senior-level positions.
Since careers in accounting and finance can work in literally any industry, there's no limit to where an accounting career path can go. An accounting career can offer flexibility as well. Telecommuting accounting jobs are just as plentiful as other career opportunities in the accounting profession.
Since the demand for accountants in the future will only grow, there's longevity inherent in an accounting career as well. As proof, any applicant should search any accounting job websites. They will see an accounting jobs list that goes on forever. Still, accounting job listings don't do justice to the sheer amount of jobs and accounting careers available.
However, looking at accounting job listings can help applicants see what employers expect in the real world. For example, the listings will offer:
A full accounting jobs description
A list of accounting qualifications
Degrees desired (BBA in accounting jobs may differ from BS in accounting jobs)
Accountant job listings can help applicants see real accounting career information to help them formulate their accounting career path planning. A career plan for accountant degree holders is important. Looking at the job offerings can also help applicants figure out if they want to pursue a future in public accounting vs corporate accounting.
Even a partial accounting jobs list shows the variety and range in the field:
Accounting Clerk
Accounting Information System Specialist
Accounts Payable/Receivable Clerk
Budget Analyst
Business Valuation Specialist
Certified Financial Planner
Comptroller/Financial Controller
Cost Accountant
Cost Estimator
Enrolled Agent
Financial Analyst
Forensic Accountant
Payroll Accountant
Tax Accountant
Tax Consultant
Tax Preparer
Careers in public accounting can start at home, while accounting jobs entry-level requirements go with corporate accounting careers. Most people must work their way up when dealing with a single corporate entity as an accountant. A public accounting career path can mean working for various companies or people. The traditional tax accountant career is always available as well.
Given the breadth of opportunity, it's easy to see why the best job in the business field is Accountant. For those wondering what are some entry-level accounting jobs, the best entry-level accounting jobs will vary from place to place. Once again, perusing the accounting job listings will help answer that question.
Bachelor Degree in Accounting Salary Expectations
An accounting salary can vary depending on location, industry, and accounting specialization. The median accounting salary can range from 50k to almost 60k depending on the source. The Bureau of Labor Statistics BLS Occupational Outlook Handbook specifically lists the median accounting salary as $69,350 yearly or $33.34 an hour as of May 2017.
The BLS also states the lowest 10% of the median range earn an average of $43k while the highest 10% of the range earn $122k. The demand for accountants will only grow, which means accounting salary will grow as well.
An entry-level accounting salary for people with their degree falls within the stated median range, so applicants don't have to worry they will have to start out making next to nothing. For example, someone with less than five years of experience can still earn an entry-level accounting salary of around 56k yearly or around $27 an hour.
Accounting salary only rises as time goes on and you build more years of experience, continuing education, and certifications, so choosing accounting as a career comes with an accounting careers salary that will only continue to grow. The more expertise someone develops, the more they can demand as an accounting salary.
Accounting careers salary can also gain boosts in the form of bonuses, commissions, and profit-sharing. So students who move on to work for certain companies or industries can earn more money than what average accounting salary would indicate.
Some lower-paying work exists in the accounting field as well. For people who haven't yet achieved their BS in accounting, salary can look more like $13 to $16 an hour. These types of pay rates are typically entry-level accounting jobs salary. Jobs like clerks, interns, and small office managers usually represent entry-level accounting jobs.
With a bachelor degree in accounting salary starts to look a lot better, because applicants will have access to higher-tier accounting work. Some of the highest paying industries for accountants include:
Banking and Finance
Government accounting
Pipeline and transportation
Securities and commodities
These industries can offer an accounting salary in the $90k range. The more specialized skills an accountant has, the higher the potential accountant salary. For example, a focus on financial analysis and financial reporting is very desirable to businesses. Senior-level accountants for private firms can see a six-figure accountant salary. This also applies to an accounting salary for positions such as a financial planner or financial advisor.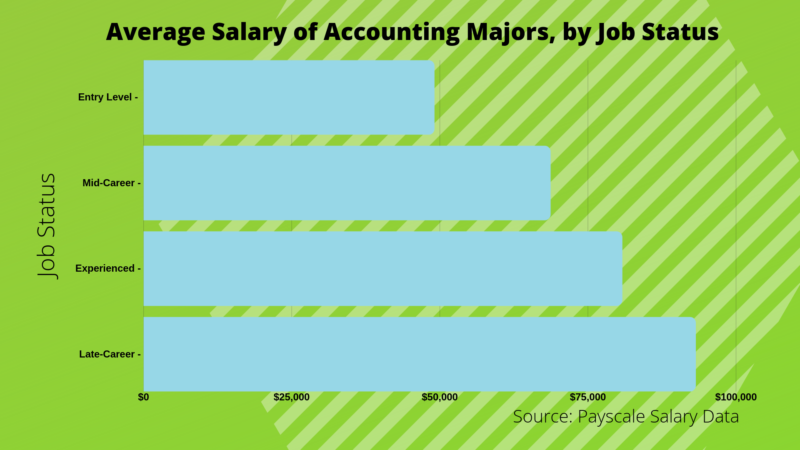 Professional Accounting Organizations
Many benefits can come from accounting memberships in one or more of the many professional accounting organizations and associations. These accounting organizations and societies offer critical perspectives on accounting. Some of the more prestigious accounting organizations set the definitions and practices that make up accounting in all its forms.
The American Accounting Association definition of accounting isn't exactly the same as the definition given by the American Institute of Certified Public Accountants. But, the core message behind the definitions given by these organizations can help applicants gain a better, more fundamental understanding of what their career entails.
Some of the better professional accounting associations include:
American Accounting Association (AAA)
American Association of Finance & Accounting (AAFA)
American Institute of Certified Public Accountants (AICPA)
Association of International Accountants (AIA)
Institute of Management Accountants (IMA)
International Federation of Accountants (IFAC)
National Association of Certified Public Bookkeepers (NACPB)
National Association of Enrolled Agents (NAEA)
National Association of Professional Accountants (NAPA)
Professional Accountings Society of America (PASA)
Accounting organizations and any other professional accounting body can help new and experienced accountants of any stripe with networking, learning opportunities, publications, insights, career development, general help, and job opportunities. The resources alone offered by accounting associations and society bodies are usually worth the price of admission.
Applicants seeking an accounting bachelor's degree would do well to research some the national and local professional accounting organizations to see what they can offer. Start with the American Accounting Association, and the Institute of Management Accountants.
Related Rankings:
Top 15 Bachelor of Accounting Degree Programs
Top 15 Online Bachelor of Accounting Degree Programs
Top 10 Cheapest Bachelor Degrees in Accounting