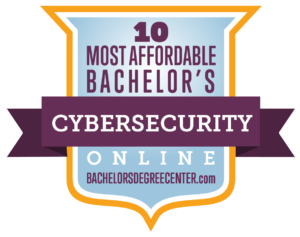 Cybersecurity itself refers to preventative methods used to protect information from being stolen, compromised or attacked. Cybersecurity management is a career that seems to be sweeping the nation. With more people invading the privacy of businesses, government offices, and individuals, high technological advances are needed to prevent hackers or unauthorized users from infiltrating important documents and information.
Working adults in the cybersecurity field who want to move into managerial positions, or advance in their cybersecurity career, often choose an online program. To inquire a position in cybersecurity management, an applicant must first earn at least a bachelor's degree in computer and information systems, or some form of information technology-related field. An online program provides credentials in a convenient way so workers can keep working while going to school, but that doesn't come free. It can come at a very affordable rate, however, and that's why Bachelor's Degree Center is guiding prospective students to the most affordable online cyber security degree programs.
Methodology: Ranking the Most Affordable Online Cybersecurity Degree Programs.
Since cost is foremost on the minds of many working adults, the BDC ranking of the most affordable cybersecurity online degrees is presented in order of tuition rate (as reported to IPEDS), from lowest to highest. However, cheap isn't necessarily good; that's why only accredited, reputable institutions are eligible for the ranking, so students know they're not only getting low costs, but quality.
1. Bellevue University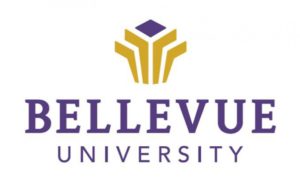 The BS degree in Cybersecurity at Bellevue University offers both Online and on-Campus options. The program provides 127 credits that teaches students in network and system protection, commuter programming, and how to prevent unauthorized users from infiltrating security systems. Students will receive knowledge of cybersecurity concepts, theories, and strategies that prepares students in real world situations. The BS degree in Cybersecurity also students with communication and analytical skills that helps them assess problems that may arise in the IT field. Bellevue University offers the program at a low tuition cost for most students. Some transfer credits may be applied.
Bellevue University, founded in 1966, provides degrees to over 50,000 students. The BS in Cybersecurity is accredited by the NSA and the Department of Homeland Security. The college offers one of the cheapest online cyber security degree programs in the state of Nebraska.
Degree: BS in Cybersecurity
2. Peirce College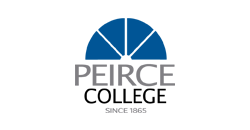 Peirce College offers the BS in IT Networking, Administration, and Information Security to students ready to expand their knowledge of the information technology world. The program is available for students online or living on campus. The program addresses how to design, implement, and integrate either hardware or software that is critical to the success and protection of businesses. The program is one of the most affordable cybersecurity degrees available to most students.
Founded in 1865 in Philadelphia, Peirce College offers over a dozen bachelor's degrees and several types of masters and certificates to the perspective students. The college also provides accelerated programs, with classes that can be complete in as little as seven to eight weeks. What's so awesome about Peirce is that the school may accept up to 102 transfer credits to go toward the four-year cybersecurity degree, allowing students to graduate at an accelerated rate.
Degree: BS in IT Networking, Administration, and Information Security
3. Western Governor's University

The BS in Cybersecurity and Information Assurance at Western Governor's University is an online curriculum that offers students with knowledge of IT foundations, security systems and design, and managing web security. The program also includes general courses of ethics in technology, applied probability, and digital forensics. The cybersecurity degree makes up of thirty-four classes with a written project at the end. It is designed specifically for tech-talented individuals. The BS in Cybersecurity at WGU is one of the most affordable cybersecurity degrees in the state.
Western Governor's University, founded in 1997 by the intuition of Governors, is a Nonprofit, National University. The college provides students going into Cybersecurity with Competency-based learning that saves time, money, and offers a convenient and flexible schedule for online students as well. "Sage", the Night Owl, shows students the importance of having wisdom and persistence to meet their career goals. The college's motto is "Mission-driven. Student-obsessed. Nonprofit." WGU provides campuses throughout several states in the nation. The school also offers instruction for Business and Healthcare professions.
Degree: BS Cybersecurity and Information Assurance
4. Grantham University

Grantham University's BS in Cybersecurity offers students with knowledge and skills that will prepare them in any cyber security or information technology position. The degree program is available online and is one of the most affordable cybersecurity degrees offered to perspective students interested in the IT field. The tuition cost is low, and Grantham offers financial discounts to Military personnel as well. Courses for the cybersecurity program is also aligned to Network+, Security+ and CISSP industry-standard certifications.
Founded in 1951, Grantham University offers over fifty degrees within all program levels of education. A big emphasis is on educating the next generation of military intelligence. The college also provides educational training to first responders, such as EMTs, Firefighters, and Police officers.
Degree: BS in Cybersecurity Online
5. University of Illinois at Springfield

The BS in Information Systems and Security at University of Illinois at Springfield provides the student with the option of either Online or on-Campus education. The 180-credit program provides the student with the foundation in computer science and information technology. Students will hone into skills of problem-solving, critical thinking, and communication abilities. Courses include computer design, security ethics, and security assessment. The program requirements for the degree includes an understanding of Calculus, Discrete or Finite Math, and statistics.
The university holds itself for having low tuition rates. In fact, it is ranked #4 on the most affordable cybersecurity degrees in 2019. The BS in of Information system and security program at the University of Illinois is sponsored by the National Security Agency (NSA) and the Department of Homeland Security (DHS).
Degree: BS Information Systems Security Online or Campus
6. Purdue University Global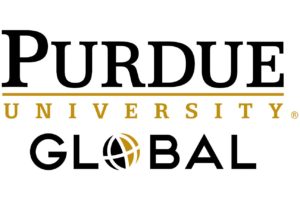 BS in Cybersecurity Online at Purdue University Global provides the student with an accelerated option to finish school in less time than the average cybersecurity program. At Purdue, the ExcelTrack will allow students to learn the fundamentals of cybersecurity, analyze complex computing situations, and apply basic security principles to real world solutions. The program is 180 credits, with the average course being complete in ten weeks, with a weekly dedicated study time of fifteen to eighteen hours.
Purdue University, founded in 1869, with the first students enrolled in 1869. Purdue University Global, is a public research university that prepares each cybersecurity student with the skills, abilities, and knowledge to advance their career in the IT industry. It is one of the cheapest online cyber security degree programs in the nation, offering discounts to Military professionals as well. Some transfer credits are accepted to help students along in their career success.
Degree: BS in Cybersecurity
7. University of Maryland Global Campus

The University of Maryland Global Campus (formally University College) offers online Cybersecurity degrees in Bachelors, Masters, and certificate form. The cyber security student will gain skills and knowledge of the computer information field. The innovative program offers three concentrated degree options; computer networks and cybersecurity, cybersecurity management and policy, and software development and security. The program of cyber security is a great choice for students who are or plan to enter Military intelligence.
University of Maryland Global has won award-winning achievements in cyber security from their cybersecurity competition teams over the past years. University of Maryland Global puts cybersecurity ahead of the technological age of the game. UMGC is one of the colleges offering the cheapest online cyber security degree programs nationwide.
Degree: 3 specializations Online
8. Oklahoma State University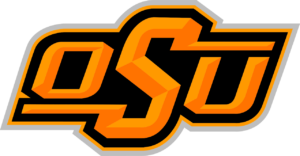 The online Bachelor of Technology in Information Technologies and Cybersecurity & Digital Forensics at Oklahoma State University offers students with skills in digital computing techniques and how to determine threats to the IT system; such as hackers, viruses, and cyberattacks. The cyber security programs also provide an accreditation from the NSA and Homeland Security. Common courses for the program include Principles of Information technology, Web Development, and network and System Security. OSU ranks as having one of the cheapest online cyber security degree options as well.
OSU's main campus, located in Okmulgee, offers the IT student with many study areas and recreation places to rewind. Part of the Institute of Technology, OSU also offers BT degrees in applied technical leadership, network infrastructure, and software development. Each degree program takes approximately two to three years to complete with 121 credits of course information.
Degree: Bachelor of Technology in Information Technologies – Cybersecurity & Digital Forensics Online
9. Wilmington University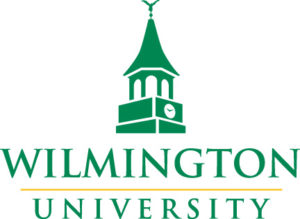 Wilmington University's BS in Computer and Network Security is available to the student online or for on-Campus education. The course includes studies in networks and telecommunications, database foundations, and an introduction in Linux. The BS cybersecurity degree at Wilmington University is a 120-credit program. Transferred credits are accepted to those eligible. The programs at WU are some of the cheapest cyber security degree programs in the nation.
Wilmington University, founded in New Castle, Delaware, with 194 students in 1968, has one of the diverse student body campuses. It provides courses in fifteen or seven-week increments. The campus is a short distance from the Fort Dix/Lakehurst Navel Air Station. There is no on-campus living; however, the school offers information of local rental apartments to perspective students.
Degree: BS Computer and Network Security Online or Campus
10. Old Dominion University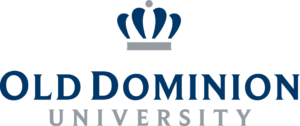 With the information technology job market expanding, receiving a BS in Cybersecurity at Old Dominion University is a great start in the IT career field. The degree provides an online option to students that need a flexible schedule, making it a good option for working adults. The courses will discuss interdisciplinary core subjects on computer engineering, computer science, criminal justice, engineering management; just to name a few. The University also ranks at #10 as one of the most affordable cybersecurity degrees throughout the nation, according to valuecolleges.com.
The Old Dominion University started in 1994, beginning with a satellite delivery program called TELETECHNET. The BS in Cybersecurity degree at Old Dominion is a 120-credit program, with thirty credits required at the college. The program at Old Dominion University may accept up to ninety transfer credits. The college has a 96 percent satisfaction rate and opens doors for active Military personnel to be eligible for a discounted tuition cost through Old Dominion.
Degree: BS in Cybersecurity Online – transfer 90 credits
What is Cybersecurity Management?
A student taking courses in Cybersecurity management will learn how to manage security implications within corporations and organizations, apply techniques for detecting intrusions with either a host or network-based system, and collect and maintain data needed to meet requirements on system cybersecurity reports. The computer system job position will require skills in how a security system works, creating security policies and procedures that coincide with system objectives, and how to detect cyber threats and vulnerabilities. Both Analytical and Communication skills are a must. Strategic planning and Management skills are also necessary for a Cyber security management position in most businesses and organizations.
How Do I Get a Job in Cybersecurity Management?
The first step in obtaining a cybersecurity job or career path towards cybersecurity is getting the right experience with the right education. Many public and national four-year colleges and universities offer the Cybersecurity degree. However, there are some two-year training programs, or community institutions that may provide a career start in the field as well. On the other hand, higher management positions will require a master's degree in the field. Schools that provide the program will help students with knowledge of computer programming, software development and Mathematics are provided in most cybersecurity degree curriculum. Business Administration courses may also be helpful for the Cybersecurity Management degree program.
Work-related experience is imperative to move up the cyber security management ladder. Most employers may ask for two to three years of on the job experience for entry-level positions; however, those who desire higher management opportunities, five years or more may be required for employment. Common tasks of the Cybersecurity position is installing Anti-virus/anti-malware software, Software patches, and firewall protection. Knowledge of Encryption is also needed. Cybersecurity experts work to prevent security breaches and ward off cyber attacks to your operational systems. Many cybersecurity employees of companies have knowledge of highly sensitive information, where secret keypads or passwords are extremely protected.
How Much Can I Make with a Cybersecurity Degree?
Cyber security can be a lucrative career path for computer science and IT students entering the information system field. Many of the top industries in computer technology will pay a substantial salary to applicants and candidates looking for work as a cybersecurity manager or even technician. The salary can be based on whether an applicant or candidate for the position wants to work in the private sector or government-run organizations.
According to the Bureau of Labor and Statistics, the average salary of a student that has a cybersecurity degree is $162,530 annual. Most entry-level positions start at $85,000 a year; with the advanced career paths offering as much as $200,000 annually. Workload is found in mainly computer and information systems areas, while other job prospects work within the operational specialties of the job. Job titles of Cybersecurity seekers are Computer programmers, Database administrators, Software developers, and Research Scientists. Most require a bachelors degree in the field; however, certain positions require an educational level of a Masters as well. The salary ranges for most occupations in cybersecurity is $69,000 to 120,000 per year.
Related Rankings: 
25 Best Bachelor's in Cyber Security Degree Programs
15 Best Online Bachelor's in Cyber Security