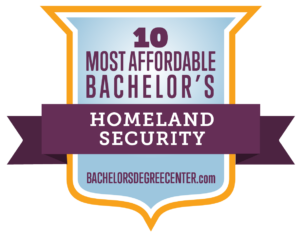 If you're interested in protecting your country by becoming a homeland security professional, you're in good company. This relatively new field has become popular in recent years, and many colleges are offering homeland security degree programs. As you search for the cheapest homeland security degree, there are several ways to make sure you're getting the most bang for your buck possible when it comes to your education.
First, you'll want to look for low-cost public colleges. Community college is also a great way to get started as you're looking for the cheapest homeland security degree. While homeland security degrees require four years of schooling, taking your first two years of general education classes at a community college can help you check many degree requirements off of your list at a low cost.
Methodology: How We Ranked the Most Affordable Homeland Security Degree Programs
To find the best low-cost Homeland Security bachelor's programs, Bachelor's Degree Center editors focused on the key component: tuition cost, according to IPEDS data. Of course, cheap isn't everything; we only considered accredited, reputable institutions that have a proven track record of success.
1. John Jay College (CUNY)

John Jay College's security management program focuses on recognizing and responding to vulnerabilities within different infrastructures. It takes a critical thinking and leadership approach to learning, so students in this program can graduate with enough skill and confidence to lead teams, make executive decisions, and collaborate with their fellow decision-makers. With its added focus on affordability, John Jay University is one of the best affordable homeland security degree choices available.
Located in the city of New York, John Jay College is right at the heart of a lot of security management action. As a result, students at this school enjoy a lot of networking opportunities as well as opportunities to learn from the best in the field. Furthermore, John Jay is entirely focused on the criminal justice field. While it does also provide a liberal arts education, this school is uniquely ready to provide students with a top level criminal justice education. It makes a great choice for highly focused students.
What We Like: John Jay's undergraduate programs consistently earn rankings from US News and World Report.
Degree: Security Management, BS
2. Utah Valley University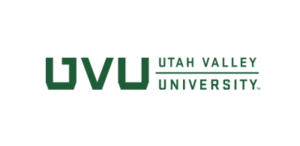 Utah Valley University offers a comprehensive National Security Studies program. The program prepares students for a wide range of careers, both in the public sector and the private sector. Students learn about all aspects of public safety, from weapons of mass destruction to cybersecurity threats. With this range of skills and areas of focus, students within this program can graduate feeling empowering in their skill level and abilities. As a result, it's a great place to earn an affordable homeland security degree.
Utah Valley University is the largest public university in Utah. As such, it provides plenty of resources and opportunities for its students. Compared to similar four year universities, UVU is known for its affordability, but it also provides plenty of quality to go along with that affordability. Furthermore, it provides a level of career-focus that not a lot of other four year schools provide, so UVU stands apart from its peers in several ways.
What We Like: 37% of UVU students are first generation college students.
Degree: National Security Studies, B.S.
3. National University

National University offers an affordable homeland security degree. More specifically, it offers a BS in homeland security and emergency management. Class run in four-week increments, and they prepare students to react to real-world security threats. As a matter of fact, the bulk of this program involves researching current practices and suggesting new ideas for program improvements. This way, students get involved in the real world of US homeland security right away, giving them more confidence to join this workforce by the time that they graduate.
National University in San Diego is specifically designed for adult learners. This means that National University provides a level of flexibility that few other universities can provide. Because all of its courses are geared toward nontraditional students, adult students never have to fear falling behind because of their learner status. As an accredited, meaningful, and challenging school, NU sets out to provide its students with everything they need to improve their careers.
What We Like: National University is San Diego's largest private nonprofit university.
Degree: Homeland Security and Emergency Management, BS
4. University of Alaska – Fairbanks

University of Alaska Fairbanks offers a homeland security and emergency management program. This program empowers students to take on numerous security roles. Whether they go into cybersecurity, border security, or any other form of national security, students will learn the skills that they need to take their careers to the level that they desire. It combines this broad skill set with affordability, making it a great choice for an affordable homeland security degree.
As a whole, UAF provides a challenging and enriching place to learn. Students here get to sharpen their critical thinking and leadership skills as they dive into a multifaceted education. This school uses top-grade teaching and technical innovations to provide a relevant and unique learning experience. It also has specific programs for indigenous students.
What We Like: UAF is ranked among US News and World Report"s best online undergraduate programs for 2020.
Degree: Bachelor of Security and Emergency Management
5. Clayton State University

Clayton State University offers a BAS in homeland security and emergency management. This program is designed for students who have earned either an AAS, AAT, or 38 hours of technical coursework. Within this program, students can customize their educational experiences to a certain extent, which makes it a great place to earn an affordable homeland security degree for those who want a bit of flexibility. The program prepares students to recognize and respond to various security threats.
Clayton State University is an inclusive, innovative school that focuses on getting students ready for their careers. It's a great place for focused students to find their next step. With small class sizes, this school provides plenty of personalized attention, making sure that students get exactly what they need for success and that no student ever falls through the cracks.
What We Like: CSU is ranked among the best universities in the south.
Degree: Homeland Security/Emergency Management, BAS
6. Vincennes University

The homeland security and public safety program at Vincennes University acknowledges the potential of a homeland security career. Homeland security careers are growing, and there are several career pathways within the broader security umbrella. Knowing these facts, Vincennes prepares students for all sorts of safety careers, covering a wide range of topics over the course of four years. It alsp provides an affordable homeland security degree option for those who want to save some money and get a great ROI from their education.
VU certainly provides core classes, but it also provides a unique career focus for its students. As a result, students can gain the best of both worlds from their education at VU. VU stands out when it comes to leadership and innovation. Students get to take advantage of the latest technology in their studies. Since it combines this innovation with strong and complex academics, VU lives up to its goal of personal growth and academic excellence.
What We Like: VU offers the lowest tuition rates of all residential colleges in Indiana.
Degree: Homeland Security and Public Safety, BS
7. Middle Tennessee State University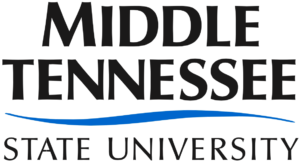 The criminal justice program at Middle Tennessee State University offers a concentration in homeland security. For a lot of students, it's the preferred place to earn an affordable homeland security degree. Not only is it affordable, it also provides a deep and challenging education. Students emerge from this program with enhanced leadership skills as well as a thorough knowledge of criminal justice and homeland security. Students also take core classes involving communication and critical thinking, so they also get a well-rounded education.
MTSU is a highly-regarded university not far from Nashville. It's a large and dynamic school surrounded by a relatively small town, so some students feel that they get the best of all worlds here. It provides plenty of innovative resources as well as faculty support. It's a challenging school and widely-recognized by employers in Tennessee and beyond.
What We Like: MTSU was named one of the Best Universities in the Nation by the Princeton Review.
Degree: Criminal Justice Administration, Homeland Security, BS
8. Angelo State University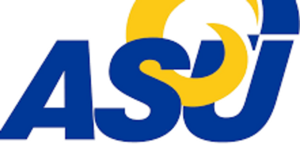 Angelo State University offers a BSS in Border and Homeland Security. This particular program provides a targeted approach to homeland security studies, so it's a good choice for an affordable homeland security degree for those who know that they want to go into border security specifically. It does, however, provide core classes as well, so students don't miss out on broader communication and critical thinking skills.
ASU is an energetic place to learn. As part of the Texas Tech University system, this small school is still able to provide many of the resources that a larger institution can provide. As a result, students who thrive best in small classes won't have to miss out on big school opportunities. It combines strong core classes with a deep career focus.
What We Like: ASU has ranked among the Princeton Review's best colleges every year since 2010.
Degree: Border and Homeland Security, BSS
9. Austin Peay State University

Austin Peay State University is one of the best places to earn an affordable homeland security degree. The program takes a well-rounded approach, starting with core classes before moving on to more specialized courses. This way, students get a great background in communication, leadership, and critical thinking skills that they can apply to their knowledge of domestic and international terrorism. Austin Peay combines this well-rounded approach with unique affordability, which makes it a top choice for many students.
One of the most widely-recognized universities in Tennessee, Austin Peay is proud of the fact that it combines the resources and opportunities of a big university with the community-based feel of a smaller college. As a result, students get everything that they need from their educations without feeling overwhelmed in the process. This university connects students to their ideal careers with in-depth courses and networking opportunities. It remains committed to its goal of helping students reach their fullest potential.
What We Like: Austin Peay has one of the top ROTC programs in the country.
Degree: Criminal Justice/ Homeland Security, BS
10. State College of Florida – Manatee-Sarasota

State College of Florida offer a BAS program in public safety and emergency management. In this program, students learn the most effective strategies to recognize threats, protect vulnerable infrastructures, and respond to emergencies quickly. This program is also known as an affordable homeland security degree, so students can rest assured that they're getting the most for their money. Here, students get a great ROI while they learn the skills they can apply to federal, state, and local jobs.
SCF is the largest public college in its region, providing an education filled with support and resources. Alongside its regular academic classes, SCF offers other career resources and development opportunities. As a result, students can make the most of their educations and get more for their money within the four or so years that they spend here.
What We Like: SCF provides both educational and workforce training, so students don't feel like they have to compromise.
Degree: Public Safety and Emergency Management, BAS
How Do I Save Money on a Homeland Security Degree?
Studies show that public colleges provide the same high level of education as private colleges. The difference between the two schools is the funding – public colleges are mostly funded through taxpayer dollars. Unlike most private colleges, many public colleges also have large grant and scholarship programs that can help make it easier to get through school on a budget.
You'll also want to talk to your current employer about whether they offer tuition support or reimbursement for employees who want to go back to school. Many employers offer tuition assistance that is conditional, meaning you'll need to agree to work for them for a certain amount of time after you finish your degree, or you'll need to keep a certain grade point average in order to continue receiving funding.
Will a Homeland Security Certification Help My Career?
Getting a homeland security certification is a great way to move your career forward. You'll have many specialties to choose from as you look for the perfect homeland security certification for your career goals. Today, earning your certification is easier than ever. There are many schools that even offer the ability to get your homeland security certification online. When you decide to get your homeland security certification online, you're allowing yourself to continue working your career while getting the education you need to move forward. Many online-only programs are also lower cost than traditional in-classroom programs.
If you're wondering how to get a homeland security certification, there are a few things you'll need to answer first. It's key to know what kind of certificate you want – FEMA certification, emergency management certification, or something different. Whether you choose a FEMA certification or an emergency management certification, you'll want to make sure that the program you choose is approved by the American Board for Certification in Homeland Security. This will mean that you'll be taking classes that have been approved by the government's American Board for Certification in Homeland Security, making you suitable for a wide variety of homeland security certification jobs.
As you research how to get homeland security certification, you'll also want to talk to your employer about homeland security certification jobs available at your workplace. This will give you a good idea of whether there's a furture for you at your current company, or if you should begin looking elsewhere. While it's hard to find a homeland security certification free, your employer may be able to make it happen. When they know you want to become a certified homeland protection professional, they may agree to pay your fees, making your homeland security certification free.
Is a Homeland Security Degree Worth It?
In a word: yes. A homeland security degree is worth it. The field of homeland security is growing fast, and this relatively new area of study can be confusing to someone who doesn't understand all the aspects of homeland security. When someone asks you if a homeland security degree is worth it, you'll be able to talk to them about all that you're learning to keep the United States safe. There are many options for homeland security professionals, from working with the military to contracting with private organizations. If you're passionate about keeping the country safe, there's a homeland security degree job out there that will be perfect for you.
How Much Can I Make in a Homeland Security Career?
As you research whether a homeland security career is a good fit for you, it makes sense that you'll want to learn more about the typical homeland security salary. Professionals who work at the U.S. Department of Homeland Security make, on average, $73,000 per year. The homeland security jobs salary can differ greatly depending on the organization for which you work, your experience, your academic performance, your work performance, the cost of living in your area, and more. Your homeland security salary may be much higher or much lower than the typical salary. If you're talking with a potential employer about your homeland security jobs salary, remember, your degree is in high demand, and it's ok to negotiate for what you're worth.
Related Rankings: 
25 Best Bachelor's in Homeland Security
15 Best Online Bachelor's in Homeland Security